Happy Wednesday, everyone!  With the first Love & Splendor Workshop just over 2 months away, I wanted to start a mini feature called "Workshop Wednesday" on the blog, where I'll share some tidbits about the plans in progress and hopefully answer any lingering questions you may have about joining us in October.
If you need the basics on the workshop, you can find the 411 HERE and the "Why & Who" HERE.
Today, the topic is FOOD.  If you know me, you know I loooove to eat.  I have always been what you might call a "foodie," although I don't consider myself a food snob.  I savor the chance to enjoy an opulent 9-course tasting menu as much as I can get down with a hole-in-the-wall Korean restaurant.  My mom raised me to have a great appreciation for all types of foods and cuisines and I attribute the development of my adventurous palate to her guidance.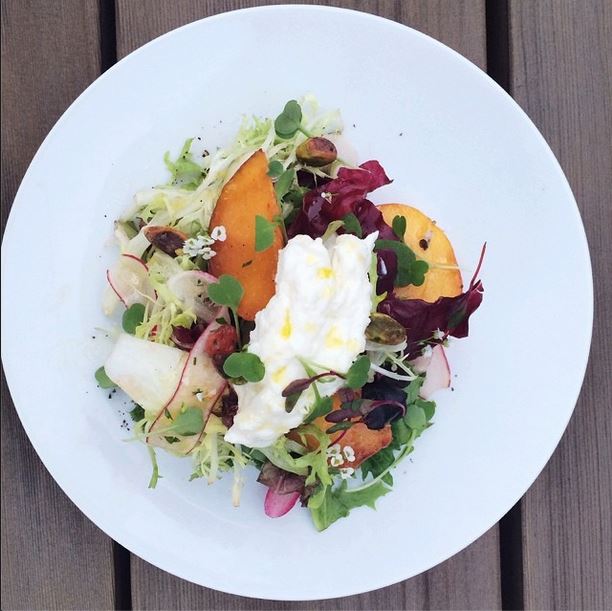 a gorgeous salad from a wedding with Heirloom LA this summer: burrata, purslane, peaches
One of my great job perks is attending numerous wedding tastings with my clients.  I mean really, who gets to call a five course tasting menu "work" other than a wedding planner??  In putting together my workshop, I wanted to make sure that my attendees would get to experience the very best of every part of the industry and that included the food.  I mean, of course we have to eat when we're spending all day together.  But, I wanted to elevate our meal times to more than just that — they will also serve as beneficial times of instruction as we discuss how you work with a caterer and client in creating a personalized menu, how a tasting runs, and how you manage logistics and details with a caterer leading up to the big day.  Perhaps just as importantly, these wonderful meals will simply expose you to great food: an extremely vital part of a successful event.  They say wedding guests will always remember the food, whether it was fabulous or lackluster.  Some will even judge the entire event based on the food!  The menu you choose and the style of service you select will have a profound effect on the atmosphere of your event.
A large part of being a wedding planner and designer is being a guide, a sounding-board, a source of advice and information.  Your clients are counting on you to have informed opinions and elevated taste in everything from flowers to linens to of course, food.  My clients often ask me to weigh in on their menus and my knowledge and love of food are so valuable in those instances.  It is therefore crucial for you to at least be informed about what good food is, getting to know the best caterers in your region and learning what sets them apart.  I can think of no better way to learn about food than to taste it and in this case, you will get to enjoy the best.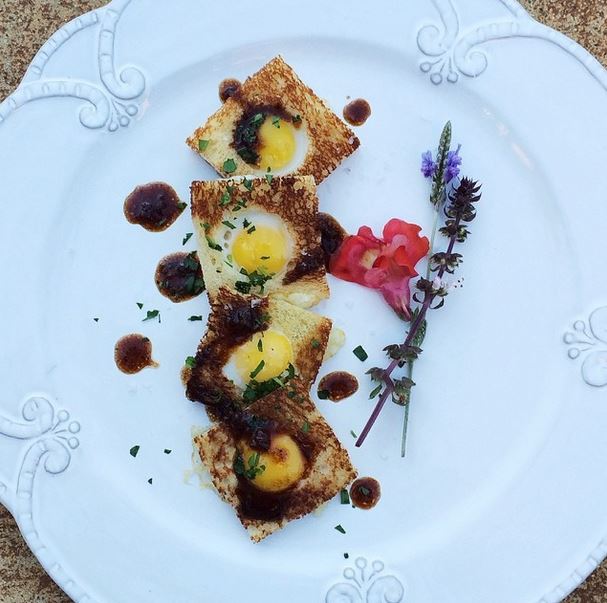 from another wedding with Heirloom LA last month: quail eggs in a hole
Love & Splendor Workshop attendees will enjoy six amazing meals (as well as copious snacks and treats) over the course of the workshop that will both nourish the body and excite the palate.  I thought today I'd tantalize you a bit with some teasers of what you can expect.  ;-)
On Sunday, October 19th, we will kick off the workshop with an incredible welcome dinner catered by the one and only Chef Matthew Poley of Heirloom LA.  We will be dining in the Salon, their private tasting room, and watching Chef Matt prepare many dishes right before our eyes.  Upon arrival, we'll nosh on seasonal bites and appetizers as we meet with the other attendees.  The formal coursed meal that will follow is sure to be amazing, as every meal prepared in their kitchen is.  Although the menu will not be determined until closer to the workshop, you can count on the best local ingredients to make it onto our plates.
On Monday & Tuesday, we will have both breakfast and lunch at the Ace Hotel DTLA, catered by their in-house restaurant, LA Chapter.  Once again, our meals will be seasonally-driven and feature an array of options.  You won't see stale muffins and bagels for breakfast.  No soggy sandwich platters and chips for lunch.  How about hangar steak or curried pork loin?  Grilled fish or a buckwheat soba?  Treviso and arugula or roasted vegetables and kale, anyone?  Maybe a bruleed pineapple or cereal milk panna cotta (!) for dessert?  I'm having so much fun putting together meals we will all enjoy.  Any allergies and dietary restrictions can be accommodated as well so rest assured you will be well-fed!
On Monday & Tuesday, we will also enjoy plenty of snacks and treats throughout the day including some of my favorites like cold-brewed Stumptown coffee, gorgeous mezze platters, and of course, indulgent treats from Sweet and Saucy Shop and Sweet Lucie's organic ice cream.  ;-)
On Tuesday, October 21st, we will wrap up our time together with a spectacular farewell dinner prepared once again by Chef Matt of Heirloom LA.  This dinner will take place at a secret location and will be styled like a very intimate dinner reception.  Have you ever wanted to attend one of my events?  This is your chance, as you dine alongside workshop speakers and collaborators in the perfect setting to wrap up our time together.  You can expect a magical experience for all of your senses, and a stunning meal that you won't soon forget.
Hungry for more?  REGISTER HERE for the Love & Splendor Workshop and we'll see you in October!  As always, feel free to contact me with any additional questions.  Have a great day!