I am getting SO excited about doing another Love & Splendor Workshop this fall in beautiful San Luis Obispo, California.  I catch myself daydreaming constantly about it, and have been working hard to put together another incredible experience filled with instruction and inspiration.  If you missed the announcement post about this year's workshop, click HERE!
There are lots of details to share soon, and I hope to open registration in a few weeks.  Today, I wanted to give you a better look at what happened at last year's inaugural workshop.  You may have seen glimpses of the workshop on Green Wedding Shoes (Part 1 and Part 2), but today I'll be sharing a more unabridged recap of the event.  I can't tell you how happy it makes me to look back on these beautiful images by my dear friend, Ryan Ray.  The entire workshop experience was magical, from start to finish.  I loved meeting these creative women and sharing my heart with them!
I kicked off the 2014 Love & Splendor Workshop with a welcome dinner at The Salon — the private tasting room of Heirloom LA.  If you follow me on Instagram or have been reading my blog for any length of time, you know how I feel about Heirloom.  They are set apart in the industry as champions for sustainable, local, & organic foods.  They put together beautiful menus that feature the best of the season.  They work hand-in-hand with small farms and purveyors to utilize the most interesting and flavorful ingredients.  Most of all, their food is INCREDIBLE and is prepared with a great amount of love, care, and intention.  I frequently say if Chef Matt is in the kitchen, I want to be at the table.  I can never get enough Heirloom LA, and neither can my clients!  My favorite meetings are tastings at Heirloom LA because really, how can it get better than working while eating scrumptious food??  I knew I wanted to share the intimate "tasting" experience with my attendees for this welcome workshop, so there was no better setting than the The Salon.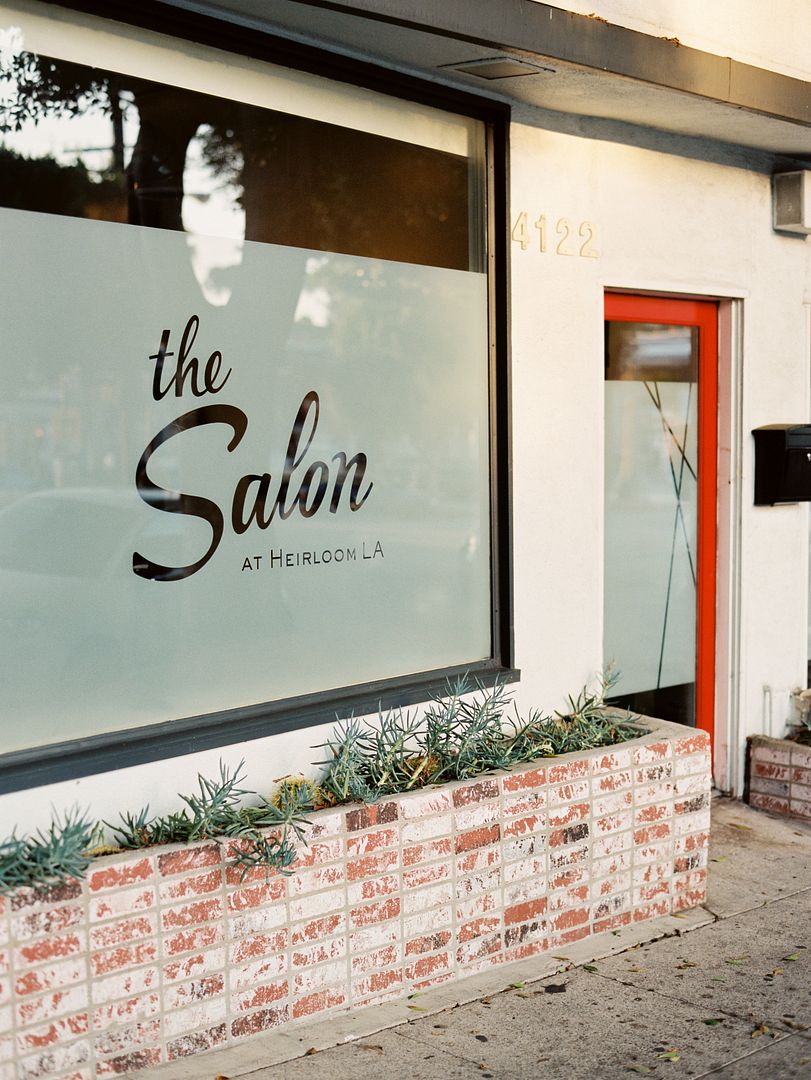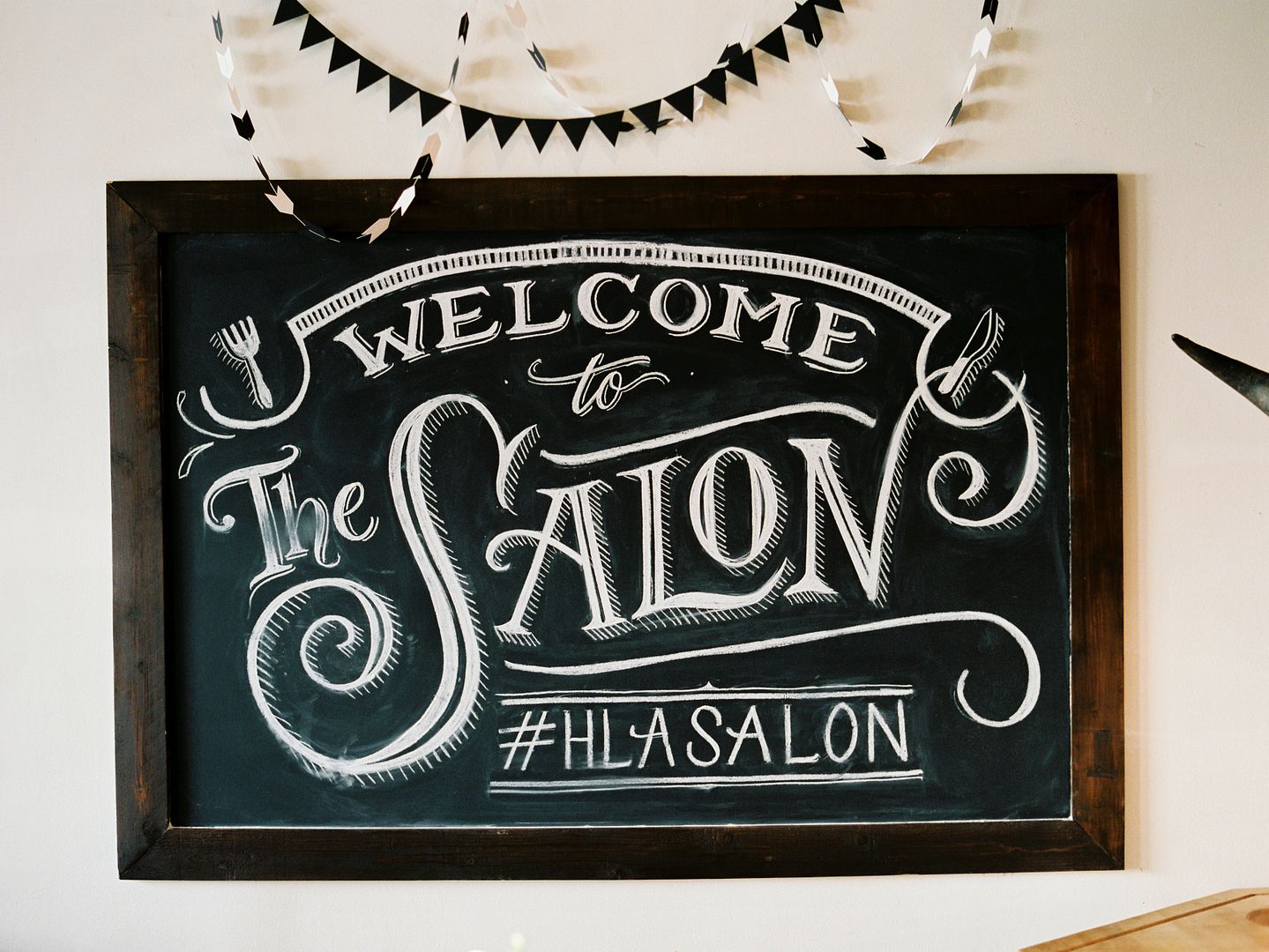 With the perfect sized group of 15 attendees and a handful of vendors, we were seated at two tables: one large "horseshoe" shaped table and a second dining table.  Chef Matt prepared the entire meal in front of us, in the center of the horseshoe, answering questions about the food as we went.  It was the ultimate foodie experience and I heard many tell me that night that it was the best meal they had ever had.  That makes me so happy!!  I wanted to simply enjoy our first night together in a more casual way, getting to know each other, laughing together, and bonding in that unique way that only comes from breaking bread with one another.
I embraced a black & white palette for this event, with a slight "newspaper" influence.  With such a limited color palette, I knew I'd have to bring in lots of layers, patterns, and textures to add visual interest.  It was fun designing in black and white… especially for a color-lover like me!  Menus read, "Extra! Extra! Eat all about it!" (I couldn't help myself…) and were formatted in columns like a page out of the newspaper.  A chalkboard was covered with modern b&w typography prints featuring inspirational quotes, offering uplifting "headlines."  I loved using a geometric b&w patterned rug from found as an anchor in the room, along with a black dining table and industrial bar cart for the welcome drinks.  La Tavola's abstract b&w patterned runners and napkins made the perfect statement on the tabletops.  One of my favorite details?  The opaque black and white goblets from Casa de Perrin, white signature collection chargers, and ebony flatware.  So chic!  Carissa from JL Designs topped tables with white bud vases filled with b&w textured blooms (we needed lots of space for food, so these petite pieces added just the right amount of height and interest to the tables) and placesettings were noted with placecards hand-lettered by my friend and favorite calligrapher, Anne Robin.  The look was simple and unfussy but still brimming with playful details.  I can never resist adding a little bit of whimsy when I can…  I even dressed the part, in a black and white dress from Anthropologie topped with a loud & crazy Alice + Olivia embroidered jacket.
As guests arrived, I greeted each one (alongside my amazing assistant, Michelle) and they were offered a beautiful hand-crafted drink.  I was crazy about the "mocktail" we served up which featured passion fruit juice, pear nectar, lemon juice and sugar.  Yum!  As attendees trickled in, they noshed at one of Heirloom's signature crostini stations: a feast for the senses brimming with artisan cured meats, fresh milk cheeses, olives, organic pickled vegetables, grilled flatbreads, housemade crostini and a variety of dips, nuts and butters.  I made sure we took care of our two gluten free attendees (Hi sweet J & L!), too!
I made a brief welcome and let Chef Matt take it from there!  Our menu was as follows:
White Corn and Radish Salad: shaved carrots, mouse melon and cucumbers,
cherry tomatoes, tomatillo vinaigrette, toasted ricotta cheese and spicy almonds.
Fresh Ricotta Cavatelli: plancha grilled pumpkin, fried sage, crumbled queso fresco,
charred spring onion, swiss chard swerved witha  pumpkin bisque velouté
Heirloom LA Syrah Braised Buffalo Short Ribs (!): served with tuscan kale,
natural jus and tuscan cabbage
Sautéed Baby Broccoli: with citrus vinaigrette, roasted fennel and dandelion greens,
spicy pumpkin seeds and a cilantro vinaigrette
Flourless Chocolate Cake: topped with dark chocolate ganache,
creme anglaise and seasonal berries
My mouth is watering just reliving that perfect meal!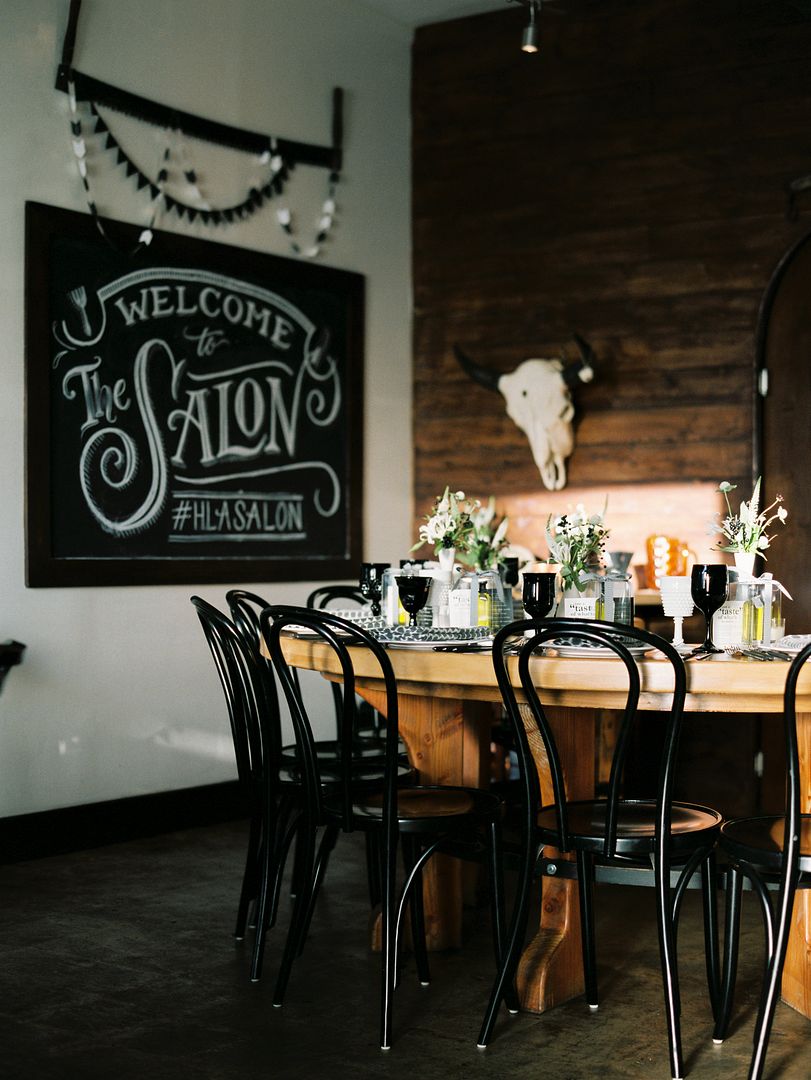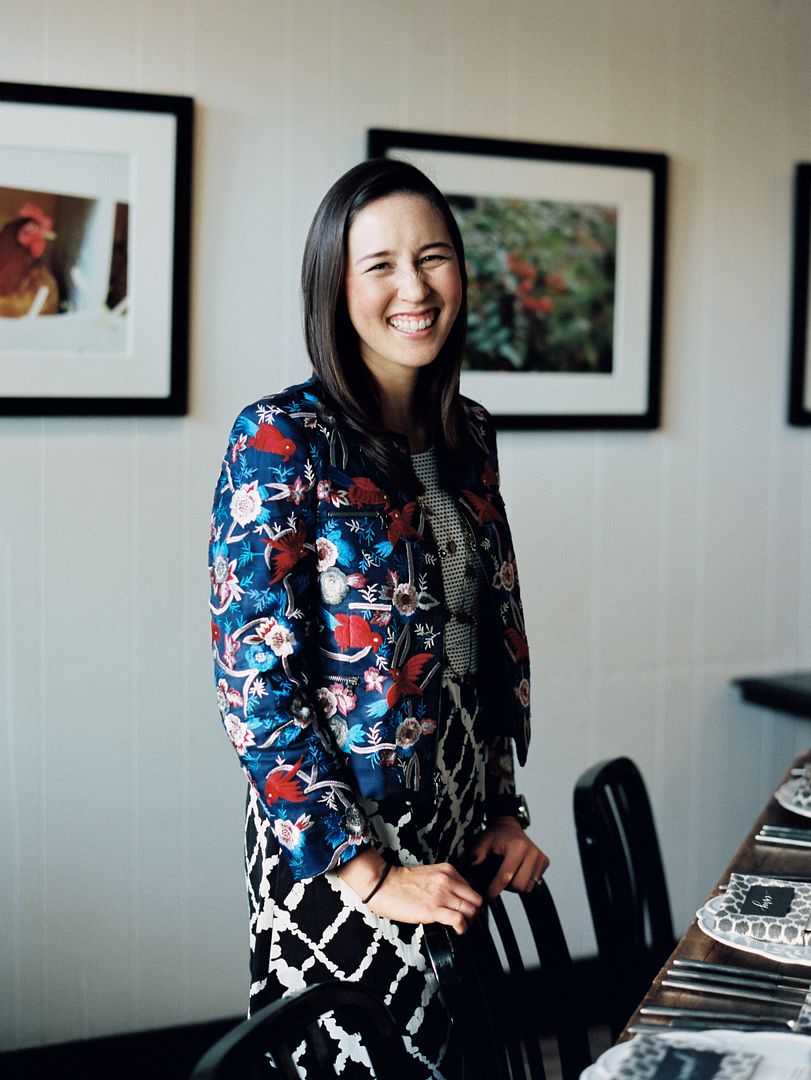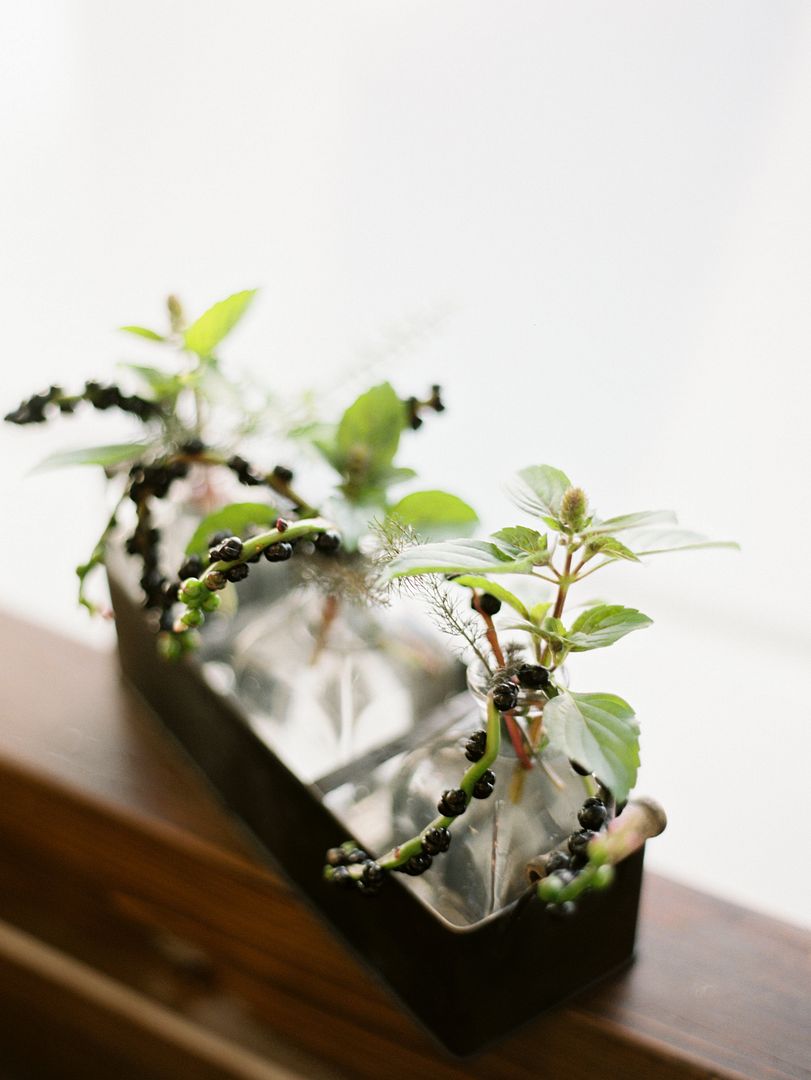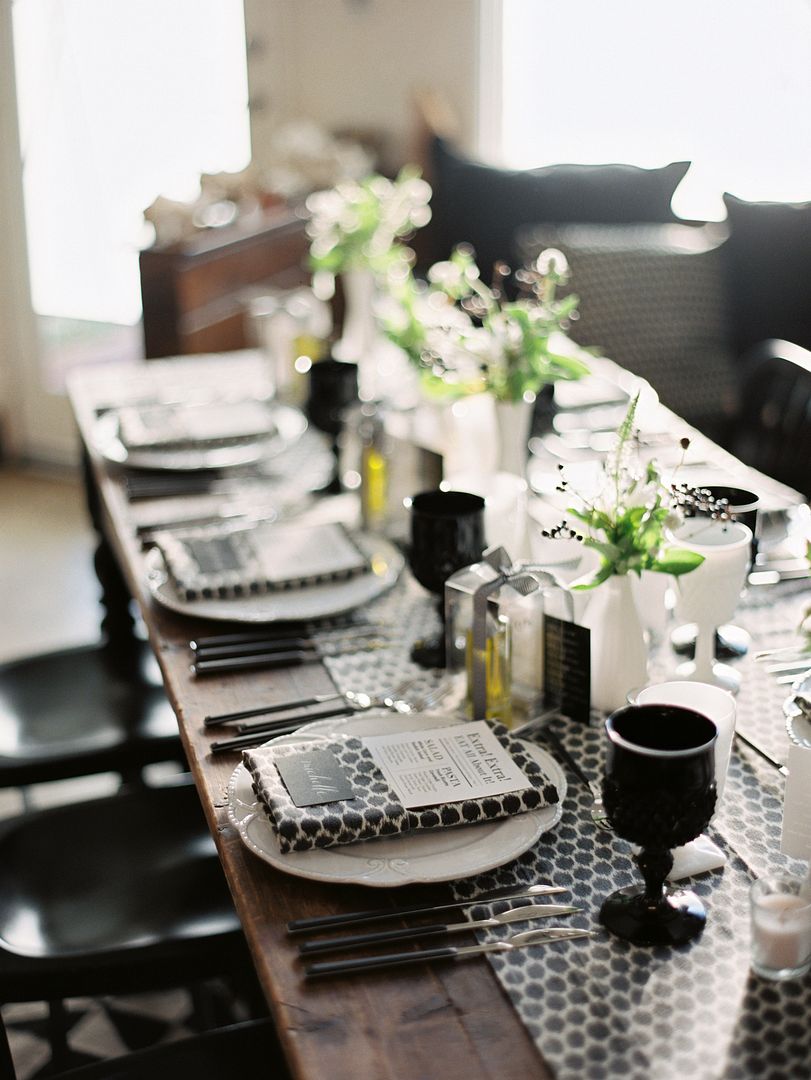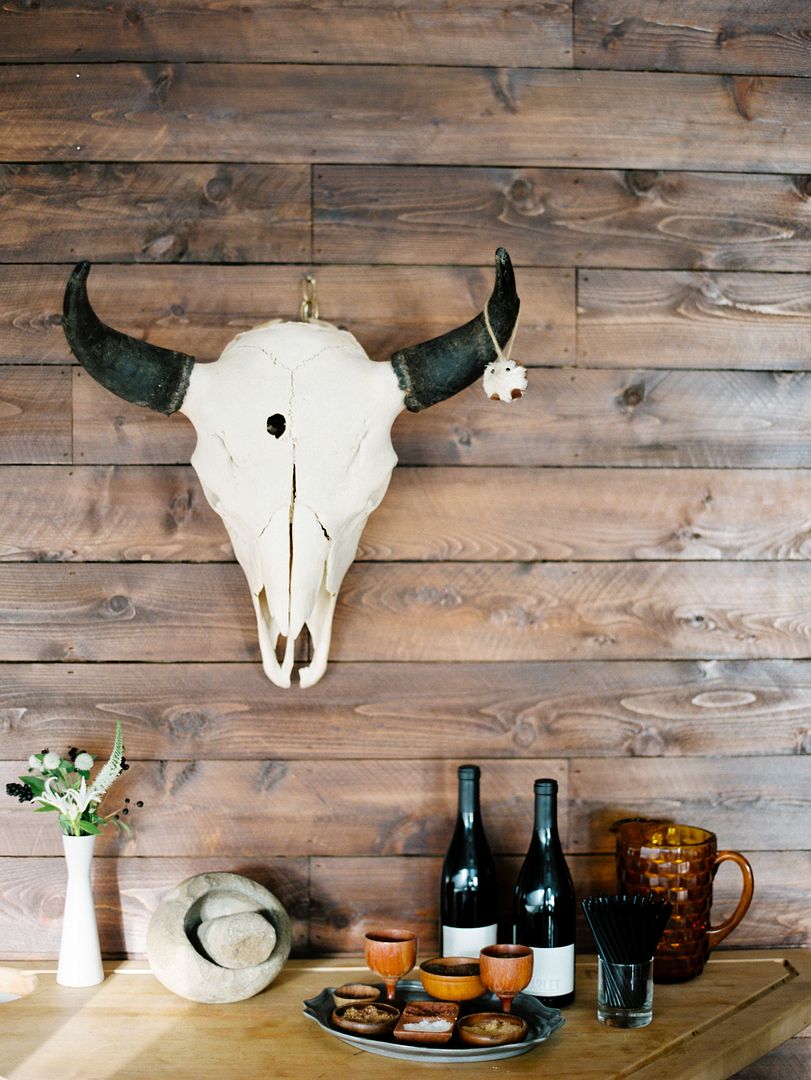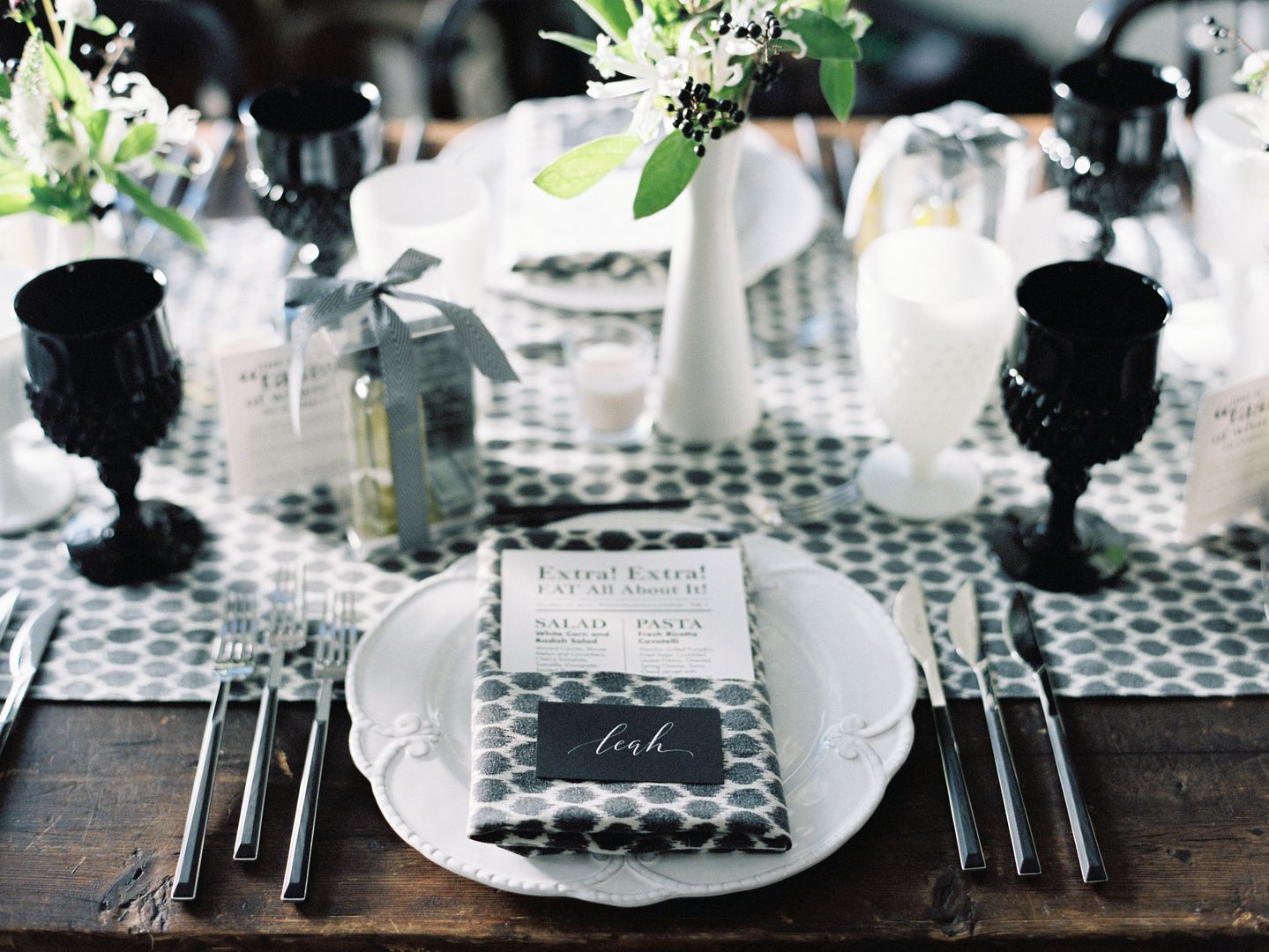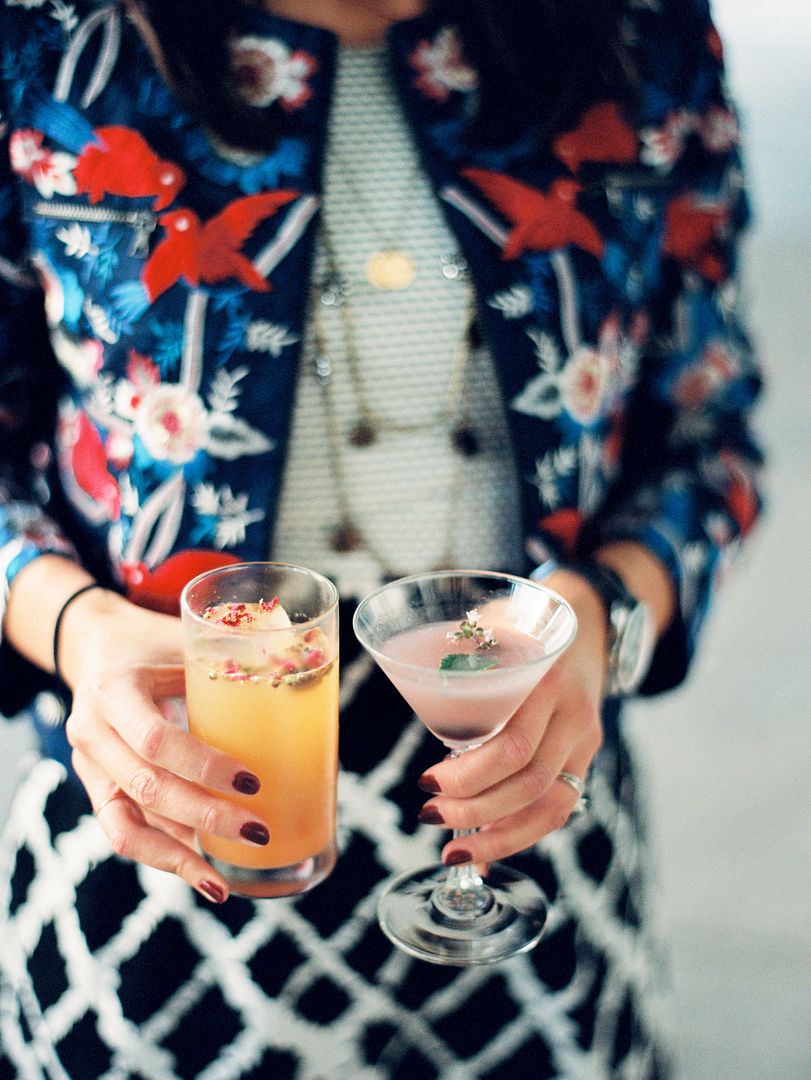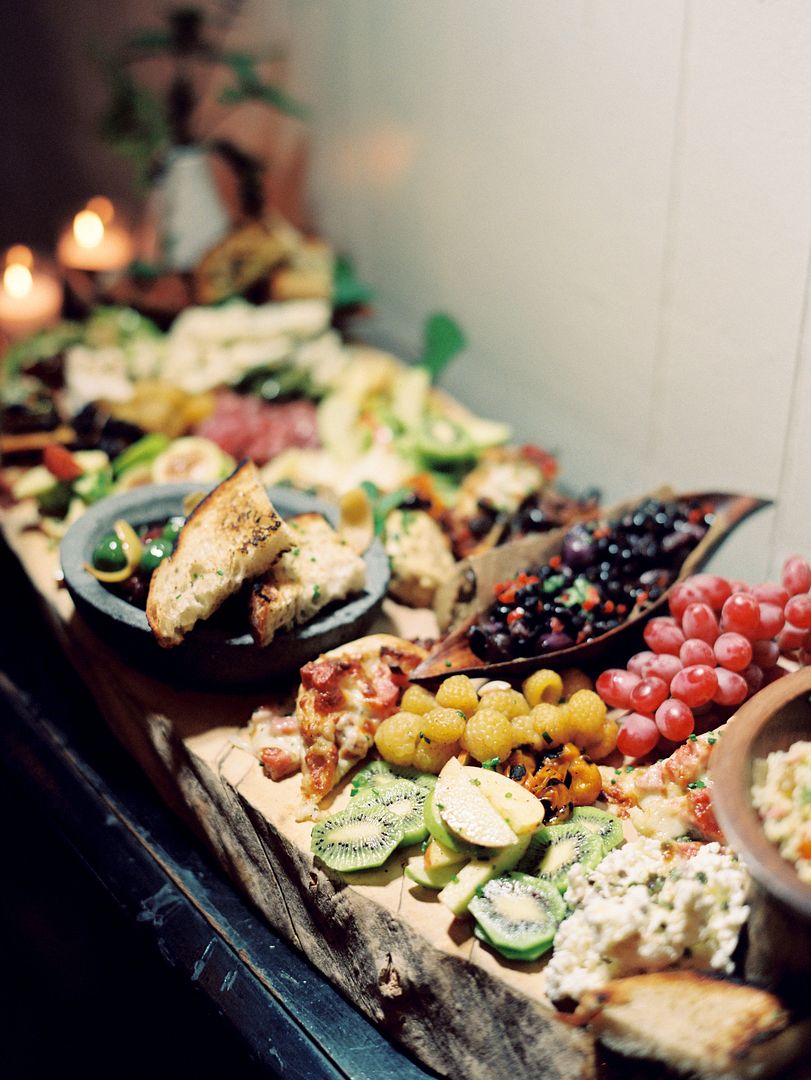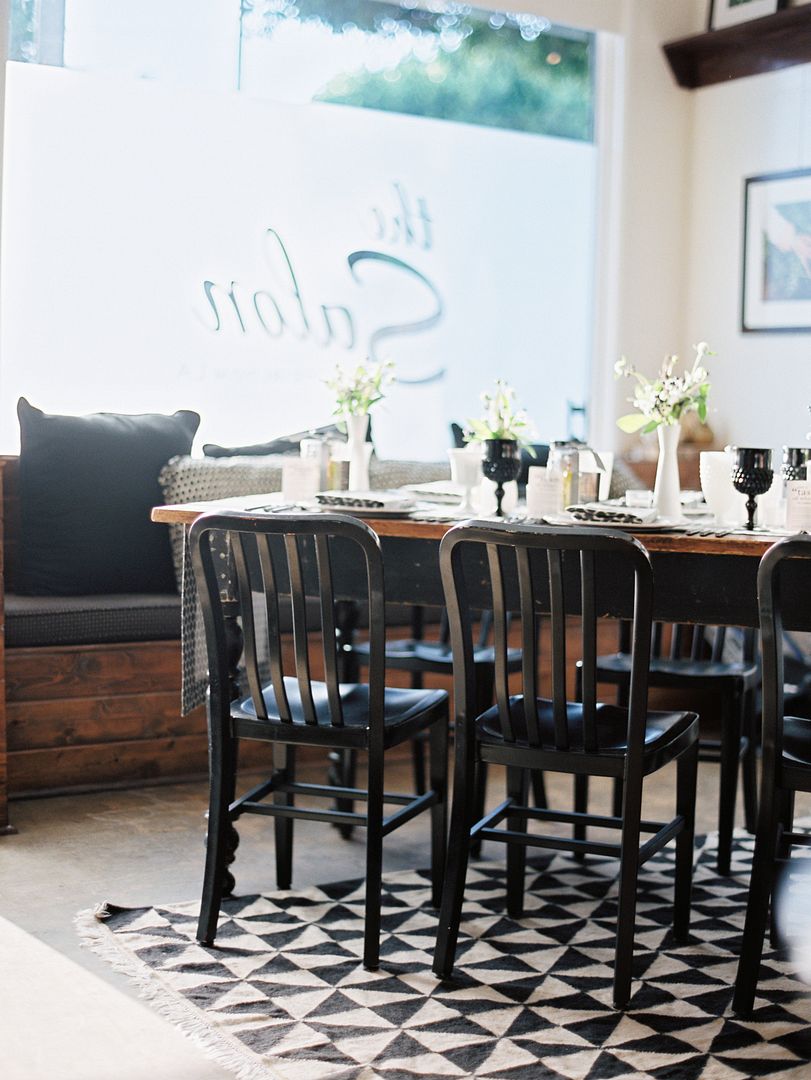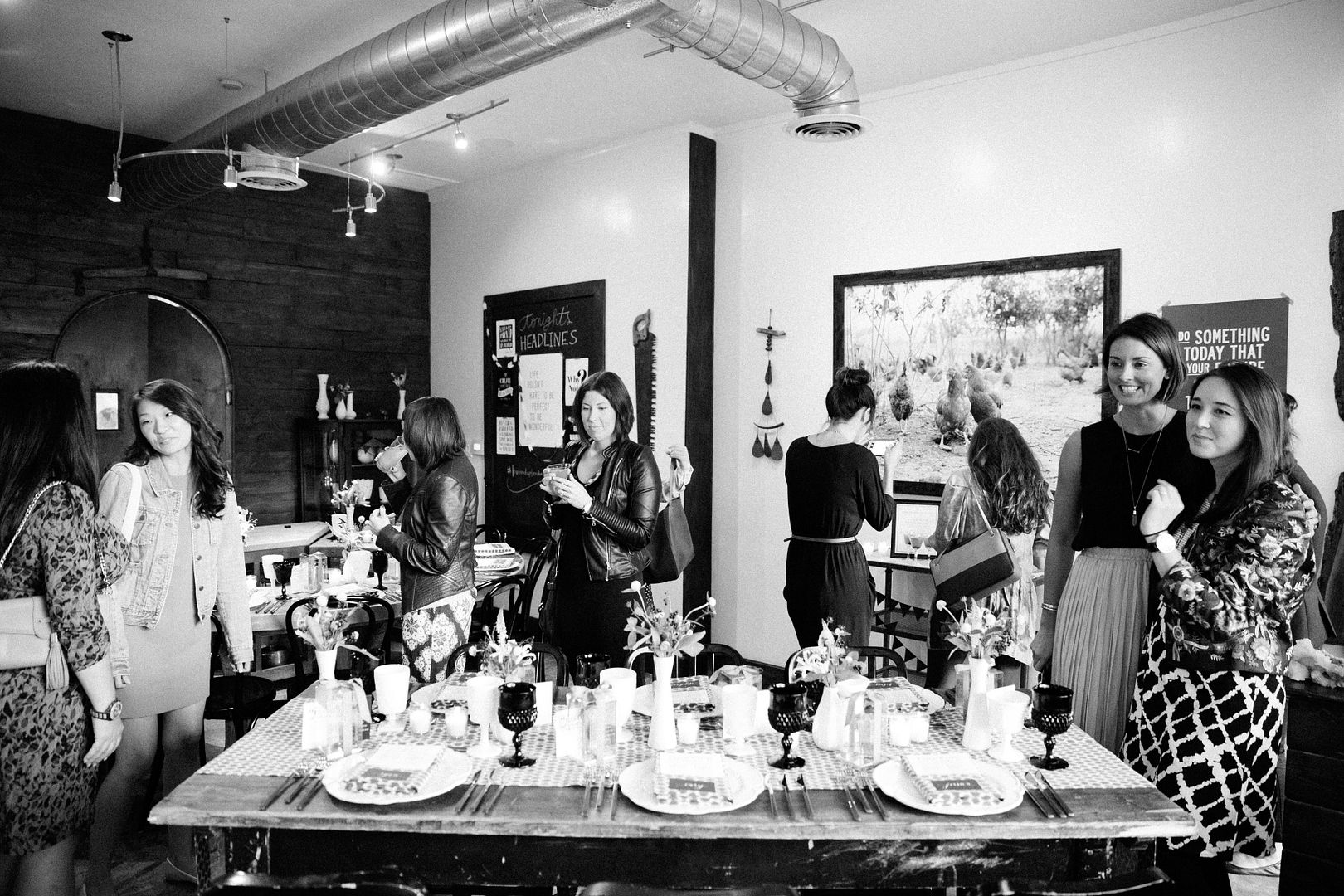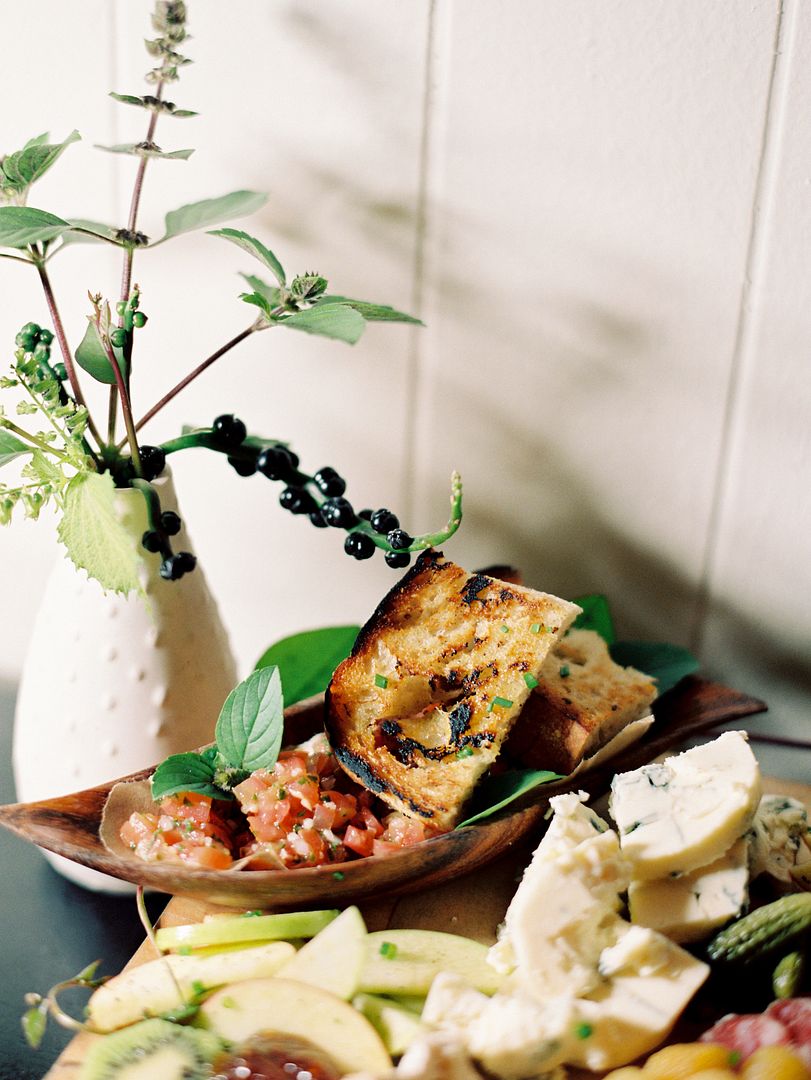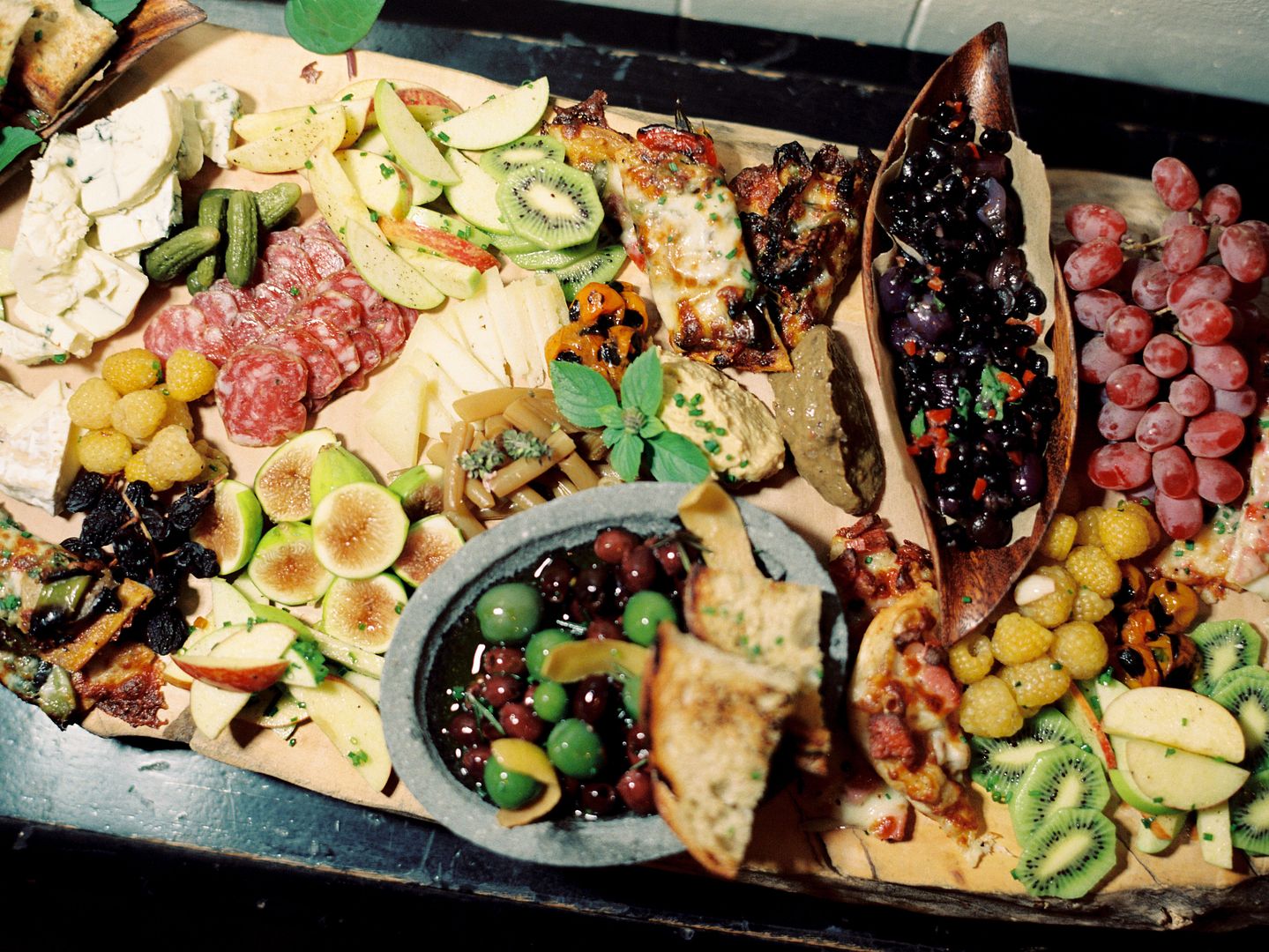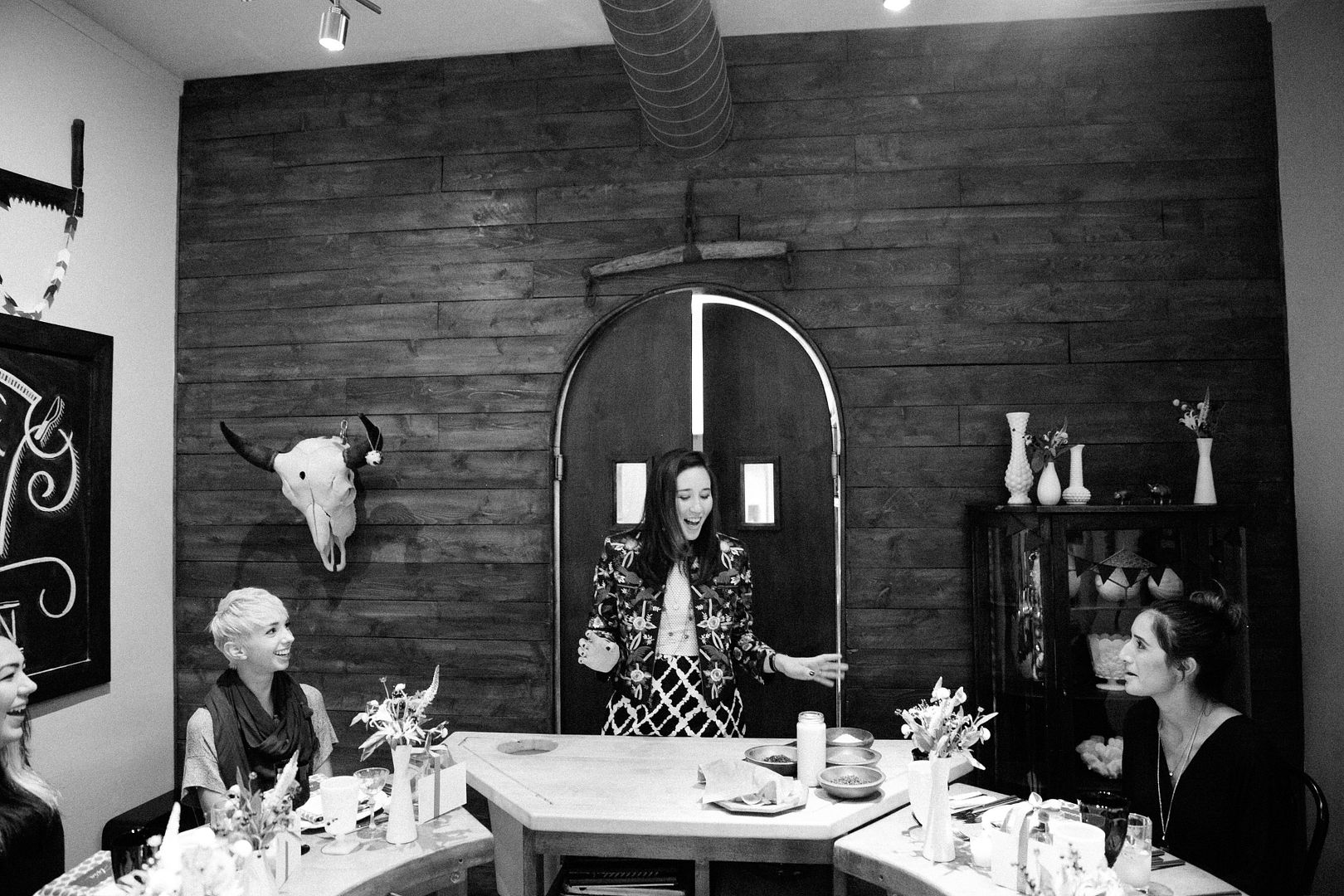 what can I say?  I get excited about food, clearly…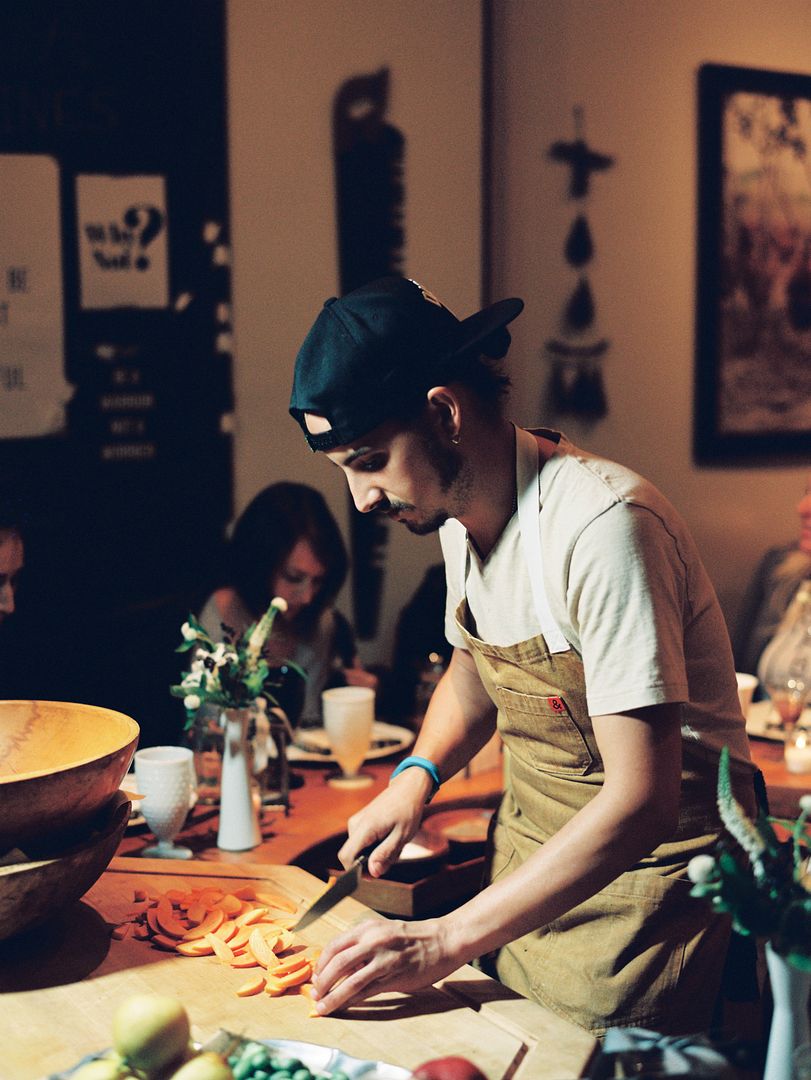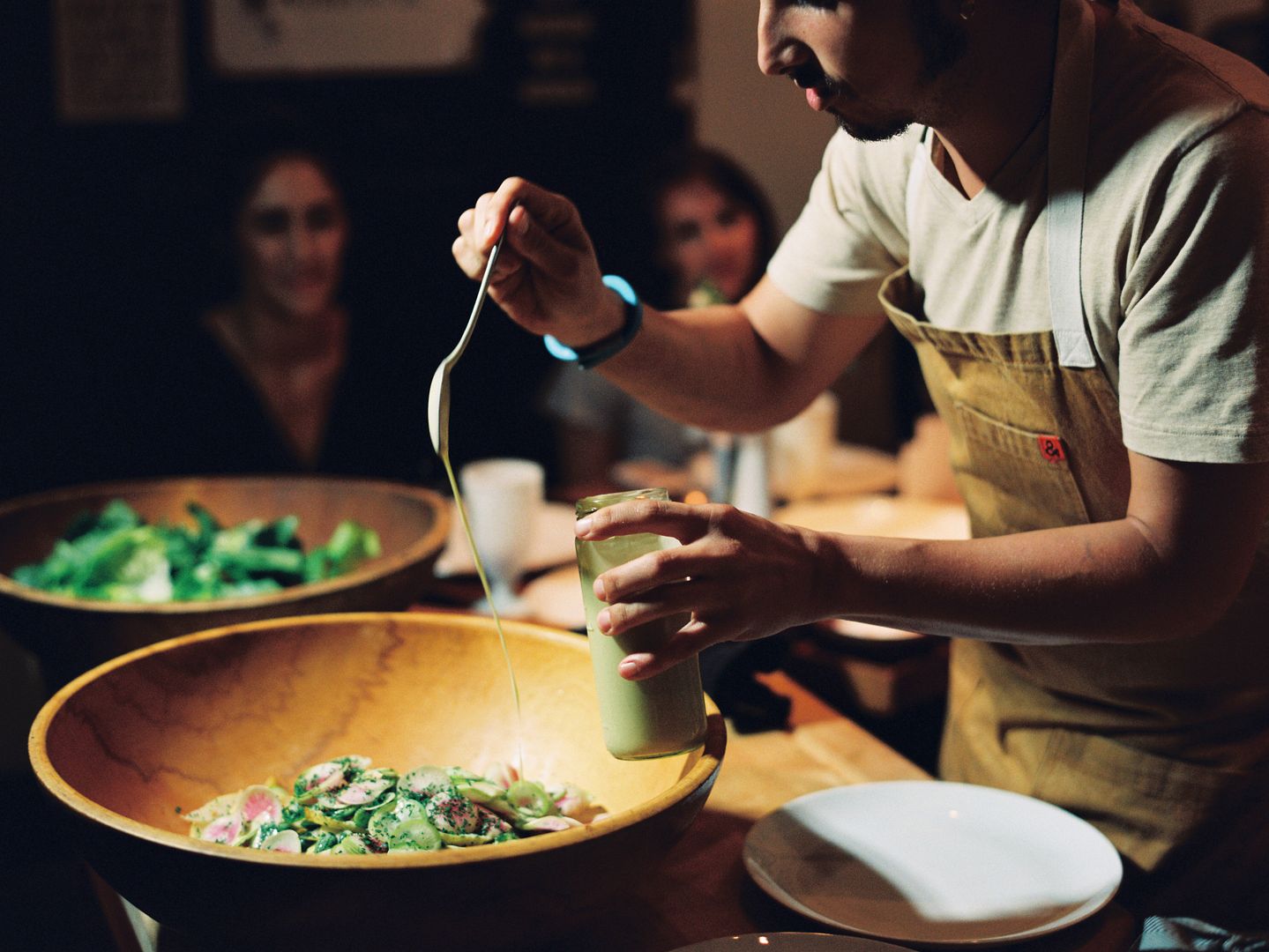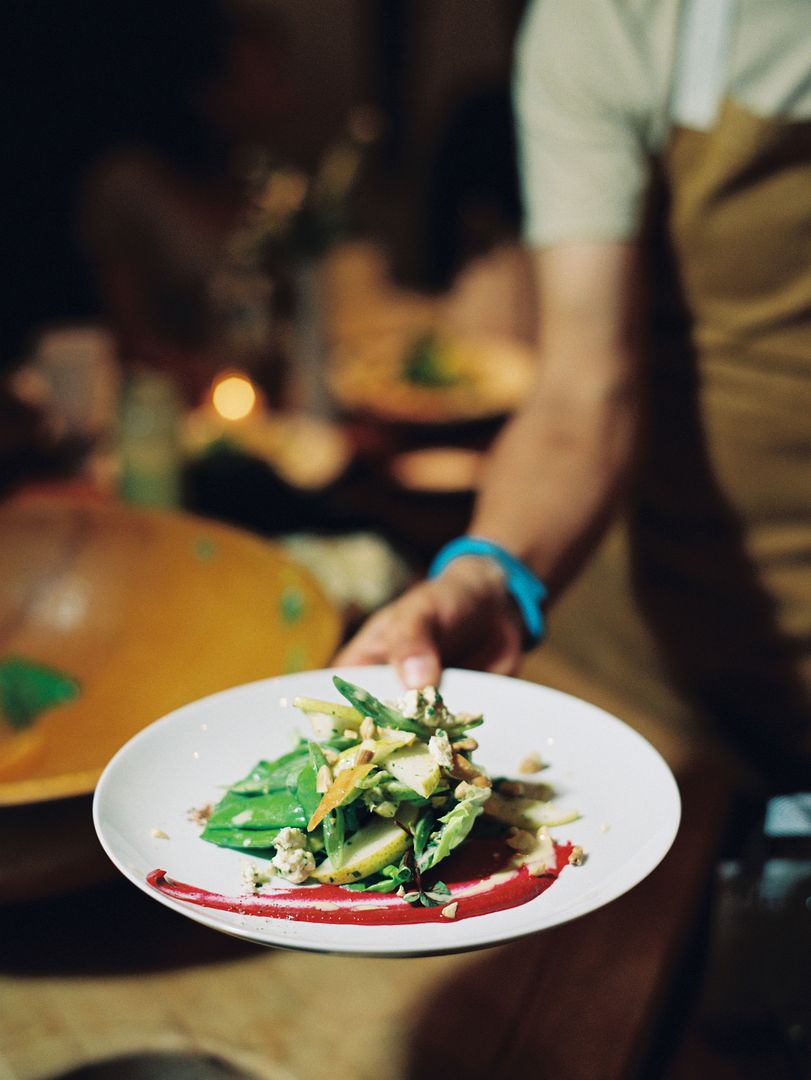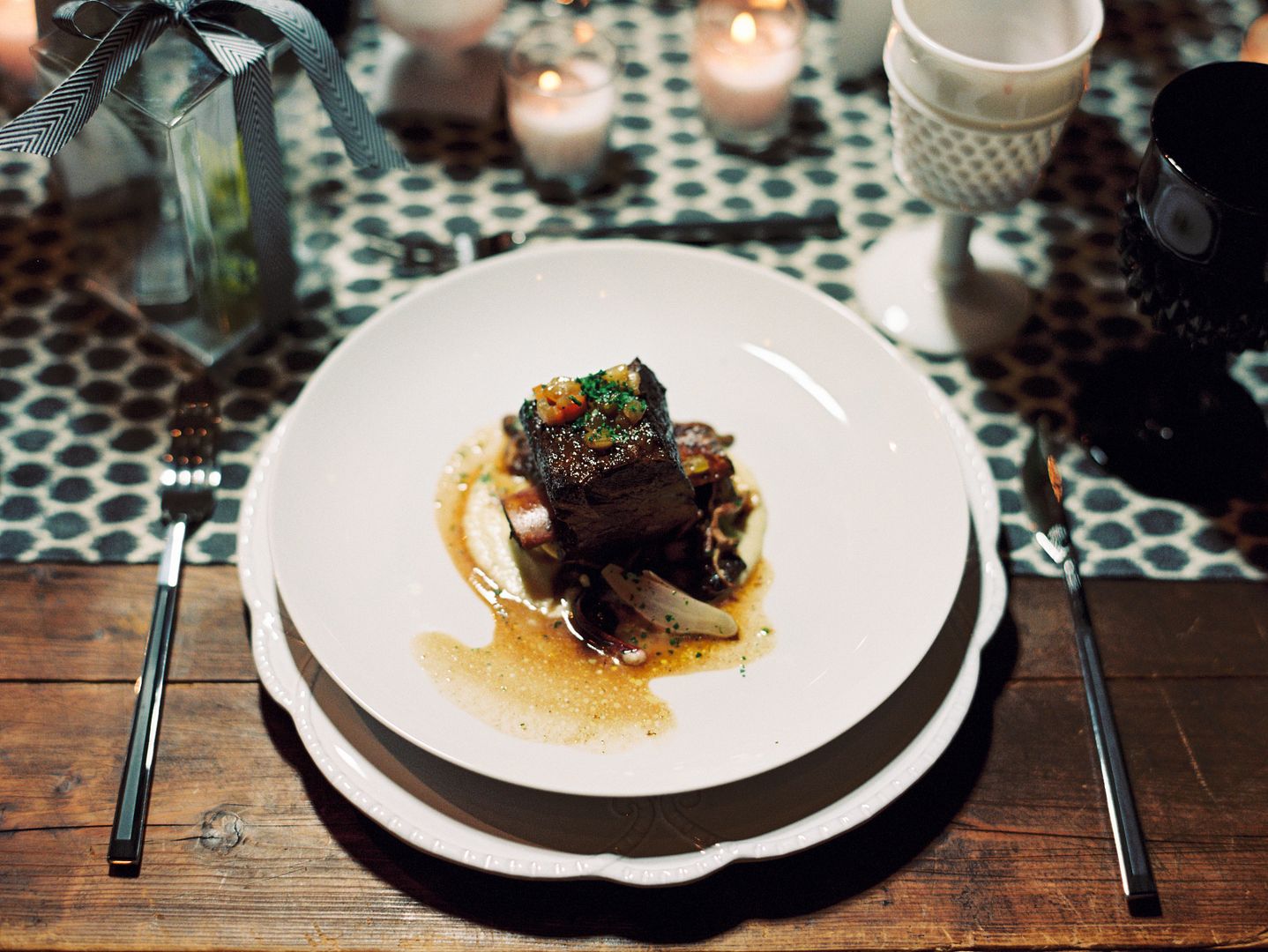 By the end of the evening, I felt like we had all successfully broken the ice and made some new friends.  It was the ideal way to kick off our time together and give the attendees "just a taste" of what was to come…  Each attendee left with a food-inspired gift along those lines, featuring a favorite ascolana olive oil from Il Fustino and artisan finishing salt from Jacobsen Salt Co.
VENDORS: Design & Styling by Love & Splendor | Photography by Ryan Ray | Catering by Heirloom LA | Venue: The Salon by Heirloom LA | Furniture Rental by Found Vintage Rentals | Tabletop Rental by Casa de Perrin | Floral by JL Designs | Linens by La Tavola Fine Linens | Paper Goods by Love & Splendor in-house graphic designer, Kristin
I can't wait to welcome a new bunch of attendees this fall and make new memories and new friends…
I'll be recapping the rest of the workshop in 3 more posts coming your way soon!  🙂  Until then, make sure to save-the-date for September 14-17 to join me for round 2 at beautiful Greengate Ranch in SLO!  One thing I can certainly promise is that the food will (once again) be utterly incredible.