In anticipation of my 2015 Love & Splendor Workshop (registration opening SOON!), I'm working my way through a recap of last year's event.  (Welcome Recap / Day 2 Recap) I have loved revisiting the images from this special experience; it all flew by too quickly so these pictures help me savor all those special moments and memories one more time.  Thank you again (and again) to my dear friend Ryan Ray, who captured everything in such a beautiful way.
On the final day of the L&S 2014 workshop, we had another full schedule of speakers + instruction.  Day 3 speakers included Brittany Castro of Financially Wise Women, Carissa Jones of JL Designs and Jesi Haack of Jesi Haack Design.  I felt like we had a great mix of practical presentations (lots of nitty gritty facts and info) as well as anecdotal accounts, shared experiences, street smarts kinda stuff.  😉  There are so many unique paths people have taken into this industry and I am glad my attendees were able to see a handful of them!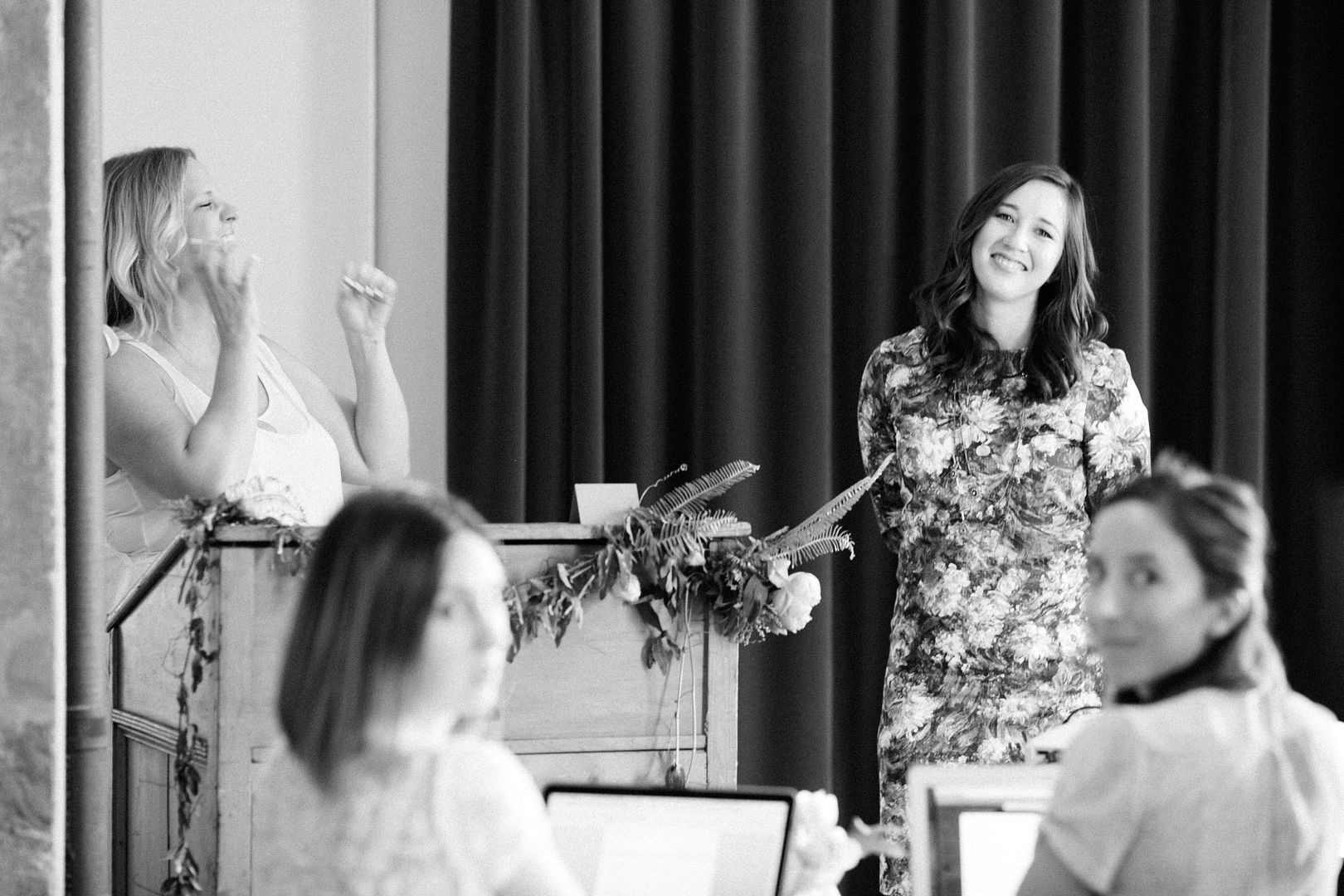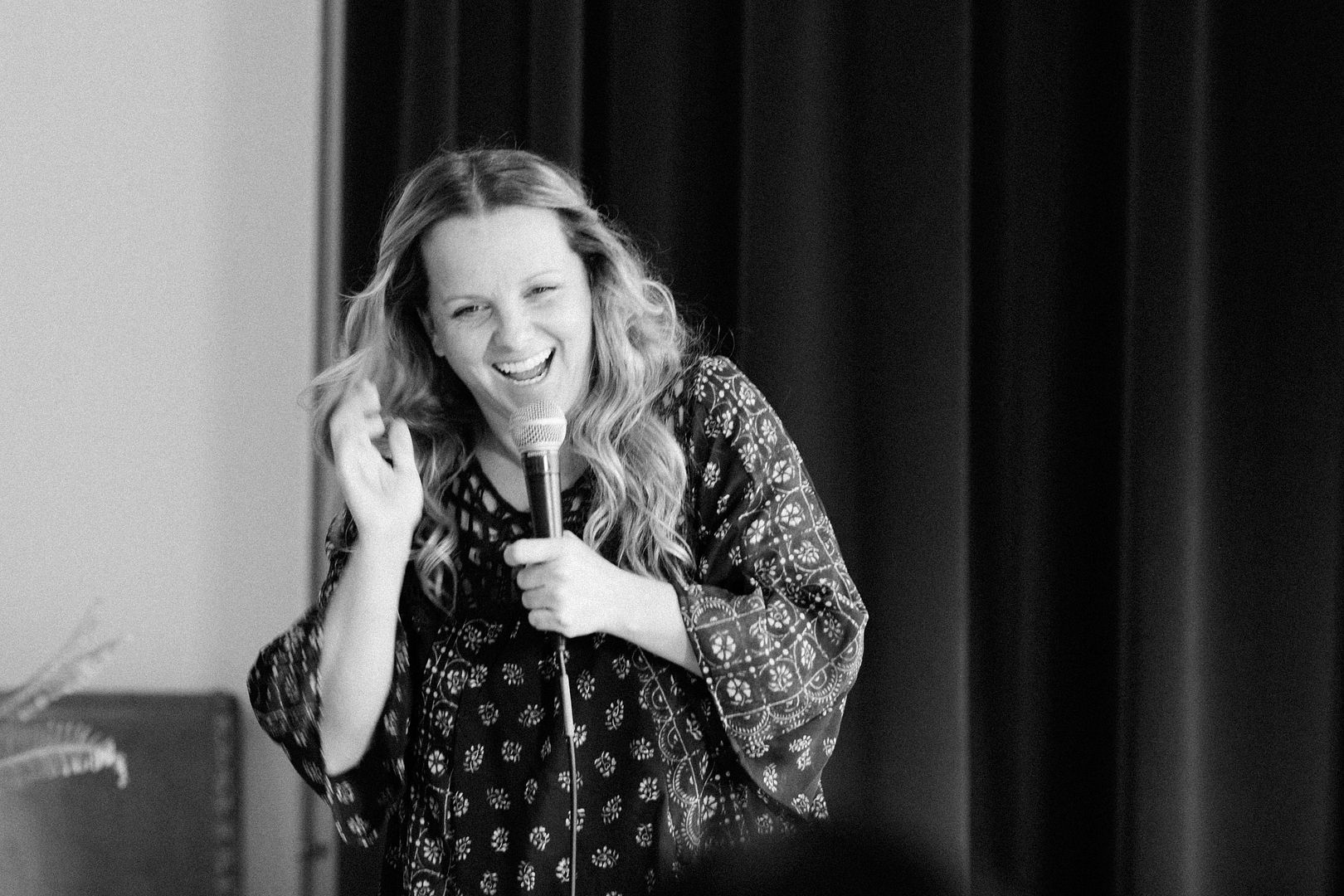 Also it was very important to me that the workshop remain mostly instructive on a practical, replicable level.  I know there are a lot of fun sessions we could have filled our day with, learning various creative skills or participating in artistic lessons.  But, ultimately, I don't think it serves my attendees to dabble in things that will not add value to their services.  I will never be a florist or a calligrapher for my clients because there are so many people who excel in those areas — I want to leave it to the experts.  My primary roles include designer + planner + curator.  So, while I had a floral designer and a calligrapher work with me on the event, I chose to skip the 'classes' and keep the workshop syllabus more planning + design + business-strengthening focused.  If you are looking for a workshop that is heavy on the info, presented in a setting/environment/experience that will inspire, this is the one for you.  😉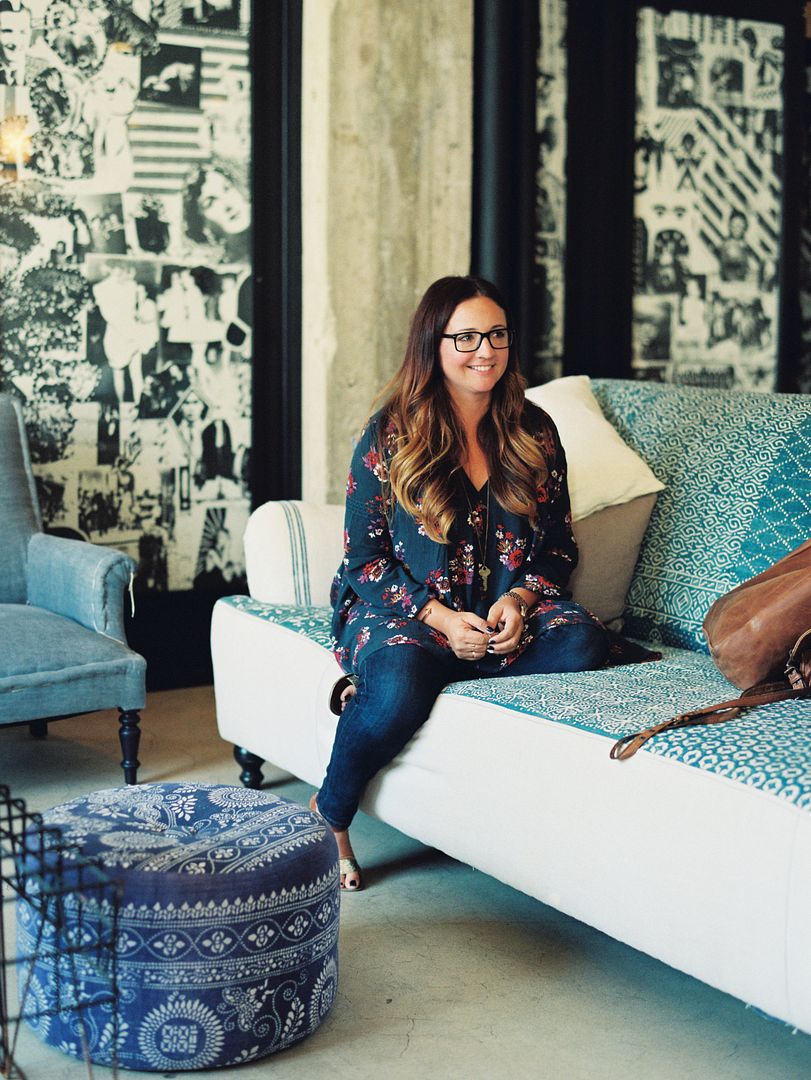 the lovely Erica of 10.11 Makeup, who made me look & feel fabulous everyday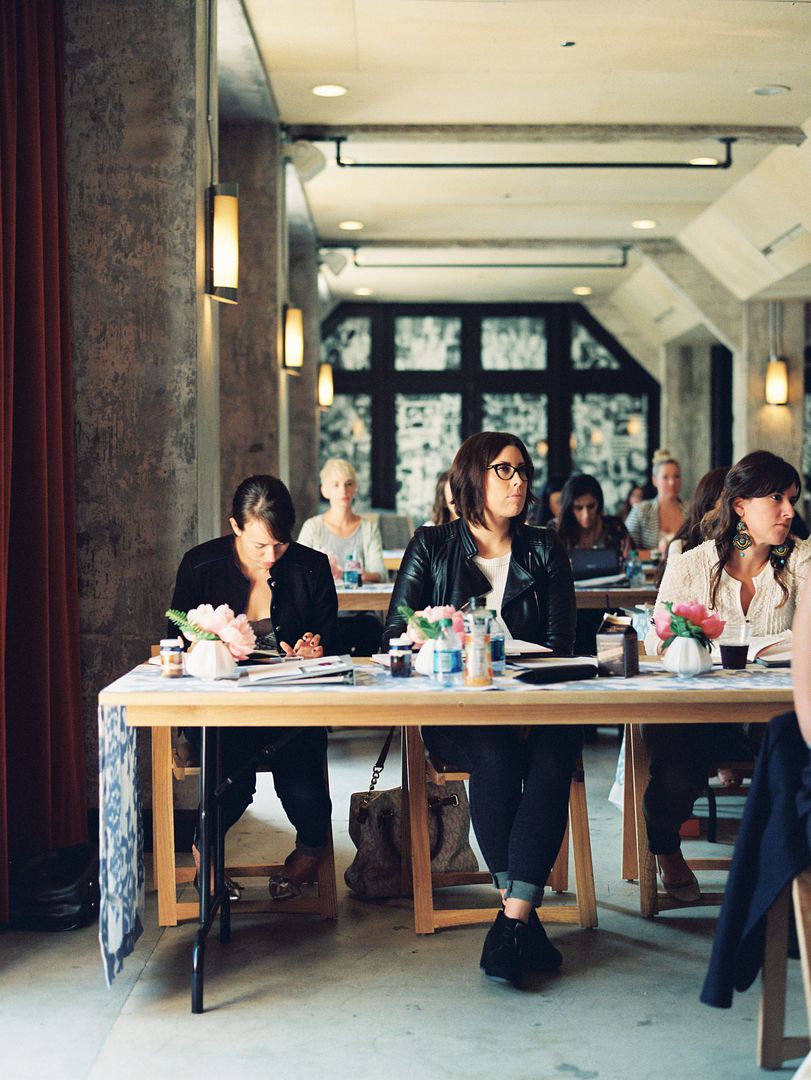 I was so blown away by my intelligent, creative, passionate attendees.  Love you ladies!
We ate like queens (again) thanks to the Ace Hotel's LA Chapter.  My favorite items of the day were a baby gem lettuces salad, a treviso and arugula salad, fresh grilled fish with tomato and ginger relish, curried pork loin with capers and roasted broccoli and for dessert… cereal milk panna cotta and bruléed pineapple with coconut and banana mousse!  We also made sure to have snacks like olives, nuts, flatbread, crudité and fruit in the afternoon (along with the requisite restock of Stumptown coffee) because I love a good noshing station!
A fun part of Day 3 was an inspiration-to-reality tabletop design that I created with Carissa from JL Designs and many of our incredible sponsors.  I wanted to give the attendees a glimpse of the creative process, and how I work with a client in pulling together various elements and ideas and produce a cohesive design that WOWs.  For this special tabletop, I was instantly drawn to Delftware.  I have long loved the iconic white and blue patterns of traditional Delft pottery.  With Carissa's help, we designed a table that was Dutch-inspired, mixing in things like mango and acacia wood, monobotanical arrangements of blooms (many indigenous to the region of inspiration) and modern candlesticks.  I loved the way the table looked and felt: layered, textural, lush and feminine yet natural and almost pastoral… with a breath of fresh modernity.  Anyone who knows me knows I LOVE to play with patterns and am drawn to things with a sense of whimsy.  This is true in how I dress, how I decorate my home, and I how I like to design an event.  This tabletop was totally 'me' in every way and I had the best time putting it together with Carissa and our creative colleagues.
The foundation was created by a gorgeous wooden farm table from found vintage rentals, set atop a gorgeous blue rug and surrounded by unique but complementary wooden chairs.  The table was topped with the most beautiful blue garden collection china by Casa de Perrin.  Chic teak flatware kept the tabletop from looking too traditional, as did the mix of floral vessels (traditional pottery mixed with the clean lines of the wood bowls).  Cut crystal and dark blue goblets, along with sparkling salt cellars, added the perfect finishing touches to each setting.  La Tavola's linen in Wedgewood (one of my very favorite colors) was the perfect shade of inky blue to create an "anchor" with a runner and napkins.  I added my own sourced Delftware napkin rings (two patterns), too.  Sweet and Saucy blew us away with her hand-painted masterpiece of a cake, mimicking the patterns of Delft pottery, adorned with spectacular white sugar flowers.  I still can't get over how incredible the cake was!  There were even hand-painted macarons to match; exquisite!  Get ready for photo overload in 3, 2, 1….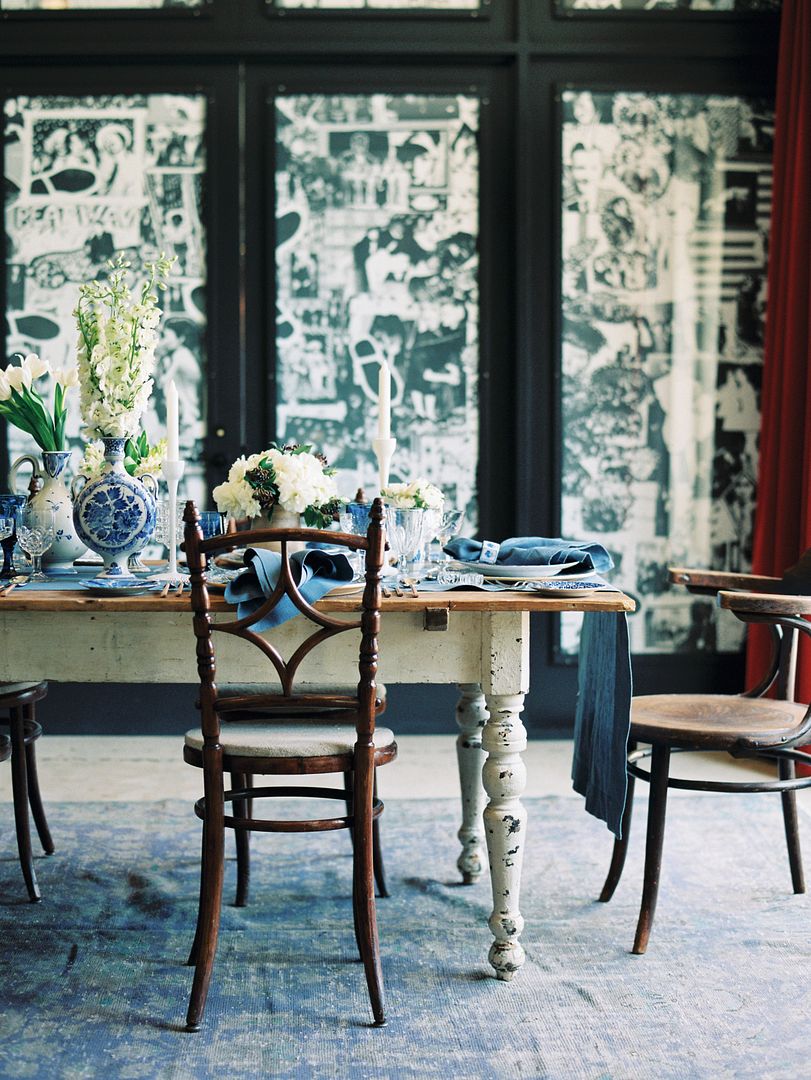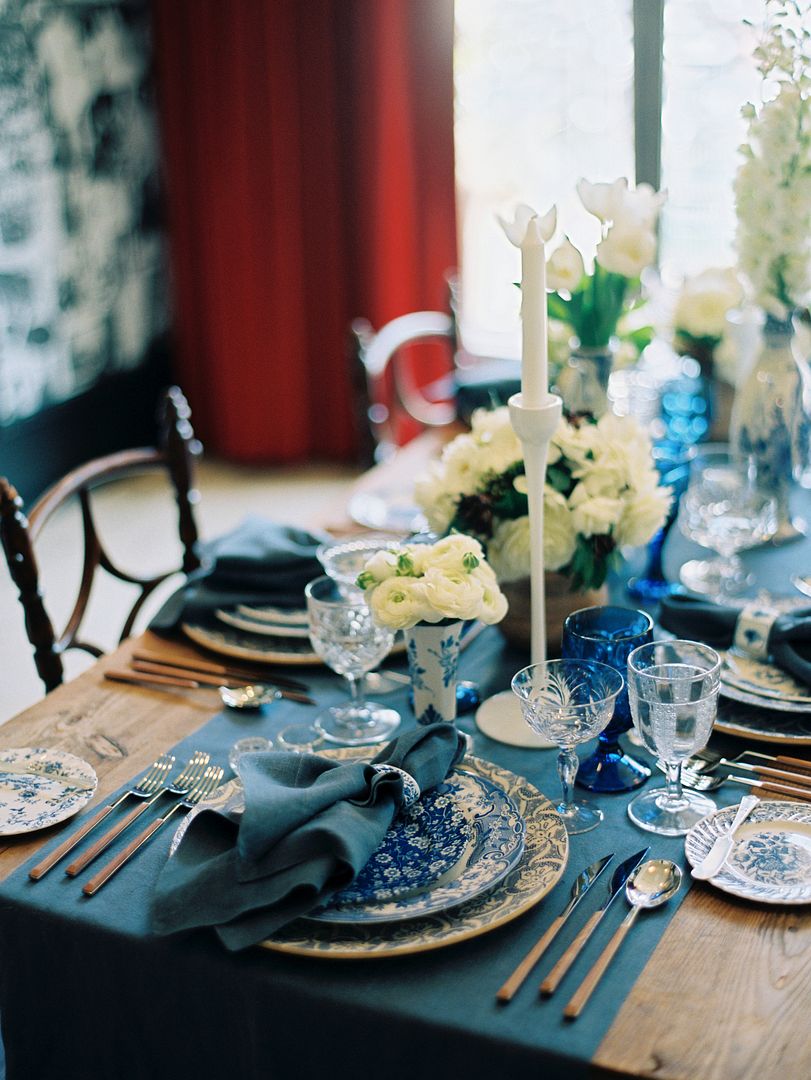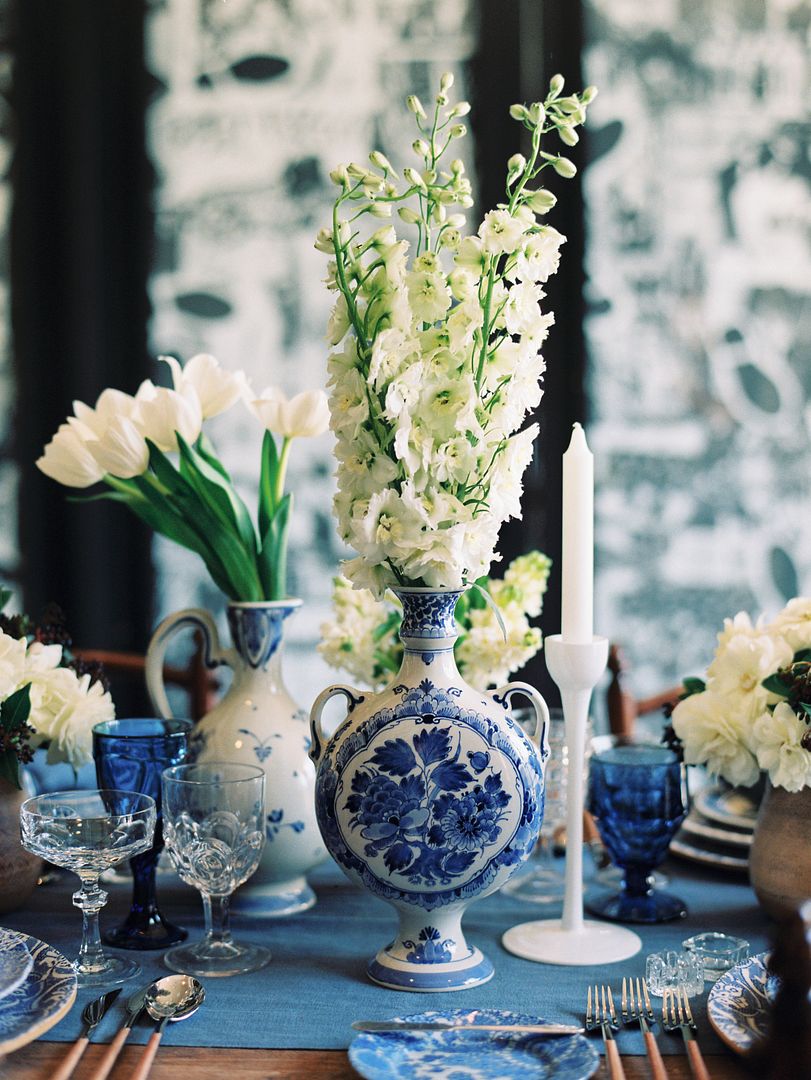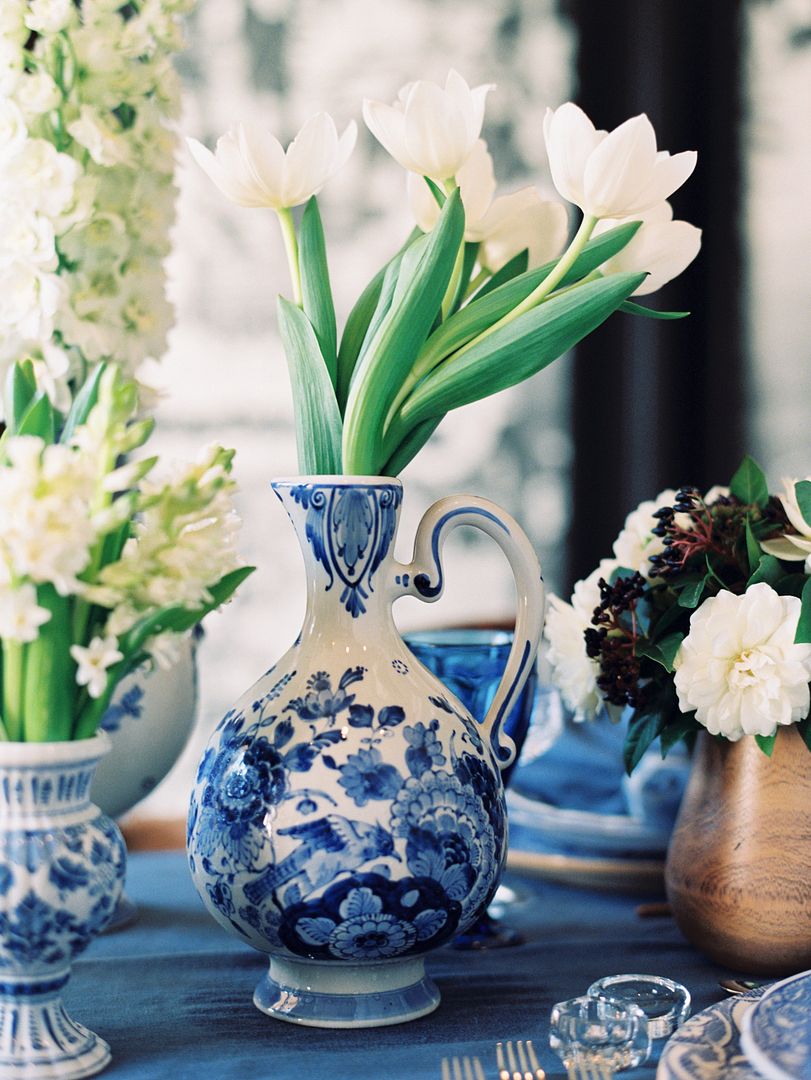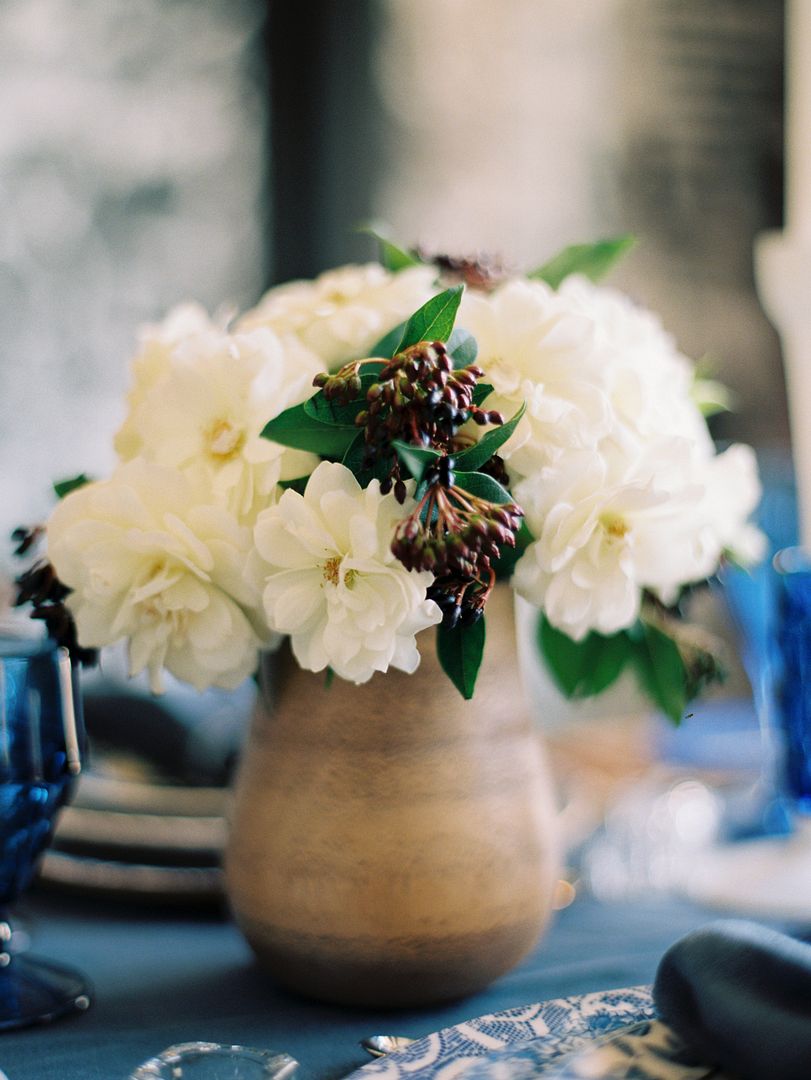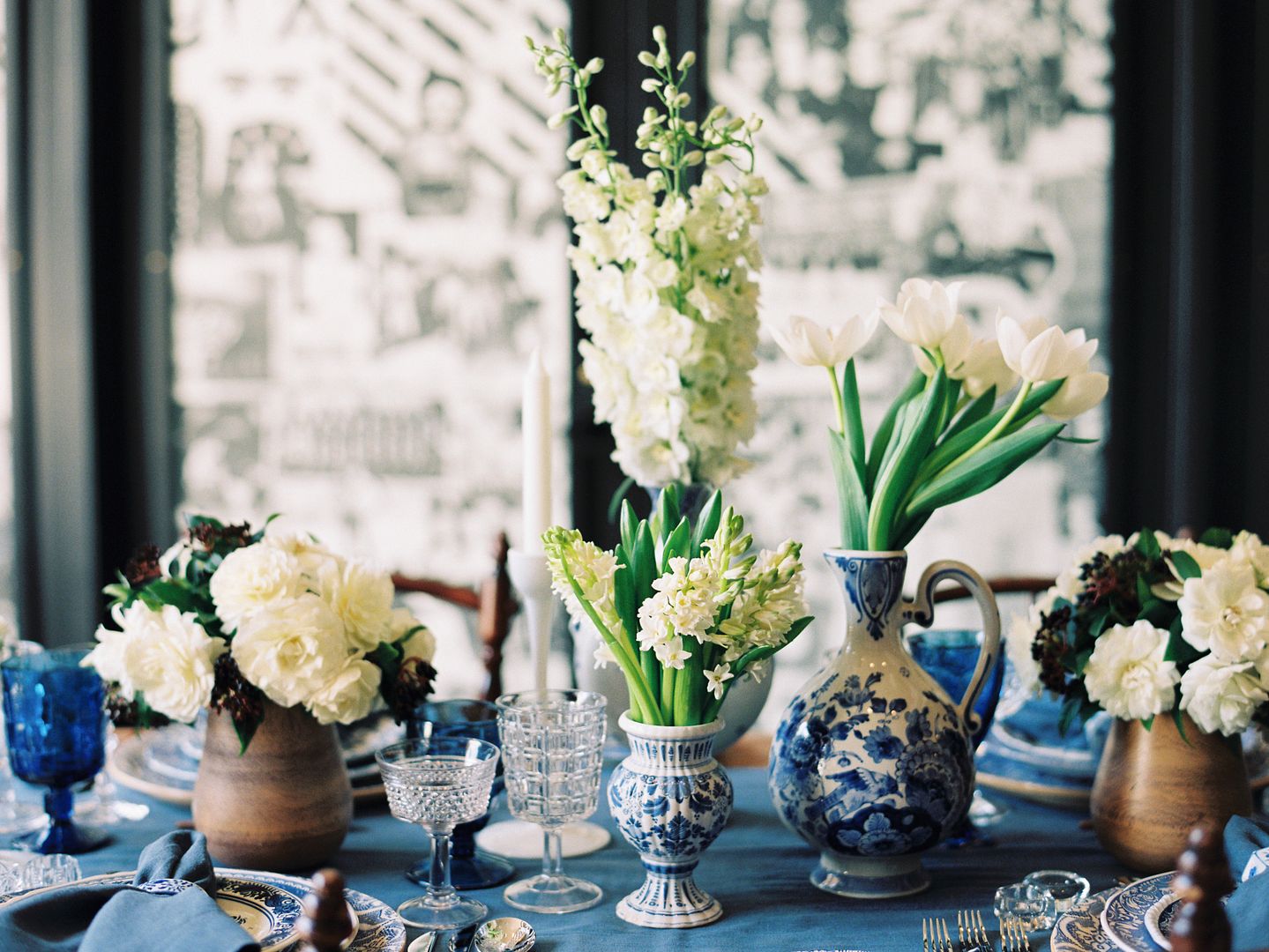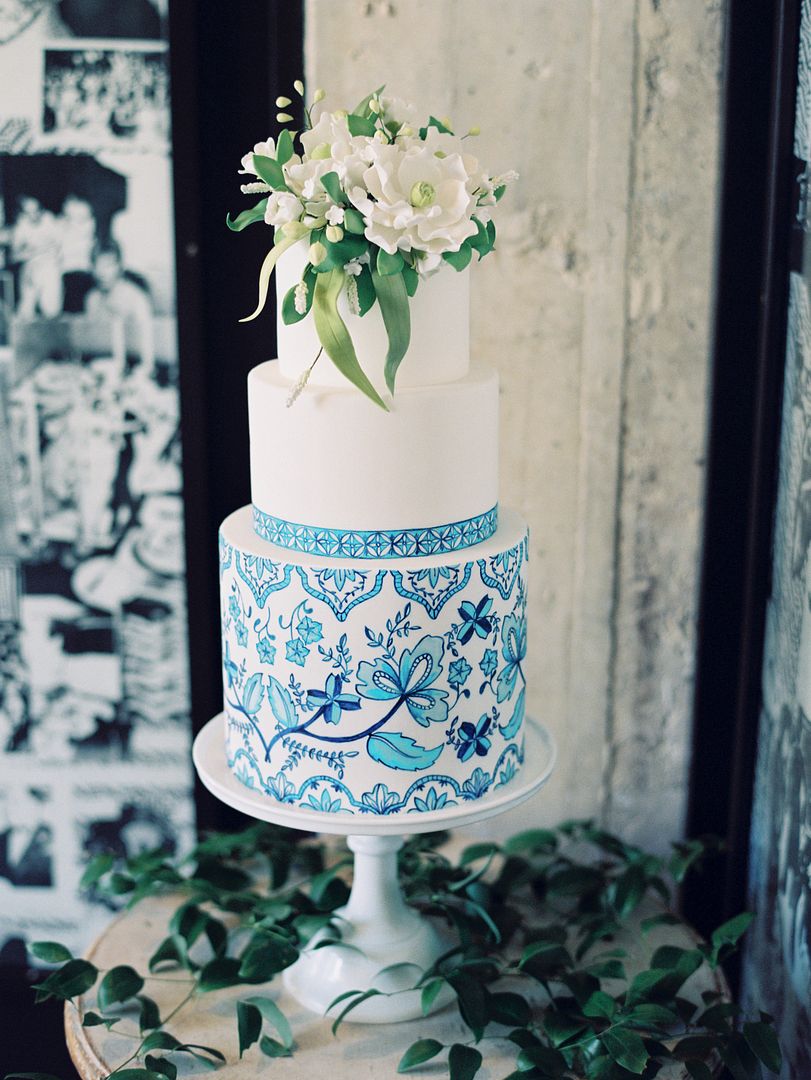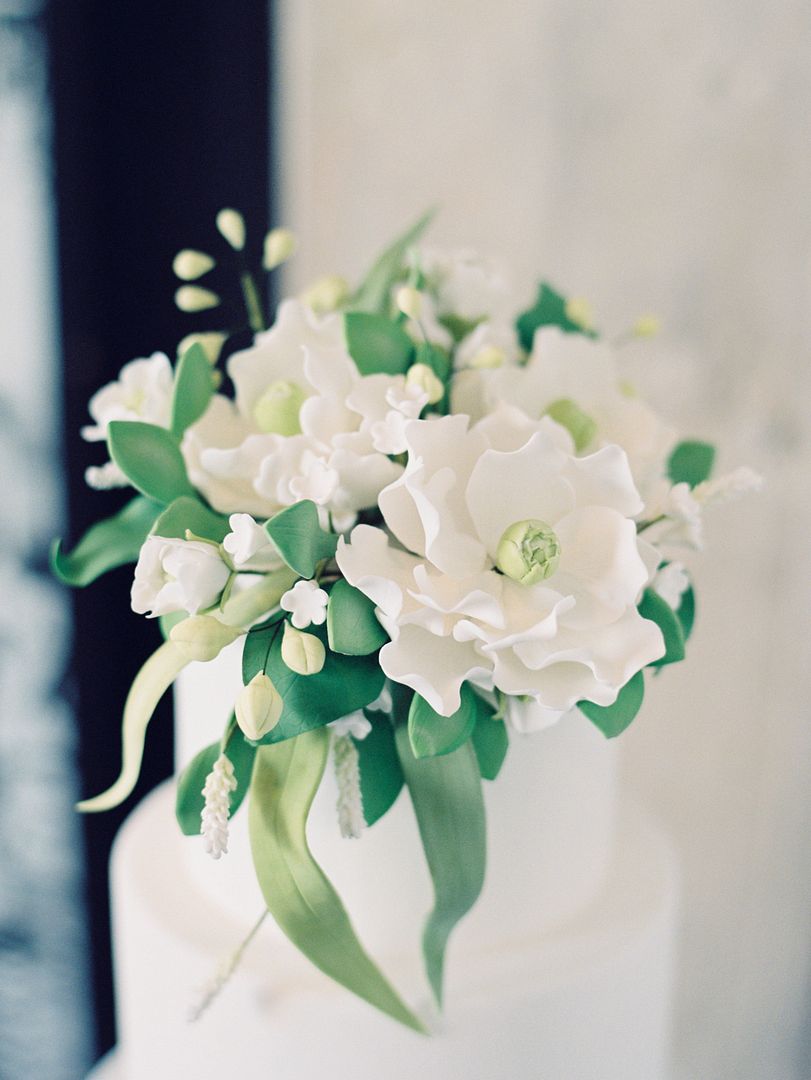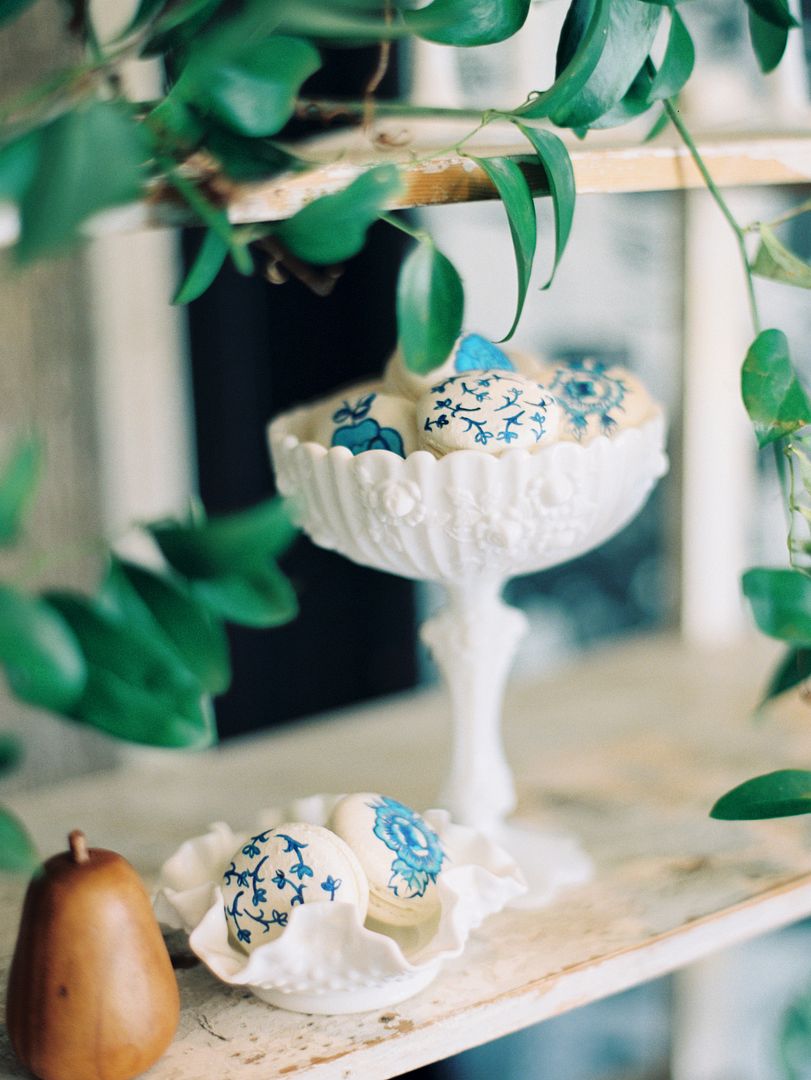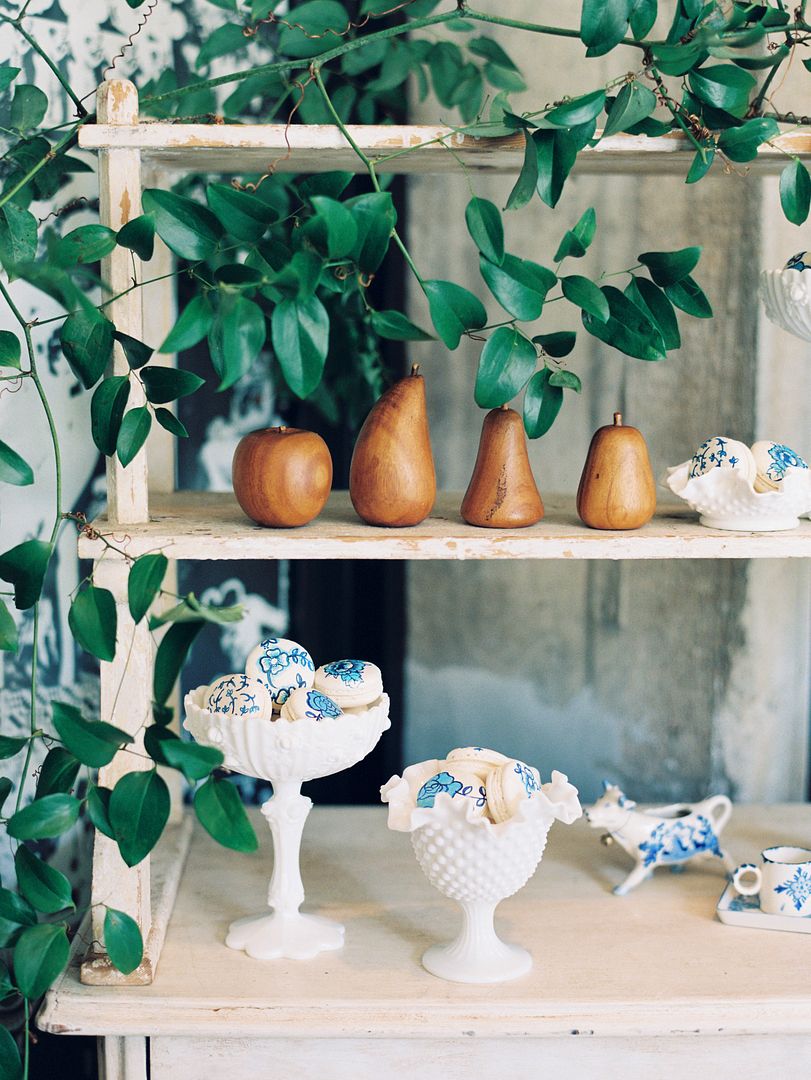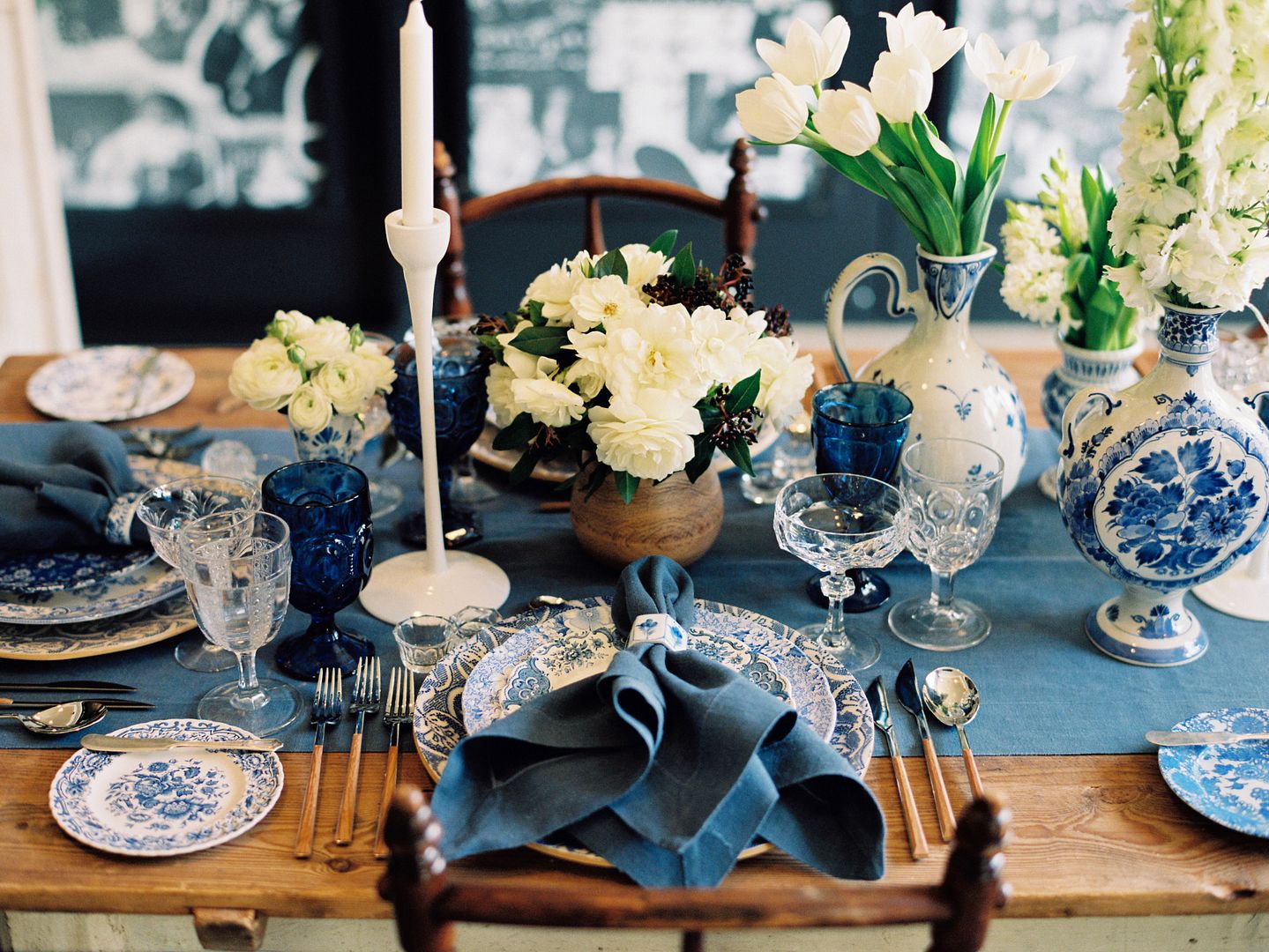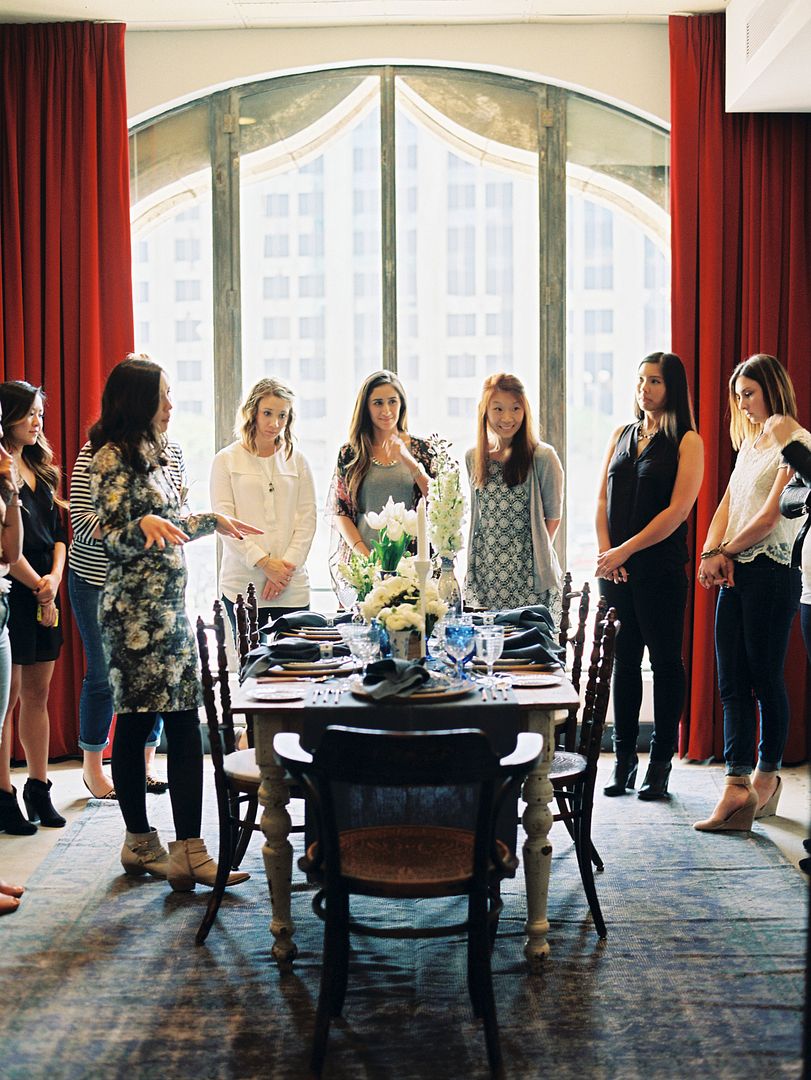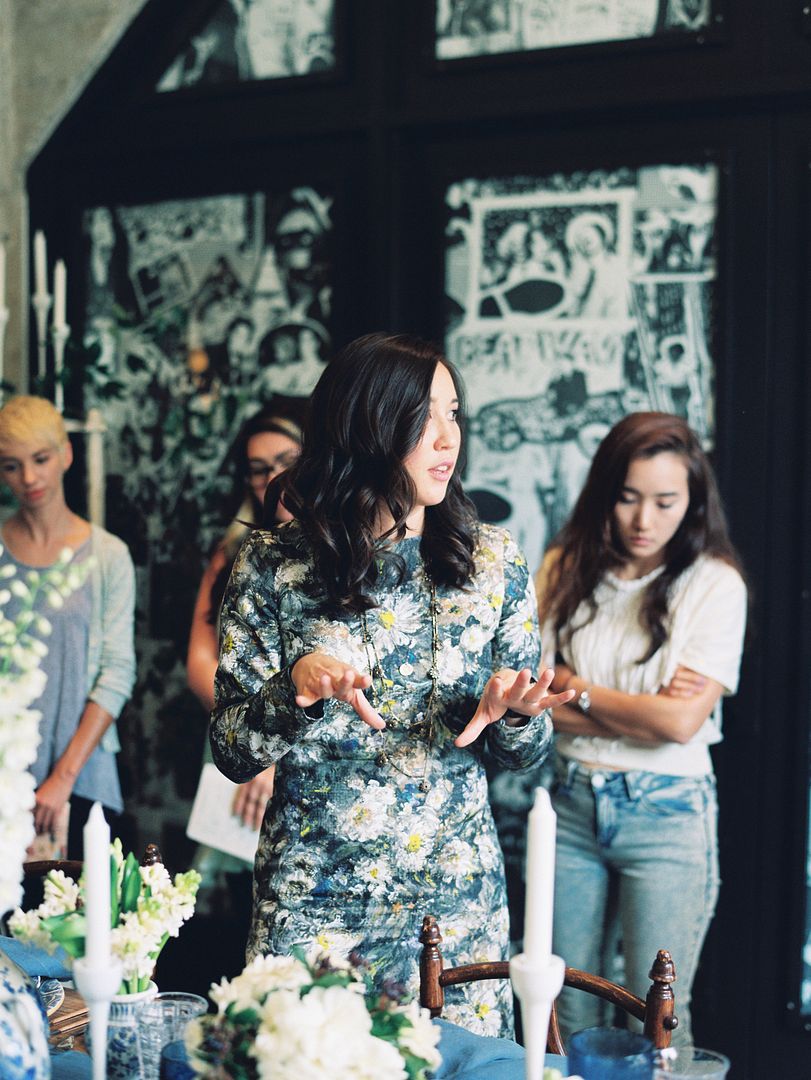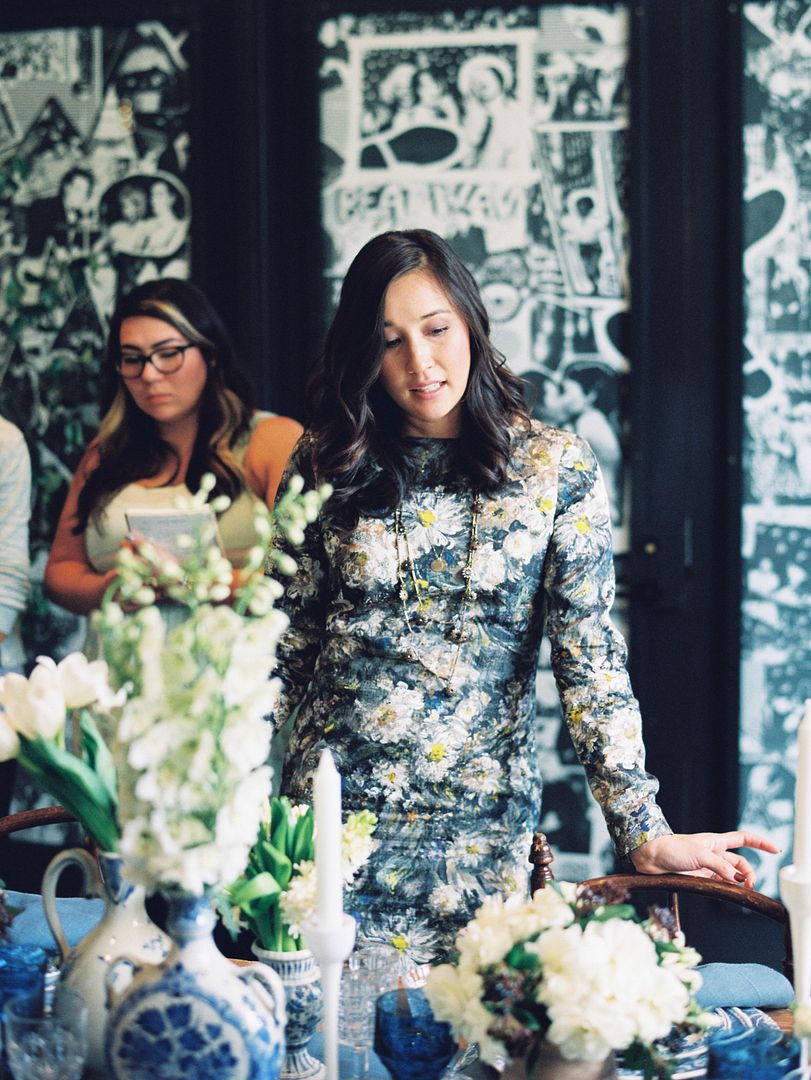 We wrapped the day with a Q&A session; I wanted to make sure everyone felt like they had a chance to ask about anything still left undiscussed.  The truth is we could have spent 3 more days together and still have a long list of questions.  Each attendee had their own vision, their own goals, and their own ideas of what they wanted to walk away with after the workshop.  My hope is that the attendees continue to look to me for any encouragement, support, direction and mentorship they may desire.  I have LOVED catching up with many (most!) of the attendees in the time since the workshop.  My door is always open to these ladies and that's how it'll stay.
There's one more finale post in this recap series: the magnificent farewell dinner!  That post is coming soon so stay tuned.  🙂  Have a great day and thanks for stopping by!