This is a post I never planned to write.
In yesterday's new year post, I alluded to some painful trials in 2013.  I didn't mean to be so cryptic when I wrote that, but I hadn't decided how much, if anything, to share about the topic.  This morning, however, I decided it might serve as some encouragement to any women out there who may be facing the same difficulties and sorrows.  So here it is: just a few months ago, I experienced the loss of a pregnancy.  Let me go back in time to give you some context.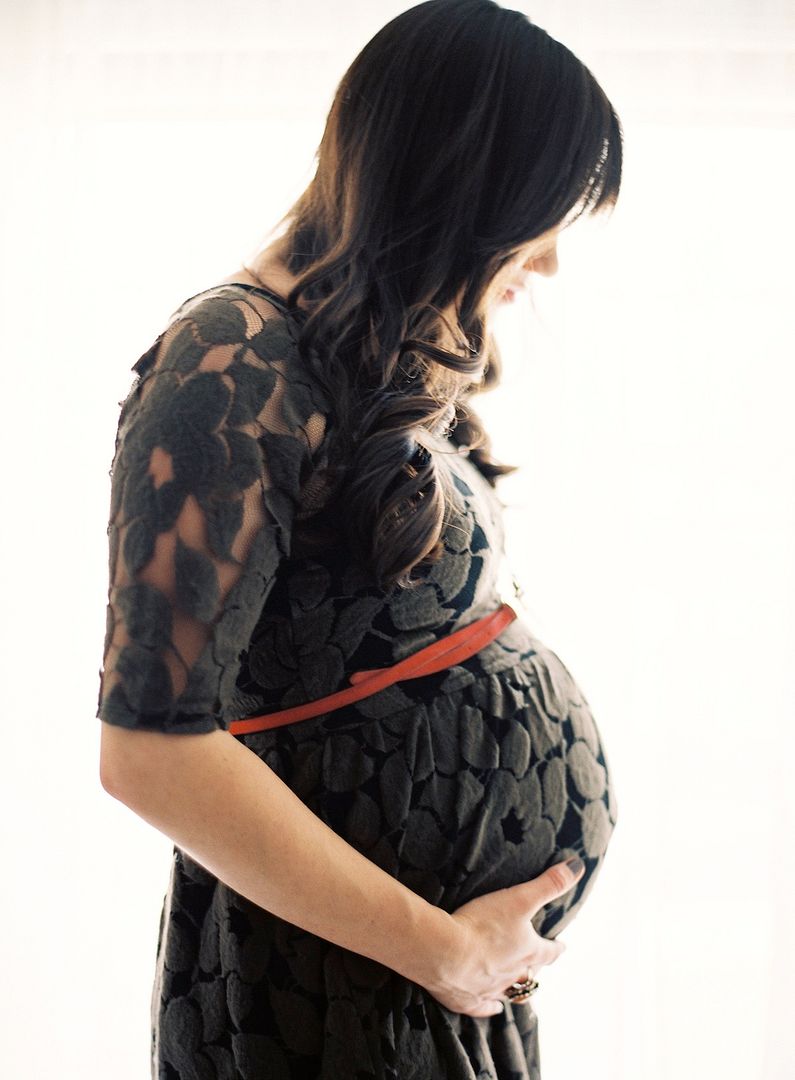 pregnant with Olive // photo by Jose Villa 
After many years of struggling with infertility, I first got pregnant in early 2011.  I was over.the.moon.
Erik and I went out for a celebratory dinner the night I took the positive test, chatting excitedly about how we would share the news with our families.  We were overjoyed about this long-awaited answer to prayer.  Shortly thereafter, however, I learned that my hormone levels were plummeting and I was miscarrying.  It was absolutely devastating, and experiencing that deep pain after years of infertility seemed especially unbearable.  I told Erik I wasn't sure if I could continue trying to get pregnant, since I feared the pain of recurrent loss.  But God had other plans.  Just one month post-miscarriage, I conceived my daughter Olivia Iris, aka Olive.  And here she is today, almost 2 years old (!!!), having changed me in a million ways in that short time.  I thank God every single day for my daughter.  I will never forget the years of tearful prayers, the pleading for just one child, the fruitless wondering if I would ever become a biological mother.  When I see my daughter, I know that the pain that preceded her arrival taught me invaluable lessons.  What a blessing she is.
my newborn Olive // march 2012
We continue to hope and pray for another child, but know that ultimately it is God who gives life.  Not long ago, Erik and I learned I was pregnant for a third time, and we were ELATED.  I cried tears of joy.  We made sneaky plans to tell our families on Christmas morning.  I marveled at the fact that our kids would have exactly the same age gap I have with my sister.  I thought about how I might need to shift things in my fall wedding schedule with a baby on the horizon.  But then…
Pains turned to concerns which turned to some bloodwork which turned to… tears.  Another miscarriage.  While I hadn't told anyone I was pregnant, I suddenly felt like I had to tell a few people about the painful ordeal I was facing.  It seemed to help release a bit of the pain.  I told my mother, my sister, my best friend and a few other close friends.  More tears, but more prayers as well.  Encouragement.  Reminders of God's faithfulness.  Reminders of His sovereignty.
So here I am.  Not pregnant.  Not sure if there is another little one in our future or not.  But I am at peace, a peace that surpasses understanding (Philippians 4:7).  I know that God's plans are perfect and that even in painful circumstances, His will is not thwarted (Romans 8:28).  In the darkest of hours, I have been comforted by God's word (Psalm 34:18 and Matthew 5:4).  The love and support I have received from friends and family in this time has been immeasurable; it has reminded me of all of the blessings I already have in my life.
Although I don't typically write about 'tough' things on this blog, I hope that this post might encourage even one person out there who is dealing with loss.  There is hope even in the darkest circumstances, and I can hold on to that hope to find unshakable joy.  I have been stretched through this trial and I am thankful for that.
I hope you're all having a great Thursday!  Thank you for stopping by to read this deeply personal post; I'm so blessed by your love and support!