Since switching over to Olive updates every other month, it feels like soooo long between check-ins about my favorite little girl.  Olive is changing and growing and doing new things daily and I can hardly keep up.  She keeps me on my toes for sure!  I looked up the last update post right now and I couldn't believe how young she looks.  I better get to posting this update before she changes again!  😉  Here's everything new up to June 12th!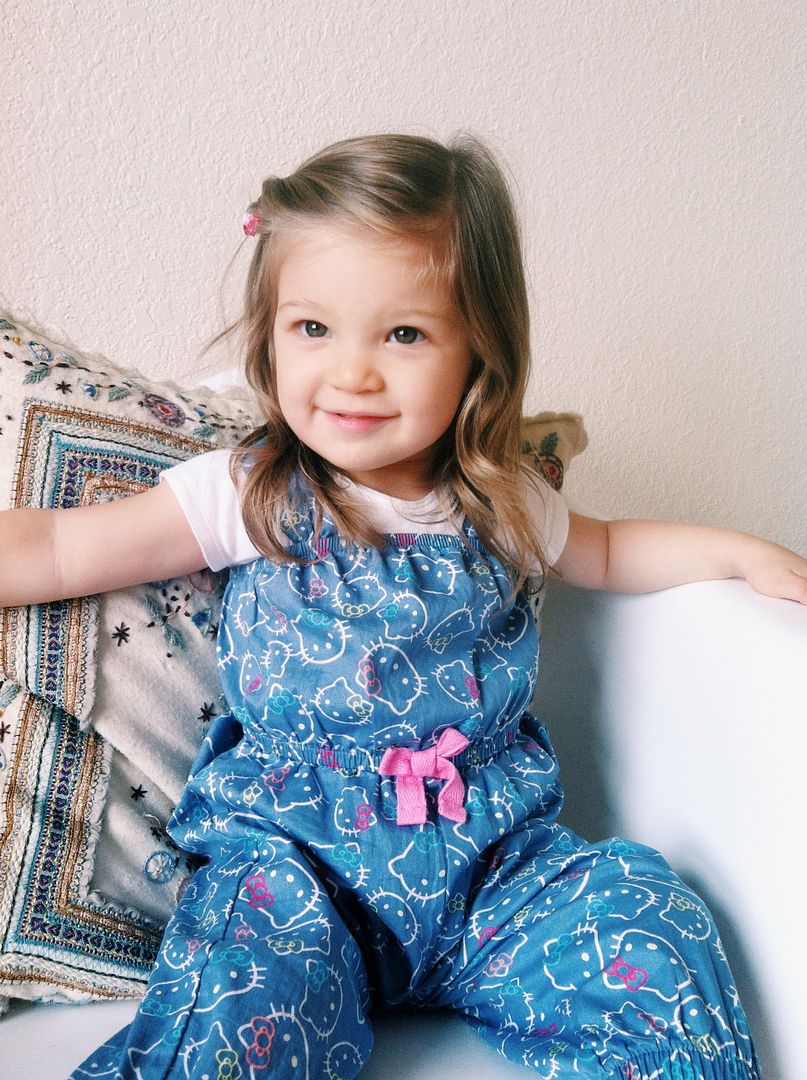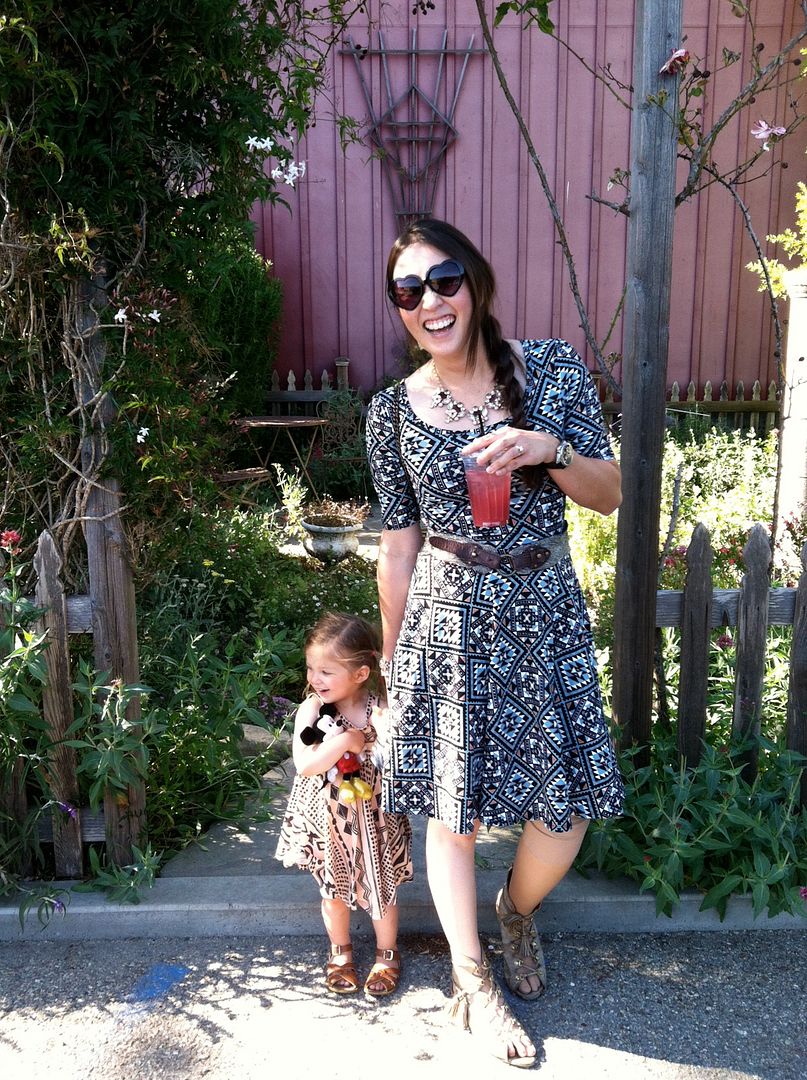 in our dot dot smile and lularoe dresses!
We went camping over Mother's Day weekend at Lopez Lake.  I guess we cheated a little because we stayed in a lovely rental RV via Get Away RV Rentals.  It's pretty great arriving to your campsite with the RV already set-up with running water, flushing toilets, a comfy bed and stocked kitchen!  We had some friends also camping that weekend so we enjoyed boat rides, sand between our toes, fishing and scrumptious BBQs together.  I hope that Olive grows to love camping and the outdoors as much as we do.  This is our 2nd Mother's Day camping at Lopez Lake; how many times qualify as tradition?
Grandpa (my Dad) visited for a quick 24-hour trip and Olive had a blast with him.  We did our usual activities with him: southern-style breakfast, shopping at Target, and steak dinner.  We took Dad to Jocko's (his first time) and he loved it as much as we knew he would.  You really can't beat their steaks (or ribs, oh my gooooodness those ribs).
Lots of park days together.  The past two months were tough with the miscarriage and tons of doctor's appointments, so I constantly wanted to get outside with Olive.  We had a lot of sweet afternoons trying out local parks together.  She still is crazy about the slide and enjoys putting her little Mickey Mouse down the slide, too.  She puts her hands up most of the time, and screams "Wheeee!" every.single.time.  It is inspiring how much joy this girl has in the simple things.  Olive also loves climbing and is really brave with every kind of ladder and structure.
We also got fully immersed in story time at our local library.  One morning a week, we join some pals for a 30 minute story time that includes songs and nursery rhymes.  Olive looks forward to it every week and we began checking out three new books every visit.  I love this part of our routine.  🙂
She went through a puzzle phase where she wanted to work on simple puzzles every morning for a while.  She's really good at them!
We went to Disneyland (2nd time!) with her two cousins (A&A), Erik's sister and bro-in-law, and our dear friend Jackie (and her baby boy).  Sooo much fun!  It really is Olive's happy place.  She had another tear-jerking encounter with Mickey; she just loves the mouse.
I started letting her push her own mini cart at Trader Joe's.  It's equal parts adorable (she loves it) and terrifying (I'm sooo scared she's going to run into some sweet granny's ankles!).
We fell in love with the SB Zoo and had to get zoo passes.
Chick-Fil-A is our standard stop on many late-night drives.  Olive loves their nuggets and let's be real: so do I.
Her hair color is incredible.  It is changing all the time but it has so much variation in it.
Olive loves to sing and talk all day long; she is a total chatterbox.  I love watching her personality bloom.  She's definitely playful, energetic, silly, sympathetic and a bit stubborn, too.  😉
She's fully potty trained!!  I actually went cold turkey off of the diapers one afternoon.  Erik and I took her to the store, let her pick out her undies (Hello Kitty and Minnie Mouse, of course) and went for it.  She had been familiarized with the potties for months (we have both a little one on the ground and a seat that goes on top of the regular toilet) but we just went to full implementation.  I have heard that this method has backfired on some people but so far, it has been great for Olive.  I think it just boils down to her being ready.  We still put her in a diaper overnight but she wakes up dry almost daily.  I'm so grateful to have reached this milestone!
Here is another photomosaic — an update staple: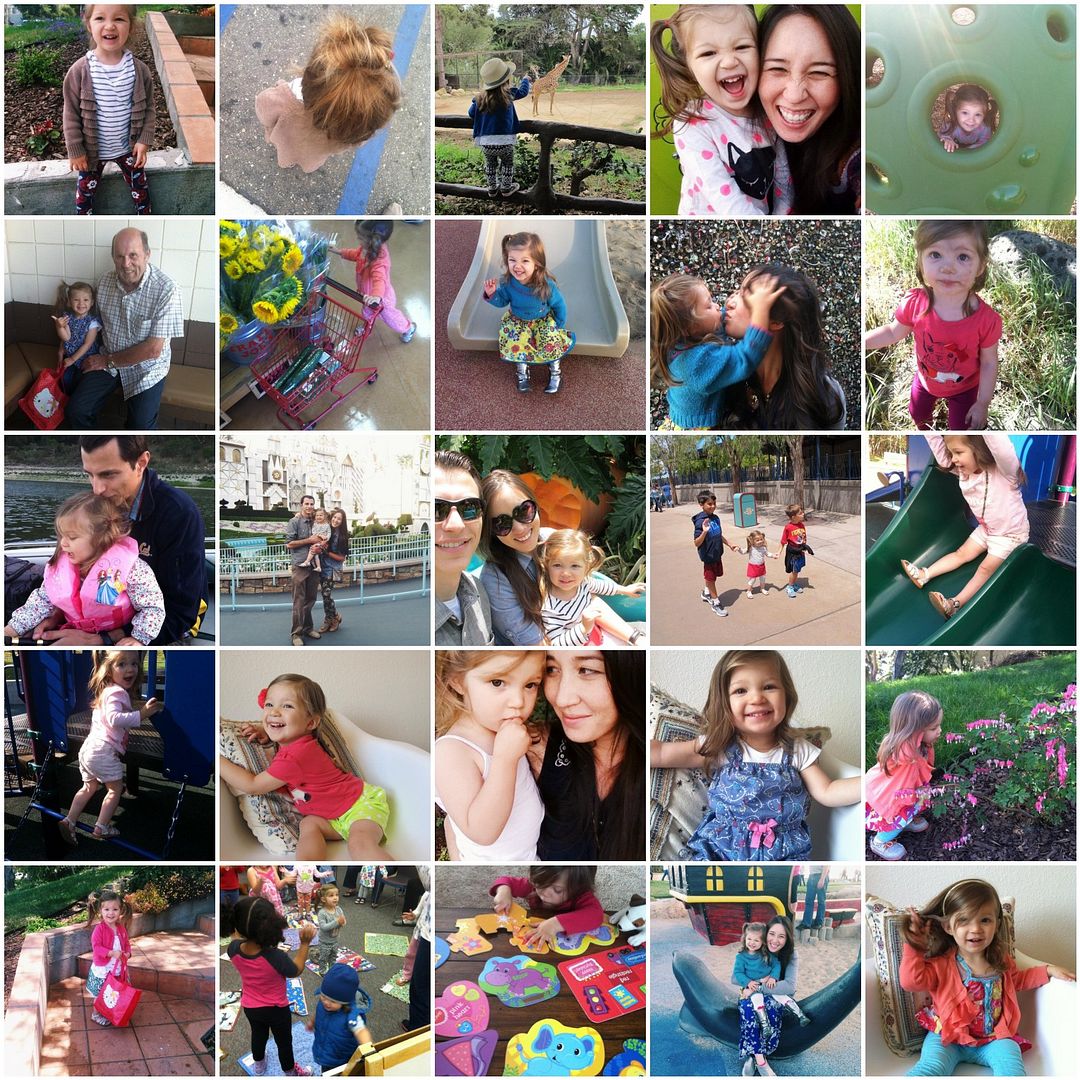 Olive — it just gets better and better with you.  We love every moment with you, sweet girl.  Thank you for always cracking us up with your antics, never turning down an opportunity to dance, and saying "I love you SOOOO much" at just the right moments.  In difficult times, you have been a reminder of the greatness of our blessings.  You are such a treasure and anyone who meets you tells us the same.  It is such a joy being your parents.  -All my love, Mama
I hope you're all having a great week so far.  It's another wedding week (hooray!) so I'm counting down until the celebrations unfold beginning on Friday.  I couldn't have a sweeter couple this weekend; love you guys L&B!!!  See you all soon!