Another wonderful month with our daughter has come and gone… and I nearly lost my chance to get this post up before the next one is due!  In the past month, I feel like I've watched Olive blossom into a different baby.  SO many fun changes are happening everyday… from her growing desire to move (everywhere!) to her increased playfulness and the emergence of a personality, I am loving being a witness to this girl's life.  On a near daily basis, some stranger will come up to me and comment on Miss Olive.  Whether they are remarking on her lush head of hair (most frequently) or her sunny disposition (she has a smile for everyone!), I always get the same feeling inside: I am SO blessed to be her mother.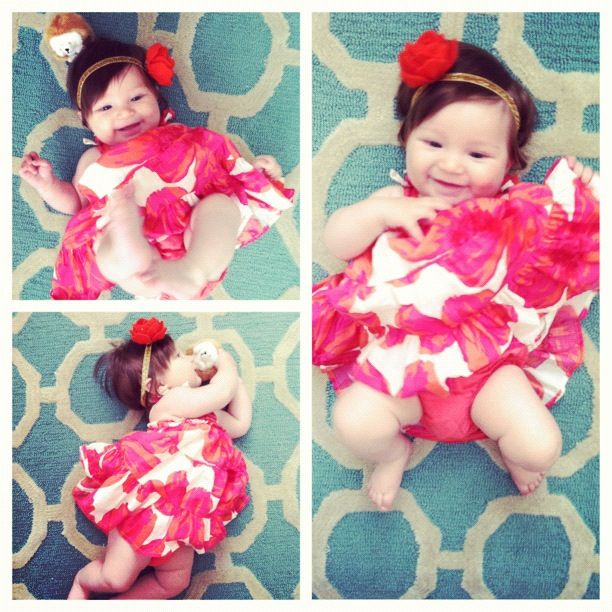 Here is the latest and greatest in the world of Olivia Iris!
Olive's weight gain seems to have leveled off a bit.  We don't know exactly how much she weighs since our next visit isn't until the 6-month mark, but I'm guessing she's in the 15lb range.
She is showing the early signs of teething, although no pearly whites have popped through yet.  She chomps on everything she can get her hands on (my fingers, her toys, etc.) with great fervor, though!
She got in a jacuzzi for the first time, and seemed to enjoy it!!  We are trying to ensure she feels comfortable with the water from a young age so we can enjoy lots of childhood swimming and pool/beach time!
Olive is vocalizing more and more, as if she's trying to push the limits of her tiny vocal chords.  It is hilarious when we are sitting in church and all of a sudden she'll make a loud, "Ahhhhhhhrrrrrrrlalalala."  It cracks everyone up that this tiny bundle can make such a noise, but at least she isn't crying.  😉  It seems to simply be contented exclamations.
She's SORT OF crawling!  She is army-crawling around and we laugh when we turn our backs for a minute and turn around to find her somewhere unexpected.
We took her to the mid-state fair (with Michelle; Yay!) and had a great time.  She seemed mesmerized by the lights and sounds.  It won't be long before we're sharing a giant turkey leg with her and she's begging Daddy to win her some stuffed animal prize.
We had visits every weekend in July and two in August!  Grandparents and friends near and far were welcomed here, and it is always a treat to host our loved ones.
She had her first "entire" day without Mommy.  Erik watched her for nearly 12 hours while I did a wedding last month, and he did great!  I left him with bottles for her and he texted me a picture midday of her enjoying one.
Up to month five, she was sleeping 6-8 hours a night.  🙂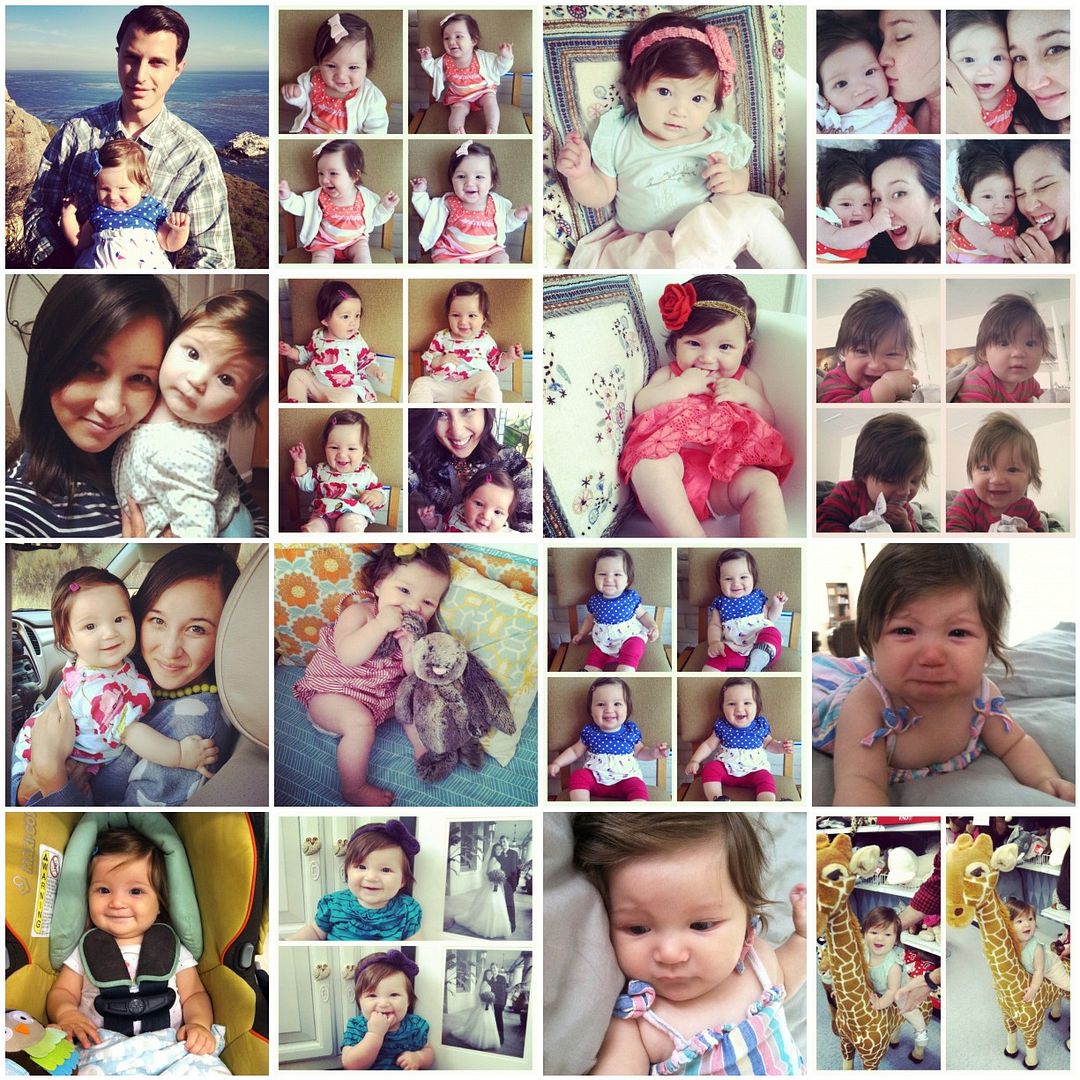 via Instagram – @loveandsplendor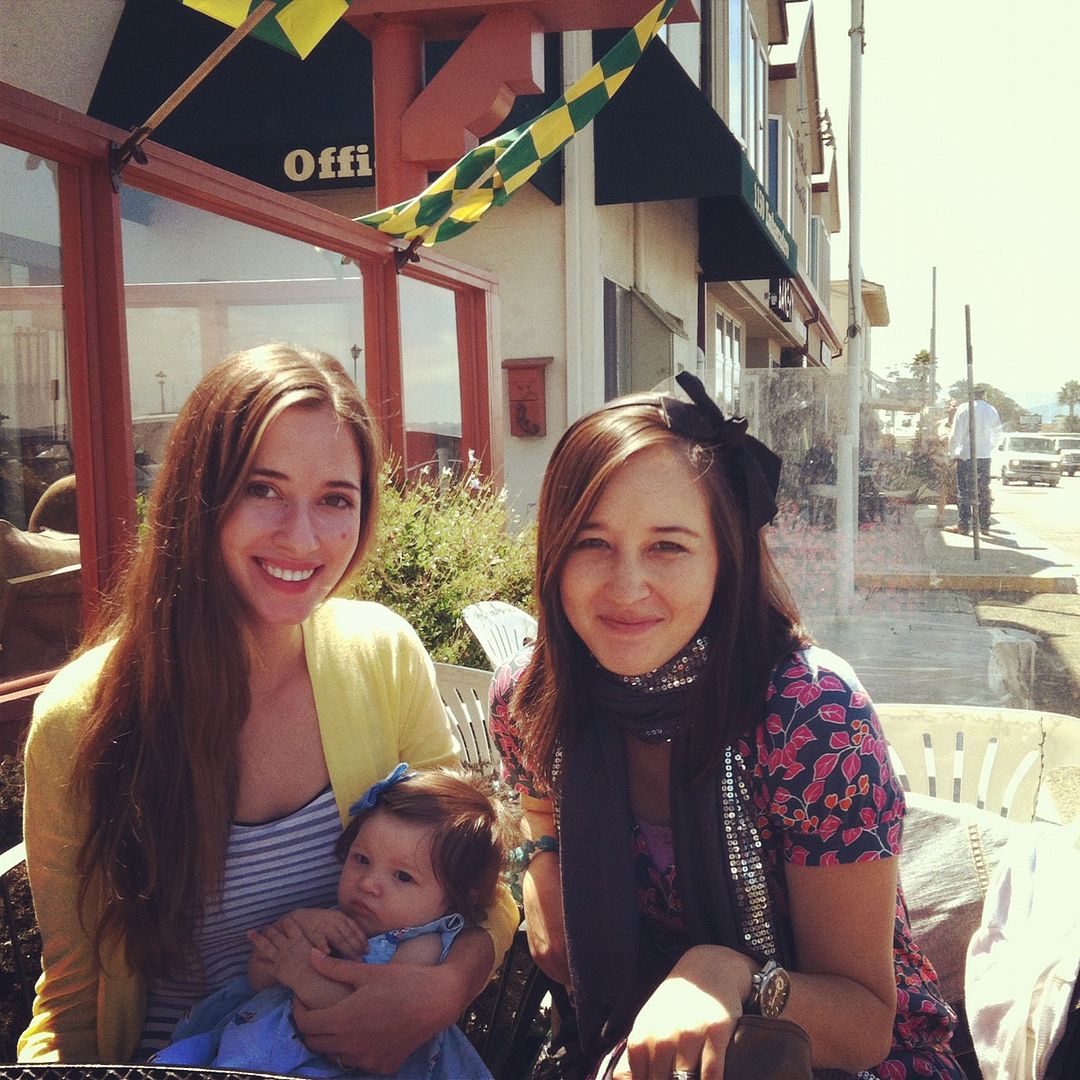 with my beautiful friend Mara, from MlovesM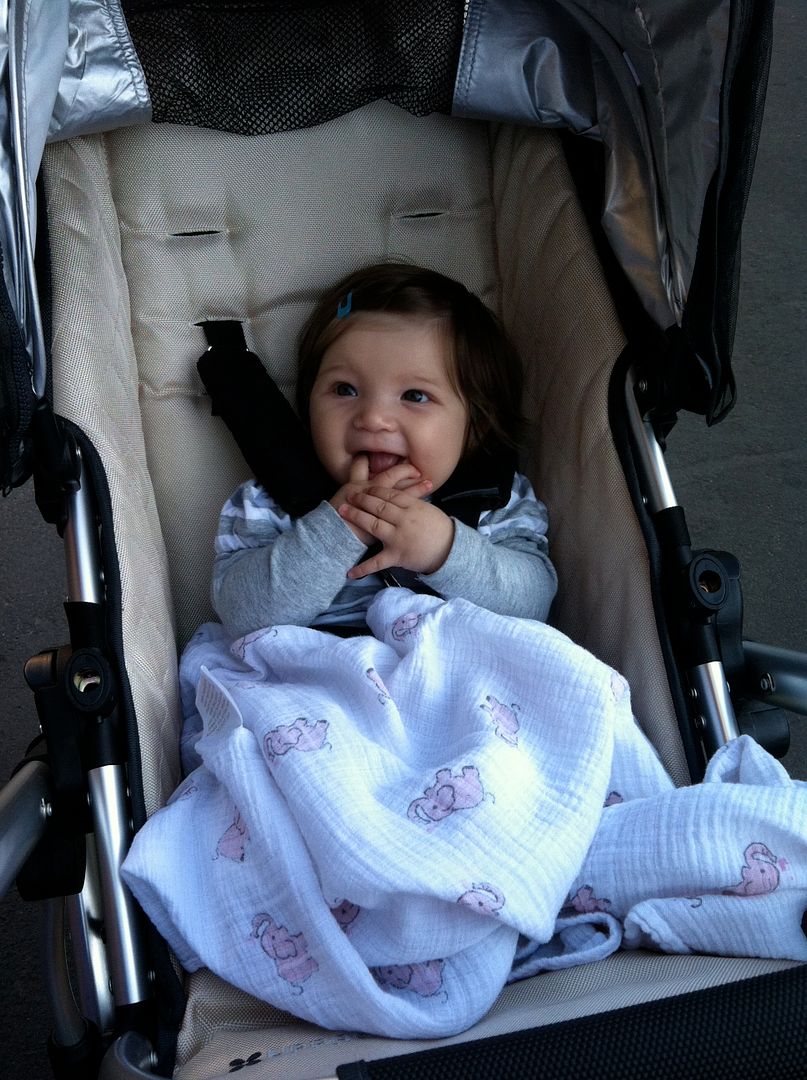 our family at Olive's first fair!
My dearest Olive, What a difference a month makes!!  Daddy and I remark that our little chubby newborn is now a slightly less chubby little girl.  Although I still cuddle and snuggle you like a baby, I watch others hold you and wonder to myself how you got so big.  Your hair is getting longer and wilder and as I comb it, I have daydreams about brushing your long hair as a toddler, putting it in braids, curling it for a special holiday… When you're sleepy, you rest your head on shoulder and nuzzle into my neck, and I imagine you curled up on a twin-sized bed in your own room.  When Mommy and Daddy sit down for dinner, you watch us inquisitively as we eat and lean in as if for a bite.  And naturally, I begin to envision us baking and cooking together, sharing the beaters from a bowl of cookie dough and testing spaghetti sauce from a wooden spoon.  It gives me great joy to consider the beautiful memories to be made together down the road.  But, I have to constantly remind myself to stay present in *this* moment.  So I've lay in bed a bit longer with you these days, just enjoying the first hour of the day when you're full of energy and giggles.  I forgive you for all the unintentional hair pulling and face slapping in the a.m. — I know you're just excited to get out of the crib and play next to us.  I've tried to hold your gaze longer when you stare at me with those beautiful watery blue-grey eyes, and savor the peace of those moments.  I hope you will always look at me with such pure love and trust.  I get down on the ground and crawl alongside you.  I pretend to eat your fingers when you try to nibble on mine.  I imitate your excited coos and engage you in thoughtful "discussions" on various topics.  I'm drinking in every moment.  Olivia, I am blessed to be your mommy.  It is a job I love and I want to pour all my heart into raising you well.  Although I guarantee I will stumble along the way and sometimes even disappoint you, I pray you will always know that you are deeply and truly loved.  And if you forget, you can come back to this post and read about how your mommy held you as a child and delighted in your laugh and let you pull her hair and loved you with all her heart.  I always will.  xoxo, Mommy
Olive's baby book — "gummy bear" was the first nickname I gave her when I was pregnant
Today I am THRILLED to kick off another exciting giveaway, and this time it is baby-related!  My dear friend Julie is the creator of the Ruby Love baby book, and it is FABULOUS.
They start with a lovely fabric cover (available in a variety of colors and patterns) and then they fill it up with thoughtful prompts and pages to fill in.  There's a monthly "first year" calendar with milestone stickers, blank pages for journalling, and much, much more… It's like a stylish and guided scrapbook for your little one's life.  I have the bonus pregnancy pack of pages and I enjoyed chronicling each step of that special journey, too.  I use washi tape, photo corners and Instax MINI prints to further customize my book.  (I'll share a peek into my baby book sometime soon!)  It's a joy to have a user-friendly baby book that looks great but still allows for my own personal touch.  This is why I am so delighted to GIVEAWAY a baby book with personalization ($65 value!) here on the blog.  Here is the skinny:
Simply visit the Ruby Love etsy shop and peruse the gorgeous cover options, page packs, etc.  I know you'll fall in love with their products.  Then come back here and comment by answering all THREE of these questions:
Who would this album be for? (your own child or baby on the way, a friend, etc.)
Which cover would you choose if you won?
Share your favorite thing about being a mama, or share something you love about YOUR Mom!
That's it!  As an extra bonus, we are offering any readers who decide to purchase an album (while the giveaway is active — until Thursday, September 6 at 12 noon PST) a 10% discount.  Just use the discount code loveandsplendor10.  The code will get you 10% off *and* a free baby book pen (I looove the ones she has in her shop).  If you end up winning the giveaway, the fine folks at Ruby Love will refund your money so you'll get your album for free.  So feel free to purchase and enter too!
You have until next Thursday (9/6) at 12noon PST to enter, so best of luck!
—
Thank you for reading along with Olive's monthly posts… I am grateful for each and every one of you out there!  Have a beautiful weekend!  xoxo, Angel