Today we have an exciting giveaway via our fabulous Michelle!  Read on!!
—-
Hello everyone!!  It's been a while since I checked in and I thought I would say hello AND give something away.  The best of both worlds, right?  😉  For those of you readers both new and old, you know that Angel and I share an appreciation for all things F-O-O-D!  Whether it's cooking something up ourselves, baking all hours of the night, ordering take-out or sitting down to a fine dining experience, we love every minute of preparing things for our loved ones or enjoying something especially prepared for us!
So for those of you in the Los Angeles area, you may know that a very delicious and exciting weekend is coming up over Labor Day weekend: the Los Angeles Times' THE TASTE annual food and wine festival is back and we're giving away not just two pairs of tickets (like last year), but FOUR PAIRS of tickets!  That means we will have four different lucky readers and winners!  We brought you this giveaway last year and we're able to repeat it this year with the help of an insider.  😉  It's going to be another great weekend with local and celebrity chefs, delicious restaurants, tasting libations and a plethora of cooking demos.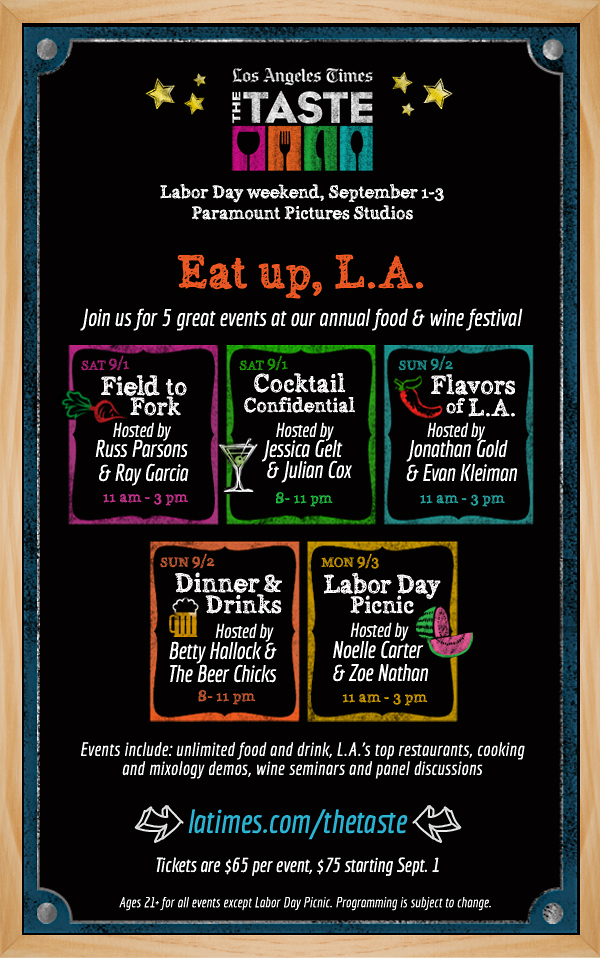 You will get to choose between one of five events.  Every event will be held in Hollywood at Paramount Pictures Studio on their backlot (and if you haven't been, you're in for a treat!  It's such a cool location!).  Keep in mind that all events are 21+ EXCEPT for the Labor Day Picnic where all ages are welcome!
Field to Fork, Saturday – 9/1 from 11a-3p
Cocktail Confidential, Saturday – 9/1 from 8p-11p
Flavors of LA, Sunday – 9/2 from 11a-3p
Dinner & Drinks, Sunday – 9/2 from 8p-11p
Labor Day Picnic, Monday – 9/3 from 11a-3p
Check out the official website to learn which Times food writer or critic will be hosting each event, read up on the chefs scheduled for cooking demonstrations and book signings, or just let your mouth water as you review the long list of restaurants participating at each event.  Nummy nummy is all we have to say about it!!
Here are the simple instructions on how to enter!
LIKE Events of Love and Splendor on Facebook (we want to ensure our most loyal L&S readers are amongst the winners!)
Comment below and let us know which event you'd like to attend and why
Tell us briefly about your favorite food experience!  It could be anything from your favorite local Mexican restaurant, that bakery that whips up your nostalgic childhood treat, an amazing pizza spot, a decadent meal at a Michelin-starred establishment or even a dinner you prepared yourself!
That's it!  To ensure your name is added to the drawing, please make sure to follow all 3 instructions above.  We will accept entries until Tuesday, 8/28, at 11 a.m. PST.  The winners will be announced on the blog shortly thereafter.  Of course, remember that the events are in Los Angeles so we apologize to our non-local readers (unless you're ready to road trip!).  Also, we ask that you double-check your schedule to ensure you can attend the event, since we want to give the tickets to folks who are really excited to be there!
Check back Tuesday to view all the great entries and see what other readers picked and why!  More importantly, don't forget to check to see if you've won! 😉  Best of luck to all entrants and have a fantastic week.  Continue to find what you love and truly enjoy it!
xoxo,
Michelle
—-
Thanks everyone!  Have a marvelous weekend and see you next week for the winners announcement AND (finally) Olive's 5 month post and yet another giveaway!  Woohoo!!!  xoxo, Angel