as many of my readers already know, my beautiful mother will be married this fall! it is completely surreal to think that in just a few short months, she will no longer be the single woman i have known for most of my life. after 17 years of very-contented singleness, my mother met her perfect match. in all honesty, i never expected my mother to re-marry. she is a woman who personifies the word independent. in addition to this strong personality, she also holds people to the highest standards, for better or for worse. 😉 i didn't know if she'd ever meet someone who could measure up to her expectations. well…. she did. her fiancé is an incredible man with whom she shares her passions & interests (art, music, food, wine and travel). most importantly, he adores and respects her. their love is inspiring. i am so honored and thrilled to be helping her plan a day that exudes the beauty and vibrance of their unique relationship
i thought it would be fun to chronicle the delightful process of putting their celebration together. you typically only get to see the culmination of a wedding on my blog. i always have the hardest time trying to summarize my thoughts on the day, the couple and the design of the wedding in one post! so, here is my attempt to give you a more detailed peek at what i do. i will share about everything from the dress to the menu, the flowers to the rentals, and all the lovely details in between. and of course.. you'll get to see the (sure-to-be) magnificent culmination of it all, perhaps with a greater appreciation of what went into it! ;-
today i'll start with our first step: venue selection. mom + fiancé expressed their desire for a very intimate, exclusive wedding ceremony that included only their very closest friends and family. the plan was to do something small & special for the actual wedding, and then throw a lavish, larger reception at a later date. since we knew our guest list would be limited, we thought it presented the perfect opportunity for a destination wedding! our initial brainstorming sessions came up with three options: paris (their beloved city), maui, and santa barbara. we finally settled on santa barbara as it was the most convenient for guests and their busy schedules. they just came back from paris anyway, and fiancé goes every year. (lucky!!!) to me, santa barbara evokes breezy, Mediterranean-inspired luxury. just the thought of it makes me relax! it's a fabulous mini-escape for southern californians
since mom + fiancé share the same discerning tastes, i knew there were only two options: luxury-hotel-which-will-not-be-named and the bacara resort and spa. i made appointments at both sites and scheduled a day trip for the three of us. although the former was our original first choice, we were unfortunately disappointed with the rooms they had available for a group of our size (20-25 guests max). the rooms they showed us were basically windowless conference rooms, adjacent to guestrooms and away from the beautiful ocean views. we then headed to bacara for a visit + lunch.
if you couldn't tell from my thinly-veiled post that weekend, let me tell you now… we LOVED bacara. everything about the resort spelled perfect for their event. the service, the food, the view (!!), the property… we couldn't think of a single diqualifying factor! best of all, they had a charming space available for our small yet luxurious fête. we selected a lush lawn with dramatic ocean views for the ceremony, an adjacent patio terrace for cocktails + hors d'oeuvres, and an intimate + cozy wine cellar for the dinner reception. take a look: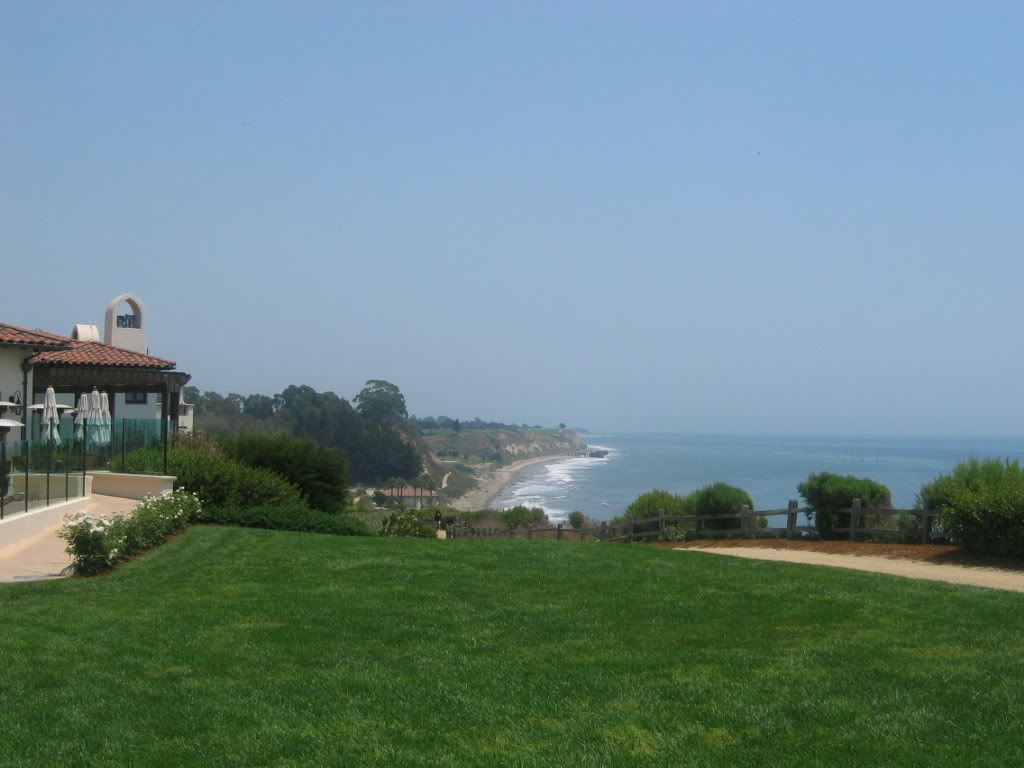 a view of the miró lawn, where the ceremony will take place. off to the right you can spy the terrace, where cocktail hour will be held. we want guests to be able to really soak in the beautiful view and enjoy the mild, soCal weather.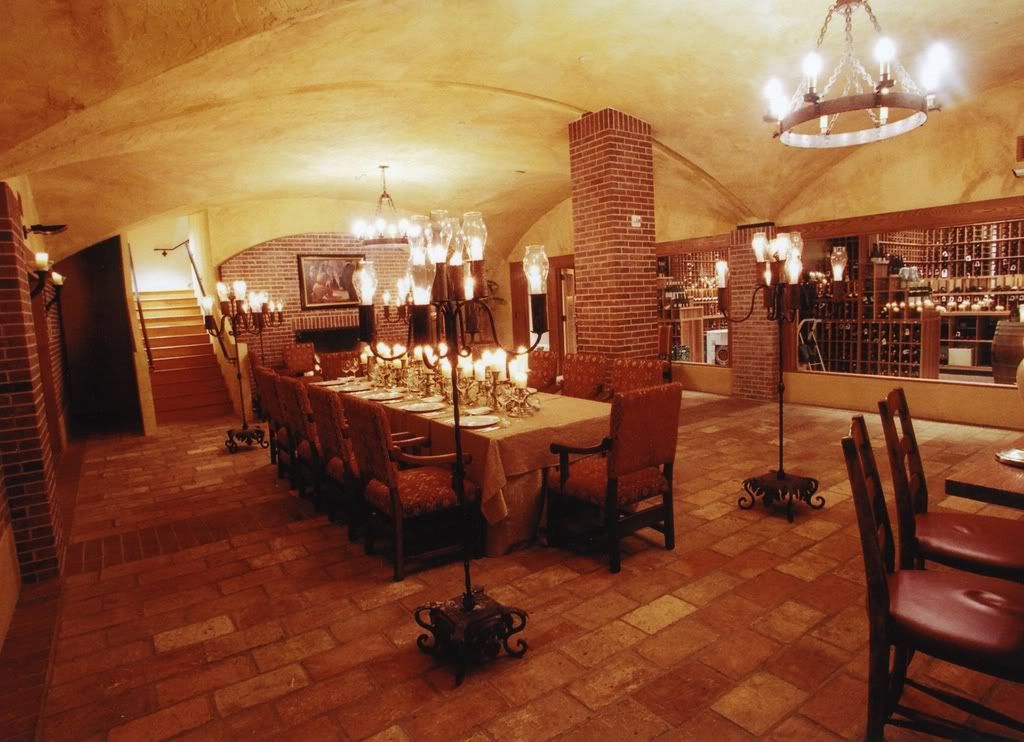 the reception will be held here… in the stunning miró cellar. we love the distressed brick floor + columns, along with the barrel-vault ceiling. on the right you can seek the impressive 12,000-bottle wine cellar, winner of wine spectator's award of excellence for five years in a row.
here's a look at the cellar all dressed up for an event. we will rely on an abundance of candlelight to give the room this cozy and romantic feel. but… we will definitely be bringing in lots of gorgeous flowers as well! more to come on that in another post. 😉 photo credit: handeland tesoro
i get the chills imagining us all feasting in the cellar after the ceremony, laughing and reminiscing and reveling in the joy of the day. i can't wait!
my experience working with bacara has been superb thus far. we are impressed with their attention to detail and commitment to excellence, as well as their enthusiasm for our event. i will definitely give a full report after the event takes place, too.
choosing the venue was easy, and it seems like every subsequent decision has simply fallen into place. i look forward to sharing more about my mom's wedding soon. 😉 it's going to be stunner!