Hello everyone!  I hope you are having the most wonderful week!  Here in southern California, the summer sun has finally made its appearance and we're enjoying gorgeous blue skies and warm temps.  Surprisingly, however, I've spent most of the past few days indoors, just getting geared up for an incredible July chock-full of gorgeous wedding plans.  🙂
Today I want to share a new fab find in jewelry with all of you, and then GIVE IT AWAY to one lucky reader!!
A couple of  years ago, I was introduced to Stella & Dot, a stylish jewelry company that sells their baubles via independent "stylists."  Think of it like the Avon-lady of jewelry… without the cloud of rose-scented talc following her.  😉  My former client (Hi T!) was a Stella & Dot stylist and I was always complimenting her on her jewelry.  Every time I would say something, her response was the same — "You've GOTTA check out Stella & Dot!"
About a week ago, I received an email from a former bridesmaid from one of my weddings (yep, that's right!  Not a client, but a client's bridesmaid!).  She said she had been following my blog since her friend's wedding (years ago) and wanted to offer one of my readers a chance to win a piece of Stella & Dot jewelry… no strings attached!  I was thrilled, of course, and asked if I could pick the piece to add a bit of a personal touch to the prize.  I had the hardest time picking the giveaway piece, because there are sooo many beautiful things in the shop right now… from coral and jewel encrusted bangles to chunky statement necklaces to delicate earrings.  I settled on one of the newest pieces (actually from the Fall line) — the "Renegade Cluster" necklace.  It is a fabulous gold necklace with floating charms that remind me of bullets… in a feminine-meets-edgy way, of course!!  The necklace is of excellent quality and came adorably packaged.  Anything that has "hello gorgeous" printed on the box is a winner in my book.  😉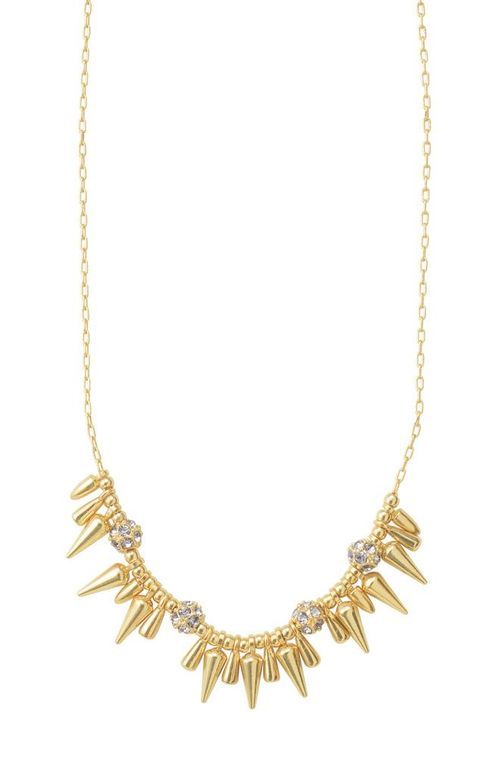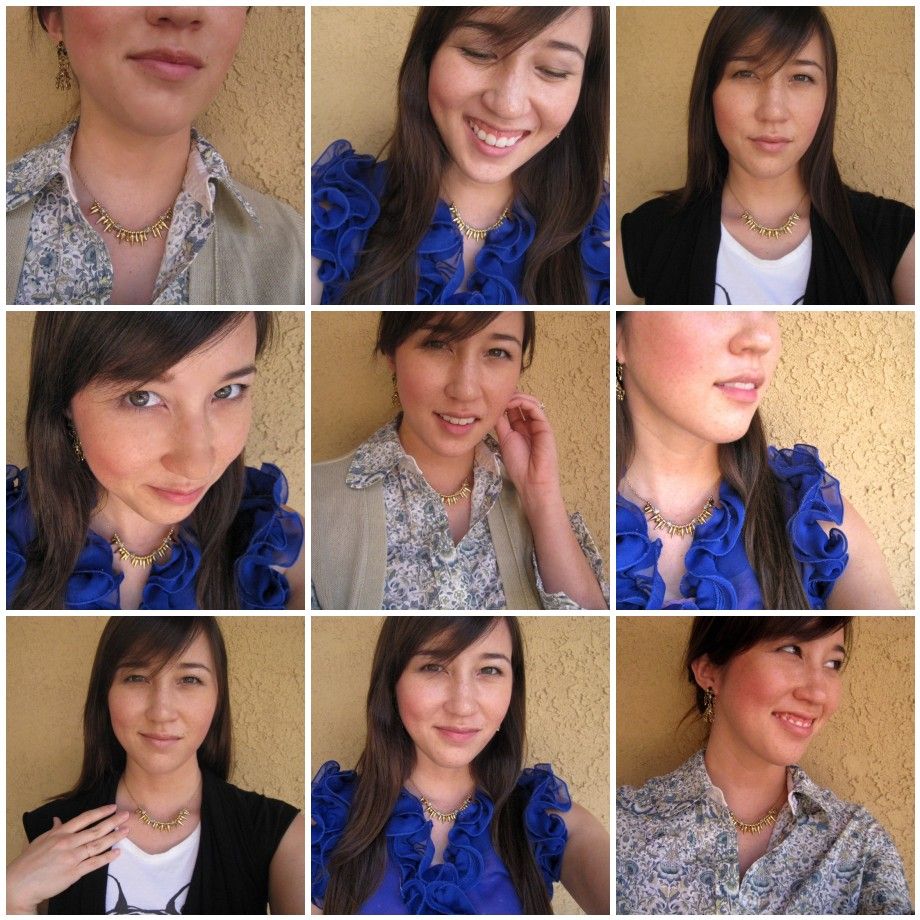 here i am, "modeling" the necklace in 3 diff outfits — casual to dressier.  it goes with EVERYTHING and the chain has 3 catch points so you can wear it at various lengths.  i'm wearing it on the "tightest" setting.
Now on to the fun part!!  One of my lucky readers is going to win this fab find!  Here's how to enter:
Visit Ellaine's Stella & Dot page and tell me what pieces draw your eye…
Comment here on this post and let me know what your picks were.  I can't wait to hear about your fab finds!
You have until Tuesday, June 28th, at 11:00 p.m. PST (8 p.m. EST) to enter.
Check back on Wednesday, June 29th, for the announcement of the winner!
**Remember that the winner will get the Renegade Cluster necklace as seen above… not the fab find you comment about (unless it happens to be this necklace!  haha).
As a sidenote, if you find something that you *have* to have on Ellaine's site, make sure to check out her Facebook page for info on a "mystery trunk show" she's currently running through July 2nd.  Basically, each purchase you make earns a raffle ticket to win a Stella & Dot shopping spree!  woohoo!
Looking forward to hearing what you guys find on the site… As for me, that sunset bangle + paige enamel bangle are calling my name…
xoxo, Angel
**Please note that I am not affiliated with this company in any way, shape or form, nor am I being compensated for this post or giveaway.  Anything you see on my blog will always be 100% my thoughts — my opinions are not for sale.  😉  Ellaine is offering this giveaway for one of my readers with no strings attached — no purchase necessary!!