I have been dying to share this special celebration with you, and I am thrilled that the day has finally arrived!  Tina and Brian's incredibly creative, colorful, and detail-laden 5-year vow renewal is featured today on Green Wedding Shoes (thank you, sweet Jen!).  Make sure you scoot on over to feast on all the eye candy, courtesy of my talented friend Braedon Flynn.  It is always an honor to be featured on Green Wedding Shoes and I think it's the perfect venue to debut these stunning images.
I couldn't resist sharing my own post today, whittled down to some of my favorite images from the day, as well as some extra background and details.  I had the hardest time selecting photos because this event was seriously jam-packed with gorgeous.  Everywhere you turned, there were layers and layers of beauty and visual interest.  I hope you're pulled up in a comfy chair and ready to dive into all the goodness.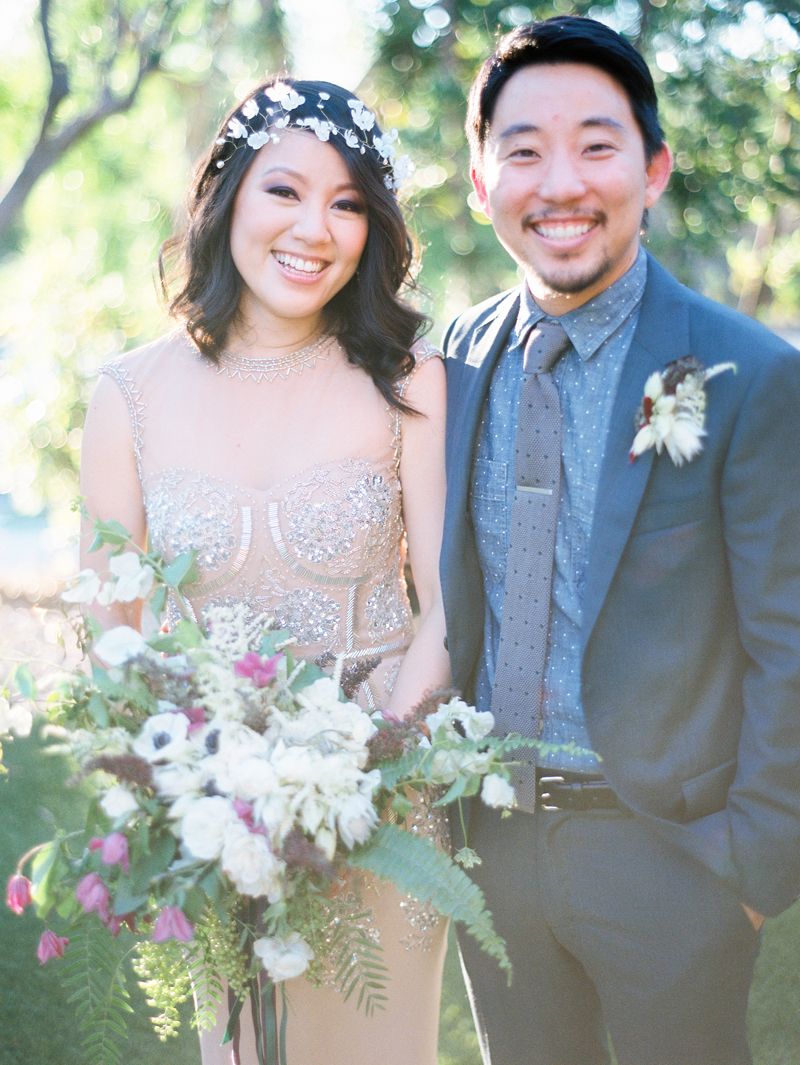 Tina and Brian are a very special couple to me, because we go way, way back to 2009.  Tina had been a blog follower even before her engagement, and I was blown away when she contacted me to help her style her nearly 800-guest wedding in Taipei, Taiwan (!!!) *and* her stateside reception in Los Angeles.  We clicked from the very start, and I can tell you that she truly become one of my most precious friends since then.  When she told me she wanted to throw a 5-year vow renewal celebration, and wanted me to be a part of it again, I was over the moon.  Tina, for you — any party, anytime, I'm there.  😉  It is a dream working with a friend/client who is so creative and stylish herself, yet also yields to her vendors an amazing amount of trust.  She had such a strong sense of vision from the get-go, and all we had to do was embellish and breathe life into it!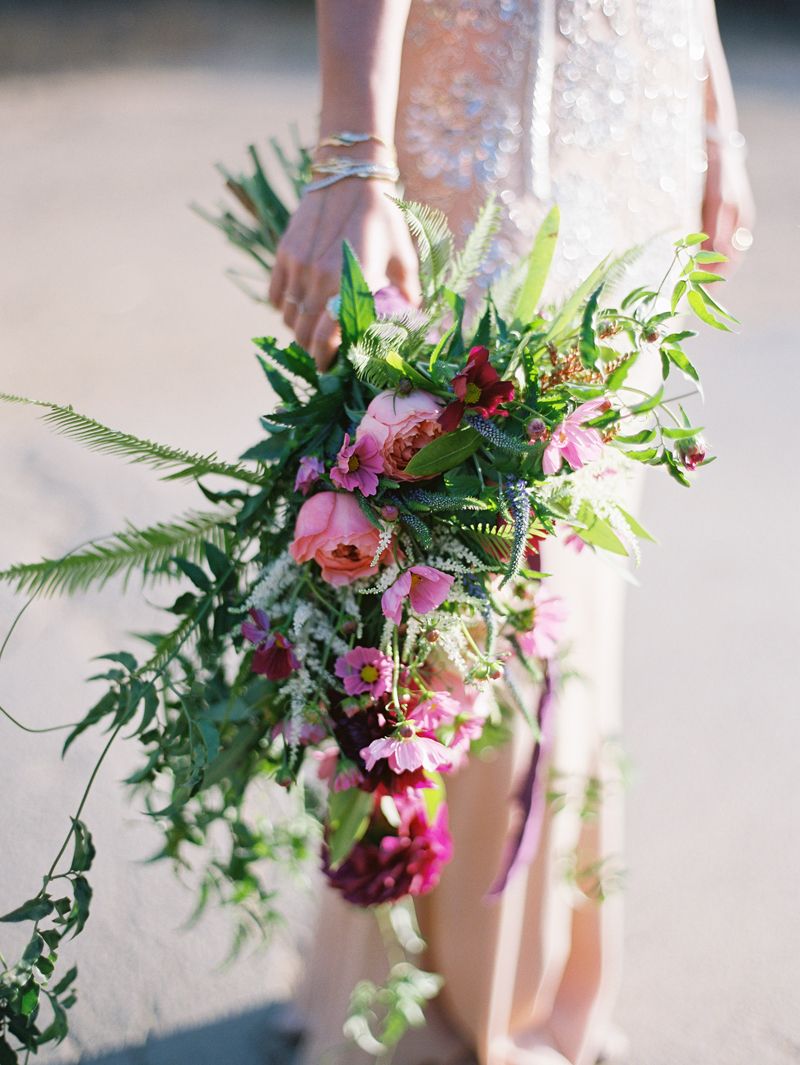 For this occasion, I had the pleasure of collaborating with  my dear friend, Tori Hendrix of Sitting in a Tree Design, on the design for the celebration.  We had a perfect creative synergy and had a blast working together!  The vow renewal was drenched in rich colors embracing a jewel-toned palette (inspired by Tina's background as a gemologist) that included sapphire, emerald green, deepest purple, oxblood, onyx and metallic accents.  Texture also played a big part in the overall event design, and elements such as leather, ponyhair hide, herringbone tweed and velvet all made their way into the look of the day.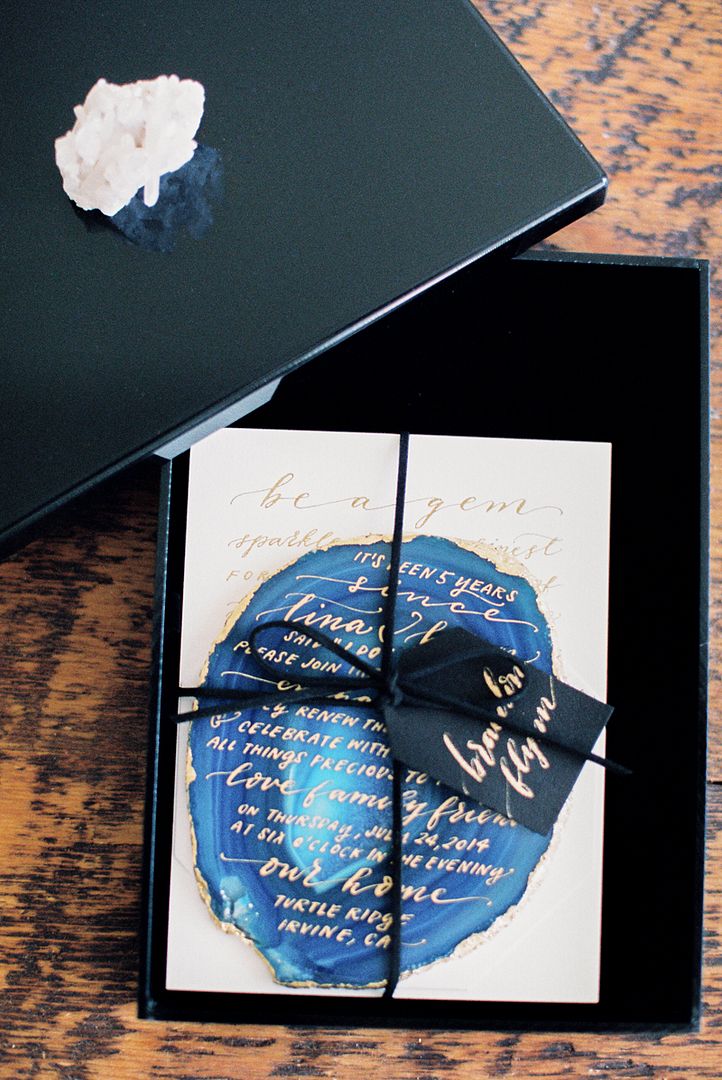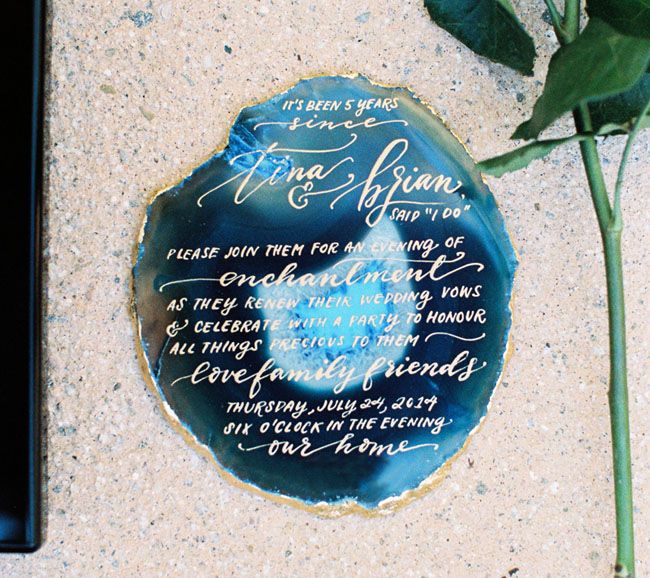 Tina blew us away right out of the gate by setting the tone with her one-of-a-kind invitations.  You guys, it was the kind of invitation that you wonder how you can display forever.  (No wonder, since Tina is a gifted calligrapher and hand lettering artist that goes by Miss Multee.)  A custom black acrylic box was topped with a geode "handle" like a sleek jewelry box.  Inside upon a velvet pillow, an agate slice was hand-lettered in gold ink.  Accessory cards were also done in Tina's calligraphy, letterpressed and foil stamped by Copper Willow.  A black leather tag wrapped around the entire box on a length of black suede cord.  It took my breath away!  Best of all, Tina had thoughtfully chosen each geode and agate slice to match the style and sensibilities of the recipient.  No two were alike.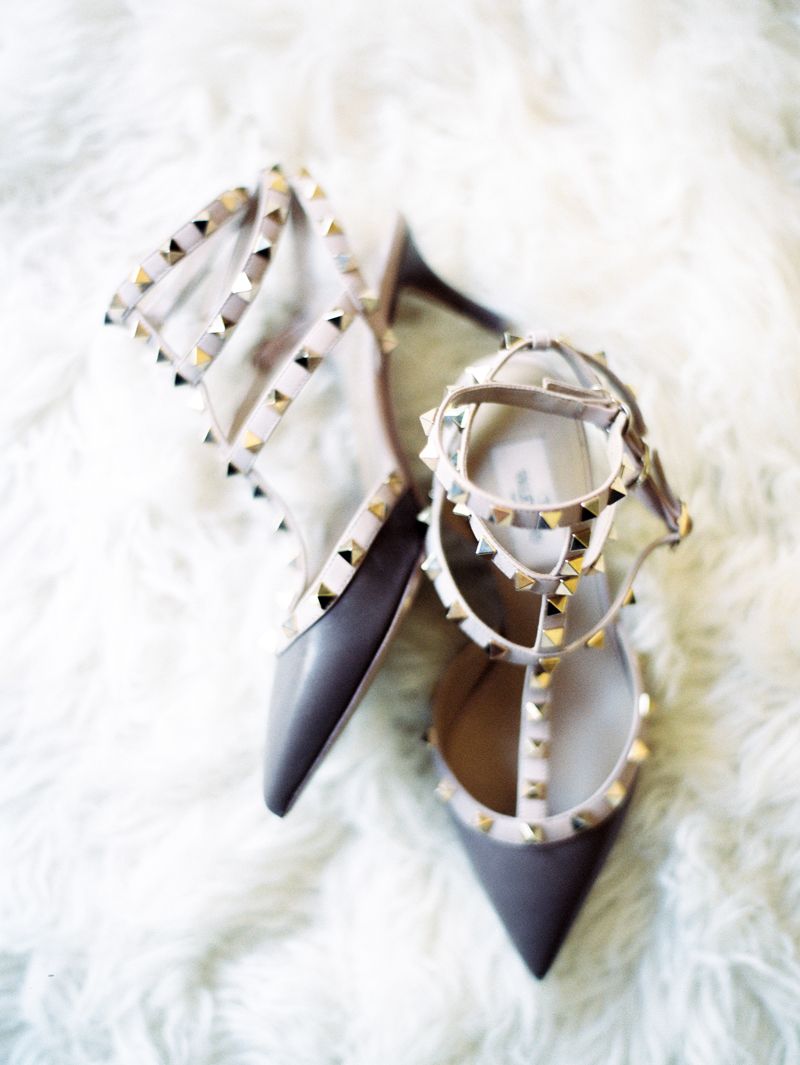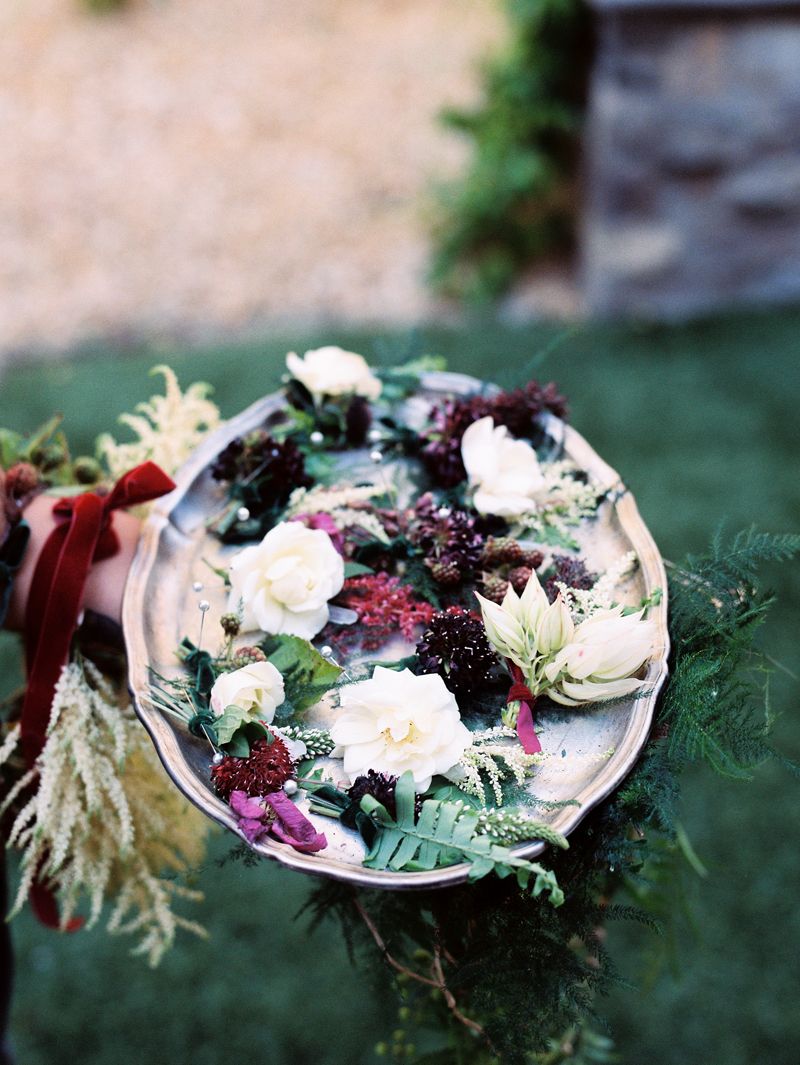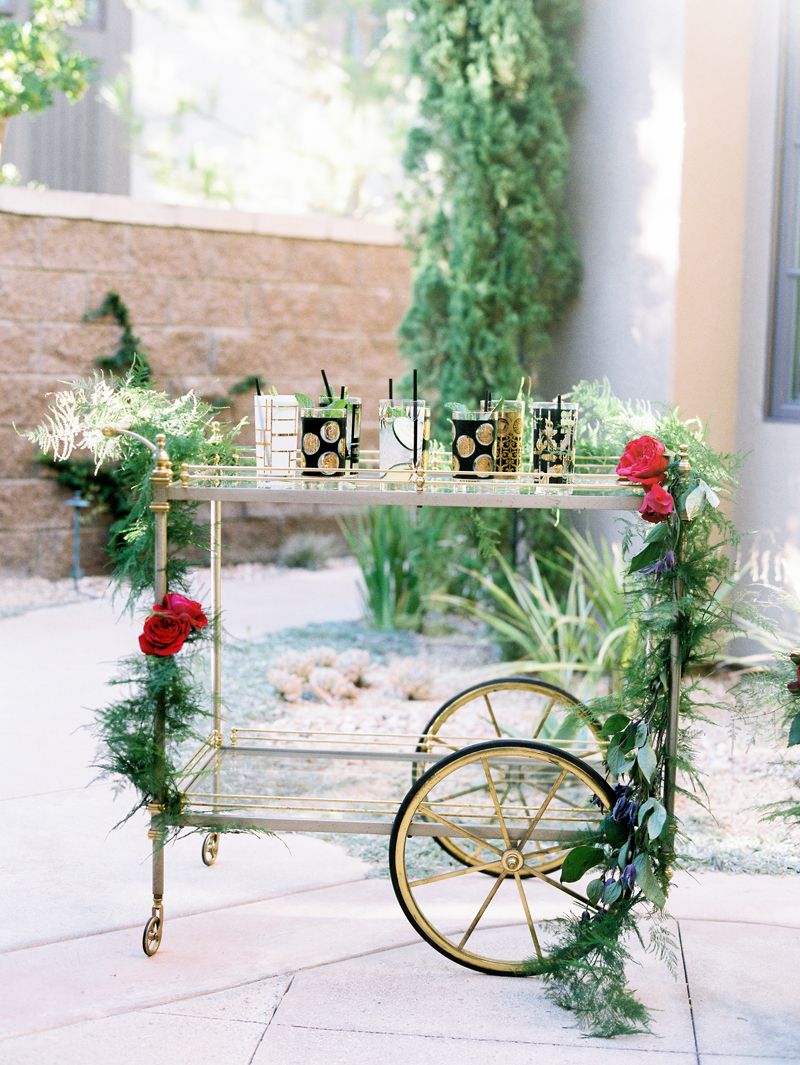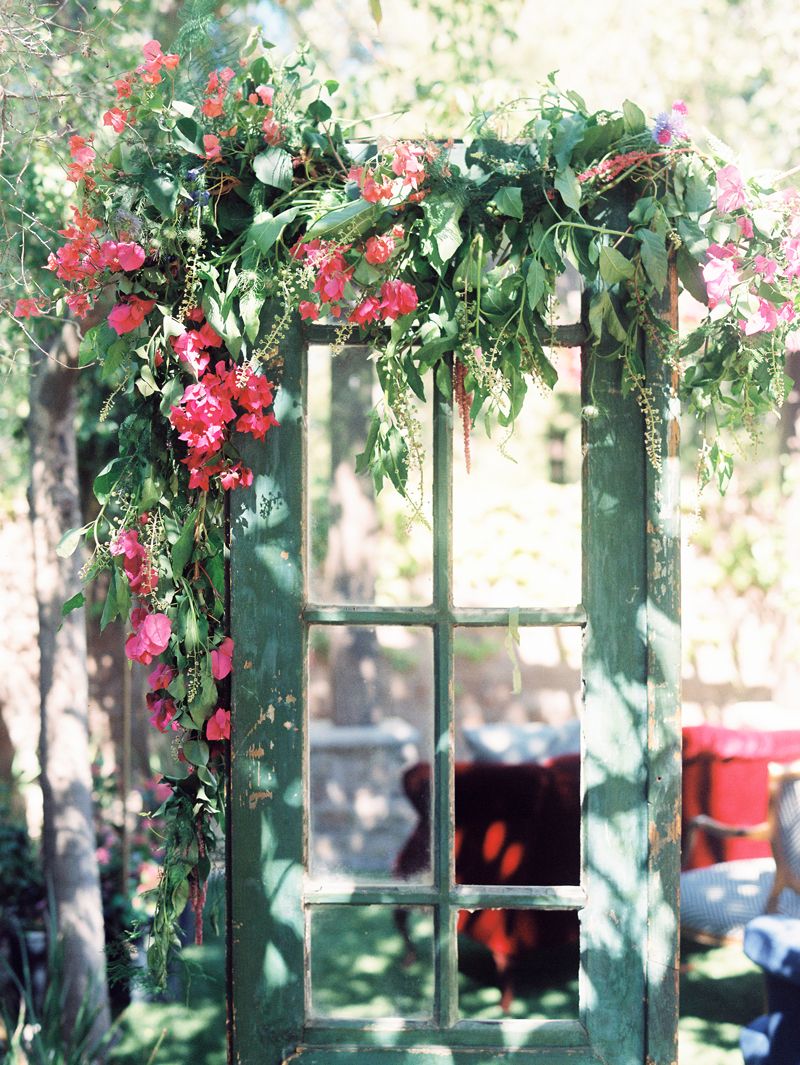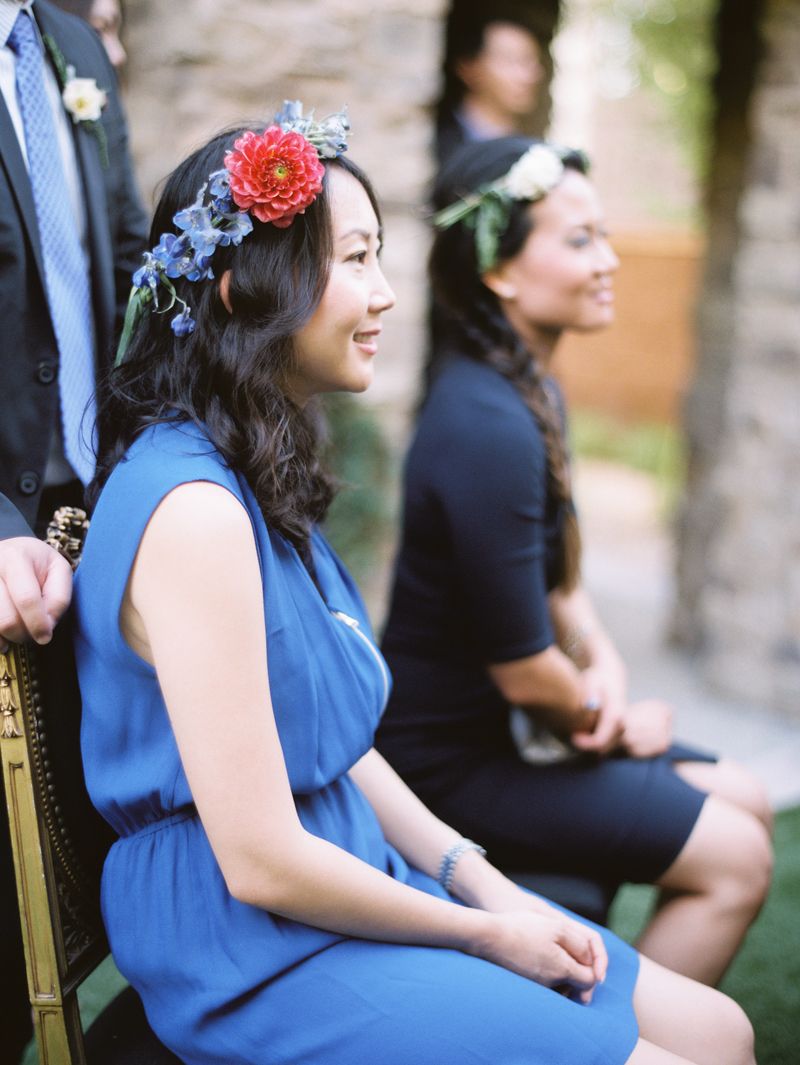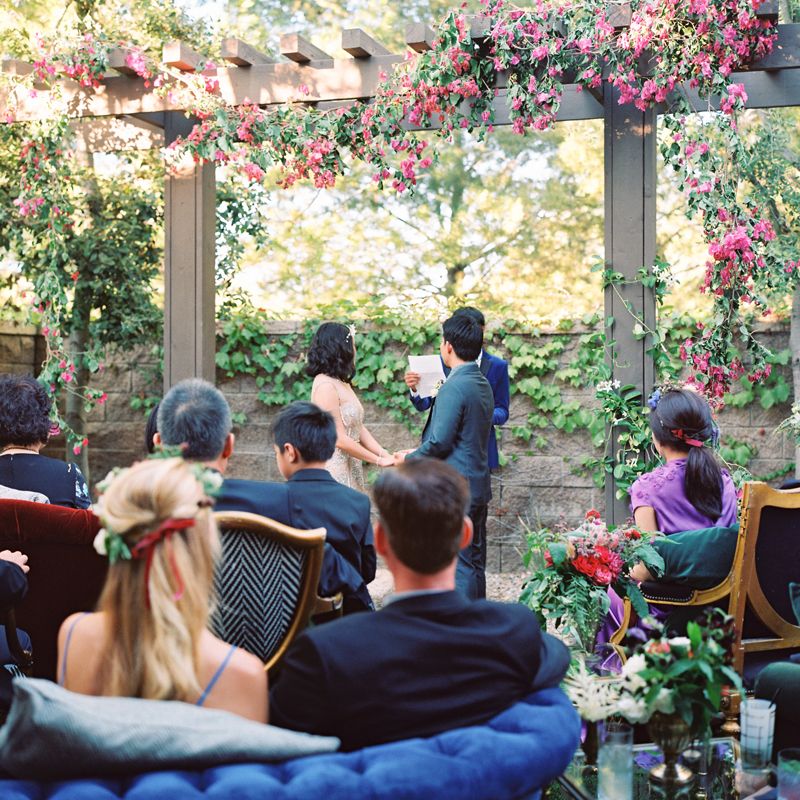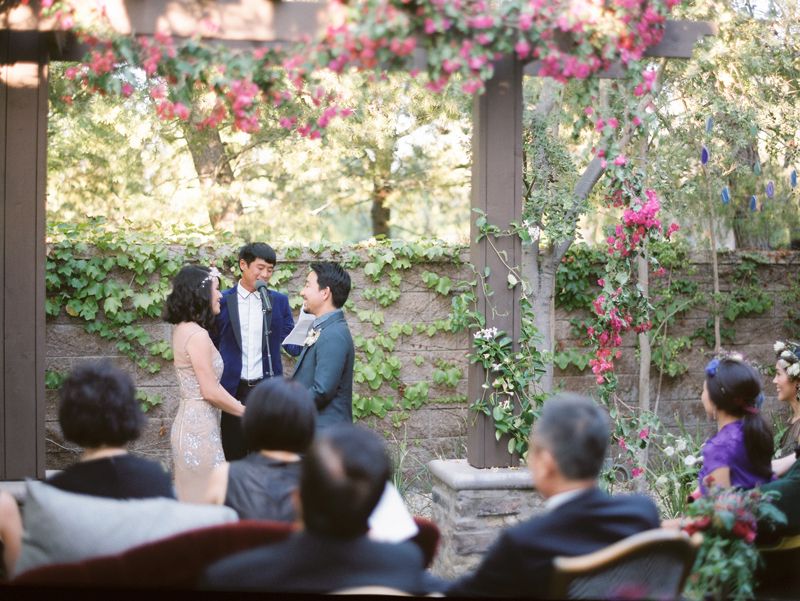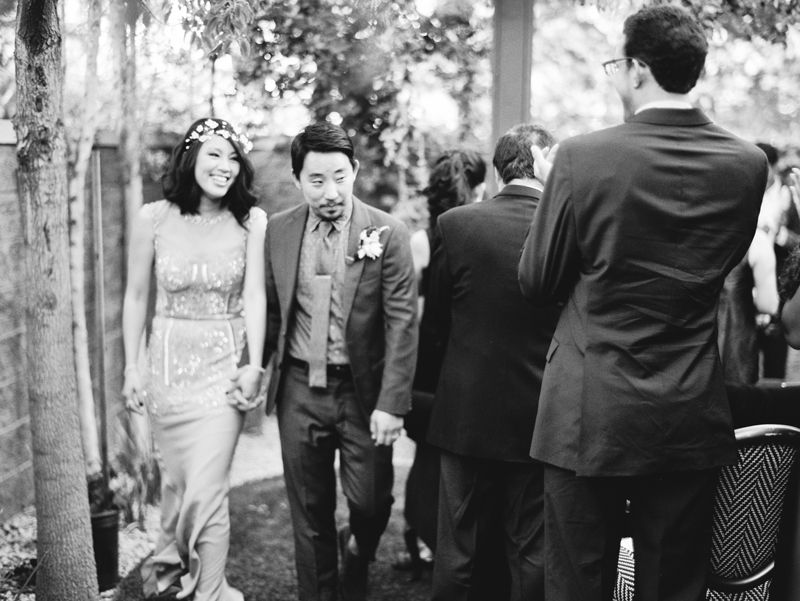 They invited 30 of their nearest and dearest to be present for this momentous occasion.  Though the celebration was intimately-sized, the details were larger than life and styled for maximum impact.  Upon arrival, guests encountered a station with an array of floral crowns and boutonnieres to adorn themselves.  They grabbed a beverage and followed a path through a set of striking green vintage doors to enter the ceremony space, where sumptuous upholstered furniture from Found Vintage Rentals faced a bougainvillea-draped arch by Siren Floral Co.  Overhead, hundreds of agate slices were strung as linear garlands, creating an aerial "cloud" (one of our earliest design ideas).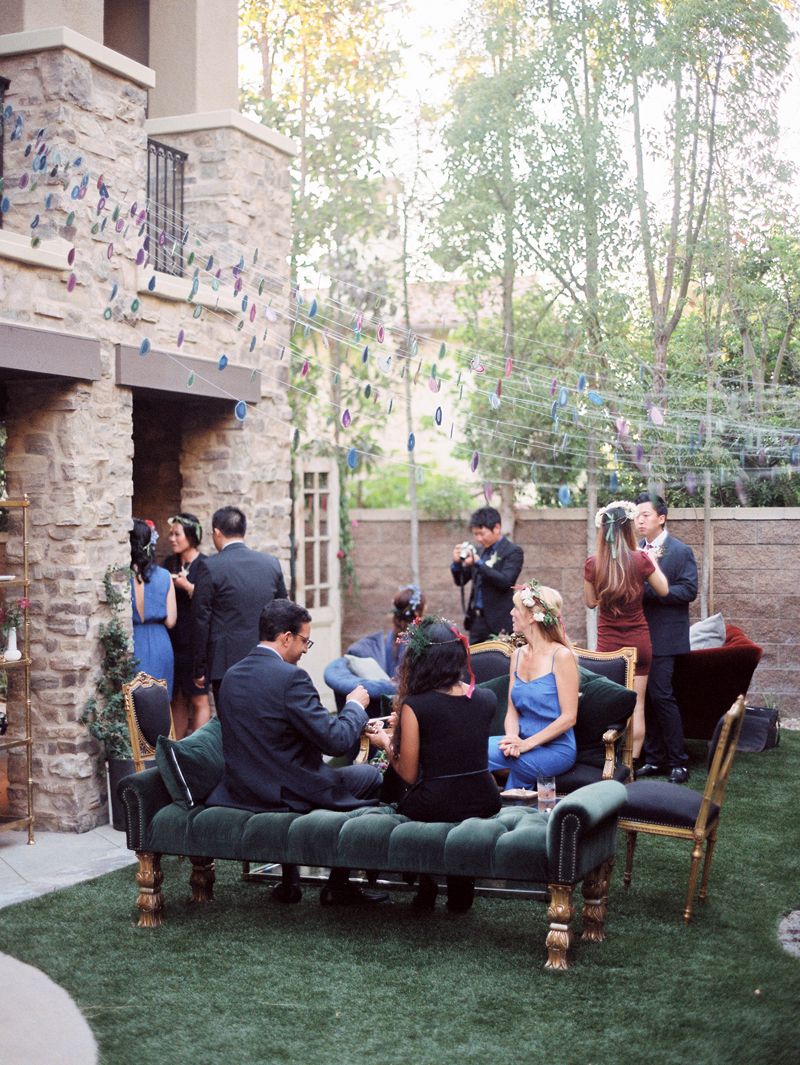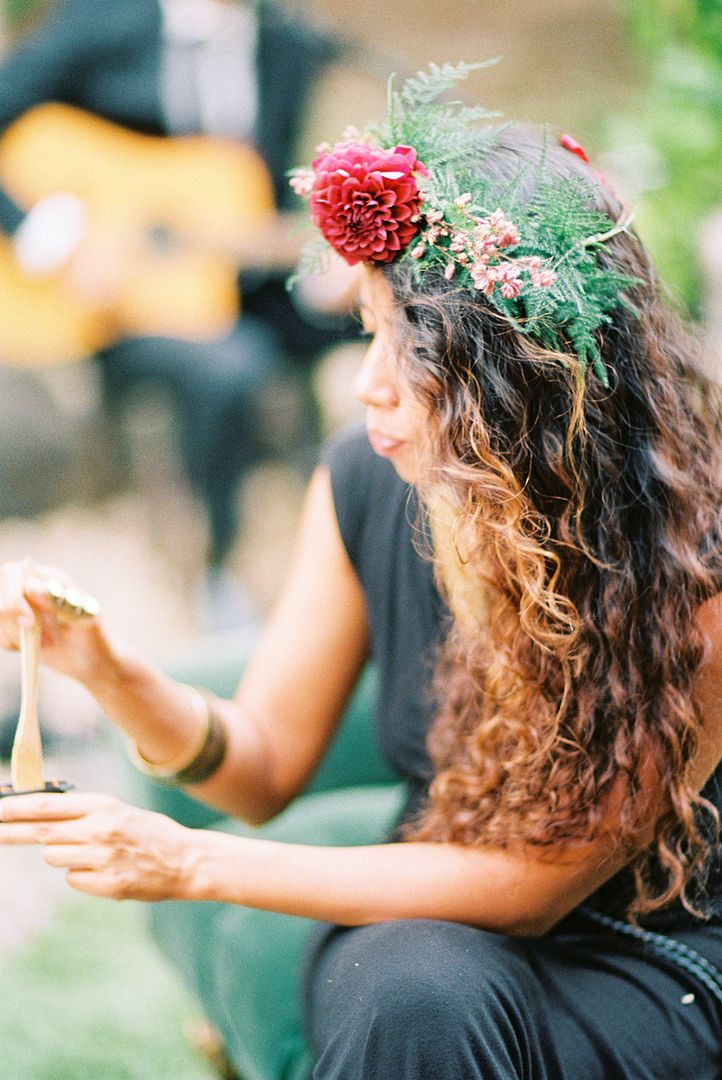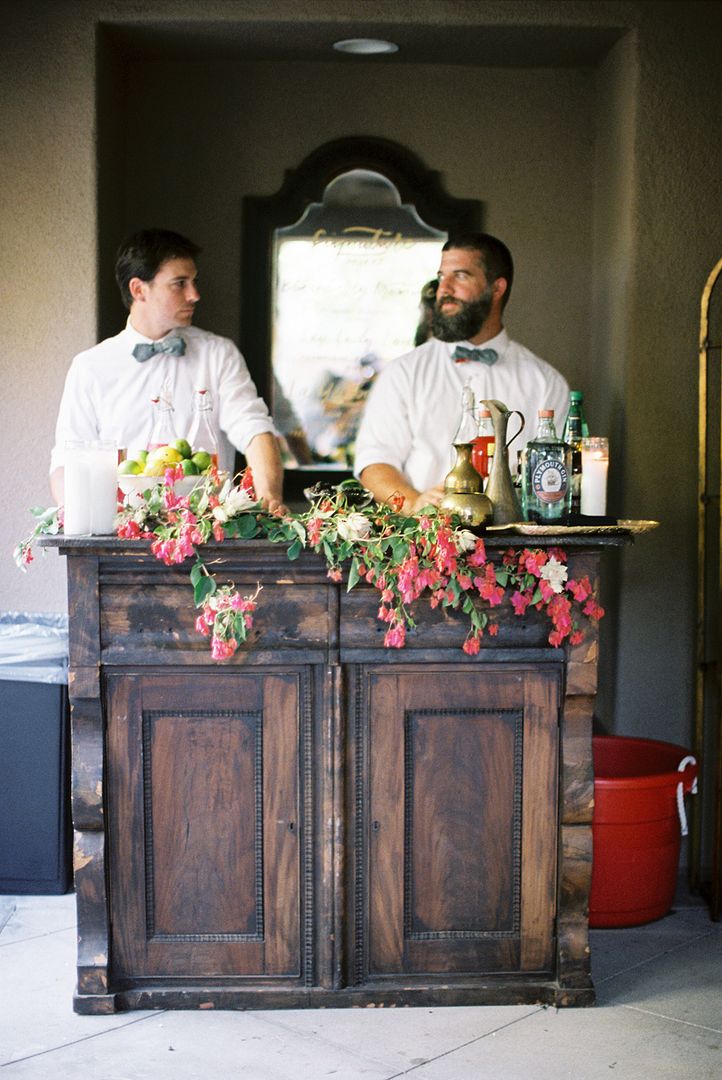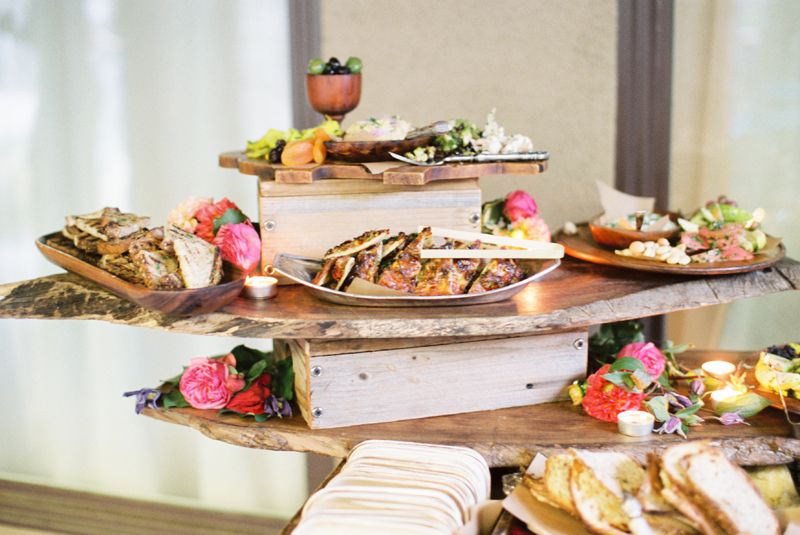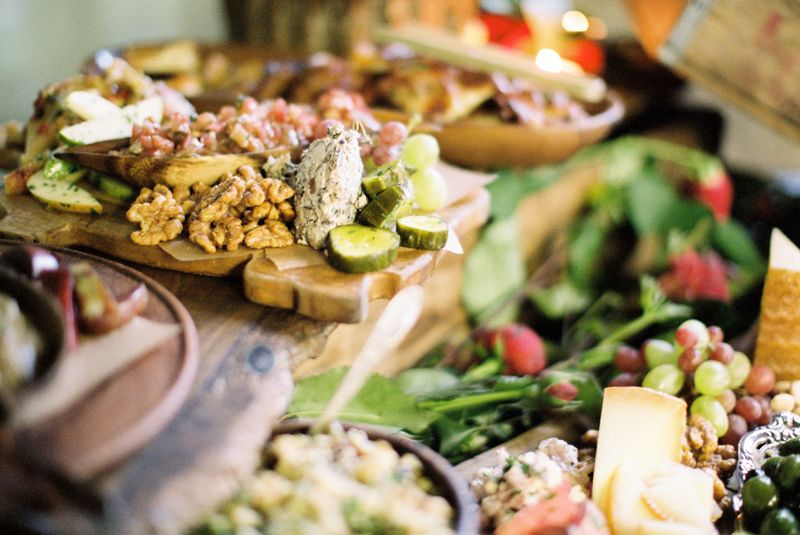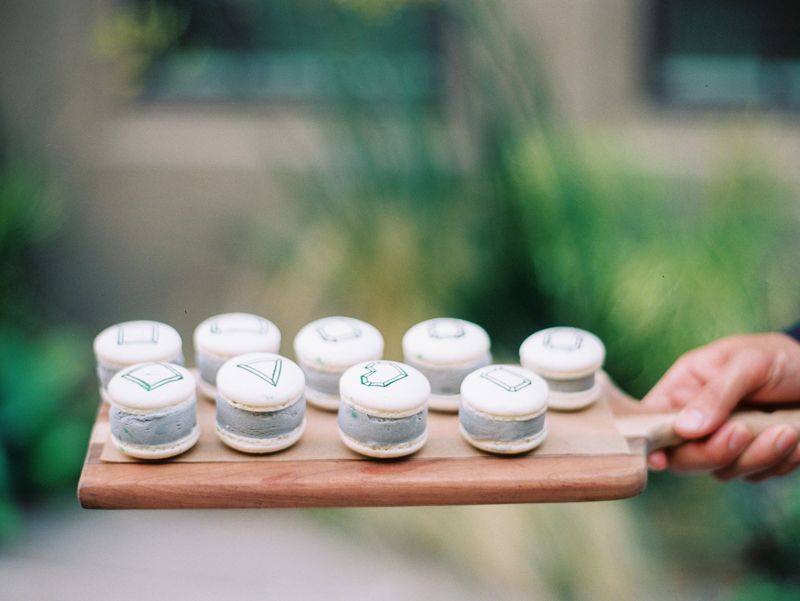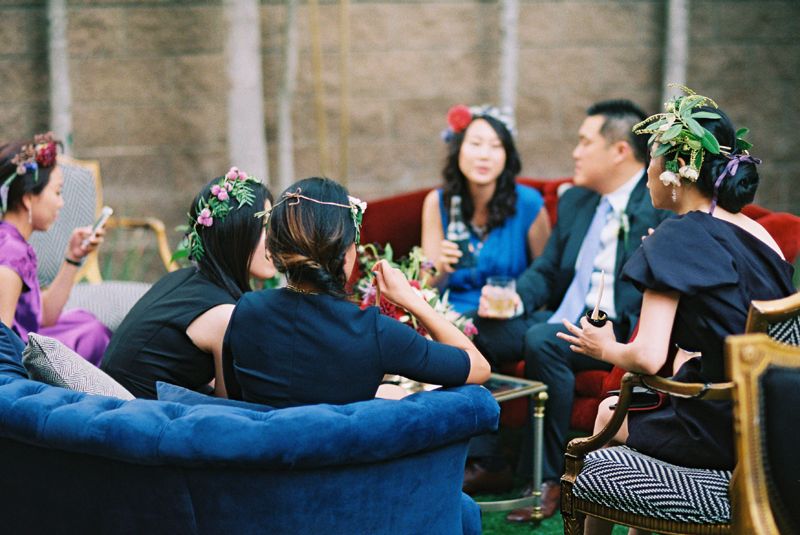 The incredible dinner, artfully prepared by Chef Matt of Heirloom LA, was entirely vegetarian (and mostly vegan).  Tina and Brian, both vegetarians, were excited to share an inventive meatless meal with their guests.  Creative courses included beet greens ravioli, coddled eggs and potatoes served in miniature mason jars, and the tiniest casserole dishes filled with vegetarian bibimbap: a spicy and savory Korean rice dish.  Sweets were plentiful, with macaron ice cream sandwiches by Sweet and Saucy Shop and Sweet Lucie's, as well as an assortment of mini desserts and cakes by The Scootabaker.
Guests enjoyed the evening at one of four uniquely-designed tablescapes.  Each table featured a unique color story and design details.  It looked like a veritable showcase of the Casa de Perrin inventory, because we were able to play with so many incredible pieces from their collection.  One table featured ponyhair, succulents, airplants, cement, clear glass, corrugated zinc and wood.  A second table was topped with black leather placemats (made by Tori), sapphire blue glassware and milkglass budvases filled with bursts of berry-colored florals.  The third table showcased green glass demijohns from Found, filled with bougainvillea.  Black taper candles in brass candlesticks completed the moody look.  The couple themselves joined their friends at the fourth vignette: a breathtaking green wooden table topped with dazzling gold details, aubergine glassware and a literal treasure chest overflowing with florals.  Rachael of Siren Floral Co. beautifully executed the floral vision to capture the wild, romantic, lush feel of the day.  Although each table felt distinct, they were tied together in the scale of their design.  I spent most of the day debating which one was my favorite and I think I changed my mind 100 times!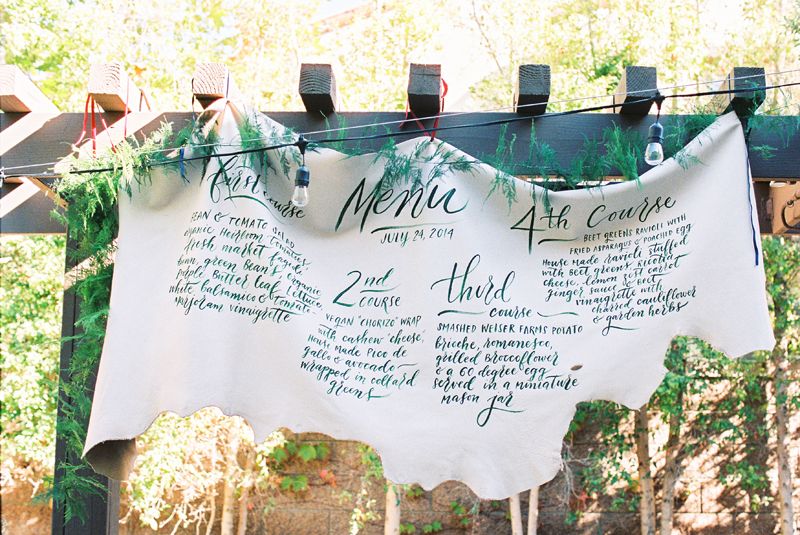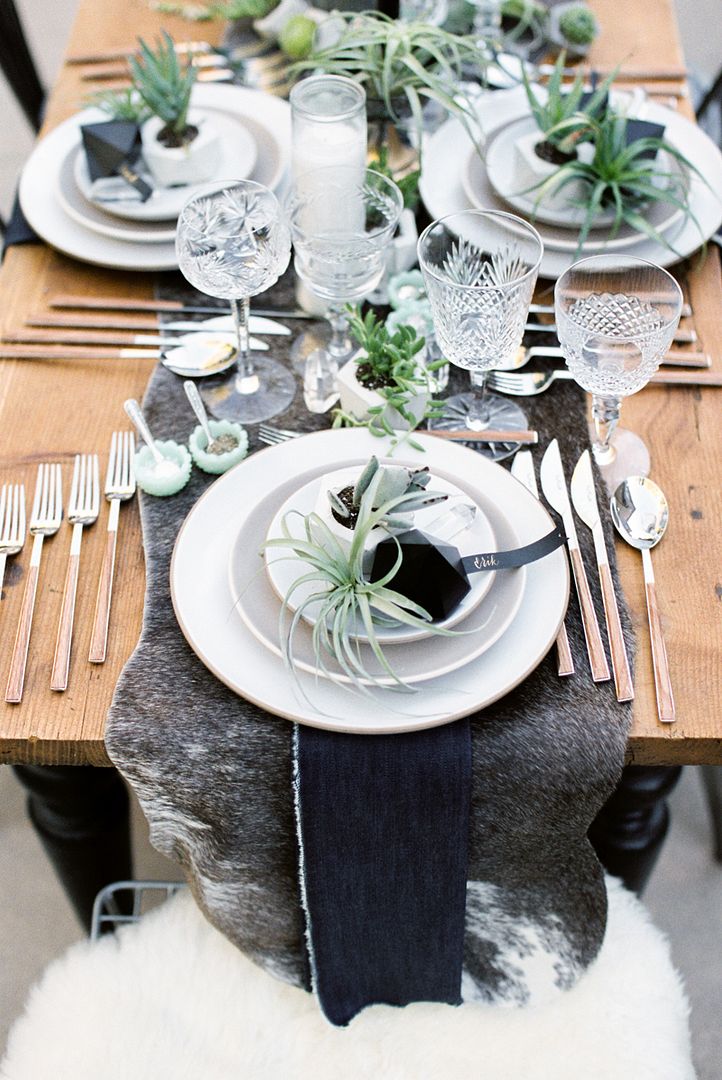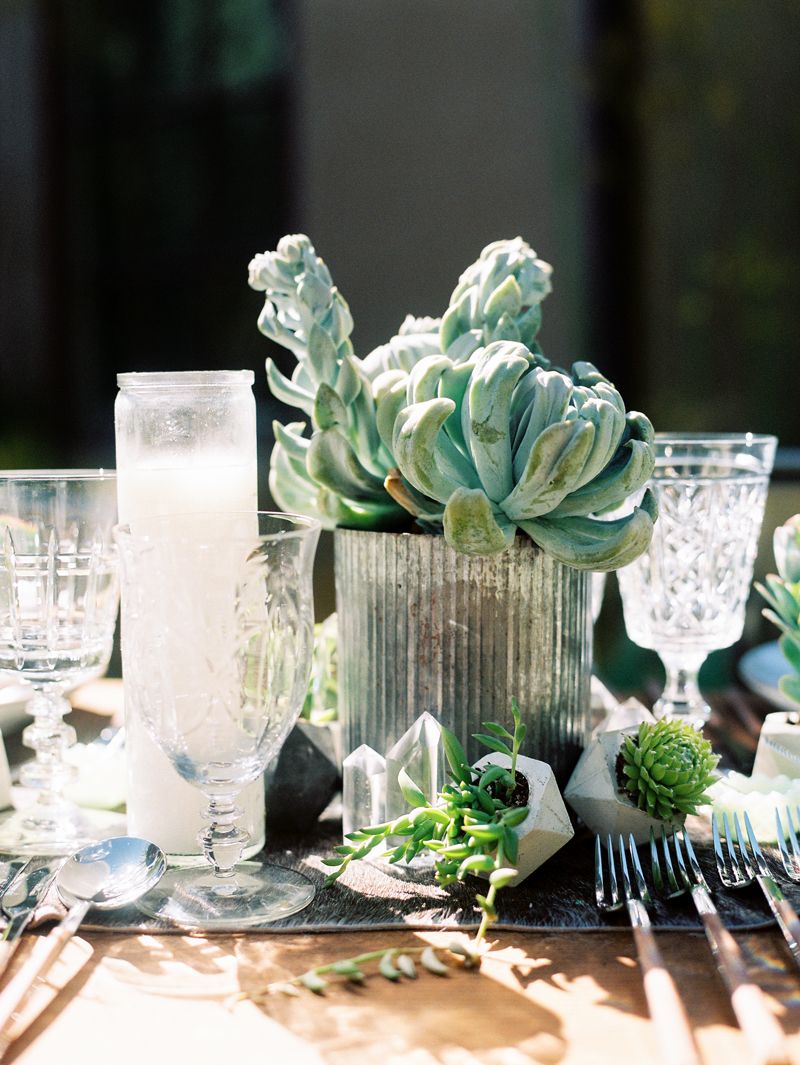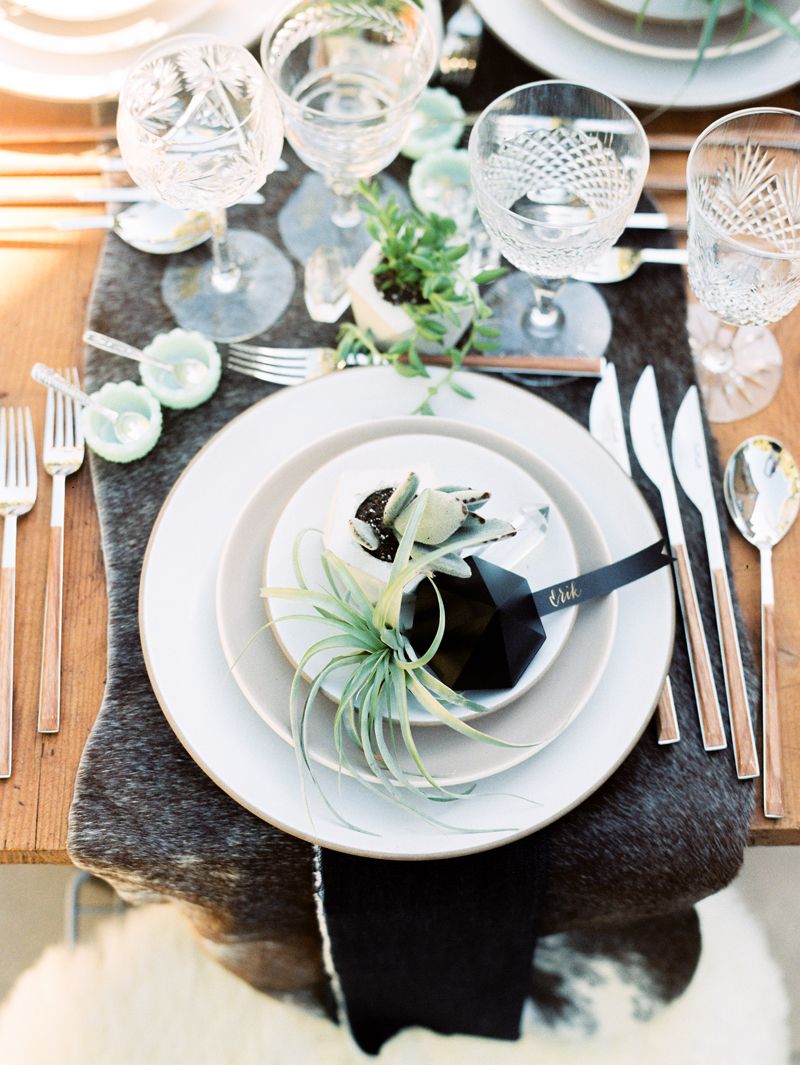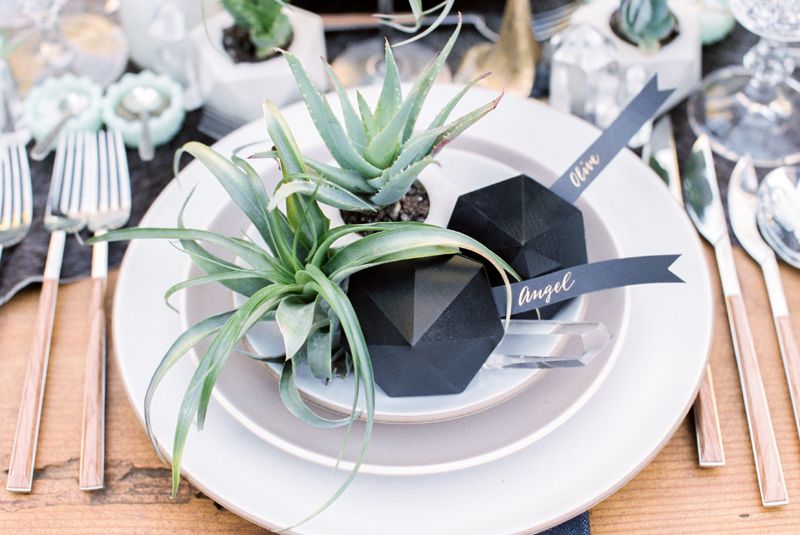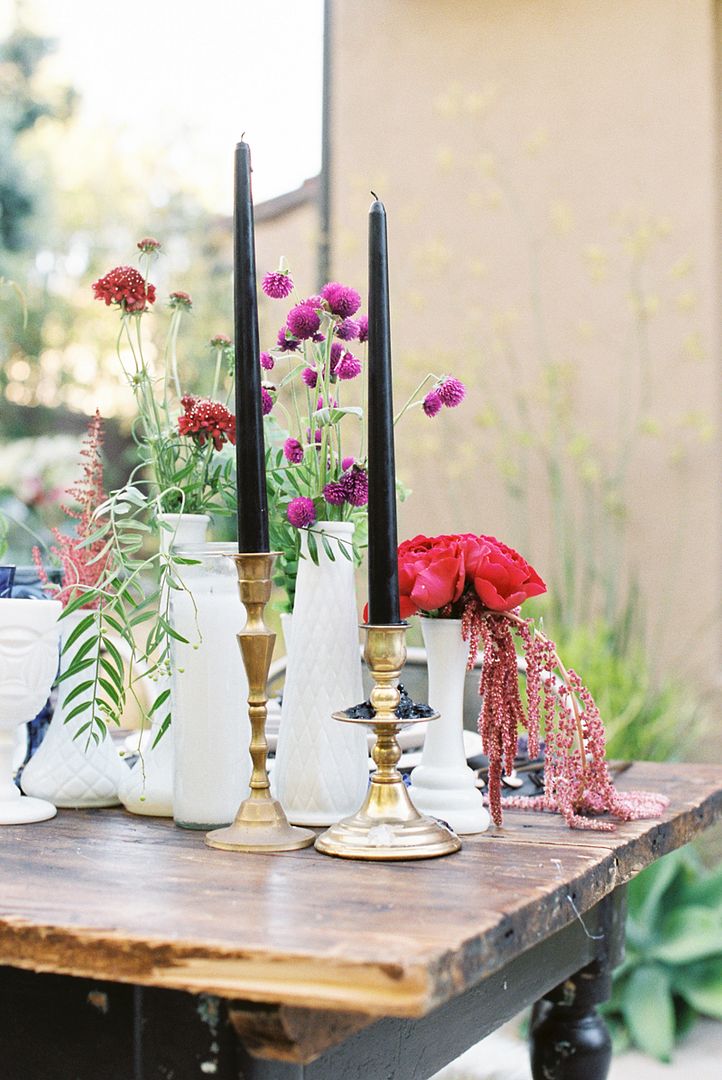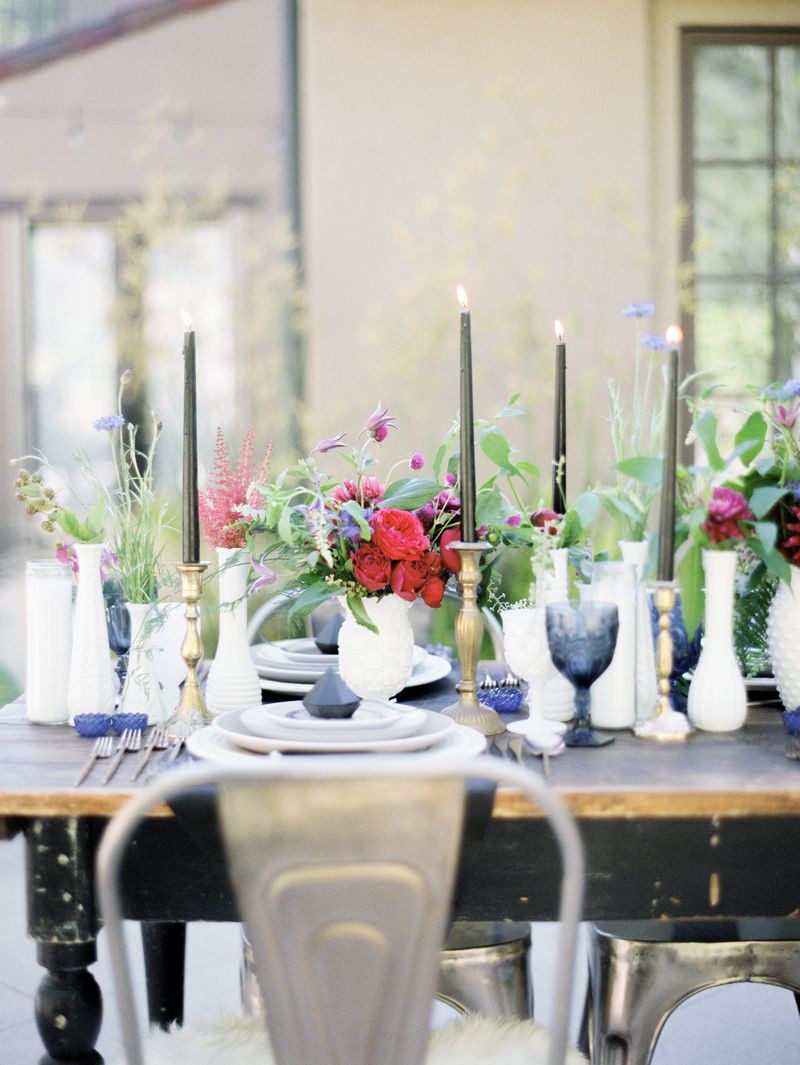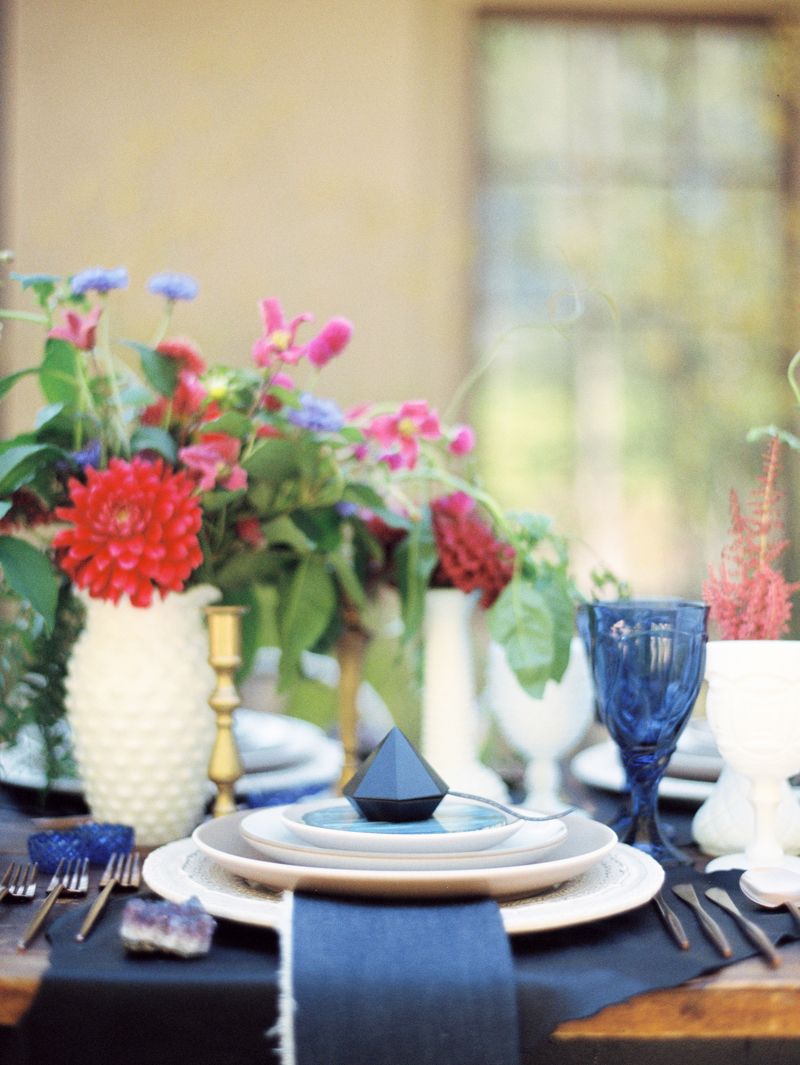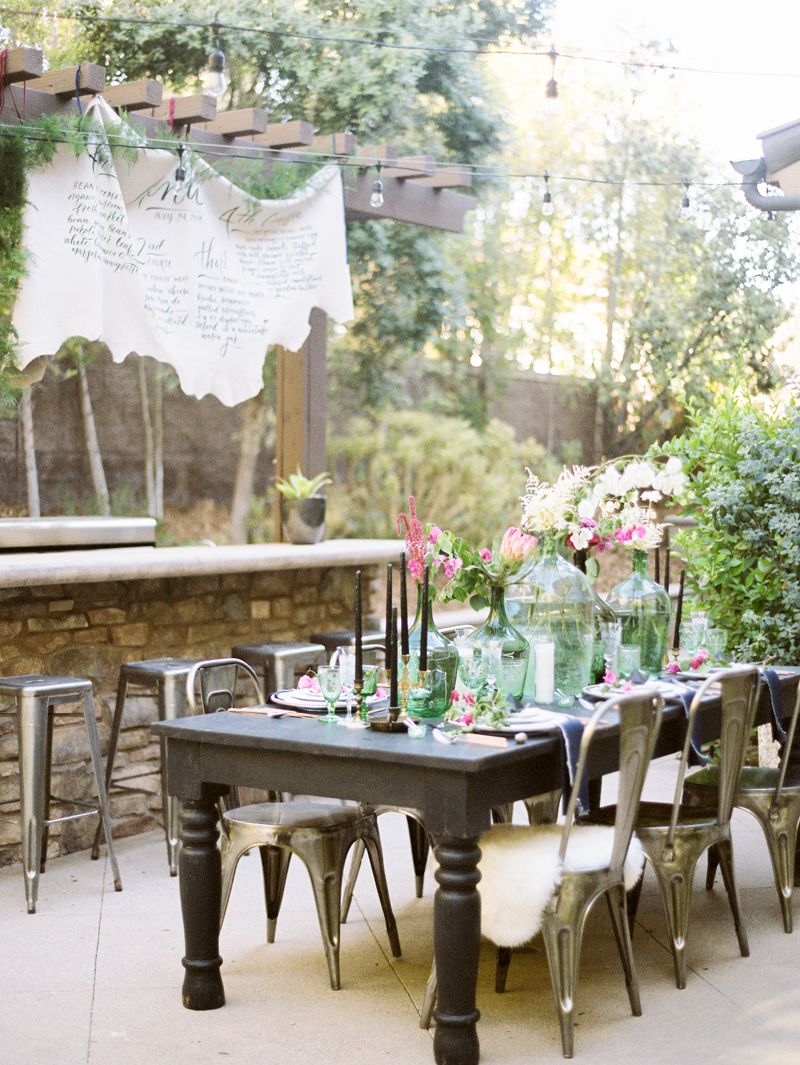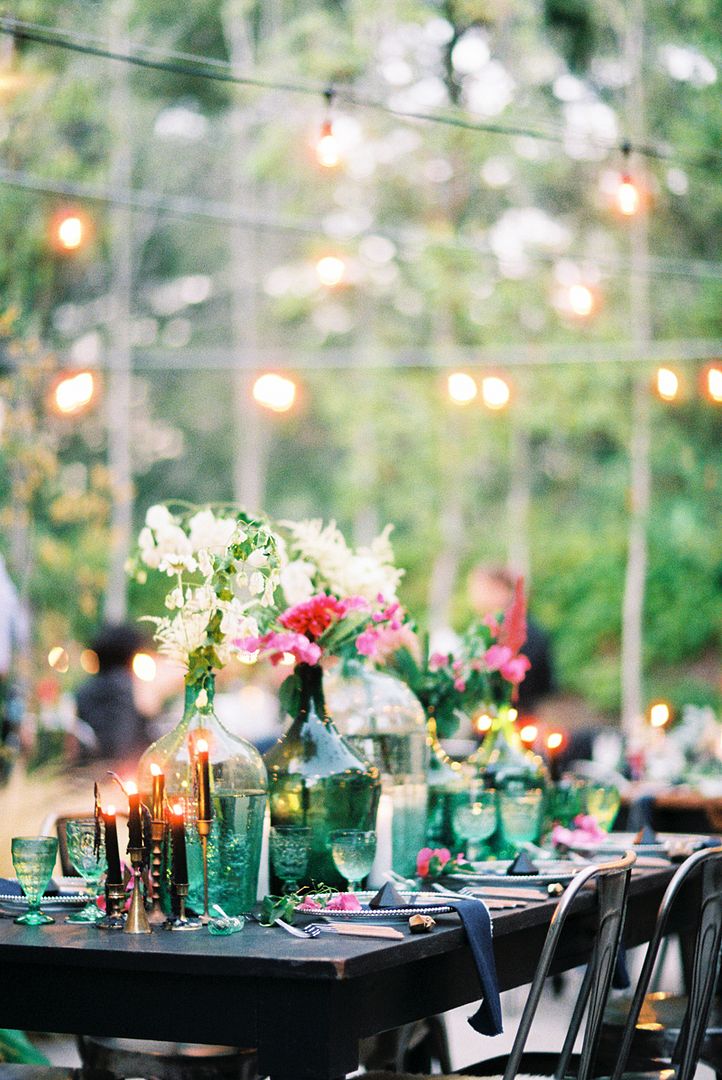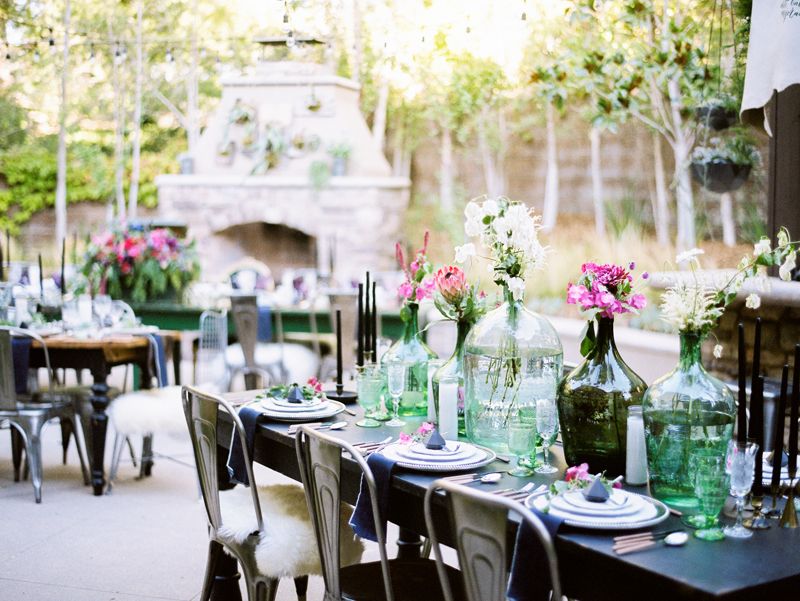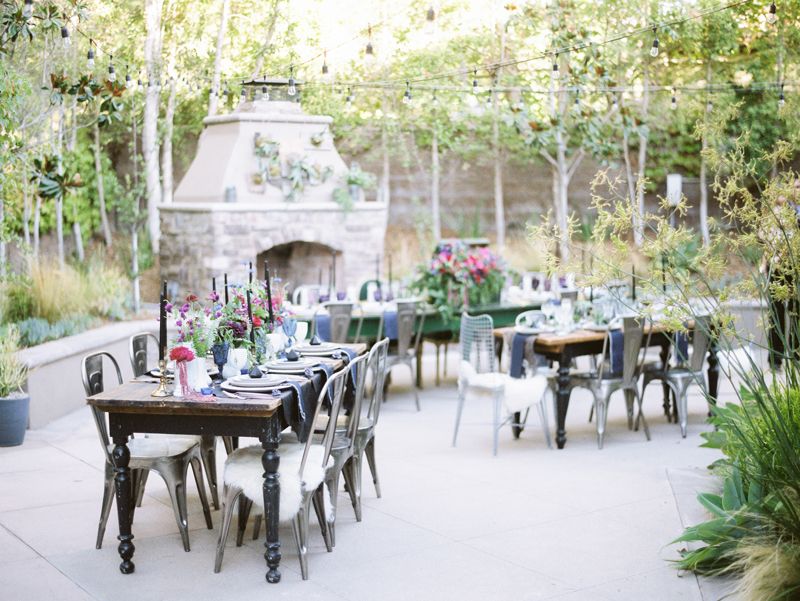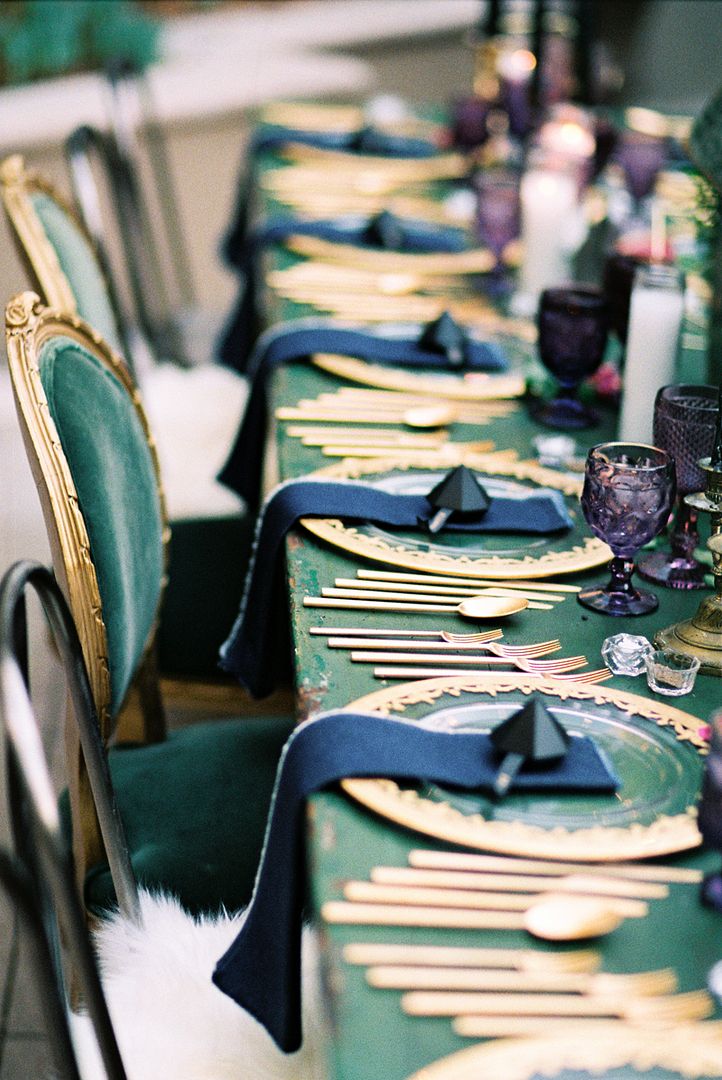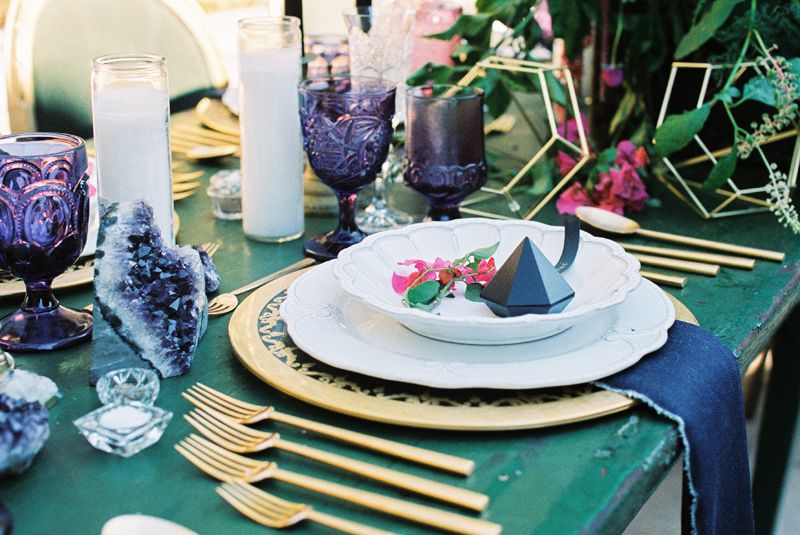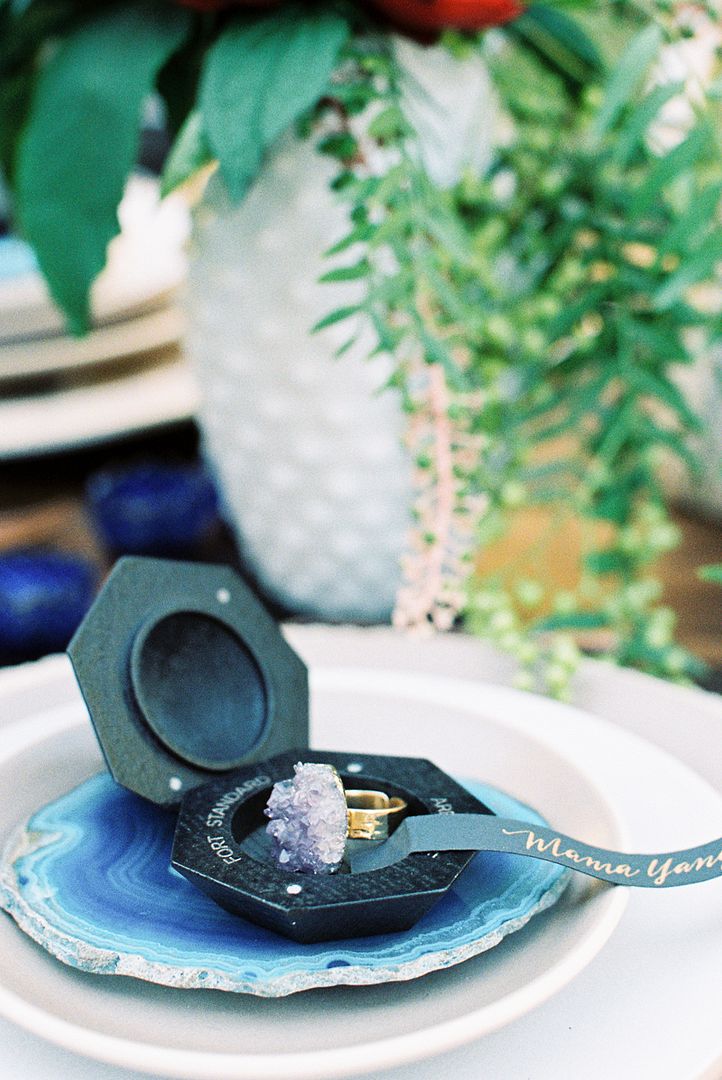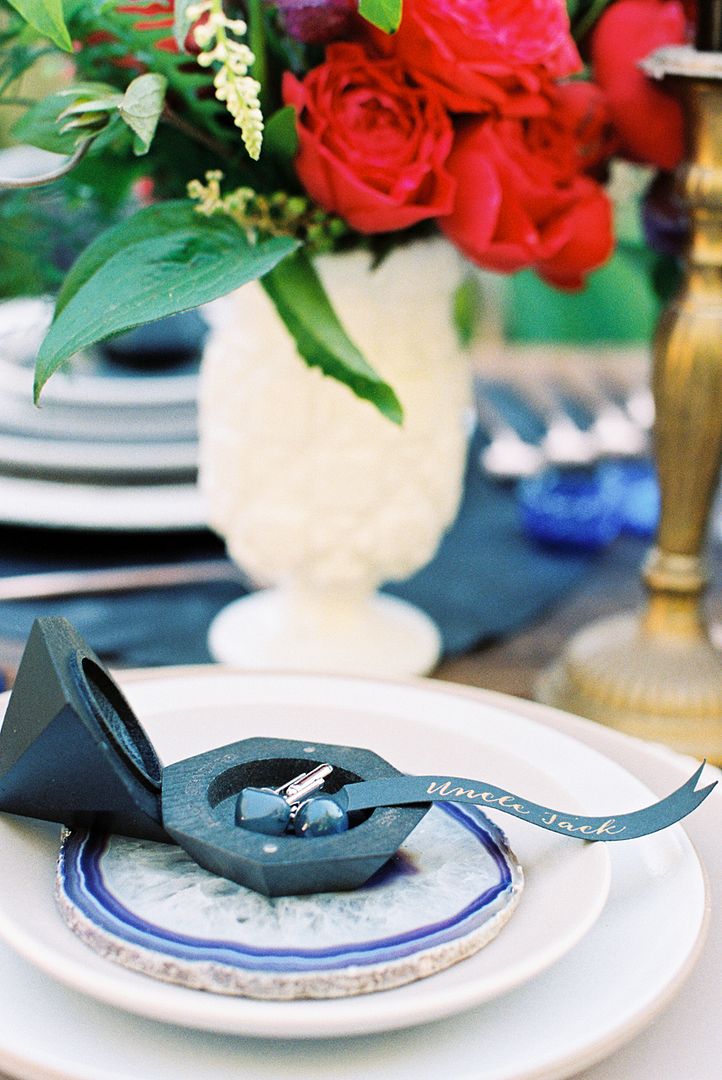 Tina and Brian are a truly unique couple, inspiring those around them with their impeccable taste as well as their generous and loving hearts.  Everyone present, myself included, felt blessed to be a part of such a special celebration.  Sitting down as a guest that evening was the ultimate gift, because I am thankful to be invited into their lives after all these years.  I wish Tina and Brian only the best for the future and am already counting down until their 10-year anniversary!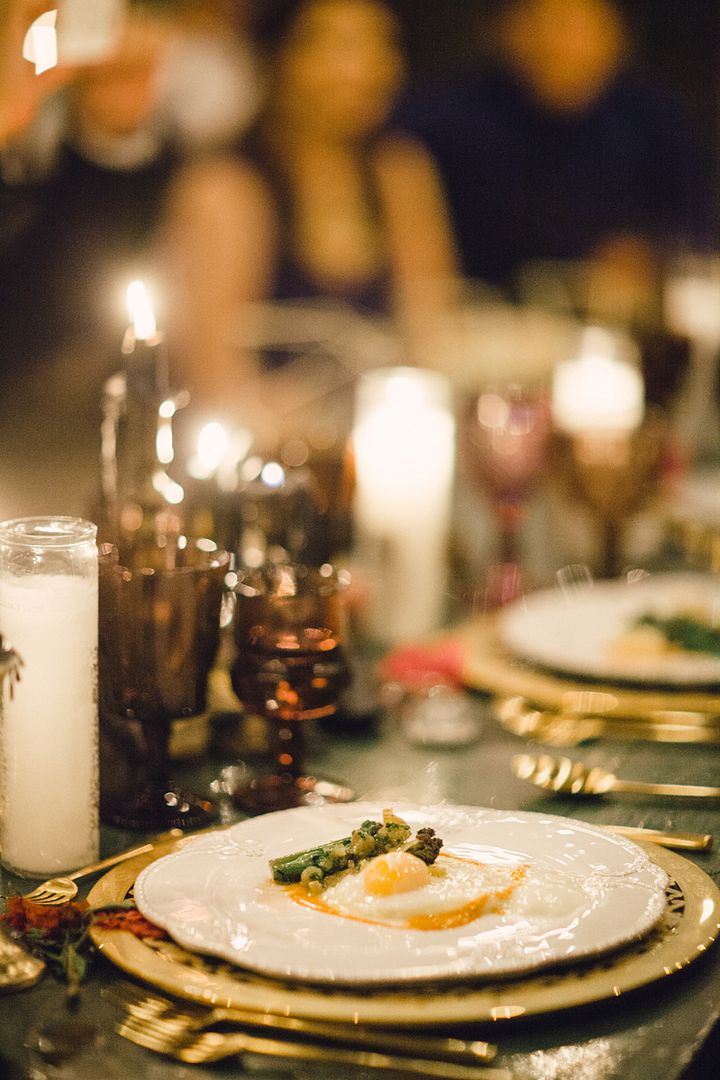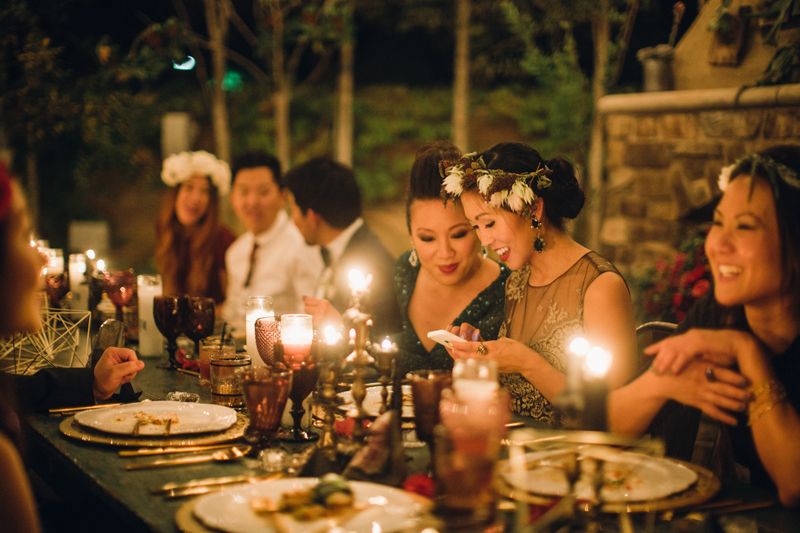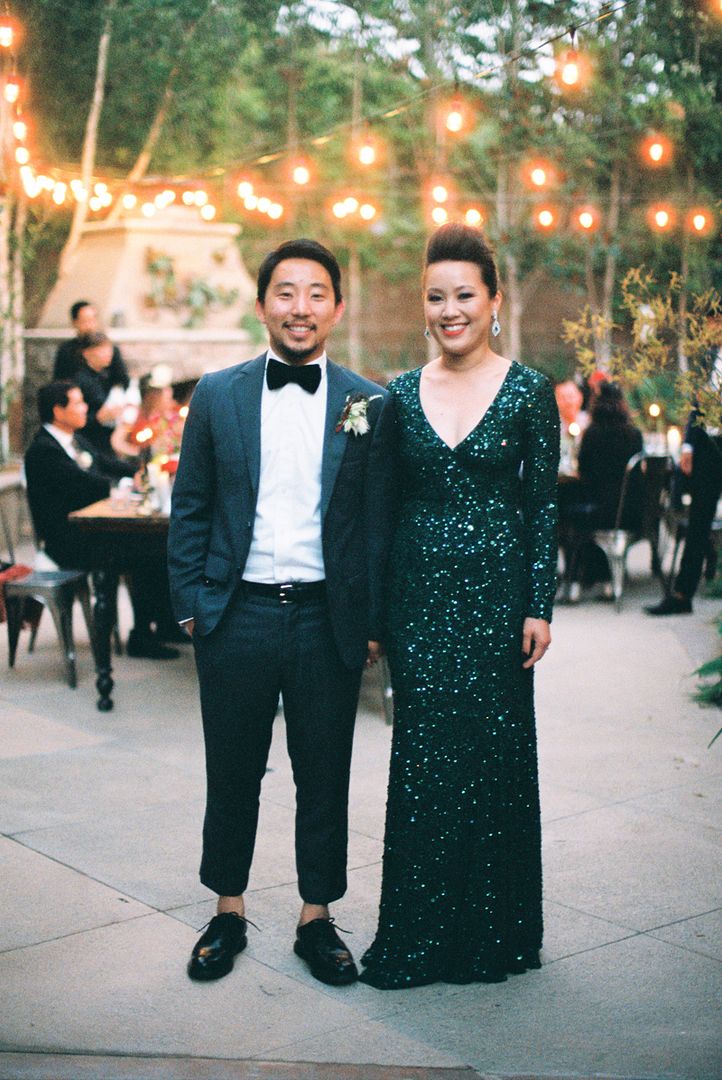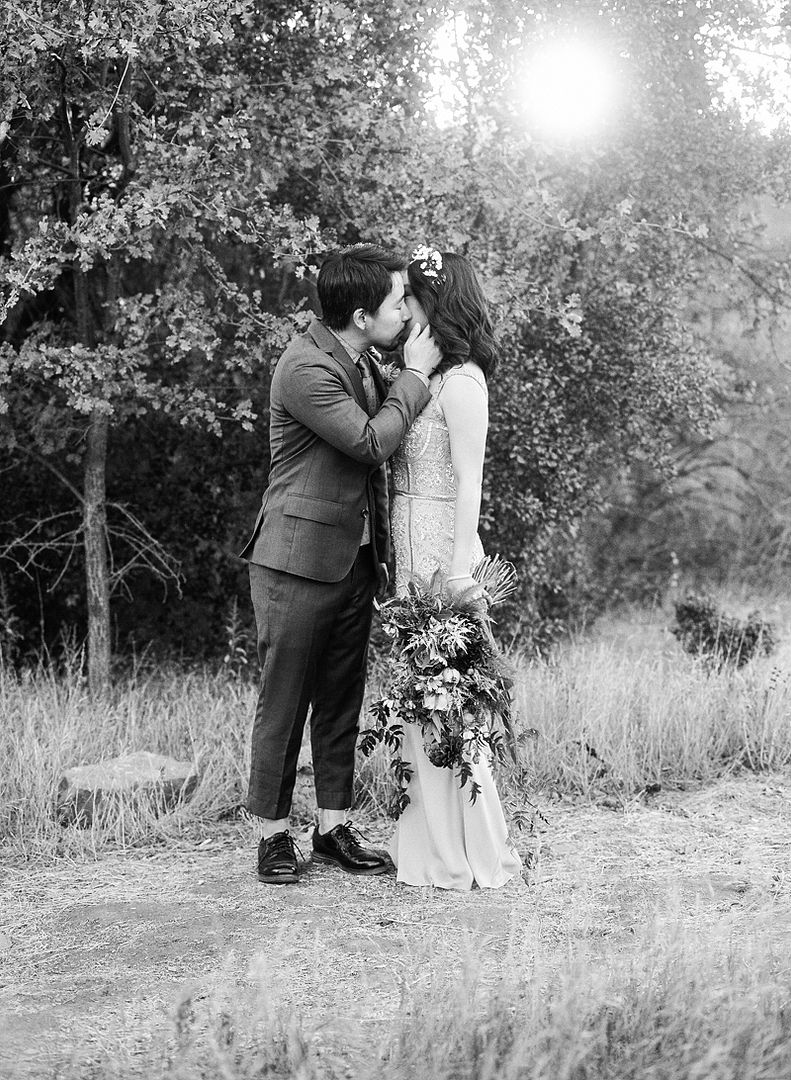 Vendor Dream Team
photography: Braedon Photography // wedding planning + design: Love & Splendor // venue: The couple's home in Los Angeles, California // wedding design + styling: Sitting in a Tree Events // florals: Siren Floral Co. // videography: Elysium Productions // invitations, favors + calligraphy: bride, Miss Multee // printing studio: Copper Willow Paper Studio // makeup: e2beauty // hair: 1011 Makeup // furniture rentals: Found Vintage Rentals // tabletop rentals: Casa de Perrin // welcome drinks + dessert bar rentals: The Hostess Haven // table linens: La Tavola // geodes, agates + crystals: All sourced by bride // concrete planters: Concrete Geometric // bar: Please & Thank You Bar // catering: Heirloom LA // desserts: The Scootabaker // macaron ice cream sandwiches: Sweet & Saucy Shop + Sweet Lucie's // bride's gowns: Rachel Gilbert // bride's shoes: Valentino, Stella McCartney // bride's headpieces: Twigs & Honey // groom's suit: Club Monaco // shirts: Club Monaco, (multee)project // shoes: Cole Haan // watch: Rolex // live musician: Kevin Miso
And I can't end this post without sneaking these personal photos of us at the celebration.  See that ridiculous swing that Rachael made??  Braedon snapped a dozen photos of Olive on it and they're easily some of my favorites of my little girl!  Thanks also to Erica of 10.11 Makeup who did my hair and makeup as a gift from Tina (!!!).