I'm no fashion blogger but I have always enjoyed dressing up.  I know my love of color and pattern come straight from my mother, who has styled me in quirky outfits since the 80's.  We grew up with humble means but my mom always knew how to put together a lovely outfit.  I remember her taking us to Gap Kids and telling us we could each pick one item from the clearance rack; it had to have been marked down at least twice.  Somehow we'd always seem to find the perfect pieces in just the right size; Mom told us it was God's way of providing for us.  We always seemed to gravitate toward the same kinds of items and styles.  Not much has changed — I'm still borrowing from my mom's closet!
My favorite pieces typically include lots of color, playful patterns and whimsical details.  My personal style is decidedly feminine with a touch of the unexpected.  I noted on Instagram yesterday that if I had a "uniform," it would be a dress, tights and some booties.  Enter this darling Ruffle Sleeved Tangier Dress by Shabby Apple.  I was delighted when they sent it to me last month and tried it on immediately (that's sort of my m.o. when I get clothing in the mail: rip it open as I'm walking to the kitchen and try it on before the wrapping hits the floor; haha!).  It fits like a glove and is well-constructed; the fit is super flattering.  I love the sweet ruffle sleeves (which are voluminous without making you look like a linebacker) and the poppy orange color.  The pattern is an Morroccan-inspired floral (part of their Marrakech Collection) that reads a bit retro-tropical to me.  The material is a silky smooth satin that is light and floaty and is perfect for layering this fall (I added tights and a denim jacket).  I'm going to try it out with a sleek long-sleeved black tee underneath next time!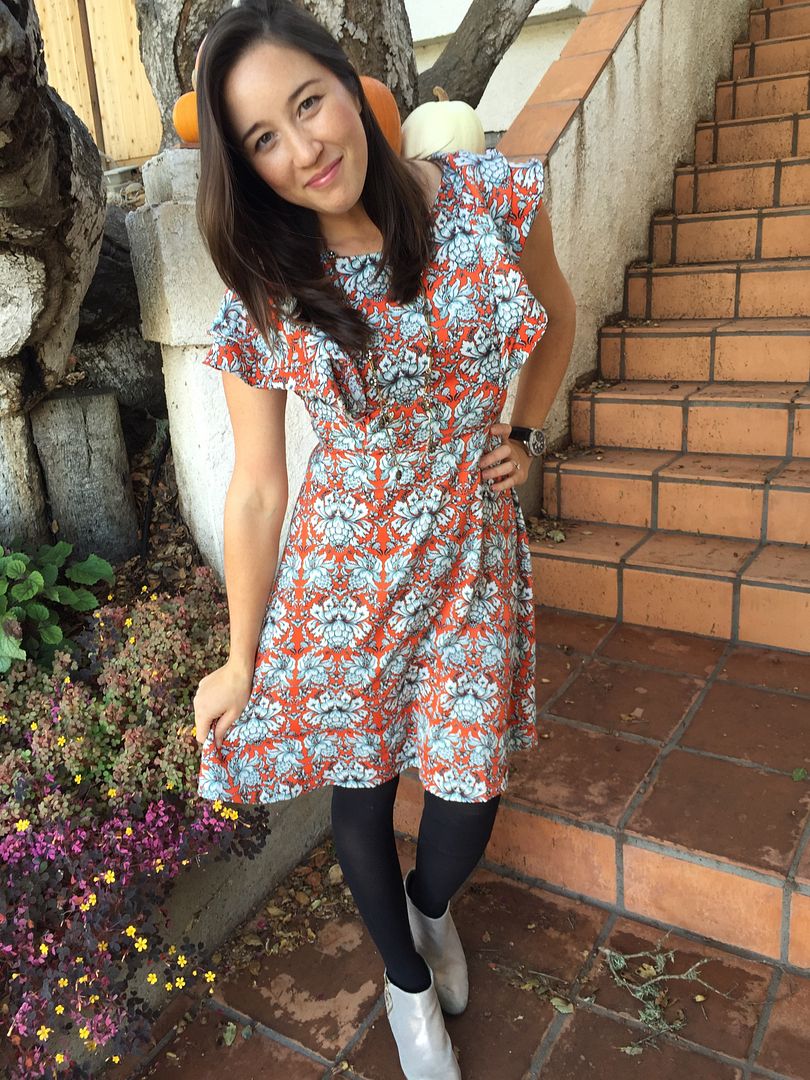 dress: c/o Shabby Apple // jacket: Escada Sport // boots: Volatile (via Anthropologie but still sold here)
Shabby Apple consistently offers clothing that is modest, ladylike and vintage-inspired.  My current wish list is a mile long but here are a few other items that caught my eye: this skirt // this dress // this scarf
Thank you to Shabby Apple for sending this dress along; I know it'll be in heavy rotation this season and beyond!
Today I'm off on a mommy-daughter day adventure!  Olive and I are spending the entire day doing some of our favorite things together and I can't wait.  See you soon!