Happy Monday, everyone!  How is it already Thanksgiving week?!  I am equal parts shocked and delighted.  This year we have the pleasure of hosting Thanksgiving in our own home and I couldn't be more excited.  With all the traveling we've been doing this year, it feels great to just be home for the holiday.  😉  I also look forward to creating more of our own little traditions as a family as Olive gets older.  If you follow me on Instagram, you saw a sneak peek of the reclaimed wood dining table that Erik is building for me.  I can't wait to set it for our Thanksgiving meal!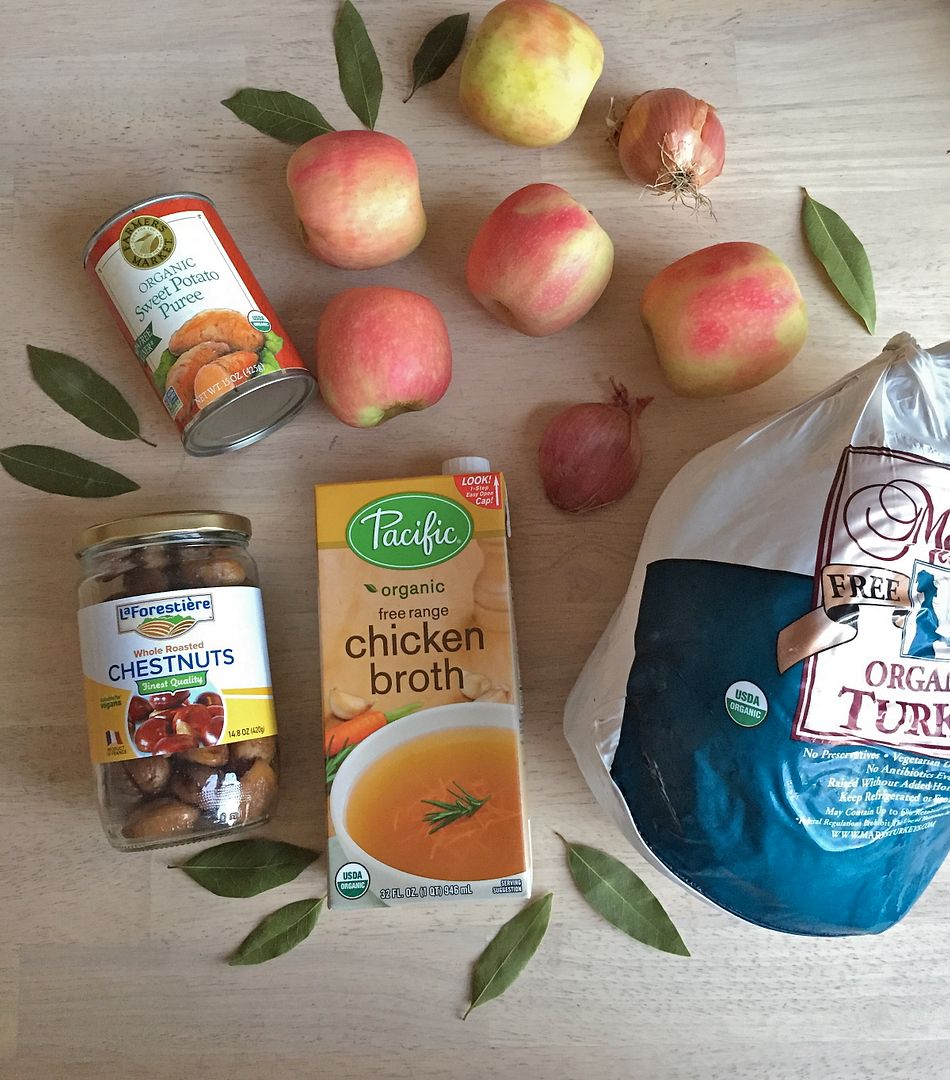 Over the weekend, I spent some time menu planning and pantry-stocking for the big meal.  I plan to pick up the perishables and fresh veggies tomorrow from our local farm.  Here's what's on the menu so far…
Appetizers: cheese, charcuterie, lots of olives (yum!)… maybe a roasted cauliflower soup
Whole roasted turkey (we picked up an organic, free-range turkey from Mary's Turkeys // raised about 150 miles from me!!)
Apple + Pecan + Chesnut Stuffing (apples from our favorite local apple stand: Gopher Glen)
Green Bean Casserole with Crispy Shallots (a healthier take on my childhood favorite, using green beans from our local Rutiz Farms)
Chardonnay Glazed Carrots (recipe from Better Homes and Gardens)
Roasted Brussels Sprouts (with and without bacon, of course)
Twice Baked Potatoes (fully loaded with cheese, bacon, sour cream and chives)
Sweet Potatoes with Pineapple and Marshmallows (yummmm!  This is Erik's sister's specialty!)
Whole Cranberry Sauce
Apple Crumble (Granny Smith, Pink Lady, Fuji and Christmas Bliss apples from Gopher Glen)
Homemade vanilla bean ice cream with salted caramel swirl
Our favorite warm apple cider.  It makes the entire house smell heavenly as it sits in the crock pot!
What am I forgetting??  I'd love to hear your Thanksgiving meal "must haves" in the comments.  I still have time to improvise!  🙂
Hope you're having a great start to your week — see you soon!