Hey everyone!  Okay… so this post might seem a bit odd but in the past, I've enjoyed sharing my random "fab finds" with you.  Hope you don't mind me picking up the series here with an installment on foundation!  As a teenager, I never really wore makeup.  Aside from special occasions when I had my makeup done (e.g. prom), I went happily barefaced.  Clear mascara and softlips were my go-tos!
In college, I played with some tinted moisturizers (love Laura Mercier) and used Bare Minerals for a while.  I remember someone taking me to a Stila warehouse sale and I went crazy, purchasing my first professional brush kit.  Still, it wasn't until after I was married that I really got into makeup.  Now I am certainly no beauty guru and I still struggle to apply eyeliner without a shaky hand, but I think I have enough experience and YouTube hours logged to share the bit of knowledge I have.  😉
These days I wear foundation about 4-5 days a week, depending on my schedule.  Sometimes I will put on foundation even when my only plans are to clean house and read books with Olive; it just makes me feel fresh and polished.  I have tried quite a few foundations and have discovered that my favorites have medium coverage with a youthful, dewy finish.  I definitely don't favor a matte face, so I rarely powder (unless it's a long, hot day and I desperately need a touch-up).  My ideal face looks youthful and glowing but not shiny.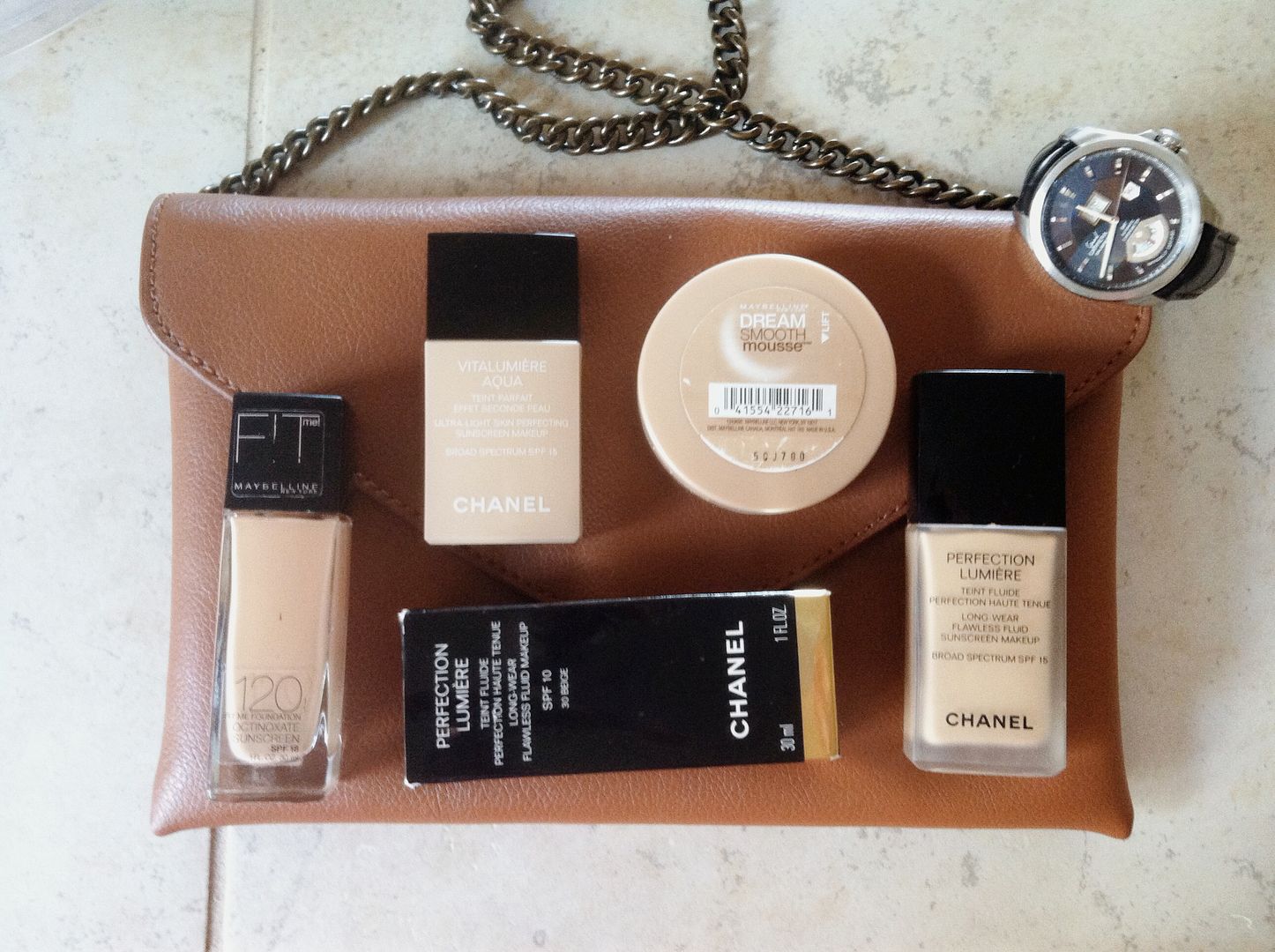 When it comes to luxury foundations, Chanel is my ultimate favorite hands-down.  I've tried others including YSL and Nars, but I always come back to Chanel.  Within the brand, I've tried Pro Lumière (now discontinued), Mat Lumière, Perfection Lumière and Vitalumière Aqua.  The two latter are my current favorites and are in regular rotation.  For both foundations I wear the shade beige 30 — my skin is light to medium with yellow undertones (half-Asian) and I have a good amount of freckles on my face.  😉  I favor Perfection Lumière (retails for $57) for special occasions and evenings since the coverage is better and the finish is slightly more matte (but not flat), which looks great in photos.  Vitalumière Aqua (retails for $45) is an easy everyday foundation, feels very light on the skin, and has a very natural finish.  It's a "my skin but better" look that I love!  I also love that the packaging is plastic which, while less luxe than the typical glass Chanel bottles, makes for easy traveling and tossing into my handbag.
Although I love me some fancy foundation, I don't want to use it every single day and constantly need to replace them.  So, I change out regularly with two great drugstore foundations.  Both were lucky accidents; I stumbled into a CVS and guessed my shade in the aisle and it worked (both times).  The two drugstore foundations in rotation (both around $8/ea) are Maybelline Dream Smooth Mousse Foundation in Creamy Natural and Maybelline Fit Me Foundation in 120.  The former is a cream formula, and the latter is liquid.
For all of my foundations, I prefer to apply with clean fingers and blend well.  I do use a stippling brush on occasion if I need a really perfect and thorough application but let's be real… what mom has time to leisurely apply makeup??  I have been complimented on my skin while wearing all 4 of these foundations so I continue to repurchase each of them.  My mom even asked me to get her the two Maybelline foundations for her (that's a big deal if you know my fancy mom).
If and when I need powder, I reach for the sheer Porefessional powder by Benefit (retails for $30).  It keeps shine at bay and I love the built in brush.
Ultimately I think my luxury foundations are worth the splurge (and I usually get a new one at Christmas from my mother-in-law!) but I'm grateful for my drugstore faithfuls for the everyday.
Do you have favorite foundations, either high or low end?  I'd love to hear your picks, too!  xoxo