It's November and there's no more denying it: autumn is in full swing!  Last week was a total blur, with a trip out of town and lots of family and work outings.  Right now I am furiously typing away on some catch-up emails while Olive snoozes.  I've got a fresh cup of coffee by my side, but what I'm really craving is another slice of this delicious organic pumpkin cake I made last week.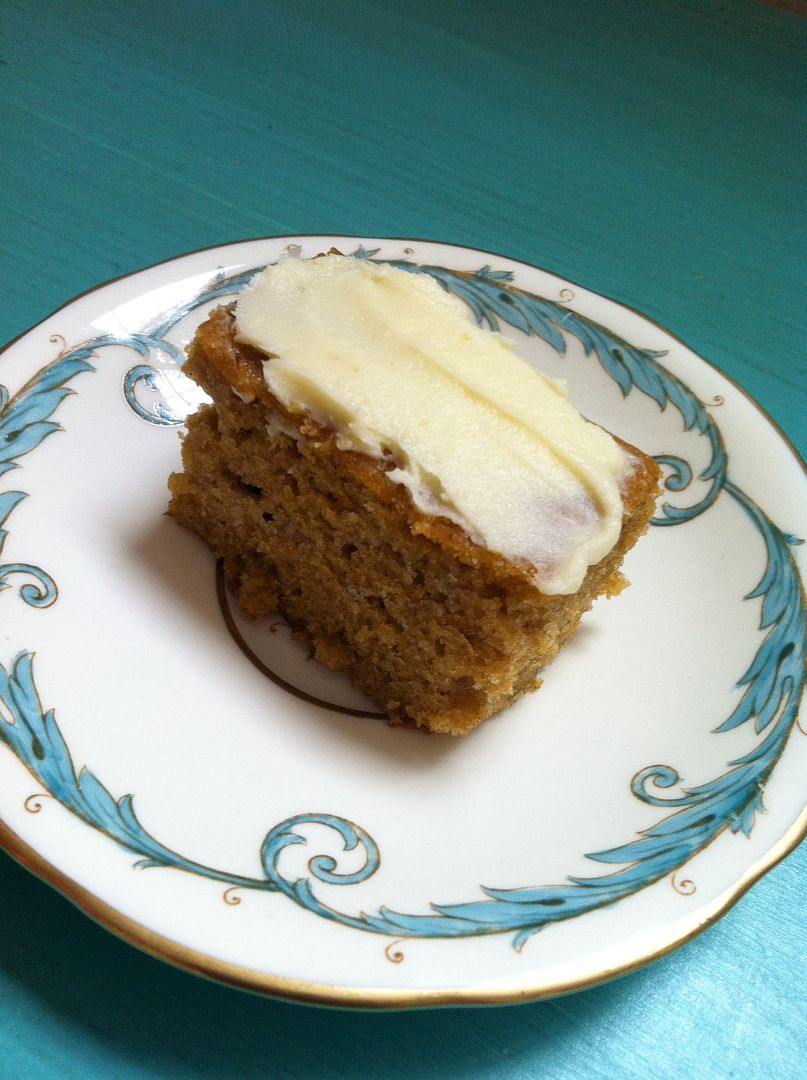 scrumptious!  The plate is actually a teacup saucer from my favorite china pattern — a gift from my darling friend Diana at Casa de Perrin.  <3
I made this yummy cake for a fall party last weekend, and it was a big hit!   The recipe made a 9×13 pan as well as an 8×8, so there is plenty for sharing and savoring yourself.  It is perfect fresh out of the oven, sweet enough to be a treat without any frosting.  That said, I couldn't help myself with a little bit of vanilla cream cheese frosting…
Enjoy this taste of fall!  I just might make another batch tonight!
Organic Pumpkin Spice Cake // makes one 10×15 pan OR a 9×13 *and* 8×8
4 fresh eggs

1 and 2/3 cups of organic sugar (you can also sub for coconut palm sugar)
1 cup melted unrefined virgin coconut oil or unsweetened organic applesauce
1 can (15 oz) of organic pumpkin puree
2 cups of unbleached flour (feel free to sub for your flour of choice)
1 tsp of baking soda
2 tsp baking powder
2 tsp ground organic cinnamon (or more if you like extra spice!
1 tsp salt
For frosting
1 small package (3 oz) organic cream cheese, softened
1/2 cup of grassfed butter, such as Kerrygold, softened
1 tsp of organic vanilla extract
2 cups of organic powdered (confectioners) sugar
Preheat your oven to 350 degrees Fahrenheit.
In a medium bowl, mix all the wet ingredients together (eggs, oil/applesauce, pumpkin) until light and fluffy.  Add the organic sugar.  In a separate bowl, sift together the flour, baking soda, baking powder, cinnamon and salt.  Stir the dry ingredient mixture into the wet ingredients and mix until well integrated.
Spread the batter evenly into a buttered 10×15 pan (or a 9×13 and 8×8 pan).  Bake for 25-30 minutes in the preheated oven.  I checked mine at 18 minutes and again at 22 minutes to test for doneness.  I was done in about 23 minutes.
Let cake cool completely before frosting.  😉  If you want to make the frosting, cream the butter and cream cheese together.  Add the vanilla and then mix in the powdered sugar little by little until smooth.  Spread evenly onto the cooled cake.  Or, keep in the fridge (a couple days max, if your cake lasts that long!) and use to slather individual slices as desired.
Let me know if you give it a try!  Happy weekend!