Hello everyone!!  I'm excited that today I'm featured on The Effortless Chic (a lovely lifestyle + fashion + home blog) for the Savvy Girl's Guide to Hosting a Stress-Free Holiday Party!  Definitely mosey over to their blog to check out the post and read my simple tips for keeping holiday stress to a minimum, and face-time with your guests at a premium.  😉
I LOVE entertaining, especially during the holidays, and it's kinda coincidental that I'm having a dinner party for 8 tonight!  I mentioned in the guest post that one of my fall/winter entertaining staples is my hot apple cider.  It is utterly delicious and I will take any excuse to make it.  I am definitely making a batch for tonight's festivities and I hope you give it a try, too.  It's wonderfully simple, makes the house smell divine and is an instant mood lifter!  I always feel festive sipping a mug of cider, even if I'm alone in my PJ's!  I add fresh whipped cream and a drizzle of caramel to my cup but this delicious cider is sweet enough to enjoy on its own by the ladleful.  Enjoy!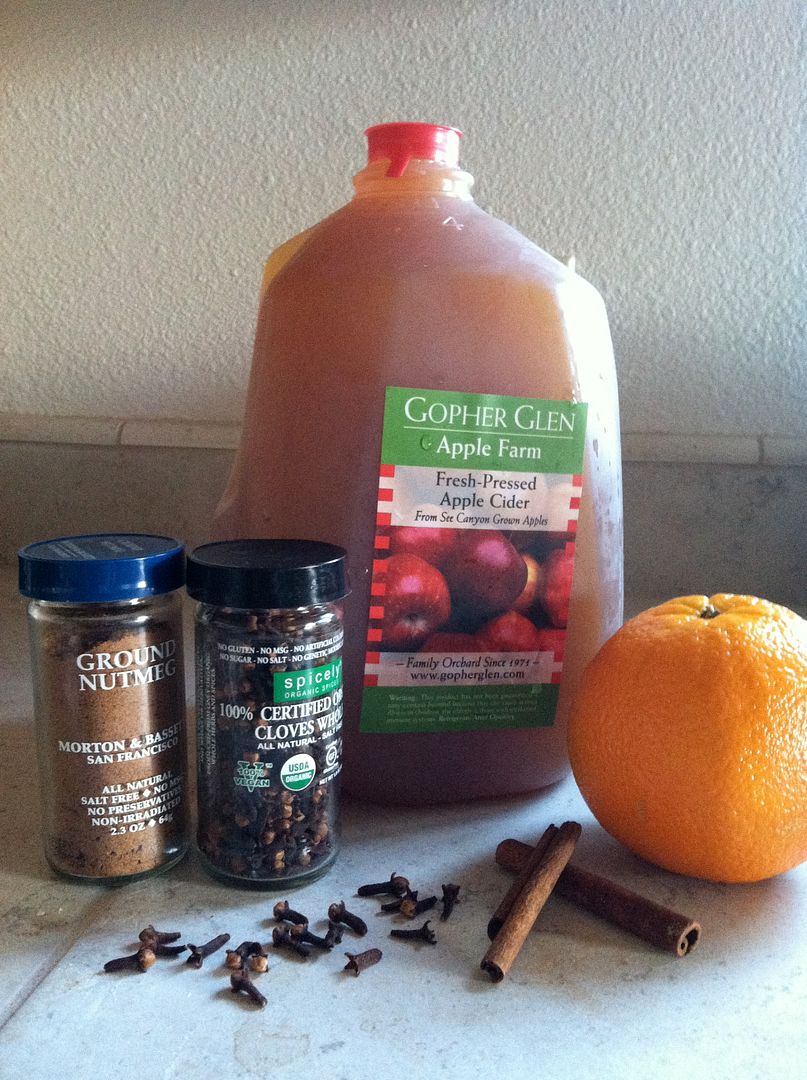 Hot Apple Cider (12 servings)
*I make this cider in a crockpot but feel free to use a large saucepan or dutch oven — any non-reactive pot should work on a low simmer!*
Ingredients
2 quarts of apple cider (I use raw and unpasteurized fresh-pressed Gopher Glen cider made with local apples grown only 10 miles from my house!)
2 cups of orange juice (I squeeze my own organic oranges)
1 medium orange (separate from the ones you squeezed)
15-20 whole cloves
4 cinnamon sticks
2 tsp of allspice
pinch of ginger
pinch of nutmeg
optional: 1/4c of brown sugar, fresh whipped cream, caramel for drizzling
In a large crockpot, saucepan or dutch oven, combine the cider and OJ.  

Slice the medium orange (five or six slices) and press the cloves into the slices (sort of like studding them!  I like to press them in a pretty pattern).  

Float the clove-studded orange slices on top of the cider mixture.
Add all of your spices and the cinnamon sticks.  Stir gently to combine.
If desired, stir in 1/4c of brown sugar.
In your crockpot, heat on low for 3-4 hours.  If using a saucepan or dutch oven, bring to a boil then reduce heat and simmer over low heat for 30 minutes to 2 hours.  The key is to keep the heat LOW.
Ladle in to cups and add whipped cream and carmel drizzle as desired.  😉  Fresh cinnamon sticks make a lovely garnish as well!
Enjoy!!  Let me know if you make some yummy cider for your holiday gathering!  And don't forget to check out the feature post on The Effortless Chic!