One of the most important things in life is to be flexible.  I've learned this lesson tenfold as a mom — schedules need to have some give and I need to be willing to go with the flow, even when life "interrupts" my carefully laid plans.  😉  This weekend we did not end up going to the Harvest Festival, after a very busy and productive Saturday working on the front yard.  We actually drove through town during the last hour of the festival and everyone was already packing up.  Whoops!  We still had a lovely and relaxed Saturday night, though.  Then yesterday, my sweet friend and her daughter got sick so we had to postpone their visit (with my other friend and her son!) planned for today.  That means that after church, instead of cleaning the guest room, I decided to take a much needed nap.  haha  And I'm glad I did!  I never get to take naps anymore, so it was a blessing in disguise.
With all the changed plans and a freshly shattered iPhone screen (I forgive you, Olive), last night definitely called for some easy comfort food.  I decided to make this hearty organic beef stew for dinner and it was a big hit with both Erik and Olive.  After posting a photo on Instagram, I was asked to share the recipe here.  I'm happy to do so, but I apologize for the lack of photos since I didn't originally plan to blog the recipe.  This yummy stew is perfect for chilly autumn and winter evenings and it makes great leftovers, too!  Stews and soups are always always always better the next day, as the flavors really meld and develop overnight.  You'll noticed that my ingredient list is very rough.  Trust yourself and taste as you go; I think you have to feel things out with a stew and add according to preference.  I like a really chunky stew with a lot of "stuff" in each bite, so I go heavy on the veggies.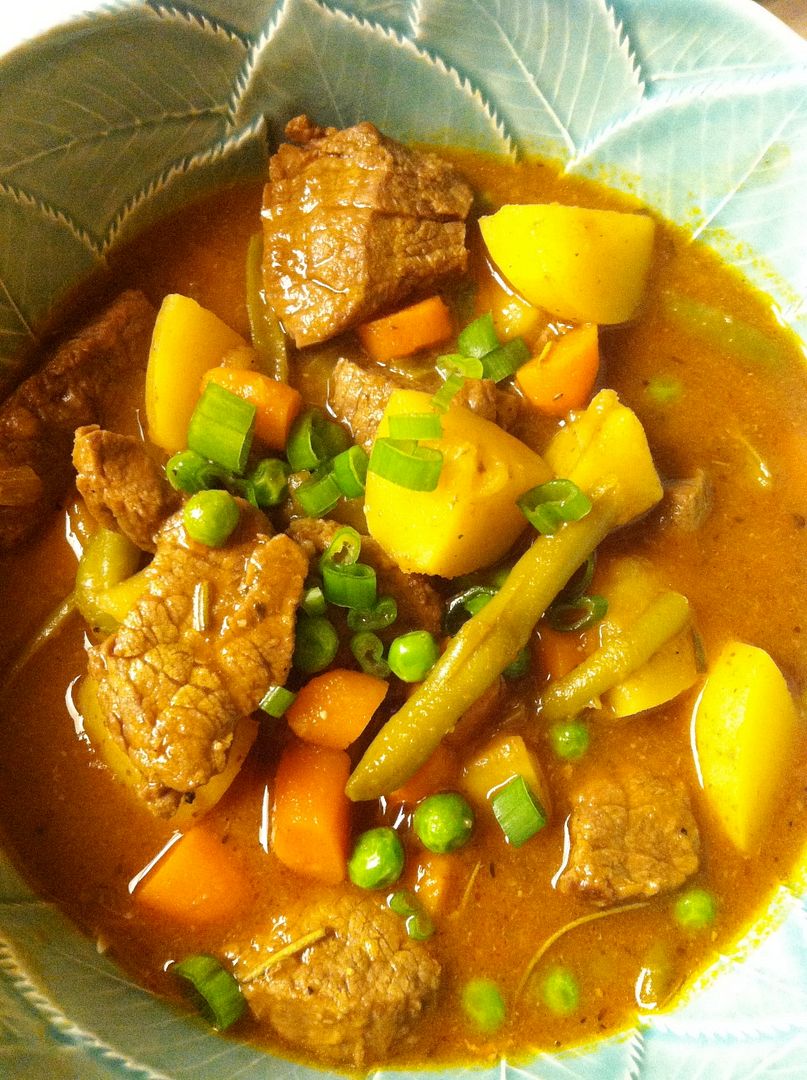 Simple Organic Beef Stew — serves 4-6
2 lbs of stew meat (I prefer grassfed beef and my local source is Johansing Farms)
3 shallots, diced
3 or 4 cloves of garlic, minced
4 cups of organic beef stock (homemade is ideal!)
3 TBS of organic tomato paste
1 TBS of organic worcestershire sauce
3 or 4 carrots, peeled and chopped (depending on size and preference — I like a lot of carrots!)
5 or 6 small potatoes, rinsed/scrubbed and chopped into chunks (I used local Sierra Gold potatoes)
Optional additional veggies (I used haricots verts; celery is another option)
Butter (my choice is grassfed Irish butter — Kerrygold)
Olive Oil or Coconut Oil
1 cup of flour (arrowroot flour is a great alternative if you are paleo)
Various spices (fresh or dried, to taste): rosemary, oregano, sage, thyme, smoked paprika, etc.
2 bay leaves
Salt + Pepper to taste
Green onions, sliced — garnish
Put stew meat in a ziploc bag or deep bowl with the flour and add salt and pepper.  Seal bag and shake to coat, or toss in the bowl gently with a wooden spoon, ensuring all pieces of meat are lightly dusted with flour.  Shake off excess and discard remaining flour.
Heat 2-3 TBS of oil (olive or coconut) and a pat of butter in a dutch oven.  Add shallots and cook until softened, then add garlic and stir frequently.  Nothing is worse than burnt garlic, so I always turn down the heat a touch and make sure to stir constantly.  After about a minute, I add the flour-dusted stew meat chunks.  Brown the meat on all sides.  I usually add a little more butter here…
Pour in your beef stock slowly, scraping up any bits at the bottom of the pot.  Mix in your veggies (I did carrots and potatoes at this point) and then add your tomato paste and worcestershire.  Add your spices and salt & pepper, and two bay leaves.  Stir gently to combine and place lid on top of the pot.  Turn down the heat and simmer gently for at least 30 minutes, up to 1.5 hour.  I can't help myself and I like to open the pot every 15-20 minutes to stir the stew and inhale the yummy scent!
In the last 15 minutes of cooking, I added the haricots verts because I don't like them to get too soft.  If your stew is too thick, add some broth.  If it's too thin, add a bit of roux.
Taste and adjust seasonings before serving.  Remove bay leaves + ladle into bowls.  Top with sliced green onions and enjoy!
—
See you all again soon!