Hello everyone!  I hope your week is off to a lovely start!  Mine certainly is — I had such a sweet mother's day on Sunday and I'm still beaming about it.
mother's day 2013
We started the day at church and I served in the nursery.  There was a visiting family with a young boy (about 2 years old) and he initially had a hard time adjusting to the nursery, surrounded by unfamiliar faces.  He took to me for some reason and I spent most of the service just holding him.  He actually fell asleep in my arms (so sweet!!) and woke up content to spend the remaining time playing with Olive and his other nursery-mates.  It reminded me that although I am not his mother, I can nurture and love other children as my own.  For many years before I had Olive, I longed so much to be a mama.  I want to send a special encouragement to any of you out there who may be in that circumstance now.  I fervently pray that God will open the doors for you to become a mother soon, but urge you in the meanwhile to love on the kiddos around you in your life.  There's lots of love to go around!
After service, I grabbed our customary Sunday lunch on the way home: In-N-Out burger, of course! We scarfed it down quickly since Olive had fallen asleep in the car, and then we drove out to the charming town of Los Olivos.  Erik took me to get my favorite Enjoy Cupcakes (yum!) and I devoured the pistachio lemon chardonnay + banana lemon creme treats.  We walked around a bit (truthfully we were just chasing Olive around town as she excitedly ambled about, greeting everyone in sight) but the unseasonable heat had us headed home early.  😉  We then spent some time browsing the aisles of Home Depot (hilarious, I know… We are both fixated on home stuff right now!) before having delicious Korean food for dinner.  Toward the end of the day, Erik had Olive hand me "her" mother's day card.  Erik, being Erik, had helped her pick out a card that was for encouragement (not Mother's Day…haha!) with a chihuaua and a dumbbell on the front.  Inside it said, "You're stronger than you know."  I just about died of laughter!  He also helped Olive write me a sweet note and she signed her name with her own hand.  I'm not gonna lie — I was impressed with her penmanship.  😉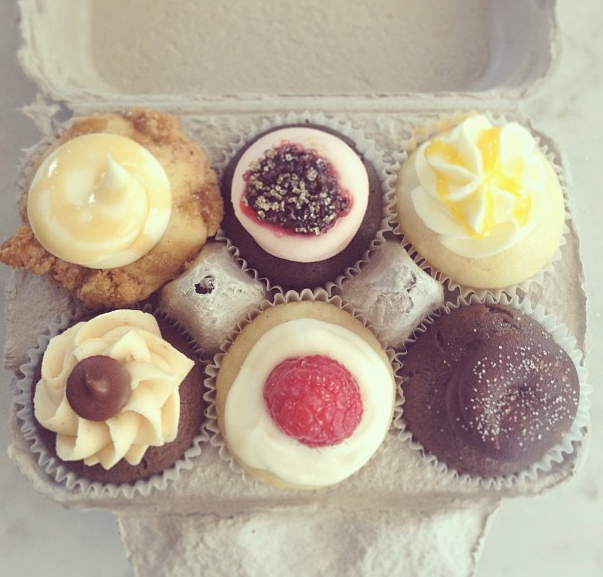 photo via @enjoycupcakes on IG — love Amber & Kevin and their incredible cupcakes!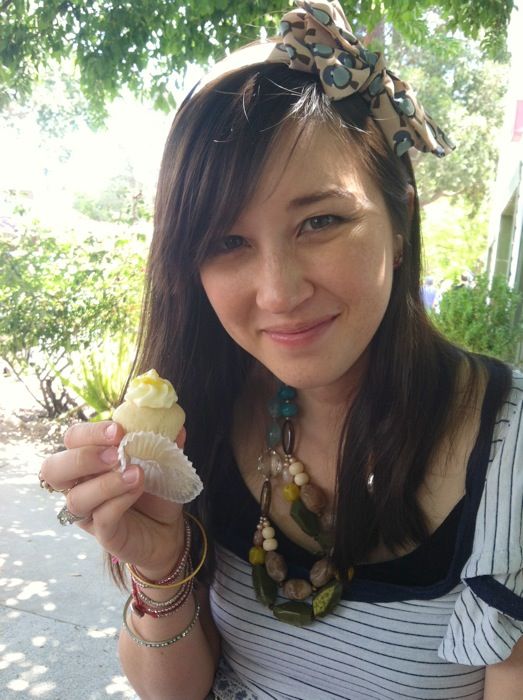 All in all I had a lovely day with my little family.  I got exactly what I had hoped for: some time out of the house with my two favorite people!
Before I sign out today, I wanted to share my excitement about my new bag.  I was on the hunt for a knitting bag but wanted something large enough to double as a travel tote or carry-on.  I discovered Piggledee on Etsy and followed the links to Asako's blog.  I was instantly SMITTEN with her beautiful creations.  She makes backpacks, totes, knapsacks, zippered pouches and more, all using beautiful fabrics, many of them in quirky Japanese prints!  The bags can be used for tons of purposes, including cosmetic bags, travel bags, pencil cases, changing pads, washcloths, reusable lunch bags, diaper bags and more…  Although I'm not a cat person at all, I couldn't resist the whimsical kitty print in grey for my big tote.  I also added a large zip pouch to use for cosmetics when I travel, and for my notions when I'm knitting.  😉  I found it hilarious that I was ordering a travel bag for my trip to Australia from a seller who is based in Sydney.  Oh, irony!  Asako is also a fellow Cal grad (Go Bears!); it was fun to learn we had so much in common!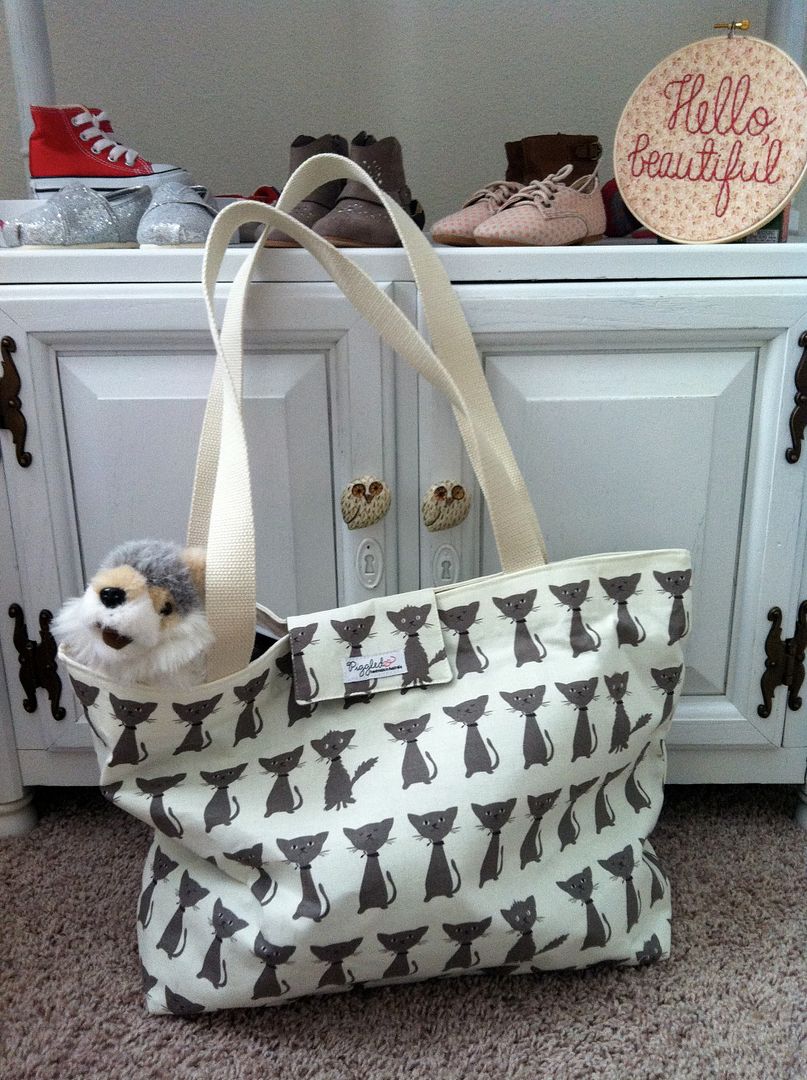 I just received my bags yesterday and I couldn't be more pleased with them.  They are well-made and beautifully constructed.  Asako herself was a pleasure to work with from start to finish, and her kind communication and speedy shipping were much appreciated.  I can't wait to revisit her shop and pick up many more goodies in the future!  Today I am thrilled to giveaway TWO of her fabulous pouches!  The winner will win BOTH a large grey cat print zippered pouch, and a slightly smaller pink cat print pouch.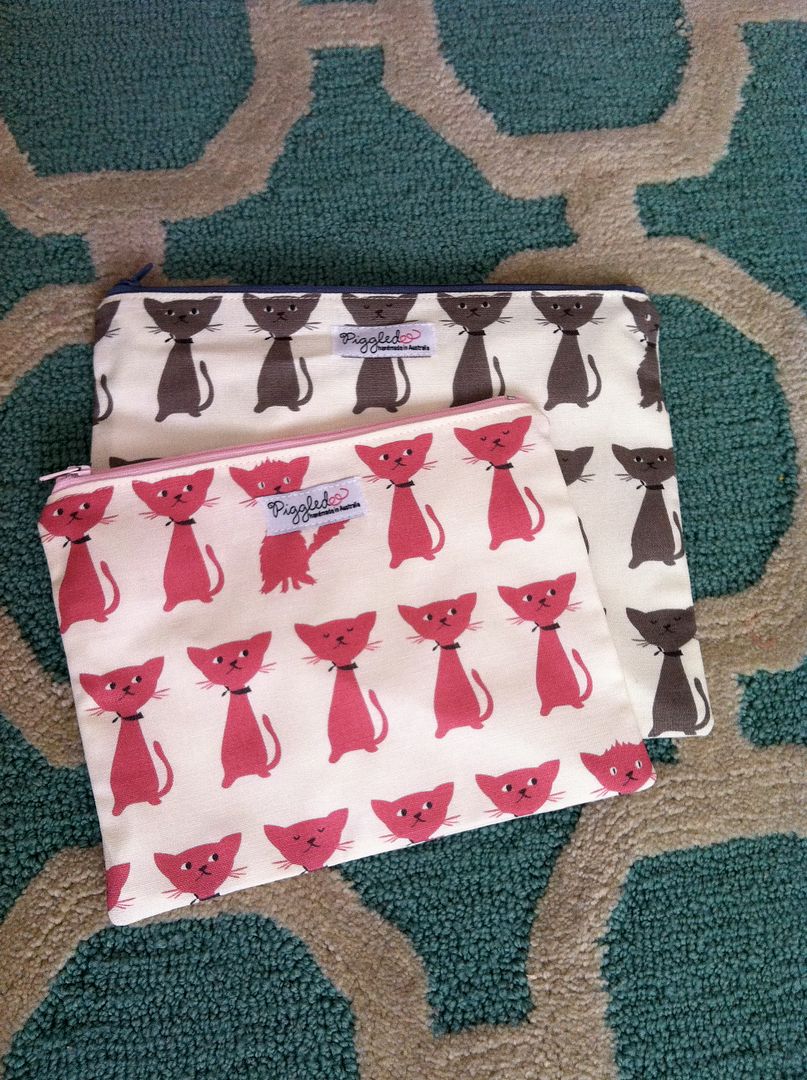 To enter:
Comment below and let me know what you'd use the pouches for if you won!
If you follow this blog on Bloglovin' and/or follow me on Instagram, mention it in the comment for extra entries (1 each).
You have until Thursday, May 16th at 9 p.m. PST to enter.  I'll announce the winner this Friday, the 17th!
Thanks for stopping by; see you again soon!