Hi everyone!  We have another fun update from Michelle today!  🙂  Coming soon to the blog: Olive's three month update (hooray!) and a sneak peek into the upcoming wedding of L&S associate (and my baby sister) Anna!  Can you believe that both my sister AND Michelle's sister are getting married this month?!  Love is in the air… xoxo, Angel
____
Happy June, everyone!  WOW.  Can you believe it's June already?  How did half the year fly by so quickly?  I guess when life gets going there's no stopping it!  I will say I am loving summer… The weather, the sun, the vibe, the colors: I am a huge fan of this time of year!  Just makes me smile.  🙂  Do you share my love for summer?  What is your favorite part of this gorgeous season?
Since my last update, I've continued being a busy girl.  The past month and a half has been both stressful and joyous!  Imagine that, right?  😉 I have been able to have a little fun, though, like attending this amazing supper club dinner: Wolvesden.  Chef Craig Thornton hosts private dinners where you must email to be considered for an invitation.  If you are selected, you join an elite list of 14 food lovers who come together for one night to experience something phenomenal.  You are given no indication as to what the menu will consist of (nor the location of the dinner – I found out a few hours before it started!) and the dinners last up to three hours!  It's all BYOB so each guest brings something they feel will keep the conversation going around a table full of new friends.  Each guest had their own story as to how long it took them to get invited; some told me it had taken them over a year!  Lucky me, I only had to wait two weeks!!  🙂  But whether I had to wait two weeks or three years, this dinner blew my mind!  I sat down to a 9-course meal which was personally prepared by Chef Craig and his team of sous chefs that manned the kitchen.  The menu included everything from pork belly to rabbit.  It was my first time actually having rabbit and while I can't say I'll make it a staple in my diet, it was deliciously-prepared that evening.
snapshot of one of the prep areas
Chef Craig in the Kitchen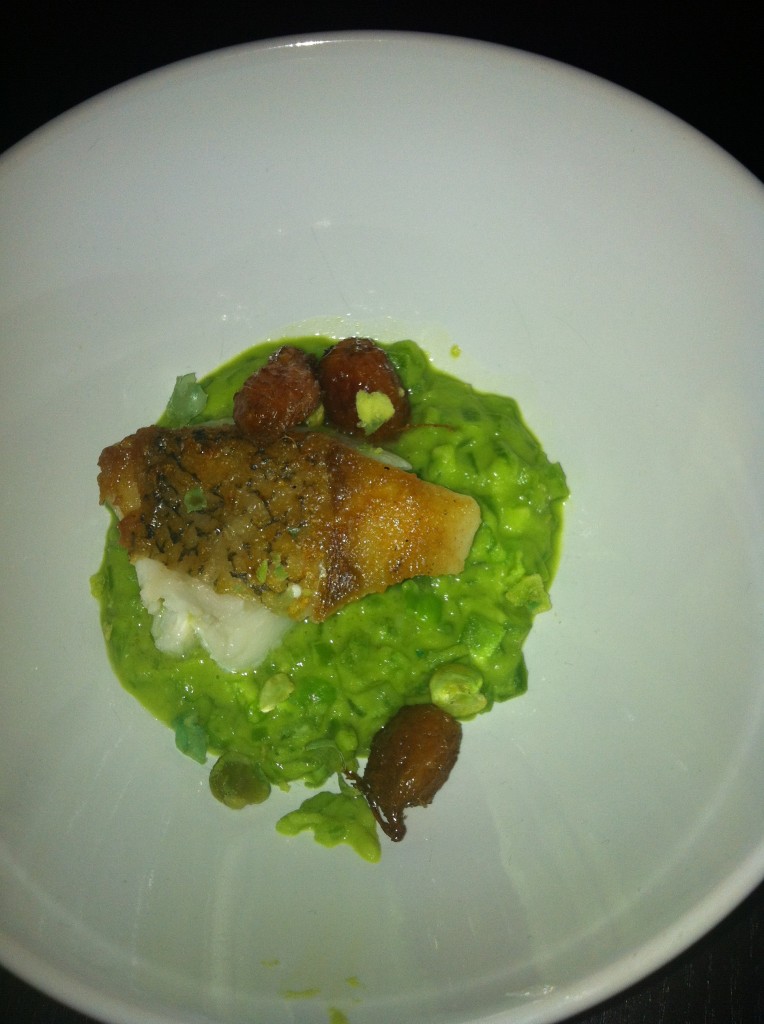 tilefish served over a pea risotto with orbit carrot and wasabi pea
scallop served with asparagus, bacon onion relish, fiddle head morel over asparagus purée.
And for desserts… well, let's just say he didn't disappoint.  🙂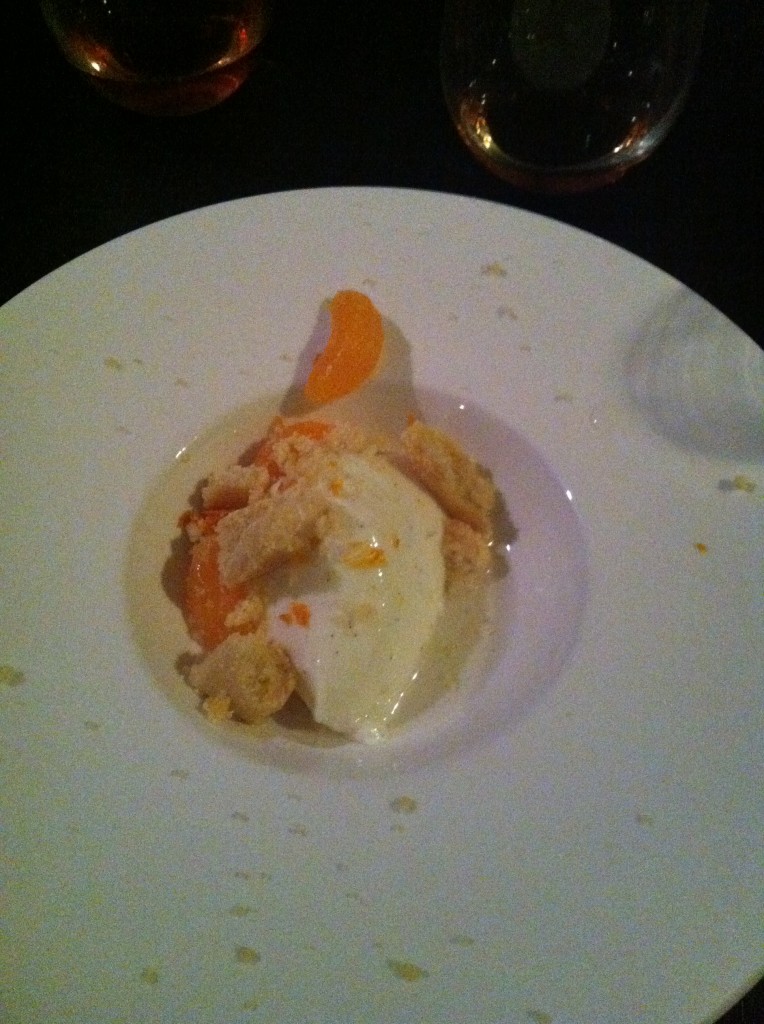 buttermilk panna cotta with clementine, tangerine, freeze-dried mandarin with vanilla shortbread.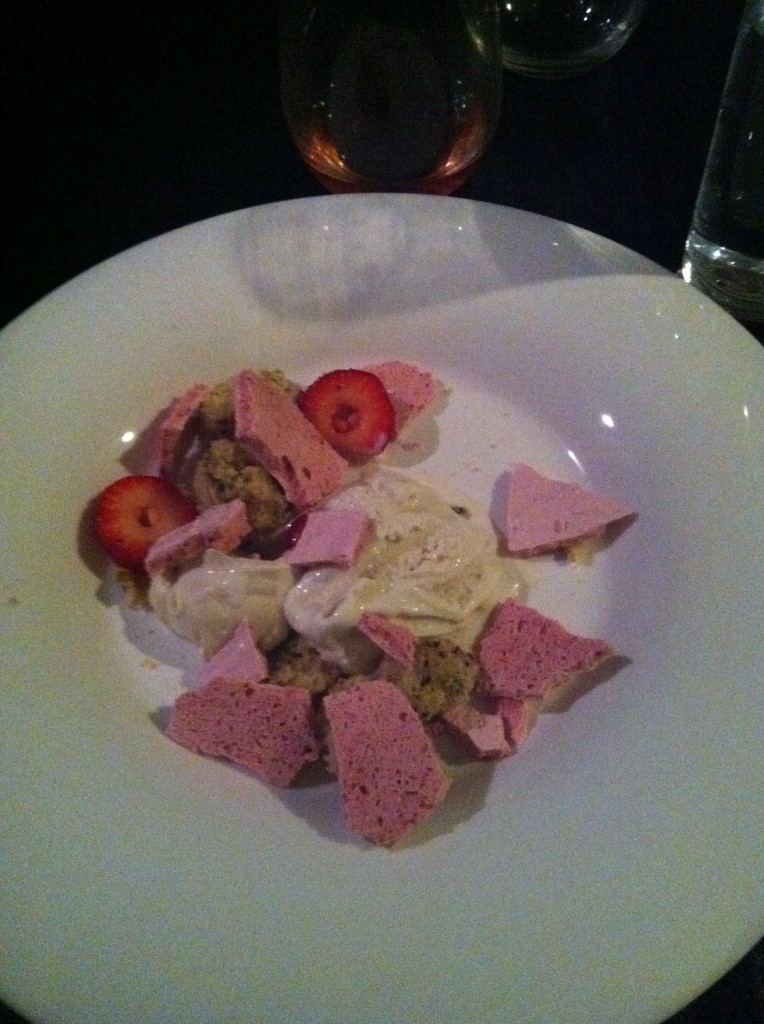 coffee cake served with strawberry, doughnut ice cream, strawberry meringue with whipped cream.
In other news, I've still been crafting away!  I went on a bender at the Dollar Tree and decided to make my own mini cupcake stands, tissue flowers, as well as coasters.  My love for gold spray paint continues to grow…
I hot-glued a candlestick holder to the bottom of a candle base and then spray-painted gold.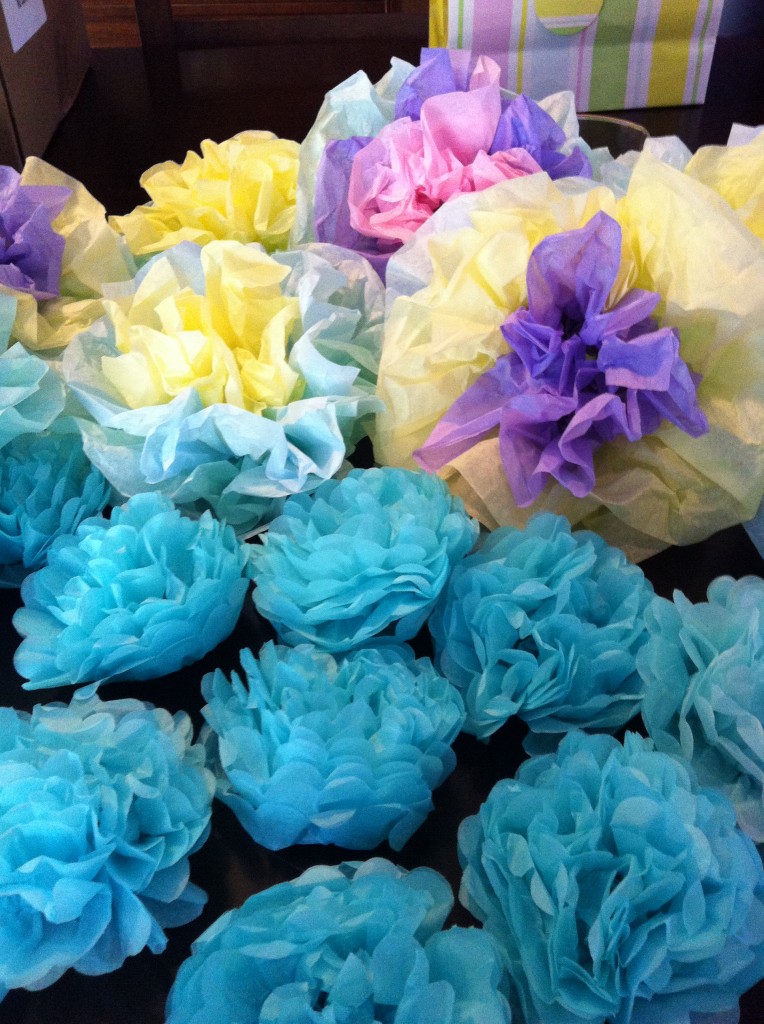 easy tutorial can be found online HERE for these lovely paper flowers.  all you need is tissue paper and wire of some sort!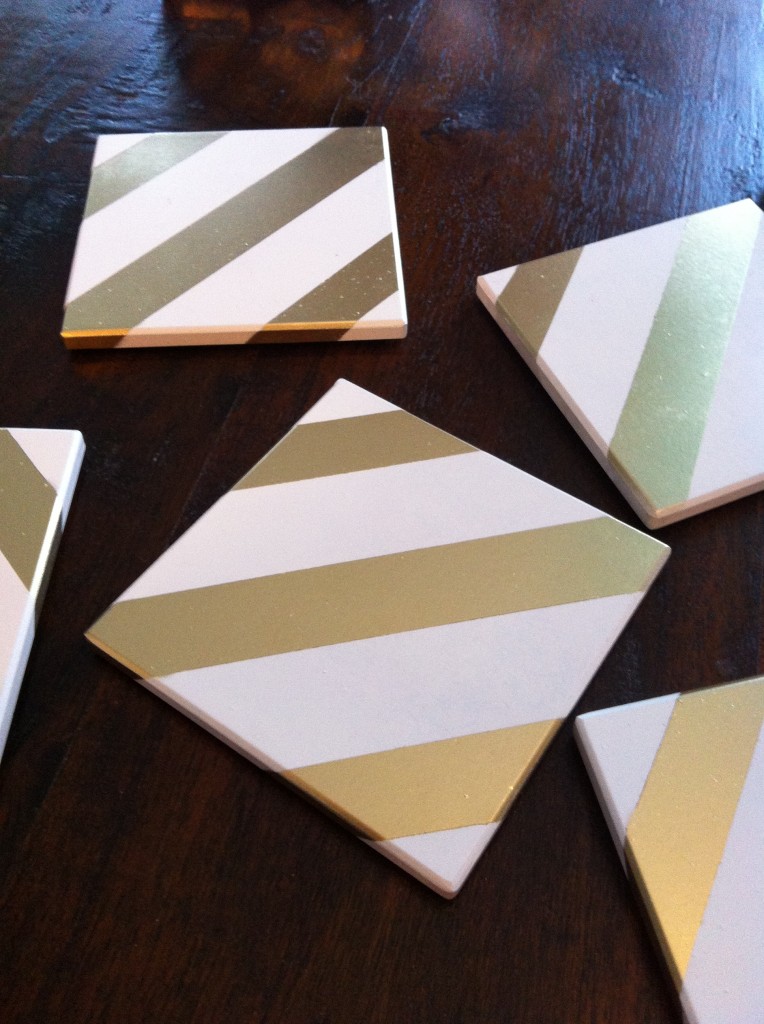 I found some awful-looking tile coasters which I spray-painted white and then lined with painters' tape and spray painted gold stripes… of course!
I used some of the flowers and all the cupcake stands at my little sister's bridal shower (she gets married at the end of this month!).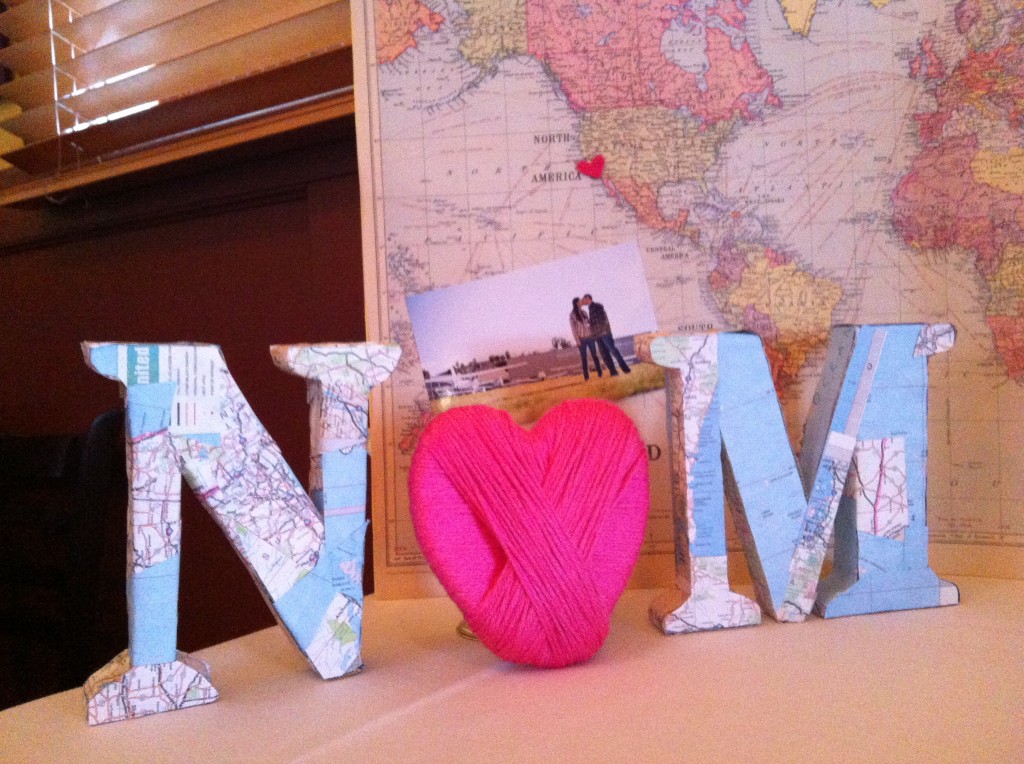 I purchased styrofoam letters and hot-glued map pieces all over them.  With the heart, I just wrapped continuously with pink yarn.  Don't let the simplicity fool you — it was very time consuming!  Patience is key so good thing I have tons!  😉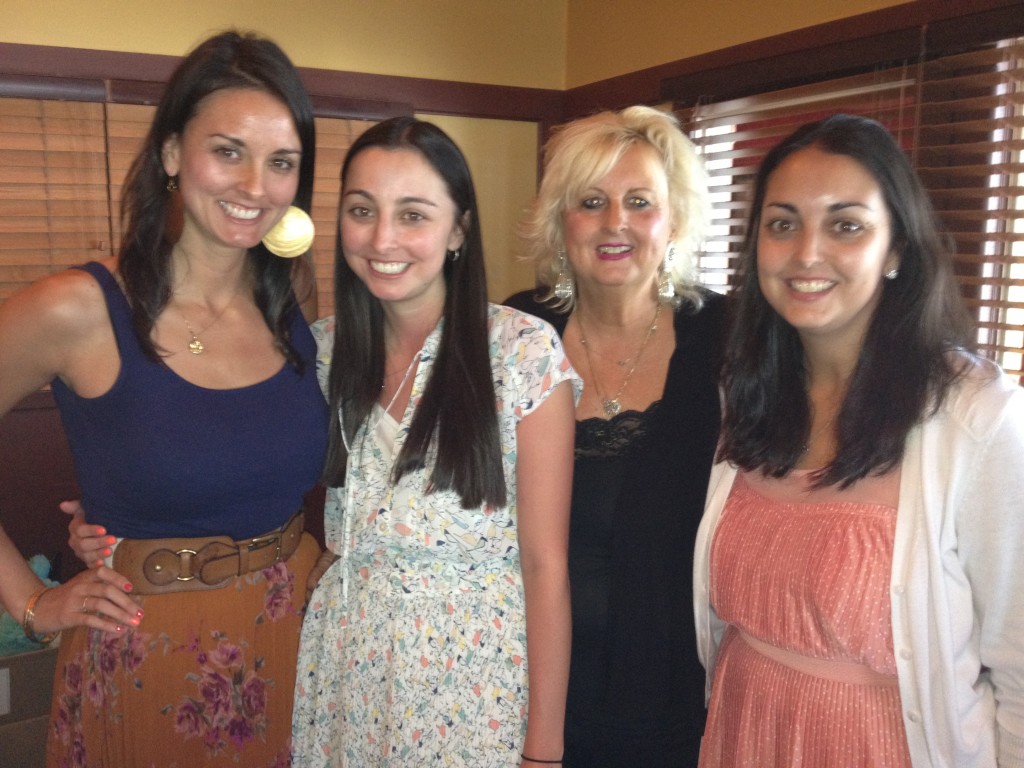 Here is some of the family!  Me, my little sister, our mom, and my older sister <3
In wedding news, I had my biggest wedding of the year (285+ guests) over Memorial Day weekend at our favorite Saddlerock Ranch.  The weather was perfect, the bride was gorgeous and the atmosphere was splendid!  Here are a few snapshots I took, but it doesn't even begin to depict the beauty that was created that day.  Congrats Linda and Sean!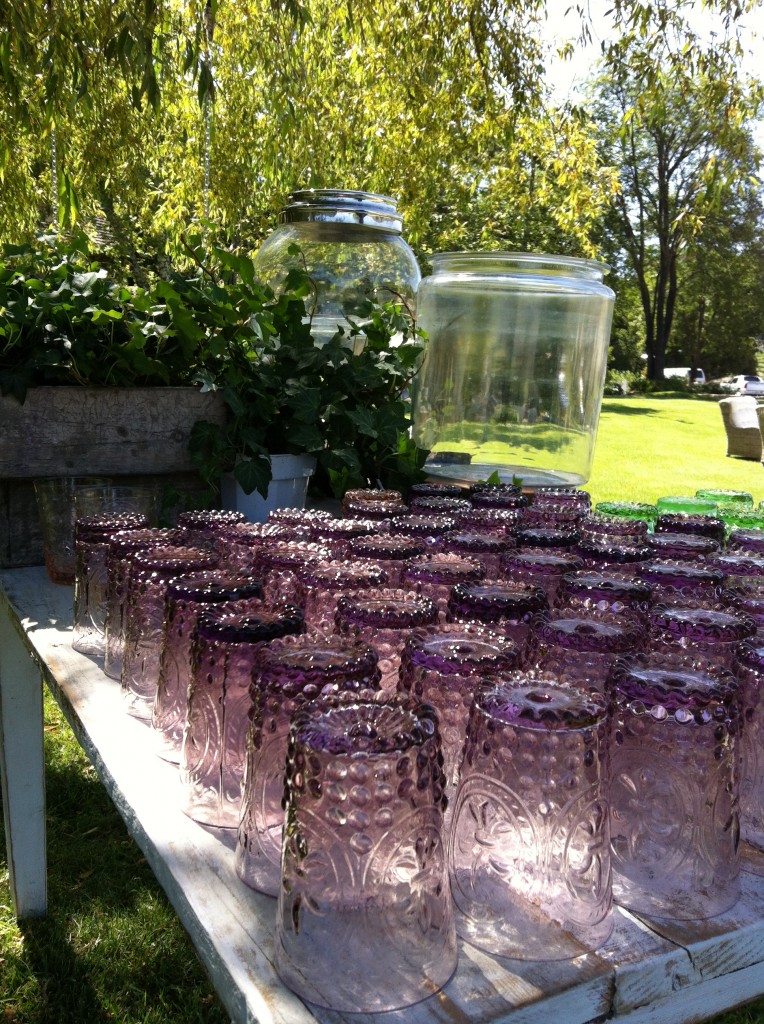 Fleur de Lis glasses in pale plum set upon a white wash table (from the vineyard collection at town and country!) — delicious flavored lemonades were added.  😉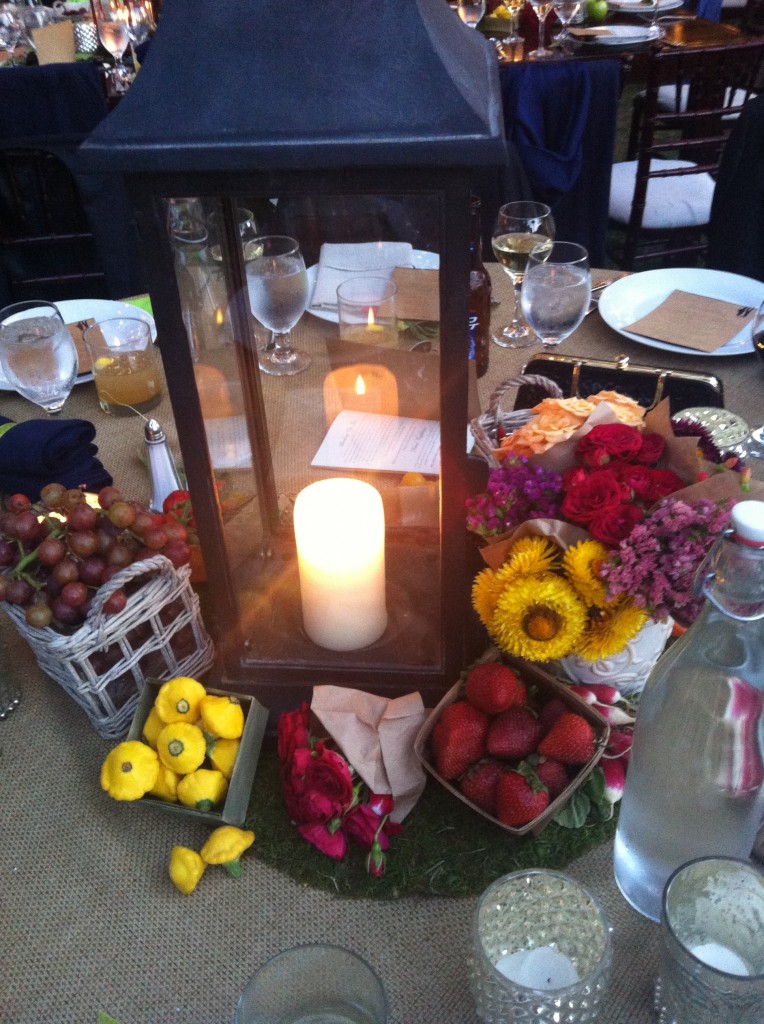 Stunning centerpieces which included fresh fruit, veggies, and colorful flowers designed by Brad Austin.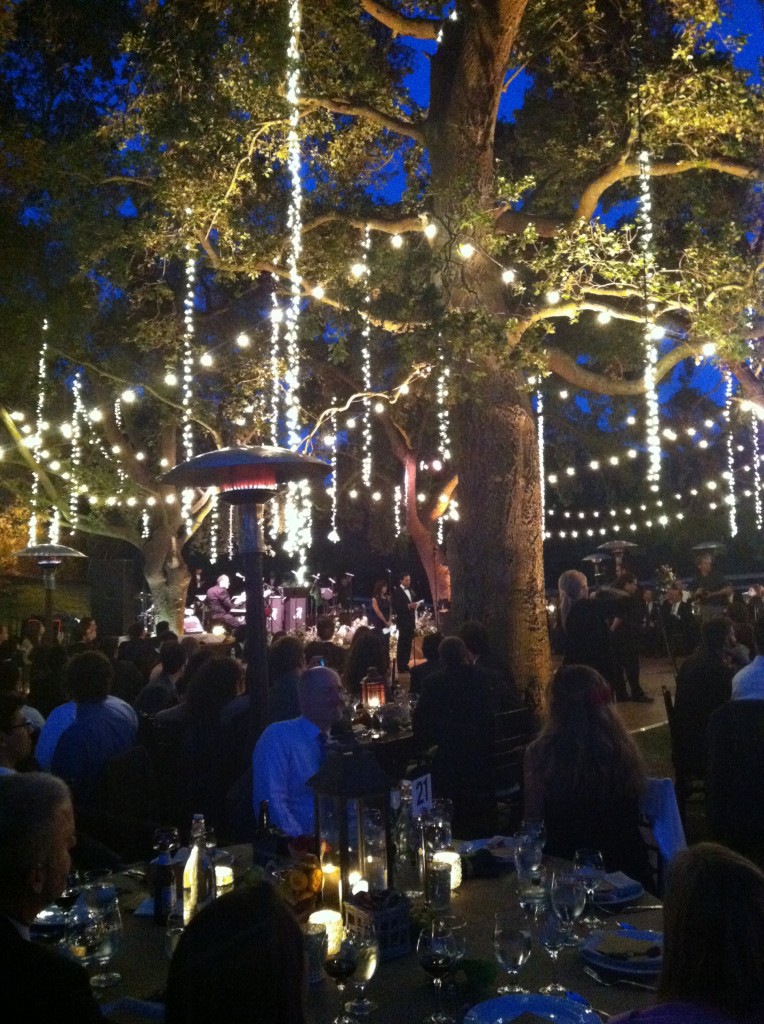 Gorgeous hanging tree lights with additional market lights set the perfect tone for the evening.
I was still able to enjoy a Memorial Day BBQ with the family and brought along this watermelon + blueberry salad for everyone to enjoy.
I used cookie cutters to shape the stars and center flag (yes, I own a flag-shaped cookie cutter… don't you?!).
And lastly, (and maybe best of all for all you Olive fans!) I was able to lunch with two very special ladies last week: Angel and Olive.  If you've been keeping tabs on Olive's monthly updates, you know she is a true gift.  Her sweetness, her beauty, and her calm demeanor simply enlightens you with every breath.  I was so lucky to spend a lunch date with these two and look forward to watching this young girl grow into a beautiful young lady.
Precious Olive rocking an adorable flower hair clip and pink onesie, while I'm rocking my love for stripes and neon (J. Crew silk striped shirt with a neon chain necklace from etsy).
I hope each of you is enjoying the roll out of summer whether it's the sun in your face, the sand in your toes, or the water beneath you.  Find what makes you happy and truly enjoy every moment of it!  Until the next update!!
XOXOX,
michelle