Happy Monday, loves!!  All this stormy weather would typically get me down, but I'm choosing to look on the bright side: I get to wear my favorite violet glossy Hunter wellies!  I'm also looking forward to a fun-filled week, with a friend's baby shower to attend, my 34-week prenatal appointment and another baby shower for Olive!  This week follows two consecutively amazing weeks.  Just last week I took maternity photos with Jose Villa, a photographer who endlessly inspires me and is also a dear, dear friend.  I cannot wait to see the special images he captured of our family of three.  <3 Just saying that makes my eyes sparkle with tears.  (and hugs to Jose, who made this pregnant lady feel like a million bucks)  The week before that I got to spend lots of time with family, celebrate baby Olivia with not one but TWO ridiculously, overwhelmingly, beautiful showers (can't wait to share with you!), and had the honor of being featured on Style Me Pretty!  🙂  Right now my cup is just overflowing with blessings and opportunities to savor the moment!  I pray I am always as mindful as I am today of how very blessed I have been.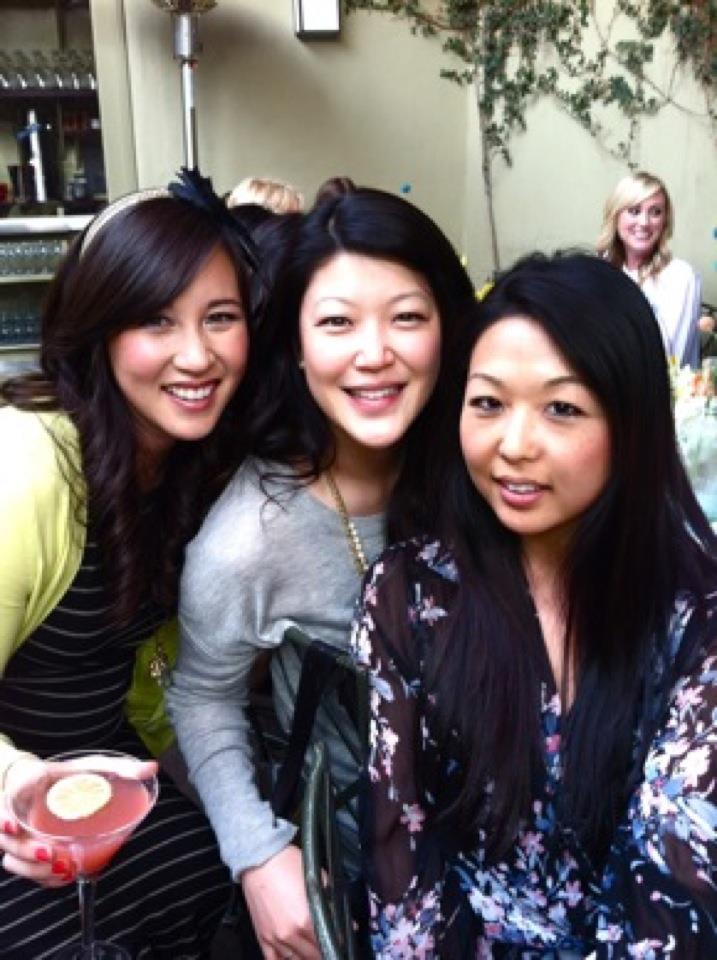 an iPhone snap from one of my showers — me + two of my dearest friends from middle school and high school!  and disclaimer: my drink was non-alcoholic!  it was a scrumptious raspberry fennel concoction made just for my shower, and i wish i could have one right now!
I want to spread the love today by sharing some random inspiration with you all.  Here are some of my "lately-loves": the things and sites that have sparked my creative soul recently.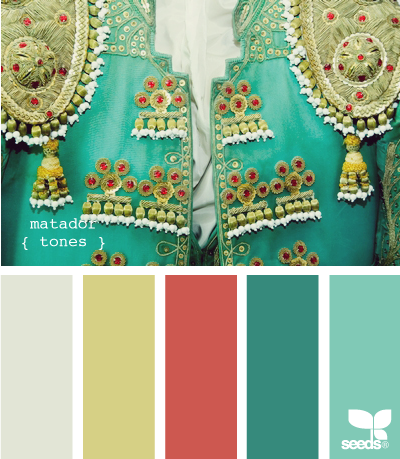 a new favorite — a whisper of gray, a muddled celery, rich guava, teal and a soft aqua.  (original post HERE — from design-seeds)
Design Seeds: oh my goodness this website. I am obsessed!! If you follow me on Pinterest, you've surely had your feed clogged with my incessant pinning of color palettes from this site.  If you like exploring unique color combinations, you will LOVE this site.  Every palette is accompanied by the loveliest photo to further spark the imagination.  If you're anything like me, you could spend hours scanning and pinning and dreaming.  And I do.
The Hunger Games: It had been a while since I read a fiction work, so after having my curiosity piqued about this series, I picked up book one at my local library. I devoured it in 24 hours. Same goes for book two (although it was my least favorite), Catching Fire.  I just wrapped up Mockingjay a couple weeks ago, the final book in the trilogy, and loved it. I always enjoy a good futuristic dystopian novel. (Brave New World, anyone??) Watching the film trailer for The Hunger Games makes me cry every.single.time.  The casting is brilliant!  If you're looking for a gripping read (or 3), check these out!  Dreams of the games have been haunting me for weeks now…
Chic & Cheap Nursery: This is my latest favorite blog, thanks to the immense amount of beautiful real nurseries featured.  Although I can appreciate a lovely inspiration board, there is nothing like seeing a fully-styled real nursery (or wedding, for that matter) to really spark my creativity.  I am working on pulling together little Olivia's nursery now and can't wait to share it with you eventually…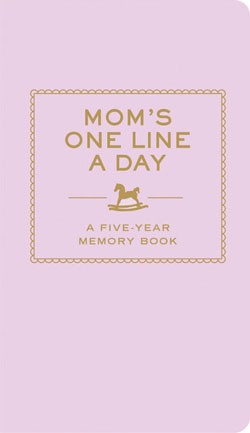 Mom's One Line A Day Journal: I received this from my sister-in-law, Megan, for Christmas.  I'd had my eye on it for a while but didn't mention it, and then surprise, surprise!  Meggie saw it and thought I might like it.  🙂  I LOVE it.  It's a five-year journal that has space for a few sentences (more than just one, haha) everyday.  I cannot wait to write about Olivia's milestones and little memories once she's here.  For now (I started on January 1st), I enjoy writing about my nursery-prep progress and the things that Erik and I are doing as we look forward to Olive's arrival.  I cherish the few reflective moments I spend jotting notes into this journal each night.  It is something of a gratitude journal for me, as I am actively reminded to reflect on the sweetness of the day.
What about you?  What's been lighting up your mind's eye these days?  I'm currently getting my creative juices going by sewing Olive's crib bedding and planning a Valentine's Day tea party I'm hosting.  I'd love to know how you keep the inspiration alive in your life, regardless of what you do for a living.  Enjoy your week!
xoxo, Angel