although i find each and every aspect of wedding planning altogether delightful, i have always been deeply drawn to flowers. i love the textures, the colors, the scents… everything! floral design is truly an artform, and it is a pleasure to work with incredibly gifted florists in designing the floral décor for my weddings. it's a secret satisfaction when a florist gives me the eye after i bring up gloriosa lillies and coxcomb. they wonder where i obtained my floral vocabulary. 😉 i do spend a good amount of time researching and dreaming up combinations for future events. when i began to conceive the vision for my mother's event, the ideas were overflowing. here was what i had decided:
colors: rich jewel tones including eggplant purple, burgundy, bold fuschia and accents of gold.
key floral components: all types of crisp, structured orchids (especially phalaenopsis, lady's slipper and cymbidium), velvety black bacara roses, large dahlias, burgundy calla lillies, fuschia gloriosa lillies and fluffy tufts of ruby hydrangea.
i'm sure most of my readers know that one of my very best friends is also one of my favorite florists: krissy of the treasured petal. although we would have hired her in a heartbeat for mom's wedding, we determined it was a logistical nightmare with having Kris try to transport so much stuff over 180 miles! eek!! so, i began the hunt for someone with the same eye for detail and passion for flowers in santa barbara.
we ended up hiring the incredibly fabulous camilla svensson burns of camilla flowers. i knew within minutes of our first meeting that she was the perfect choice. her portfolio is filled with striking examples of stylish, unique arrangements. she wanted to know everything about my plans and then offered numerous ideas on how we could expand on my original vision. the proposal she came up with took my breath away. i really cannot wait to see everything she puts together for us. i'll walk you through our key floral components:
-mom's bouquet: a wild, very large, slightly ridiculous 😉 and over the top bouquet of textural florals such as garnet calla lillies, ruby cymbidium orchids, black bacara roses in full bloom, lady slipper orchids and plum foliage. it will be a true work of art that befits her stunning ensemble.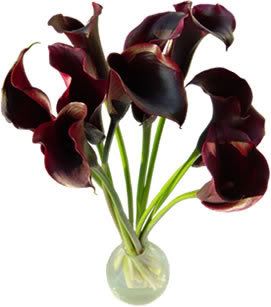 deep burgundy calla lillies
velvety black bacara roses are just gorgeous
-anna & i will carry all white bouquets of cascading phalaenopsis orchids. this was another one of my selfish indulgences. 😉  white phalaenopsis orchids may be my very favorite flower and i regret not carrying them on my own wedding day.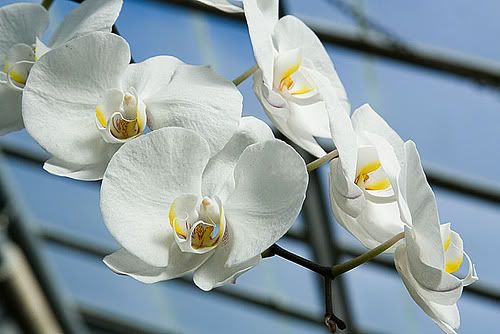 crisp, papery phalaenopsis orchids.  they are so perfect to me…
-raj's bout: it will feature a crisp garnet cymbidium, mini-succulent and fern curl.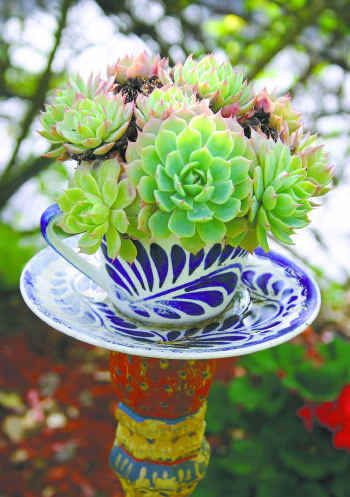 succulents are so precious!!  i love seeing them used in floral décor.
-ceremony structure: a delicate birch-tree arch dripping with a dozen strands of pure white dendrobium orchids.  a breezy white fabric will also be used in an abstract drape.  the ceremony look we're going for is clean, classic and chic.  everything from the orchid strands to the silvery-birch branches to the white chiavari chairs is monochromatic mod.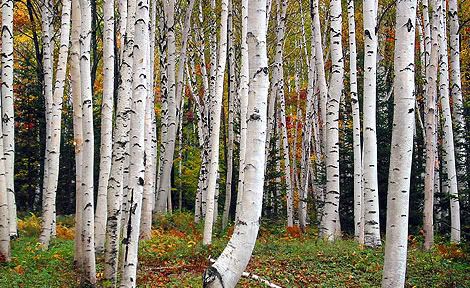 birch has always seemed a bit magical to me.  it is sort of fariy-tale feeling, in all its starkness
-cocktail hour tables: simple + modern white vases filled with small stems of purple phalaenopsis orchids & bear grass.  these are just small accent pieces to add some color to the terrace.
-the feasting table: a monumental tablescape will be the centerpiece of the wedding's floral design. all of the 22 wedding guests will sit at one long wooden table. camilla will adorn the tabletop with 13 lush arrangements: 6 tall and 7 low. each one will be absolutely spilling over with florals. the tall arrangements will feature magenta phalaenopsis orchids cascading over a collar of plum and ruby hydrangea, featured in a curvaceous glass vase. the low arrangements will be packed with orchids, dahlias, black bacara roses, callas and succulents… all placed in wooden boxes wrapped in dupioni silk. dozens of jeweled votives will nestle in between the arrangements to add warmth and ambiance.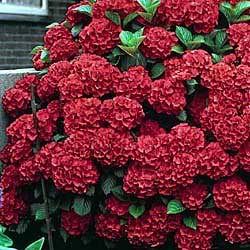 ruby red hydrangea is sooo vibrant.
this magenta phalaenopsis is extra beautiful with its speckled petals.
i love gloriosa lillies because they are so un-lily-like.  😉  they make you think "orchid" with their spidery petals.  the color is the perfect shade of fuschia, but watch out for the pollen-covered stamen!
so so excited! 😉 my next post will focus in on some fun details, including the complete tabletop design i have put together. as the wedding draws nearer i find myself getting increasingly anxious (in a good way). i cannot wait for the culmination of these plans; it is going to be a highlight of my year.  😉
xoxo, angel