*i'm back from vacation! the lakes were gorgeous and i feel thoroughly refreshed & recharged. i hope to share some photos from our trip eventually, but i wanted to get another installment of my mom's wedding series up first. hope you're having a great week! xoxo, angel
planning my mother's wedding is both thrilling and terrifying. on one hand, i am delighted to be able to craft such an important day in her life. her personal sense of style is very close to mine, and she and her fiancé have afforded me a great level of freedom in making design decisions. but… my mom is extreeeemely picky. of course i mean this in the best way! 🙂 she simply has very high standards for everything. the bar and the stakes have been raised. i mean…this is my mother's wedding! i want to make sure that the day is so beautiful it captivates each of their guests and leaves them with fond, lingering memories for years to come. so, i took great care in conceptualizing the vision for her wedding day. i still spend a good amount of time each day trying to come up with more ways to set her event apart. here is what i'm dreaming up…
design keywords: art nouveau, bold, dramatic, elegant, opulent, luxurious, over-the-top, jewel tones, rich, romantic, moody, vintage inspired, unique.
ceremony colors: pure white, accented by chocolate brown/fruitwood.
reception colors: aubergine, eggplant purple + plum, gold, burgundy & deep reds, bold fuschia, chocolate brown.
mom & fiancé are huuuge art collectors. it is a passion. they have an insane private collection that includes many masterworks of the greatest artists of the 20th century. to enter their home is to enter a small museum. every wall, tabletop, corner and mantel is covered with artwork. it's truly inspiring. by a mile, the most dominant artist represented in their collection is alphonse mucha. many of their mucha pieces were recently on display in a museum on the east coast. 😉 if you don't know the name mucha, you may still recognize his art. his dreamy and romantic images encapsulate the spirit of the art nouveau movement. i knew immediately that mucha's work would have to play a role in spirit and design of their wedding. so, we are directly integrating his designs into our stationery. i designed & printed the invitations using 3 mucha paintings, all of which mom & fiance own. i also used an art-nouveau-ish font for the text. menu design will also utilize a gorgeous mucha illustration.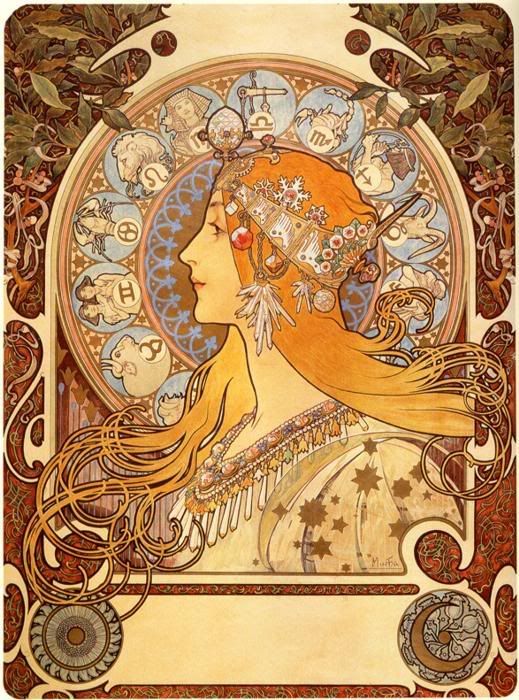 zodiac.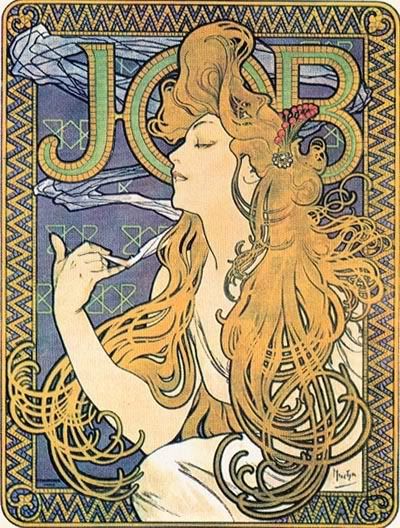 this one is in their formal living room…

mucha did a number of illustrations for moet & chandon. i love the colors in this one.

the jewel-tone palette for the reception was driven by the location for the dinner: the dark, romantic, candlelit wine cellar at Miro. the exposed brick walls, cavernous barelled ceilings and heavy wood tables all led me to a richer, deeper color scheme. since we will dine adjacent to their famed 12,000 bottle wine cellar, i thought it would be playful and appropriate to model our colors after the tones found in wines. to keep things bold and vibrant, yet avoid any "autumnal" feel, we stayed away from orange and gravitated more toward dark purple as a dominant hue. burgundy and fuschia will add contrast and interest to our décor.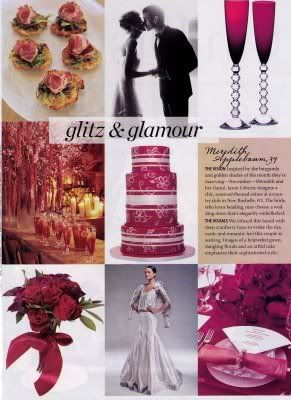 a bugundy-ish inspiration board courtesy of modern bride. it doesn't fully express the look we are going for, so you'll have to wait and see the final product. 😉
upon arrival at the ceremony, guests will be swept away by the breathtaking ocean view on the Miro Lawn. white chiavari chairs will be set in graceful arcs around a central altar area. individual name cards will label each seat — with only 22 guests, we want to hand pick placement even at the ceremony! the altar will be composed of a striking fruitwood-stained bamboo structure, draped with breezy white fabric puddling to the ground. a dozen strands of pure white dendrobium orchids will also adorn the bamboo structure, adding a touch of modern elegance. we wanted to keep the palette simple + clean for the ceremony, as mom loooves white and we thought it would stand out without detracting from the dramatic view. my sister and i will escort my mother up the aisle, but then take our seats. no bridal party. no special readings. a simple, intimate ceremony will ensue. (in a bit of self-indulgence, however, my sis & i will carry bouquets and wear custom-made dresses. more on that to come!)
cocktail hour will take place on the adjacent terrace, so guests can continue to drink in the santa barbara ocean breeze. servers will tray pass a divine assortment of hors d'oeuvres (don't worry — i will do an intense menu post soon!), along with hand-picked wines and champagne. music will be provided by a local string quartet.
at sunset, guests will be escorted downstairs into the candlelit cellar. dozens and dozens of candles will provide mood and romance to the setting. guests will be seated at one long feasting table (approx 22′ long), made of heavy, dark wood. the chairs are bulkier, upholstered in a rich red fabric, lending a regal feel to the table.
we will keep the table uncovered.. sans linens. i looove the texture and color of the wood, and think it works perfectly with the scene we are trying to create. instead, i have purchased dark purple dupioni silk placemats (featuring a gold embroidered border) for each placesetting. atop each placemat we will place a gold-rimmed crystal charger. on top of that will be a hand-calligraphed menu (more on this later, too!) and a napkin — i'm still debating between eggplant, burgundy and antique gold for the napkin! let me know your thoughts. 😉
along the center of the feasting table we will have an awe-inspiring tablescape of 16-20 vases. the arrangements will come in 3 sizes and all be brimming with the most gorgeous assortment of luxe florals. i will definitely have a flower post to come, too! the glass vases will be swathed in purple silk dupioni, sashed with gold ribbon and an antique brooch. dozens of candles will be interpersed throughout to add more drama. can you imagine the scene with me?? that is almost one vase per person! haha mom wanted to make sure her wedding was show-stopping, despite the small guest list. it is turning out to be quite the affair. her budget is the highest per-capita budget i've ever worked with… yikes!!!
we are also currently considering the projection of a classic fred astaire movie during dinner (sans sound), a la one of my fave san francisco restaurants: foreign cinema. what do you think? delightful touch or distracting novelty?
writing this all out made me even more excited about how the big day will play out! i can't wait to share more about mom's plans in progress soon…
xoxo, angel