make sure you have eaten before reading this post! don't say i didn't warn you…
another shared love of mom & fiancé's is food & wine. they dine out at least once a week at a new upscale restaurant in southern california. they've been everywhere and have made friends in all the right places. 😉 as avid travelers, they've also dined at some of the finest restaurants in the world. this spring they were in paris and savored an out-of-this-world meal at le pré catelan. this renowned restaurant just earned its 3rd michelin star in 2007. mom maintains that it was the most decadent dining experience of her life. i begged them to take me along next year (paris is an annual trip for fiancé) as their french-speaking guide, but i'm not sure it's gonna fly.
we knew that their wedding dinner menu had to be outstanding. from flavors to presentation, everything had to be perfect. we wanted a meal that was sumptuous and indulgent, while still maintaining a level of accessibility for all guests. they had their tasting a month or so ago and found everything to be top-notch. i was thrilled with their ultimate menu selections. the icing on the cake: they let me choose the passed hors d'oeuvres. YUM! fiancé also chose specific wines + champagnes for each segment of the celebration. without further ado, i present to you… the wedding menu of mom & fiancé:
passed hors d'oeuvres during cocktail hour
-pacific oyster with blood orange mignonette (this is a sauce made with vinegar, pepper and herbs) and caviar (cold)
-salmon tartar with watercress purée (cold)
-vegetable ratatouille tartlet (warm)
-lobster crab cakes with pepper fondue (warm)
-beef short rib with wild mushroom vol-au-vent (warm): vol-au-vent means "windblown" (literally "flight of the wind") in french. here it describes a meat & mushroom ragout enclosed in a baked pastry shell.
the dinner
first course: sweet pea soup, oregon morels, shallot flan and Santa Barbara spot prawn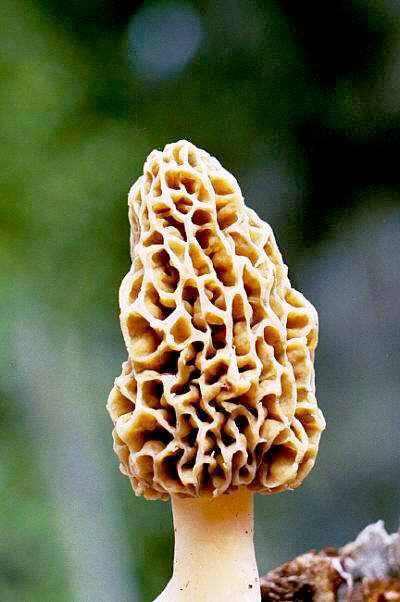 beautiful morel mushroom
beautiful, sweet spot prawns. the ideal accessory to the sweet pea soup
second course: mixed field greens with minced shallots, tomatoes, and red wine vinaigrette. a simple basic salad.
intermezzo: green apple with star anise sorbet (yummmmmm – an uncommon and refreshing pairing)
entrée (guests will order their entrée tableside at the reception):
pan-seared turbot with braised endive, blood orange and marcona almond milk
OR
roasted rib-eye of beef with bleu cheese beignets, heirloom tomato, sweet corn and chanterelles.
*I'll spare you the hideous photos of turbot. it is possibly the ugliest fish in the sea, but what it lacks in looks it makes up in taste. it's simply delicious. you can't have it all!
*p.s. it is pronounced "tur-bit" or "tur-but"…NOT "tur-bo." the use of "tur-bo" is a back-formation based on assumed french — basically people trying to french-ify a word. even en français, they pronounce it with the 't.'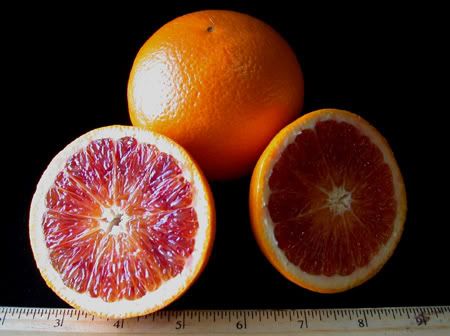 blood oranges — definitely in my top 5 fave fruit of all time.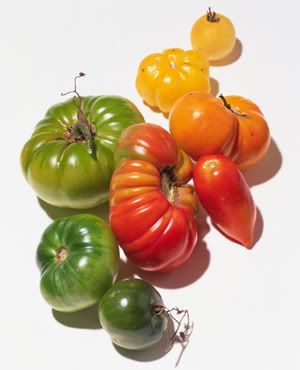 gorgeous heirloom tomatoes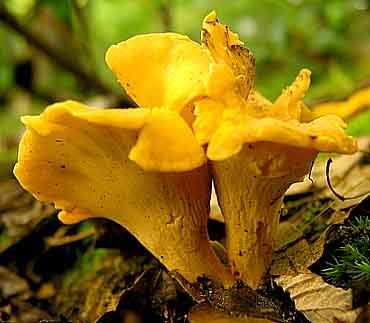 graceful chanterelle mushrooms. don't they look more like flowers than fungi?

dessert: white and dark chocolate decadence with fresh berries and vanilla
we are passing on a traditional wedding cake as we only have 22 guests. i think we'll be plenty full, anyway!
the wines: cocktail red – turley cellars 'old vines,' california 2005; cocktail white – 2004 chidaine 'les choisilles' montlouis sur loire, france; cocktail champagne – pierre gimonnet, 'cuvée gastronome' blanc de blancs brut, 1er cru, cuis 2002; dinner red – nickel and nickel, 'vogt' howell mountain 2004; dinner white – far niente, 2006; dinner champagne – louis roederer, 'brut premier,' reims NV; dessert wine – huet vouvray le haut lieu moelleux, france 2003.
i was at bacara today for the official walkthrough and had the pleasure of meeting the sommelier at miró. he casually asked, "so who's the consulting sommelier on this wedding?" when i returned with a puzzled look, he clarified that he wanted to know who was consulting us on our wine selections, because he was very impressed with our choices. i explained that mom's fiancé is a wine connoisseur and that he'd be so proud to hear that!
so what do you think? i think we have all the ingredients for a truly memorable meal. i can't wait to sink my teeth into it!! (and you KNOW i'm making erik order the other entrée so I get to taste both!)
p.s. the perm turned out to be quite lovely, but i can't say for sure until the moment of truth: the 1st hair washing after the perm. i will report back after i rinse out the chemicals tomorrow afternoon; let's hope my hair doesn't fall completely flat, the way it does when i curl it myself.
xoxo, angel