Yesterday was Tuesday, which is "farm day" for me.  It's the day I go to my local farm to pick up my fresh eggs, summer berries, the first of the heirloom tomatoes, and veggies. I have been going to the farm once a week since Olive was a few months old, and it's one of my favorite tasks.  It is truly wonderful to have developed great relationships with the farmers themselves and the family & friends who work at the stand.  It is a step up from the bustling farmers' market because I can stroll out back and see exactly where the hens are laying eggs and my food is growing.  I can treat myself to a bouquet of flowers (they have ranunculus and sweet pea in abundance in the spring — be still my heart!).  They even have local-caught fish, grass fed beef, raw foods and artisan baked goods.  What a blessing!!  Aside from growing it yourself, it doesn't get much better.
As I filled up my basket yesterday, I couldn't resist some lemons and a bunch of fragrant basil.  I don't know about you, but basil just tastes like summer to me.  Just like that, I was inspired to make some pesto for dinner.  Petso actually comes from an Italian word meaning to pound or to crush.  Although a traditional pesto genovese is made with basil, pine nuts, garlic, parmesan and olive oil, I have eaten and concocted many variations of the tasty spread myself.  I love versions that feature peppery arugula or milder spinach, and I often swap out the pine nuts (pricy and not always stocked in my pantry) for blanched almonds or walnuts.  I had some fresh shrimp in the fridge so dinner came together in a snap.  Here's a simple recipe that will have an amazing meal on the table in under 30 minutes.  Buon appetito!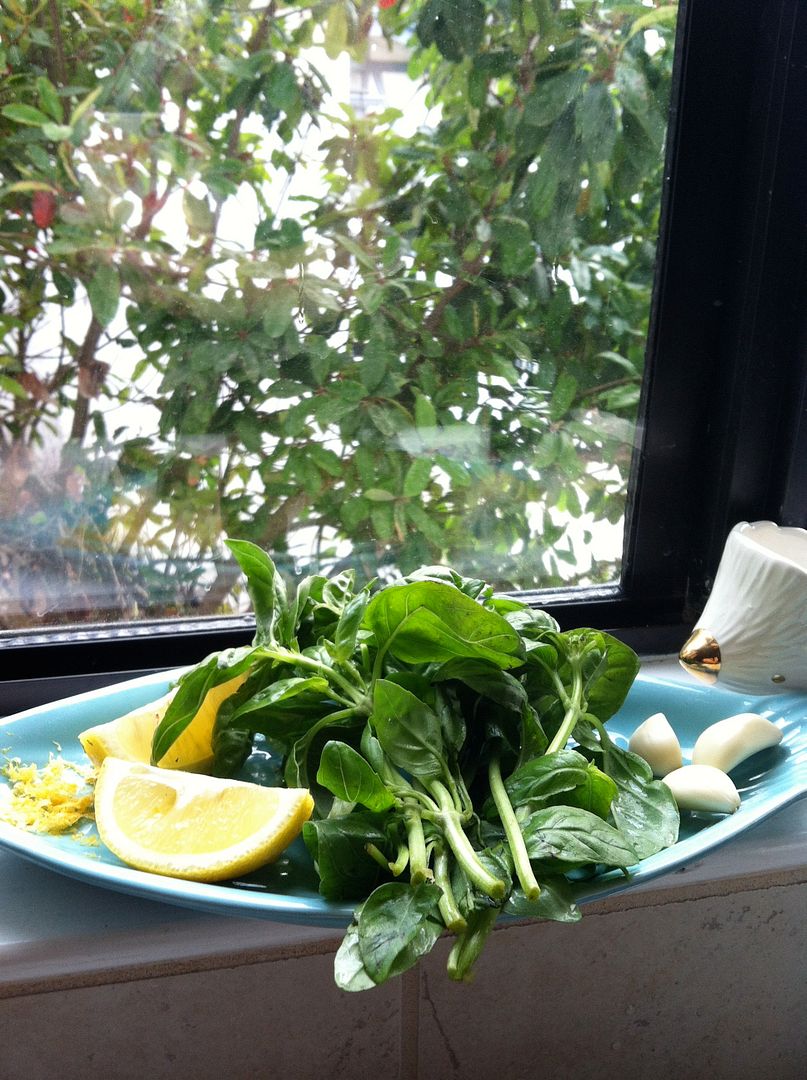 Pesto Roasted Shrimp with Pasta ~ Yield: 4 servings (Pesto recipe adapted from Williams-Sonoma)
1 lb of approx. 21-25ct shrimp, peeled (you choose with tail or without!), deveined, rinsed and patted dry
3 Tbs of pine nuts, walnuts, almonds, etc. // If using walnuts or almonds, I suggest soaking and peeling.  Lightly toasting the nuts before using will add depth of flavor as well!
3 garlic cloves, peeled
3 cups firmly packed fresh basil leaves (or arugula, baby spinach, etc.)
1/2 cup of good extra virgin olive oil
1/4 cup of parmigiano-reggiano cheese (adjust to taste)
salt and pepper to taste
red pepper flakes (optional) to taste
1 lemon, grated for zest and then juiced
bamboo skewers
parchment paper or foil
Place a rack in the top 1/3 of your oven and preheat to 400 degrees F.  Soak bamboo skewers in a shallow baking dish, covered with water, for 10 minutes.
In a food processor, combine the garlic, nuts, and lemon zest and pulse until minced.  Everyone has their preferred texture when it comes to pesto (creamy vs. coarse) so make it as fine as you like!  Add half of the basil leaves and half of your lemon juice and process until finely chopped.  Then, add the other half of the basil leaves and juice.  As you process, add the olive oil in a slow, steady stream into the processor.  (I have a kind that allows me to pour directly into it as I'm processing.  If you are unable to do this, add 1/4 cup of the oil, process, and then add additional olive oil slowly until the desired consistency is achieved.  To adjust consistency, add more basil or nuts to thicken or oil to thin.
Now add in the cheese and salt and pepper.  Process until fully integrated.  Taste and adjust seasonings as desired.
Take the soaked bamboo skewers and thread shrimp onto them.  I did 3 large shrimp per skewer, but it's up to you.  Place onto a foil or parchment paper lined baking sheet.  Then, using a small spoon or your clean hands, pat a thin layer of your pesto onto each shrimp.  Sprinkle with red pepper flakes if you like a little heat (like I do!).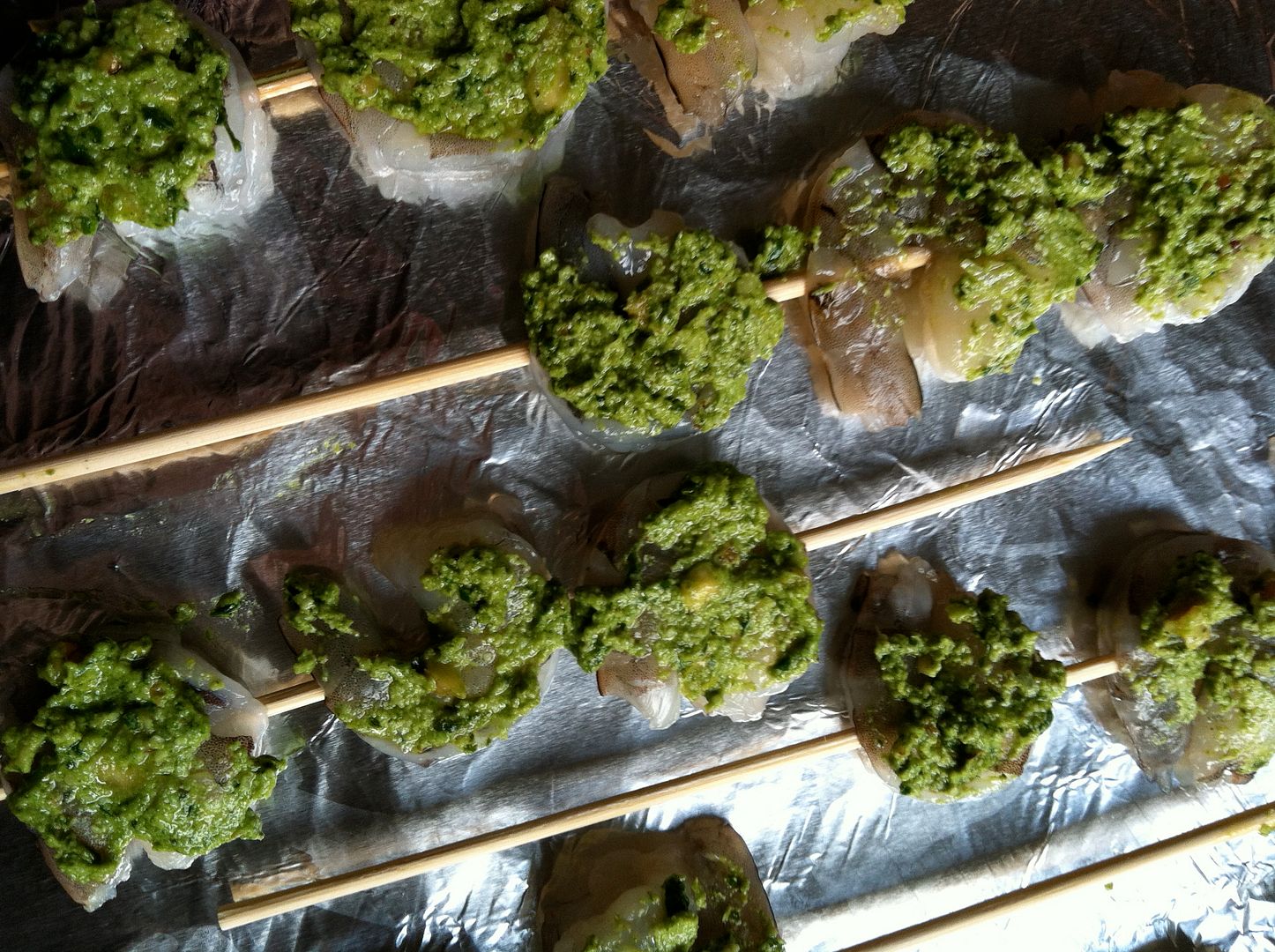 Roast in the oven for 8-10 minutes (mine were perfect in 9!), or until shrimp are completely opaque.  You can either remove from skewers and toss into a salad or pasta, or serve them on the skewers as appetizers!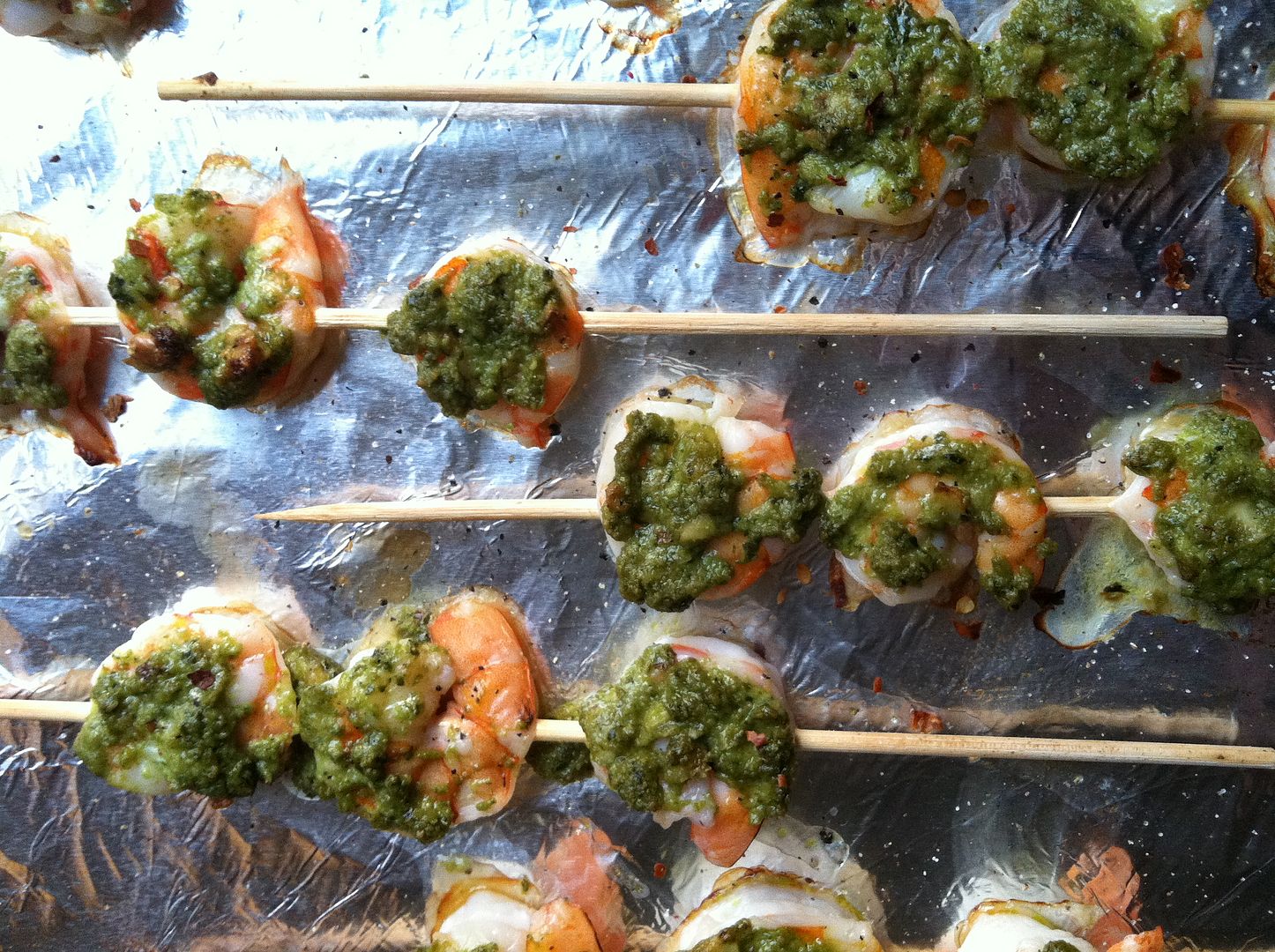 I prepped some gemelli and used my leftover pesto to create a simple sauce (leftover pesto + a splash of heavy cream and salt = delicious creamy pesto pasta sauce!!).  A squeeze of lemon and dinner was on the table!  Next time I'll toss in some sundried tomatoes and/or fresh cherry tomatoes…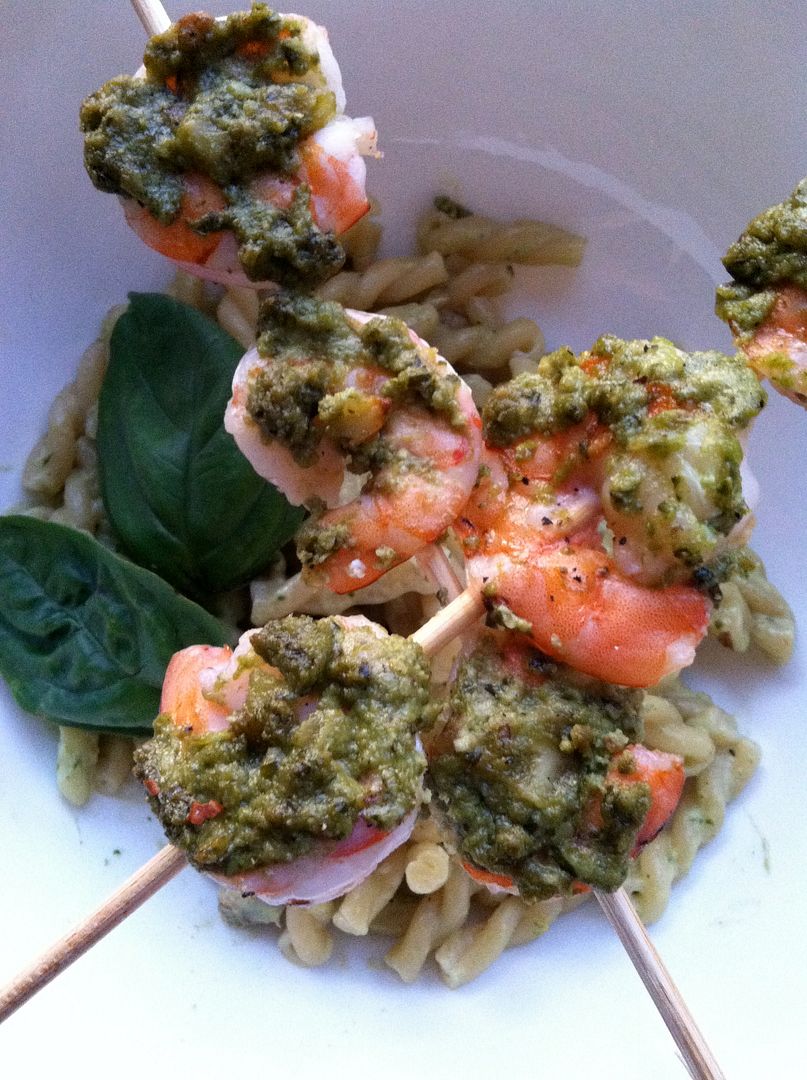 Let me know if you give the recipe a try — it was a big hit and I can't wait on many more summer nights.