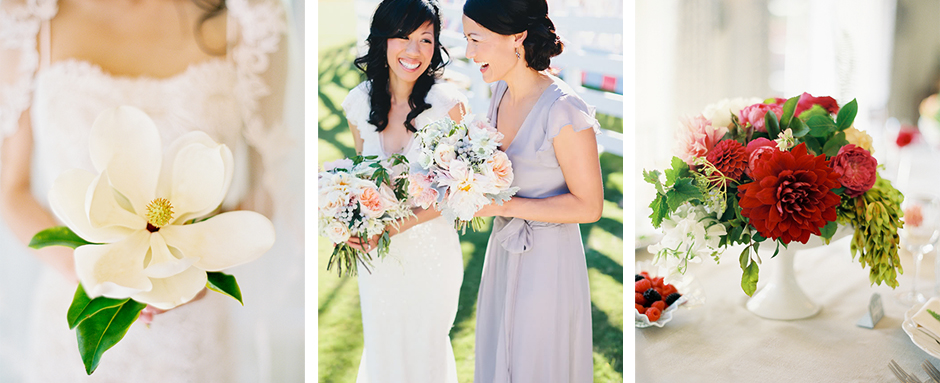 Photos by Jose Villa and Hugh Forte
Our clients are the best! We are always so touched when we receive thank you notes and messages from our clients after their events. As a wonderful bonus of the job, Angel has developed and maintained treasured friendships with many of her brides.
Here are some excerpts from unsolicited notes sent by our darling clients.
Dearest Angel,
There are not enough words to describe how thankful we are to have you as our wedding planner! Our wedding could not have looked the way it did and gone so smoothly without you! We were able to truly enjoy our day because we knew that we wouldn't have to worry about a single thing with you being there. We LOVED everything you did from the gorgeous doily bunting to the cute lemon display on the mantle to the darling dessert table! You brought every single one of our visions to life and made them eve better than we could have ever imagined! We can't wait to see what everything looks like in our photos! You are a joy to work with and are always so calm, cheerful, and overall just a wonderful person to be around! Our parents were equally impressed with you as well! I'm sure you've heard this many times before but you truly are an angel! We miss you already and will definitely have to stay in touch!
Love,
Ingrid & Howard
Dear Angel and the L&S Team,
Thank you so much for all your hard work in bringing our wedding day to life. Angel, you were the only wedding planner I contacted and met with and hiring you was hands down the best decision we made. You were so helpful with all your advice on hiring vendors, you were patient with all of our questions, and went above and beyond to make us feel at ease with everything. Thank you for taking the time for all the in-person meetings and for all of your great creative input. When we first met, you said your goal is for your clients to feel like they are guests at their own wedding and we certainly felt that way. Your team was grace under pressure the day of. Not to mention you were grace under pressure at our rehearsal with all our crazy friends! We really enjoyed getting to know you and wish you all the best with baby girl Swanson! You will be one amazing mom!
Lots of Love,
Bry and Sara
P.S. Thanks as well for our chalkboard dessert menu; it was gorgeous!!
Hi beautiful Angel,
I wanted to send a heartfelt thank you to you. You made it all happen and I truly appreciate all your hard and tireless work. Yesterday was so crazy & beautiful — it was a day I will never forget. I cried so much I was so happy! You are the dream team! Thank you again and you will forever be a part of our lives. 🙂
As if that wasn't enough, she wrote me again when she received her photos and said…
Hi Angel,
Happy New Year my beautiful friend! I just got our photos from Suthi and had a chance to look at our wedding with a new set of eyes. I look at everything and think of you! If it wasn't for you I don't know how we could have pulled it off. Thank you again for stepping in and bringing everything together in a few short weeks. We love you so much & talk about you all the time. Every bride needs an Angel and that is you! Enjoy the photos and know that those smiles on our faces are because of you my sweet friend.
-Judy
Dear Angel,
What can we say – you are incredible! I had no idea how invaluable you would be until I saw you in action, because without you this wedding would have been a disaster. Instead, it was the PERFECT WEDDING. You were so calm and collected, so positive and reassuring. I would have lost it had I not known I had you there! You understood my vision perfectly, totally went to bat for me with a vendor or two, and basically did all of my rentals for me – the linens and chairs were absolutely perfect! I knew I could trust your opinion on everything. By the way, everyone remarked on how incredibly NICE you were. All I can say is if you can handle an absent-minded, procrastinating bride like me, you can handle anything!
Thank you for making our day the one I had always imagined – even with the rain! You truly are an angel, disguised as a wedding coordinator.
Love, Cammy & Eric
Hello Angel…
You are the greatest thing that's ever happened to me. This is Stacie calling. I have still not slept; it's been 2 nights now. But I thought I'd leave you a half-delirious and sweet message to let you know that I had the best, I mean the BEST, night of my life.
You exceeded every expectation I ever had and I just can't thank you enough. You have the best team – you guys are adorable. You did everything I would've wanted, and then 10 times more. The room looked beautiful, everything was coordinated perfectly, and I didn't worry about a thing. You guys are just amazing, amazing, amazing and I cannot thank you enough. And I can't wait to see you when I get back. We have to get together and catch up! I am just so happy I found you. It was just the best day ever.
I'm sorry this message is so, so long, but I wanted you to know how much you mean to me and what a great job you do. I'm going to stop talking now because I could literally go on forever, but thank you, thank you, thank you from the bottom of my heart. I'll talk to you soon!
– Stacie, via voicemail
Dear Angel,
I had to make a lot of decisions during this wedding planning process, but undoubtedly, the best decision I ever made was calling you. Thank you so much for coming in, just a few weeks before the day, and so quickly understanding my vision and helping to make it become reality. Jason and I could not have imagined that everything would be as perfect and run as smoothly as it did with your help. Thank you a million times.
P.S. See you in the fall wearing blue and gold!!!
– Love, Stefanie and Jason
Dear Angel,
The next time you update your resume, you need to add "Miracle Worker" to your list of skills. Since our fantastically hailed-out wedding, I've often thought about what that day would have been like without you. The idea makes me shudder. I believe it would have been nothing short of catastrophic. No joke.
Thank you from the bottom of my heart. Thank you for your kindness, your resourcefulness, level-headedness and organization. Thank you for always being so calming and optimistic. Thank you for kicking butt! You're the absolute best.
Sincerely & indebtedly yours, Nari & Wyatt
Dearest Angel,
Jeremy and I are so grateful for all the very hard work that created the wedding of our dreams. You are simply amazing. Thank you for all your advice, patience, creativity and thoughtfulness.
Love, Andrea and Jeremy
Dear Angel,
We LOVE you! Thank you so much for helping us make our dreams come true. Everything was perfect! Potsch and I loved laughing and dreaming with you and we felt so safe handing it all over to your brilliant hands and work angels. You really live up to your name! Let's get a coffee soon! We want you in our lives forever!!
Xoxo,
The Boyds
Dear Angel,
Thank you so much for being a part of our special day. From the day we met at Coffee Bean, I knew that with your creative vision, our wedding would be beyond what we could have dreamed. We loved the surprises and décor that were so uniquely and exquisitely placed. We could not have been happier with how everything turned out and we have you to thank. Mike and I both agree that the wedding was the best day of our lives (so far!) so thanks for making our dreams come true.
With love,
Jennifer & Mike
Dear Angel,
I didn't get a chance Saturday night to really thank you for everything. Everything was wonderful! You made Amanda's vision come true. At one time during the evening, she breezed by and said, "It's perfect!!"
Because of you, Chuck and I were able to completely enjoy the evening. We did not worry once (the rain drops had me for a few seconds – haha) as I knew Amanda and I were in great hands.
You are such a doll! Sweet, creative, calm and so helpful and such a joy to work with. We feel blessed to have shared Amanda's special day with you.
Love,
Fran (Mother of the Bride)
Dear Angel,
Even now that a week has gone by since Kristin and Mike's wedding, all of us are still thinking about, talking about, and reliving the most wonderful wedding ever! I couldn't have wished for a more perfect day – and much of that wonderfulness was due to you! You completely lived up to your name and slogan – Angel from Events of Love and Splendor.
I want to express my most sincere appreciation for all the time, effort, and inspiration you provided for Kristin and Mike's wedding. It all came together so perfectly! Your set-up of all the details was perfect! I know Kristin trusted you completely, and that is a huge compliment indeed! I absolutely loved how you put together the escort cards with my doilies and buttons, and then used them again on the dessert table. And the dessert table with the backdrops, lanterns and pompoms was spectacular!
Both Dave and I had such a fun time at the wedding – I loved how I could just enjoy myself, visit with my guests and have fun dancing without having to even think about taking care of any of the details. Have I said how great it was?!!! I'm so happy to think that you will be providing the same joyful experience for many more brides and their mothers for a long time to come!
With warmest regards,
Susie (Mother of the Bride)
Dearest Angel…
Like everyone always says, YOU'RE AN ANGEL! How can I ever thank you for being so selfless and perfect?! You created a lovely day for Bianca and Matt and I don't know how I'll ever be able to fully thank you for your generosity. I've never felt so supported by a solid group of people who genuinely wanted the best for their simple day. You took what they had and made magic. And you're simply the best at it. Seriously.
-Jasmine Star (sister of the bride)
Dearest Ladies,
Thank you so much for all your help and hard work! We truly couldn't have done it without you. Angel, your recommendations and support during the planning process were perfect. We were so happy with the vendors you sent our way! Anna and Michelle – you were both so wonderful on the day of the wedding, keeping everything running smoothly and troubleshooting. And the dessert buffet was even more beautifully set up than we imagined! Thank you all so much for being a wonderful team of people to work with.
Xo, Rachel and Dustin
Dear Angel,
Reed and I can't thank you enough for making our wedding day so incredibly perfect! You and your team at Love and Splendor did such an amazing job and Reed and I and our guests truly enjoyed every second of the evening and will cherish that evening forever.
I would also like to give my special thanks to you for being so wonderful throughout the planning process! I truly enjoyed all our planning sessions and I truly couldn't have done it without you. You are not only a wonderfully talented wedding planner, but also an amazingly wonderful person inside and out! Thank you for everything, Angel!! Please keep in touch!
With Love,
Leslie and Reed
Dear Angel,
We're back from Bali!!! =D
I just wanted to send you an email to THANK YOU so much for your amazing work on our wedding day! You really came through for all of us throughout the whole day — everyone commented on how professional and HELPFUL you were, even though things got really crazy! My mom brings your name up every day, saying that she feels so thankful to have had you there. We know that the day went by so smoothly because of your expertise and attention! So many of our guests later commented on how organized the wedding was — they said that they've never been to a wedding so "put together" before. Every time I heard that, I would say, "It's because we had an amazing wedding coordinator!" You far surpassed all my expectations for the big day (and you know that my expectations were REALLY HIGH)! I thank you from the bottom of my heart! When and if you have time, let's get together, Angel! I want to buy you a "Thank You" lunch! =D
Fondly and With Love,
Audrey & Bryan
Angel,
As difficult as it is to express in words, I need to try to put into words how grateful we are for your help in planning our wedding. It was an honor to work with you and we are humbled to be able to have you lead our day in true love and amazing splendor.
A million hugs and lots of blessings,
Bianca and Matt
Dear Angel,
Hope you are doing well! Thank you for making our wedding everything we dreamed of and more! You totally made our wedding come alive and carried out our travel theme perfectly! We really loved the entrance of the Villa and the beautiful bunting of maps overlooking our cake. Let me know when you are free for dinner!
Love,
Tony & Deborah