Happy Friday, loves!  I'm so happy to *finally* share this post on how to plan a successful shower (baby, bridal or otherwise!).  You may remember that this post was inspired by the baby shower I threw for Kristin earlier this month.  It was a true joy to plan a special celebration honoring my best friend, and it reminded me that there are many peripheral events that come with planning a wedding.  Although that shower was for a mother-to-be (rather than a bride-to-be), the basic elements of shower planning are the same.  So, today I'll be sharing a little insight into how I (along with Kristin's sister, Jennylyn, and neighbor, Chie) put together a beautiful, well-organized bash.  I hope this is helpful for some of you out there, as I imagine most of my readers will eventually help plan or throw a shower at some point.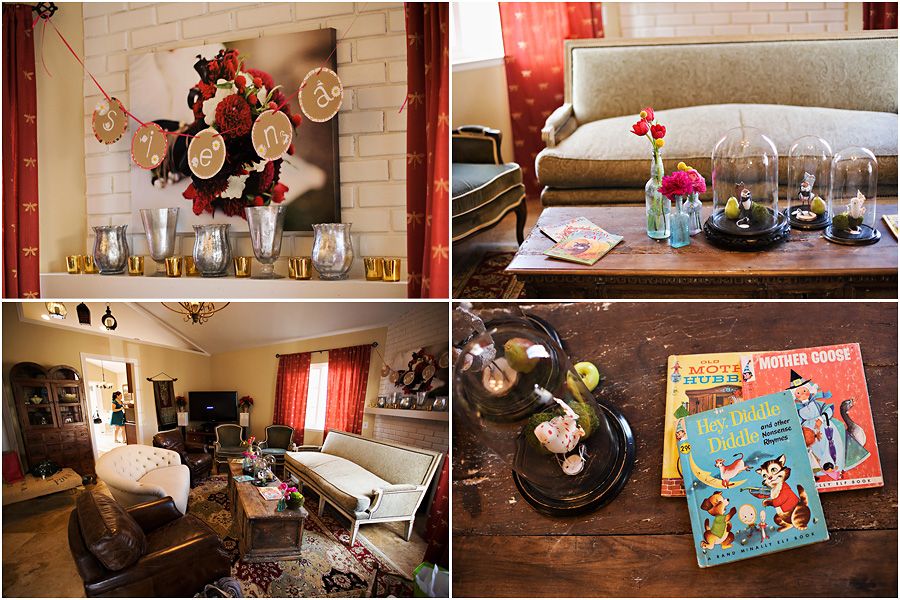 Consult the guest of honor and set the date & time of the shower.  (For mommies-to-be, 1-2 months prior to the EDD is great.  For brides-to-be, I suggest 2+ months prior to the wedding day, as the final month before the wedding can be very hectic with seating charts, escort cards, etc.)
Discuss any preferences for the celebration with the guest of honor.  Do they have an opinion on the scale, style, or size of the shower?
Obtain a guest list from the guest of honor.
Determine a budget for the party.  In this case, we had 3 contributors (me, Jennylyn, Chie).  We chatted about what each of us would be able to contribute and set a rough budget.
Conceive a look/feel/style for the shower.  To start, you will need to select your location.  (In our case, we were throwing the shindig at Kristin's home!)  After the setting is determined, you can flesh out the design from there.  For Krissy, I wanted to capture her personality in every aspect of the planning.  You can read this post for a rundown on my "earth mama" inspiration for the shower.  Although Kris is having a girl, she didn't want to go over-the-top girly with designing her daughter's nursery.  So I took the same approach with the shower, and went with a subtlely feminine twist on the mostly woodsy, natural & neutral décor.
Book major vendors (or make arrangements for the following): catering, desserts + cake, rentals (tables and chairs at least).  Your needs in this area will also be dictated by the location you selected.  If you chose a tea house or restaurant, for example, your food + rentals might already be covered.
Delegate responsibilities amongst hosts/hostesses.  Tasks may include: making or ordering invitations, stuffing + mailing out invitations, creating signage for the shower, organizing a guestbook of some sort, acting as point-person with the caterer and/or baker, ordering the rentals, tracking RSVPs, sourcing and preparing decorations, planning games or activities (in our case, a craft), etc.
Send out invitations to guests, ideally 6+ weeks in advance (I like 8 as a general rule).  Make your RSVP date at least 2 weeks in advance.
Make a loose schedule of what will happen at the shower.  It doesn't need to be a minute-by-minute timeline, but it should list what needs to happen and in what order.  In our case: guest arrival, guestbook signing + noshing on appetizers, opening gifts, making crafts and indulging in dessert!
Make or purchase decorations for the shower.  If budget allows, you may opt to hire someone to oversee this task (such as a florist).  For Krissy's shower, I played florist and used various vessels I have in my personal collection, along with some tchotchkes I picked up at my favorite antique stores.  Some specific décor items you might consider: a welcome sign, a banner of some sort (i love "welcome baby _____" banners for a baby shower), small floral arrangements, candles, etc.
Buy any "partyware" you need (if it is not being rented): cups, plates for food and dessert, cutlery, napkins, etc.  For Krissy's shower, we used sustainable bamboo cutlery and recycled paper products.
Plan out any shower activities and/or games.  We skipped the games for Krissy's shower and instead planned a craft activity (a huge hit!).  Purchase any necessary supplies and print out simple instructions to display.  If you're doing games, make sure you have plenty of pens and/or sharpened pencils to pass out with any handouts.
Receive all of your RSVPs (at LEAST 2 weeks prior to the event date) and follow-up with any stragglers.
Now that you have your final count, update your orders for food, dessert, and rentals with the pertinent vendors.
Make a playlist for the event (some fun background music while guests are arriving and/or eating) and load it onto your iPod; figure out how you will play it at the event (whether plugged into a system at your venue, or simply from an iPod dock for a smaller at-home event).
Make any signage for your food, beverages and desserts (people like to know what they're about to enjoy!).
Place an order for ice (if needed) or arrange for someone to purchase and deliver it on the day of the event.
Get your gift for the guest of honor and wrap it up!  (I always leave this until the end because I'm so busy with party prep — try to get this done the week before the big day).
Review your shower schedule (timeline) and ensure that you have all of the materials/supplies you need for each part of the celebration.  Pick up any final items and pack up your car. (I like to make a list of everything I am bringing in terms of décor; this way I remember how I'm using it and can keep track of it while packing up!)
The shower is here!!  Set up with your fellow hostesses and aim to have everything set by 45 minutes before guest arrival.  At 15 minutes before invite time, set out your snacks for guests to nosh on as they arrive.  Once the party is underway, try to enjoy as much as possible.  🙂  I made sure to try to sit and be a guest as much as possible.  Plenty of pre-planning will allow you to really soak up the shower, instead of run around like a crazy person on the big day.  😉
I hope this little list was helpful to you!  It may not be exhaustive, but I think it covers the major bases.  Best of luck to all of you planning showers for your loved ones in coming months.  With "engagement season" in full swing, I'm sure there are many showers on the horizon!  At the end of the day, so long as your well-mapped plans are covered in love, everything will turn out beautifully.
xoxo, Angel
P.S. Happy New Year's Eve, everyone!!  I will be back very soon with my 2010 wrap-up and some goals & decisions for 2011.  Reflecting on the last 12 months and looking ahead to the new year fills me with SO much joy.  Thank you so much for another amazing year and here's to many more~  xoxo