Hello everyone!  It has been a busy week around here but I am grateful for one more day and a half to finish up some work before the weekend.  I feel like September arrived before I was really finished with August.  🙂  Amidst all the busy-ness, I was able to partake in a delightful afternoon menu tasting on Tuesday (did you see my VIDEO on Instagram?) with some June 2014 clients (Hi L&B!).  Although the life of a wedding planner + designer isn't exactly glamorous, it certainly has some fabulous perks… and accompanying clients to tastings is one of them!  I don't always attend tastings but I love when I can join.  I relish the opportunity to introduce my clients directly to the catering company + Chef, the scrumptious food, and the philosophy behind it.  My dear friends at Heirloom LA were behind this tasting so I had some extra motivation to be there…  Put Chef Matthew Poley in the kitchen and I am pretty much ready to pull up a chair anywhere!  I also loved getting to squeeze sweet Tara and our catering manager extraordinaire, Portia.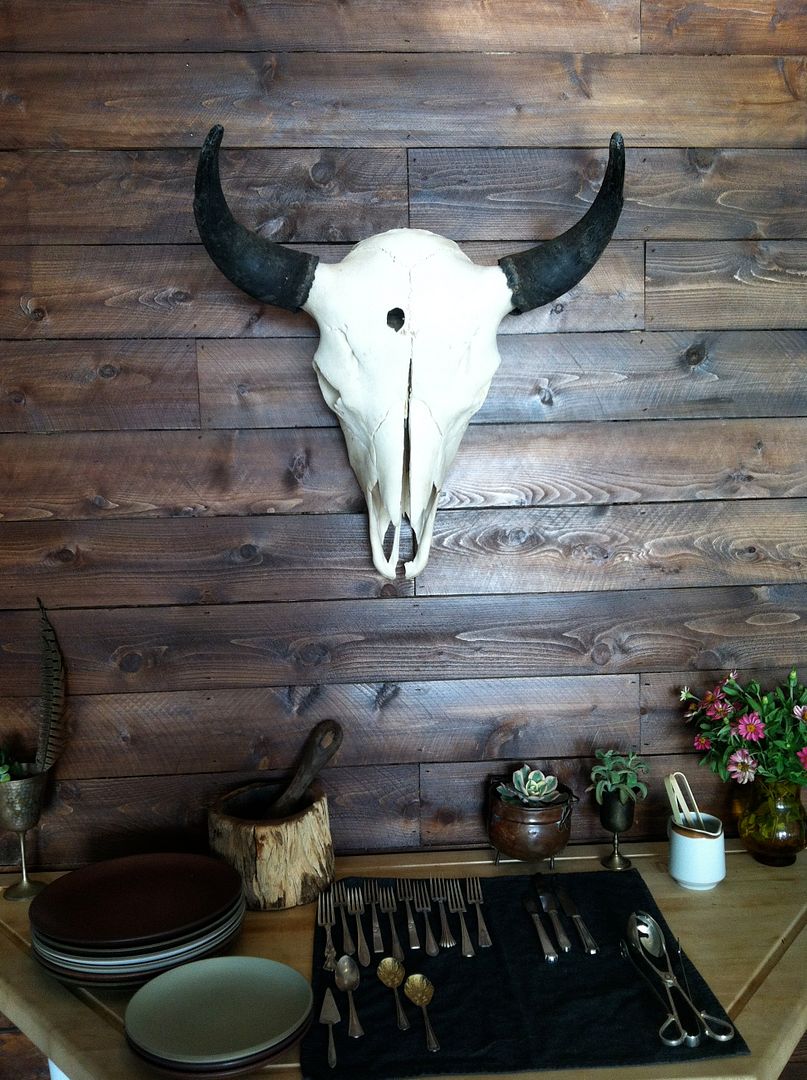 Today's post will be both educational and visual — I want to review the process of hiring a caterer as well as feed you some yummy photos from the tasting on Tuesday!
When my clients are ready to look into caterers, I begin by chatting with them about how they envision their wedding reception.  Things like desired formality, setting, time of year, guest count and décor all come into play in this discussion.  My goal is always to plan and design a wedding cohesively from start to finish.  I strongly believe that the food is part of the "feel" of your wedding.  A wedding in a barn where you're eating platters of buttermilk fried chicken (yum!) has a different feel than a wedding in that same barn serving beautiful plates of grilled lamb chops (double yum!).  As a serious lover of cuisines of all kinds, I love the chance to help my clients choose a caterer and craft a menu that fits the style of their aesthetic and palate!  For L&B, they are looking at an early summer wedding in wine country, with sweeping vineyard views paired with striking modern architecture and design.
Once we have a general idea of what the wedding will look/feel like, we begin brainstorming the ideal nuptial meal.  In this case, L&B told me they were going for upscale comfort food; they wanted to see some familiar dishes and flavors elevated by a talented chef.  Macaroni and cheese in some form was a must for them, as well as a standout pasta dish (the favorite of the groom).  With guests coming to California from all over the country for their wedding, they also wanted to wow guests with lots of local fare.  Finally, they opted for a plated meal rather than family style or buffet service.  With this information in hand, I went to Portia to create a proposed menu and quote.  Upon review of the first iteration, L&B made a few additions and updates and we scheduled our tasting!
Although some catering companies vary in their tasting policies and practices, this tasting was not for the purpose of solidifying what they would be serving at their wedding next summer.  The goal was to taste a sample menu that demonstrates what it's like to dine with Heirloom LA: fresh and seasonal offerings, always creative, locally-procured ingredients, conscientious, beautifully-presented.  The clients are getting a sense of how they cook and deciding if they want to work with them.  The specific menu may change over the course of the planning process.  My clients may taste something phenomenal from the Heirloom LA truck between now and then that sparks the imagination for a new dish.  Chef Matt may find some incredible purveyor of (insert ingredient here) and suggest integrating it into the menu.  Still, the tasting often helps clients determine some of their favorites to consider serving to their wedding guests.
At Tuesday's tasting, we feasted.  We savored yummy morsels, were educated on the provenance of marvelous ingredients, were cheerfully greeted by Tara, gracefully served by Portia and wowed and well-fed by Chef Matt.  It was a delicious afternoon with lots of wide-eyed moments, audible gasps, clasped hands and murmurs of satisfaction.  I told L&B to let me know their thoughts later and just an hour or so post-tasting, I received their ready-to-book text!  😉  It was our first and final tasting; HLA hit it out of the park.
Here is just a small sampling of the menu we enjoyed…
An Heirloom LA must-have: the crostini station.  It's charcuterie, it's a cheese plate, it's a mouthwatering display of tasty snacks that will make your guests go crazy.  There's something for everyone and it is perfect for a snack "grazer" like me.  Cornichons, house-cured grass fed beef bresaola, asian pears, thomcord grapes (a seedless concord!!), castelvetrano olives (some of my favs), spiced pecans, and cheese and more!
flatbreads…
butter lettuce with watermelon, tomatoes, watermelon radish, and a zippy lemon vinaigrette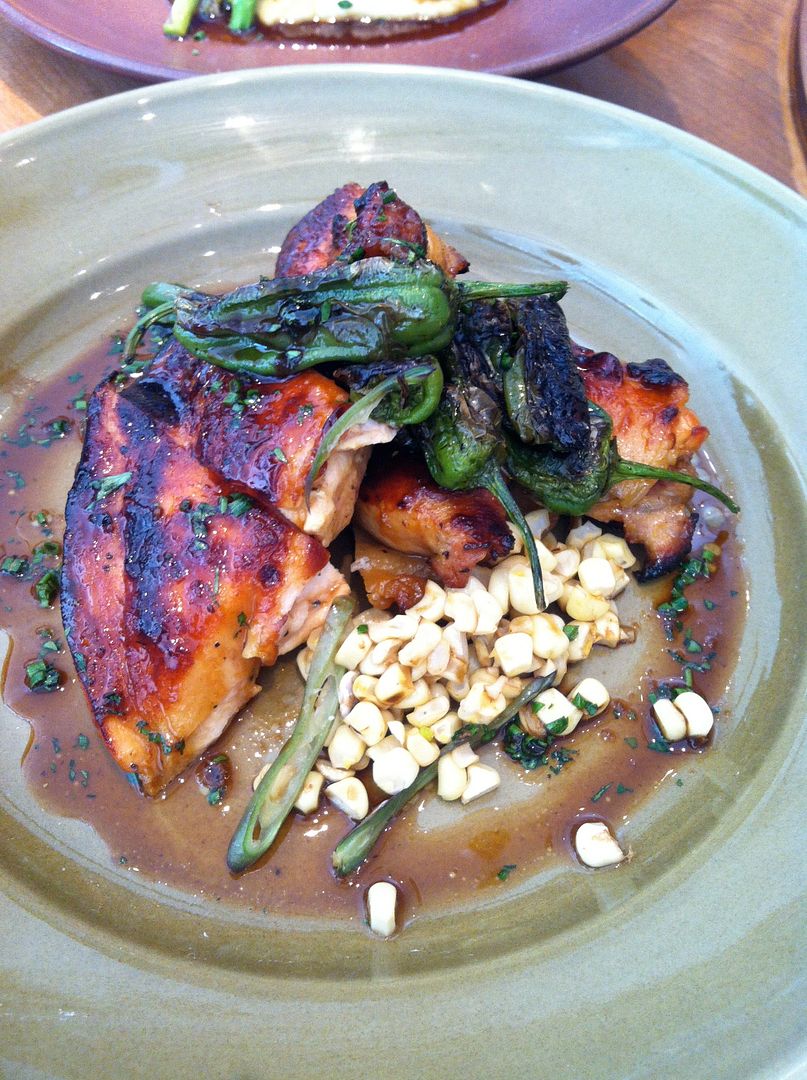 this honey mustard chicken was a huge favorite.  the shishito peppers on top added great heat; yum!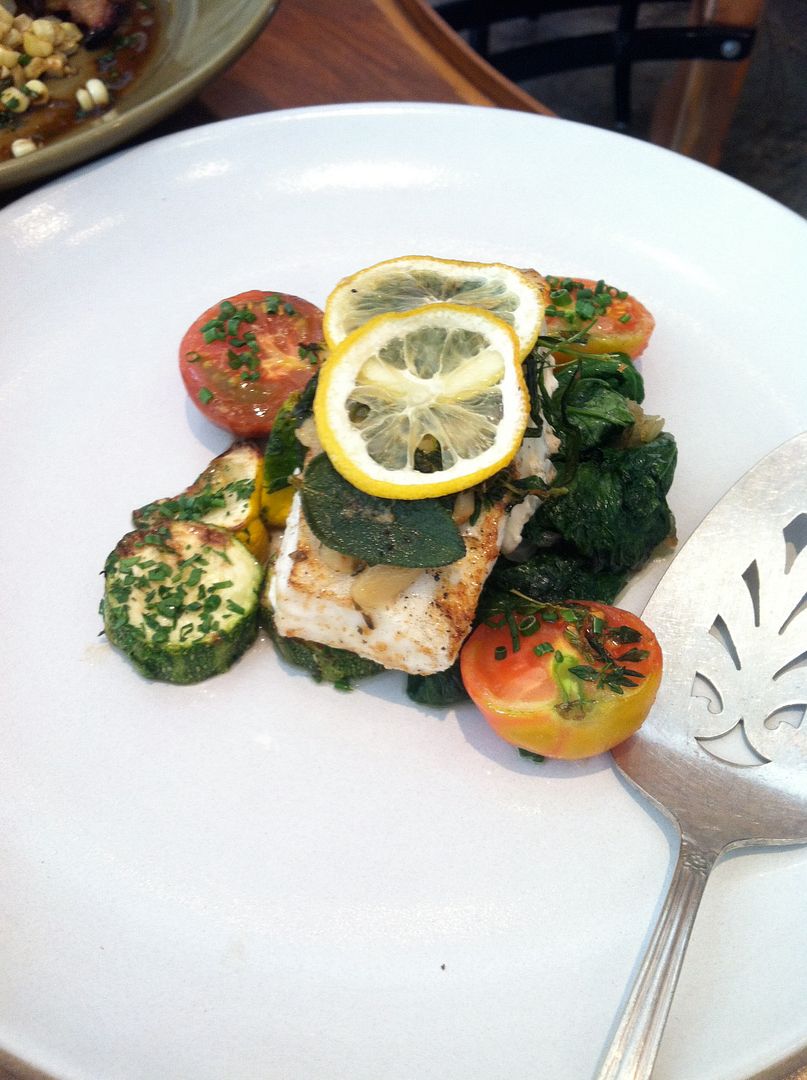 halibut confit!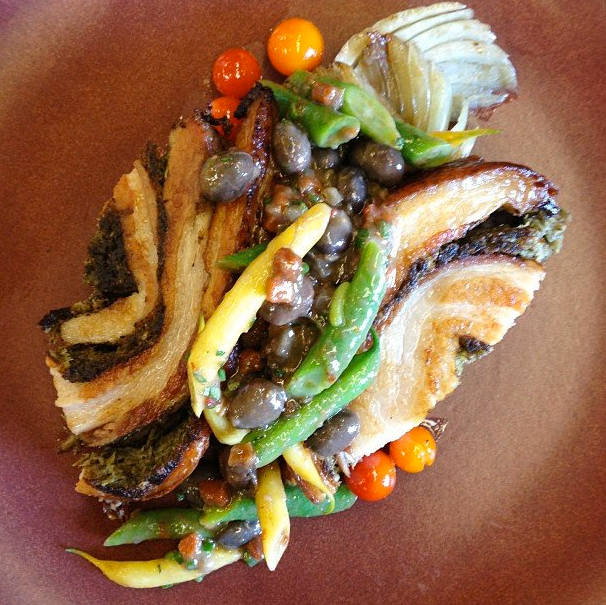 pork belly with black beans, green beans, wax beans and tomatoes
wrapping up the meal with butterscotch budino, strawberry hand pies and inside-out s'mores
Not pictured but out-of-this-world delish: coconut ginger and strawberry lavender aguas frescas, gruyère grilled cheese, fish 'n chips (one of my favs!), chickpea and fennel samosas, BBQ pork sliders, a unique twist on mac-n-cheese bites that was a crispy pocket full of yum, butternut squash agnolotti, and otherworldly short ribs that put my bride into a full-on hands-on-cheeks Macaulay Culkin "Home Alone" moment.  😉
After the tasting, we checked out Heirloom LA's 1000-square-foot garden.  Lots of what we had tasted was grown here!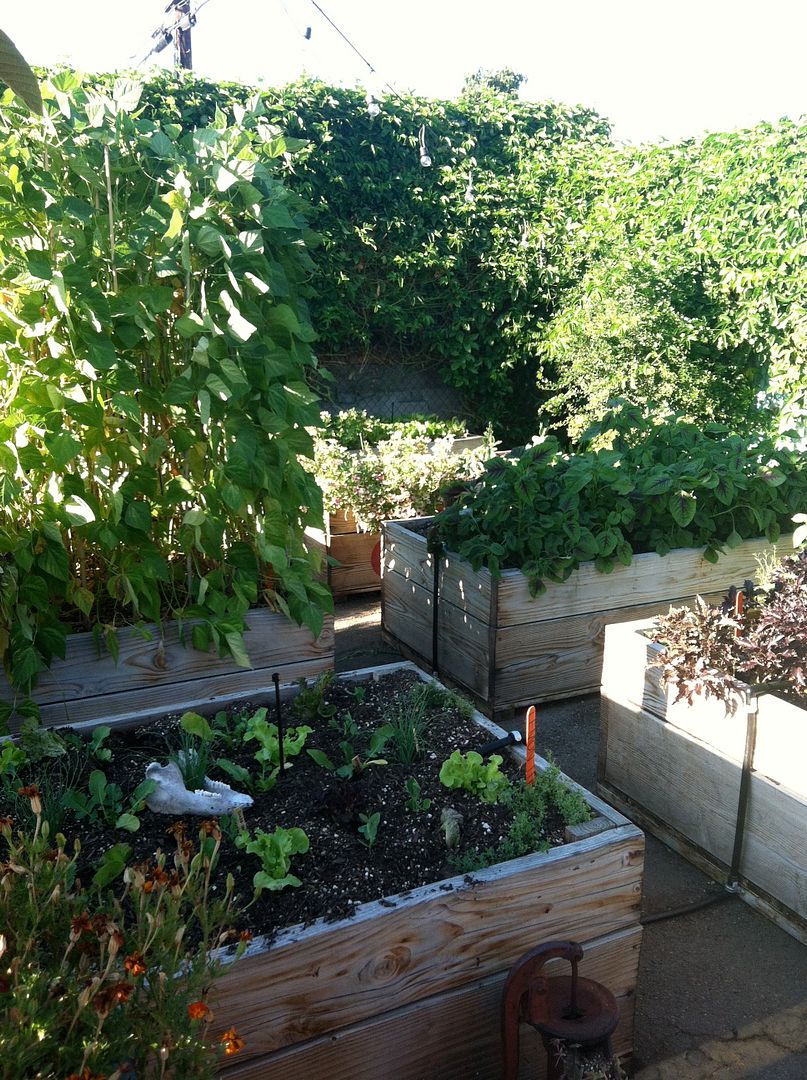 Thank you to the family at Heirloom LA that makes my job so easy — I LOVE working with you!!  And thank you for introducing me to these mouse melons, with which I am now thoroughly obsessed.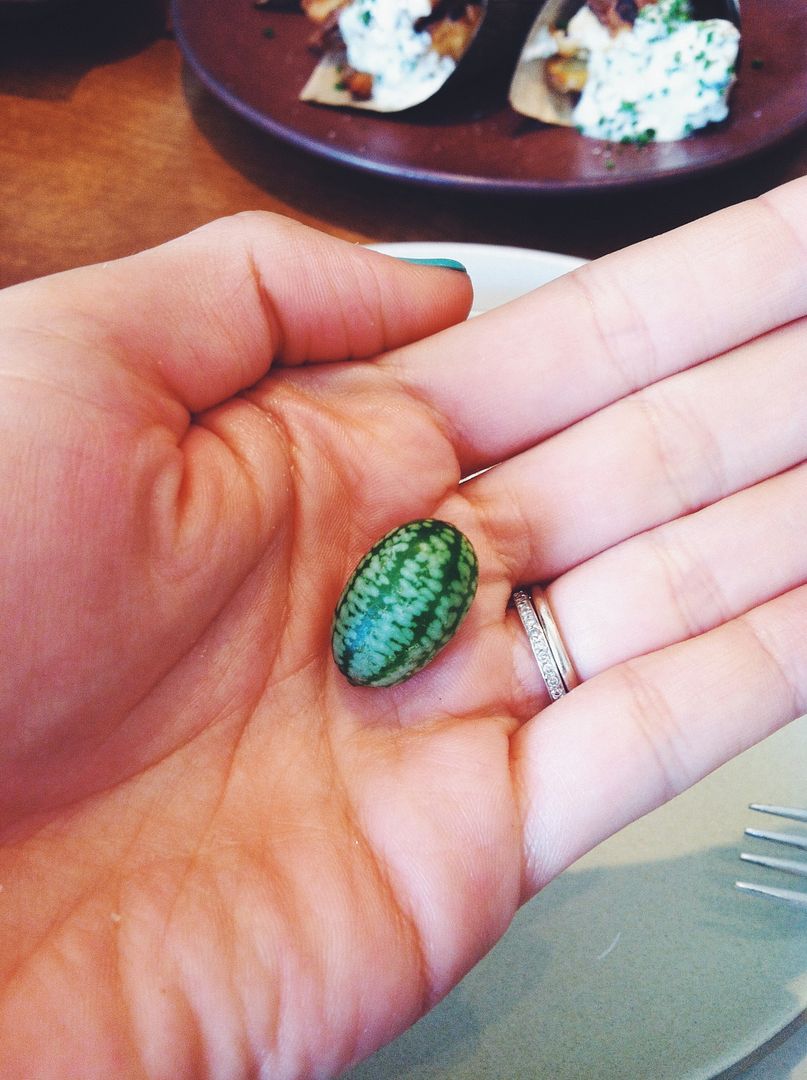 Is this real life???
I hope you're having a great Thursday; see you all soon!