2012 is about to come to a close, so it's only fitting that I round out the year on the blog with another update about my biggest blessing of the year: Miss Olivia Iris!  We have had such a fun month, including Olive's first Thanksgiving.  (Her "monthday" is on the 12th, so I'll report on Christmas in her next update!)  She is more like a toddler and less like a baby everyday — bittersweet!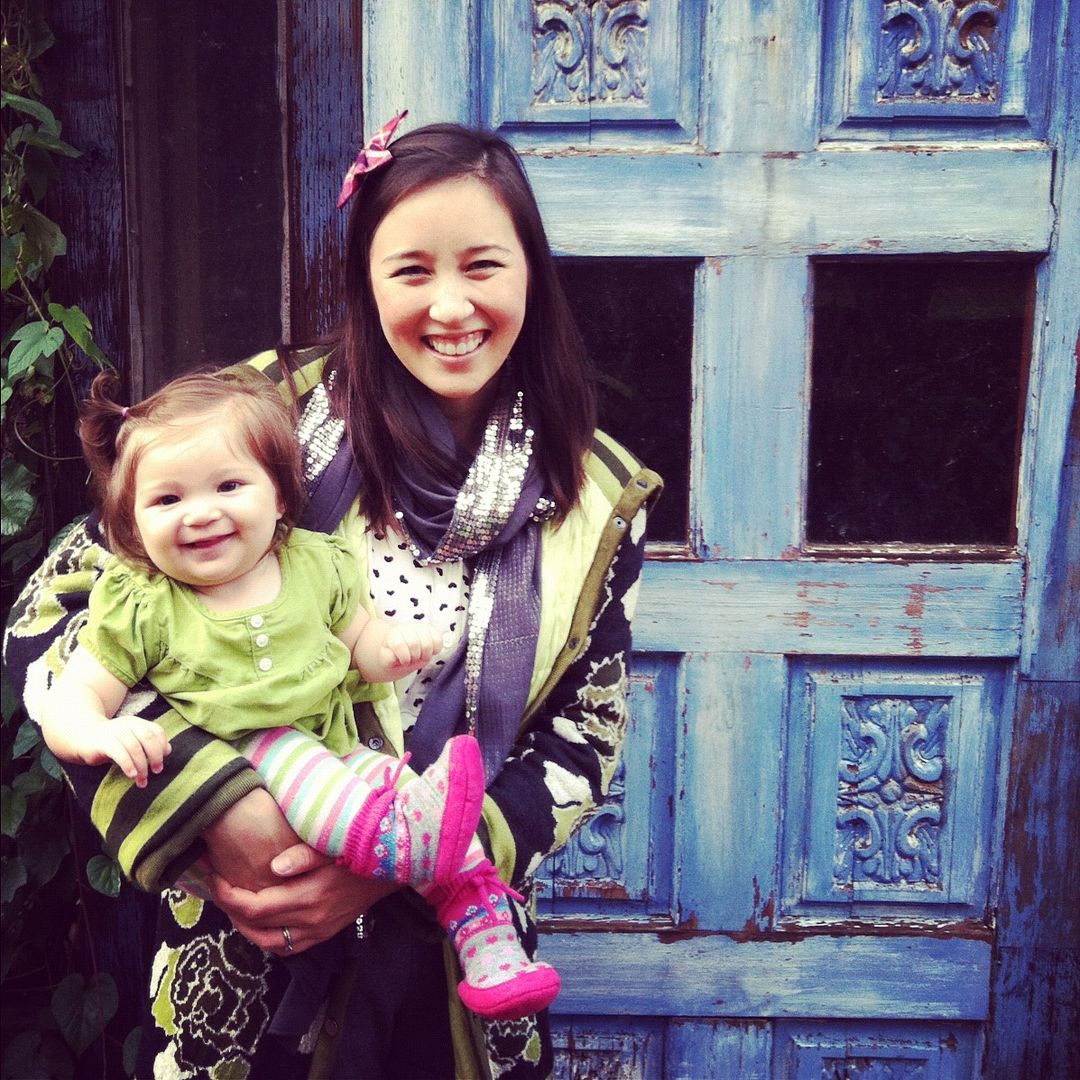 Highlights from month 9…
Olive is 17 lbs and 7.5 oz, and 27.5″ long.
She has four teeth (more now, but four at the time of her 9 month-day!) — the two in front on top and bottom.
Olivia continues to love exploring the world of real food, and new favorites have included roasted chicken and pumpkin.
We went to the Getty (Olive's first time!) with my parents and visited their painting (they have one hanging there).  We're getting her started on a love of art at a young age.  😉
We enjoyed two Thanksgivings (one with each side of the family).  Grandma Del and Grandpa Bill hosted a traditional feast, and Halmunee and Nana-ji had Mexican fare.  Yum!!  We agreed that we are most thankful for Olive this year.  <3
Daddy took us on a family adventure to Harmony and Cambria.  The last time we were up there was Mother's Day, so it was fun to visit again.  After some antiquing, we went to the Cambria Christmas Market to see the beautiful lights display.
We purchased our Christmas tree as a family of 3, and Olive watched us trim it.  Surprisingly, she never tried to attack or otherwise destroy the tree this year.  😉  Maybe next year when she's walking it will become more of a hazard…
Olive busted my lip while I was holding her, during one of her excited monologues.  :-/  It was bound to happen sooner or later!  I now know to move out of the way when she begins flailing about!
Lots of speed-crawling, lots of cruising and standing (she can stand and balance on her own for 10+ seconds), but no real walking yet!  We are so eager to see when she'll take that first brave step!  I have a feeling it won't be long…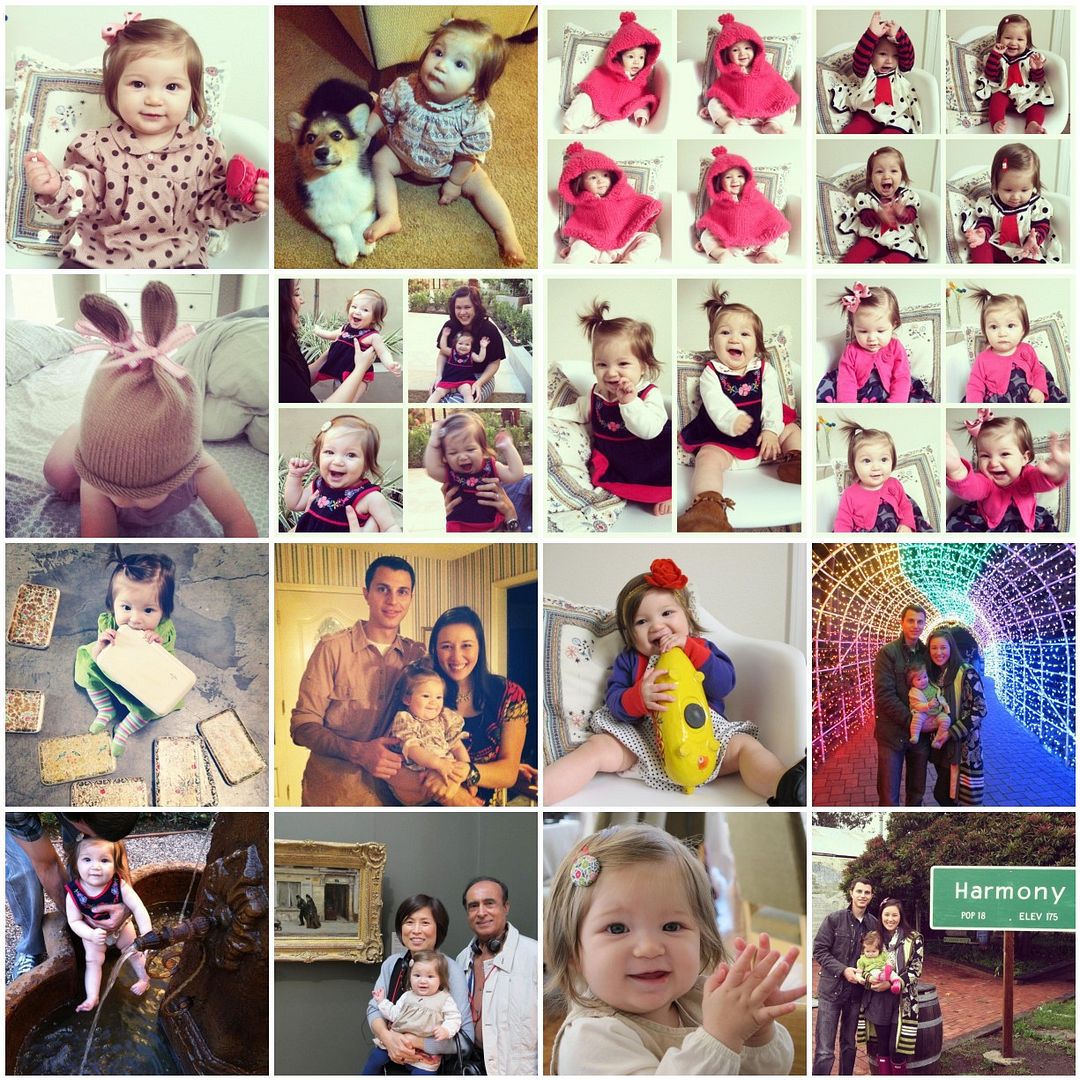 Our dearest Olivia — As we celebrated Thanksgiving together, I was reminded that holidays will never be the same again now that you're in our lives.  Everyone wants to hold you, play with you, and make you laugh.  This year we had to take turns holding you while the other ate because you simply can't be bothered to sit still for too long.  You have so much to see and do!  Sometimes I can't fathom your boundless energy and enthusiasm for the simplest tasks (e.g. chasing after a piece of paper on the ground), but then I remember that you nap 2x a day for 2 hours at a time… so I guess I can understand where you get the energy!  We call you the floor inspector, because no matter how much we sweep and mop, you can always find the tiniest piece of lint or dust to carefully retrieve with your pincer grasp and put straight into your mouth!  Re-visiting Cambria and Harmony with you was so much fun, because the last time we were there you slept most of the time.  🙂  I look forward to returning to these places with you in the years ahead, each time experiencing them in a unique way as you grow older.  One year chasing you around telling you to stop running, one year explaining to you that no, you cannot have another cookie (okay maybe just one more…), one year reminding you not to touch the fragile china in the antique store, and then one year picking out antique treasures with you.  You are curious.  You are playful.  You are silly.  You are beautiful.  Oh my goodness, you are beautiful…  Your lashes are growing longer and darker (like Daddy's) and your eyes are still a marvelous grey blue.  Your hair is a light brown with golden highlights.  I spend a lot of time studying your face and your fingers and your toes… just memorizing every detail of your tiny baby body.  Your new baby teeth make you look like a little toddler and I know the next stage is just around the corner.  We are starting to think about your 1st birthday and it blows my mind that it is so near.  I'll try not to go overboard with your party, but I can't make any promises.  😉  I want to celebrate you everyday!  We thank God for every moment with you, knowing that each day is a precious gift we can never get back.  We thank God for your health and your joy.  Happy 9 months, sweet girl.  We love you with our whole hearts. — love, Mommy
—
Thank you to each and every one of my readers for another great year!  I am always thankful for you stopping by to take a peek into my world.  2012 has been such a landmark year in my life, and I look with excitement at the future ahead.  I can tell you that 2013 will bring some exciting changes to the blog so stay tuned for that!  I wish you the happiest New Year, full of blessings and joy.  See you soon, friends!
xoxo, Angel