Is it really December??  I apologize for the quiet November but I assure you… I was enjoying a very busy and wonderful month both personally & professionally.  We had some dear Texan friends (namely the wonderful Cary & Ryan Ray) staying with us for 5 days, a fun last-minute media event, meetings with wedding clients, a trip to visit family and POOF!  Now it's December and Olive is nearly 9 months and I really need to get this post up!  😉  Today I'm excited to share some updates in the life of my favorite little girl (even if many facts below are now outdated since she's going to be 9 months old next week!!).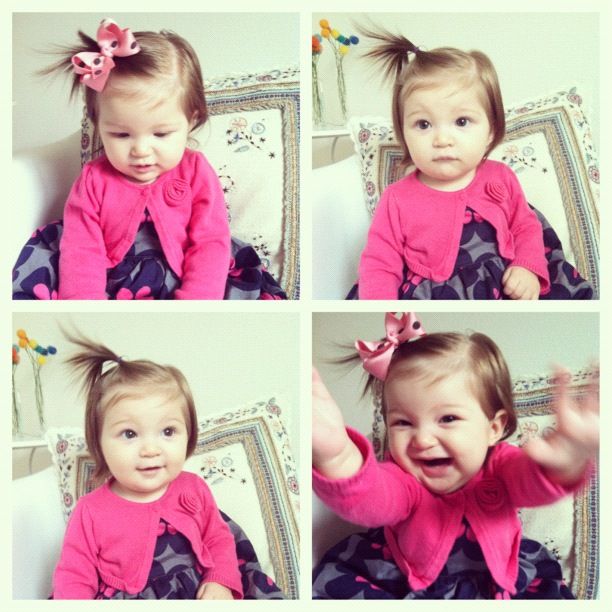 I would summarize month #8 as the month of expression.  Olive is demonstrating SO much emotion and character on a daily basis!  She has the funniest little faces and sounds to accompany her every mood.  I love watching her blossom in this way, although once in a while I get nervous thinking about how these expressions will play out in the passionate teenage years!  haha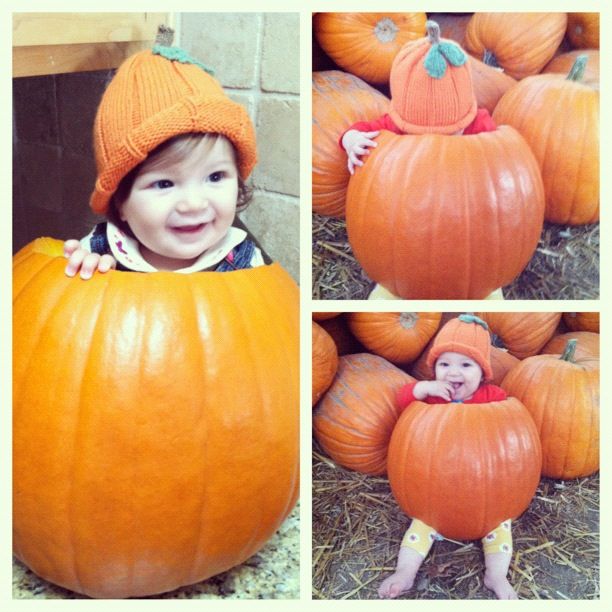 our little pumpkin!
Our highlights from Olive's eighth month:
She is always on the move!  If she isn't speed-crawling from room to room, she is standing and cruising along the couch, crawling under the coffee table, and shimmying behind the bookcase.  She wants to explore and that keeps this mama on her toes!
Grandpa Paul came to visit and it was a sweet time, as always.
Her first little teeth have emerged!!  The first tooth to break through was the bottom left on October 21, followed by her top left (right at the time of her 8th month-day on November 12).  It is really hilarious to see the flash of white in what used to be a gummy smile.
Teething was rough this month, so she started waking up around 2a (once in the middle of the night) for a period of 10-15 minutes.  Otherwise, she is still a generally good sleeper!
We didn't dress Olive up for Halloween, unless you count the pumpkin hat I knitted for her!  We *did*, however, put her into a hollowed-out pumpkin.  😉  She didn't seem to mind!
As aforementioned, our precious friends Ryan & Cary Ray visited us early in November!  We had a fabulous time with them but the best of all was watching them with Olive.  Those three get along so well that I thought Olive might try to stow away with Uncle Ryan when they left!  They both made Olive laugh so hard it was endless entertainment watching them.  Ryan took some family photos of us while he was here and we LOVE the images he captured.  You will see them later this month!
Olive continues to enjoy solid foods, although I'm only doing about one solid meal a day.  She still hasn't refused any foods.  Picky eaters aren't allowed in our home.  😉
We spent an afternoon fishing in Morro Bay with some church friends.  Let me clarify: Daddy went fishing while Olive and I snuggled on the dock and soaked up the view.
Aunt Anna surprised us with a mini visit at the end of October, and we had a great time hanging with her.  She cried when she saw Olivia — she loves her SO much!
Daddy taught Olive how to "strum" her lips with her fingers and she loves this new way of making noise.  She can also make the sounds without her hands, blowing lots of spit bubbles in the process.  😉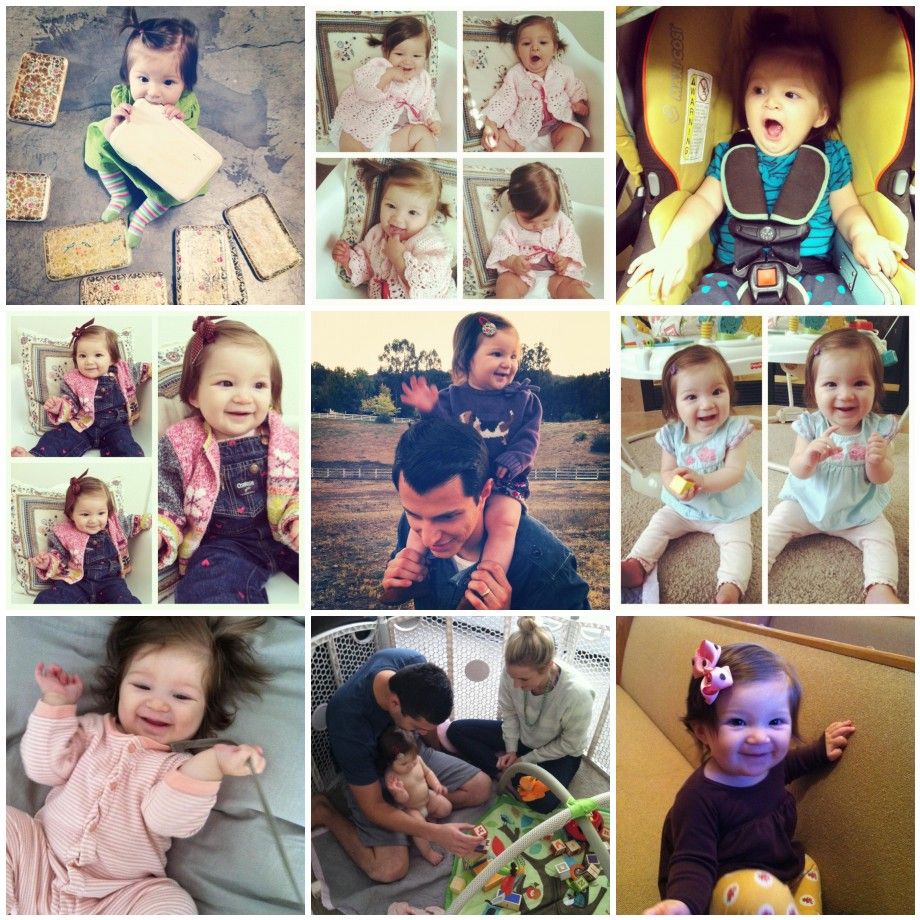 —
Sweetest Olive — Another wonderful month with you has come and gone.  It was a month of sharing time with family and friends, as you were able to see so many of your loved ones!  One day you will understand just how fortunate you are to be surrounded by so many amazing people who love you.  Although I not-so-secretly cherish how attached you are to me, it gives me great joy to watch you playfully interact with others.  You have such a charming way about you and your smile could melt anyone's heart.  I pray that your sweet spirit will continue to develop as you grow older, and that God would use you to bless many people with your cheerfulness.  As your independence increases simultaneously with your mobility, I am grateful for the snuggle times we still share.  When you writhe and wriggle away from me during the day, I am consoled knowing that in the evening, there is nothing you desire more than to nuzzle near me before bedtime.  Thank you for indulging me with my daily dose of cuddles, although I assure you I can never really get my fill!  I love you with my whole heart, baby girl.  with love, Mommy
—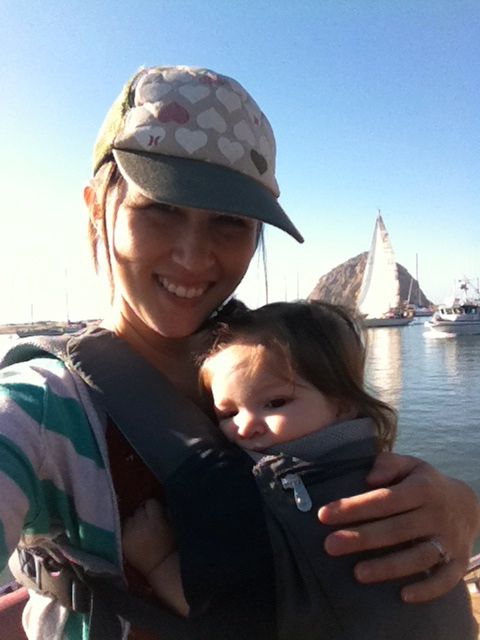 As I embark on a bit of blog catch-up, you can expect some fun posts this week including a great holiday giveaway!  Stay tuned for that and more!  As always, I'm so grateful for each and every one of you that stop by.  Your comments on IG and here are always such an encouragement, so don't be shy about saying hello!  Enjoy the rest of the week!
xoxo, Angel