I'm back with another monthly update for our sweet little girl!  Olive is now 7+ months old and I am watching her mature everyday.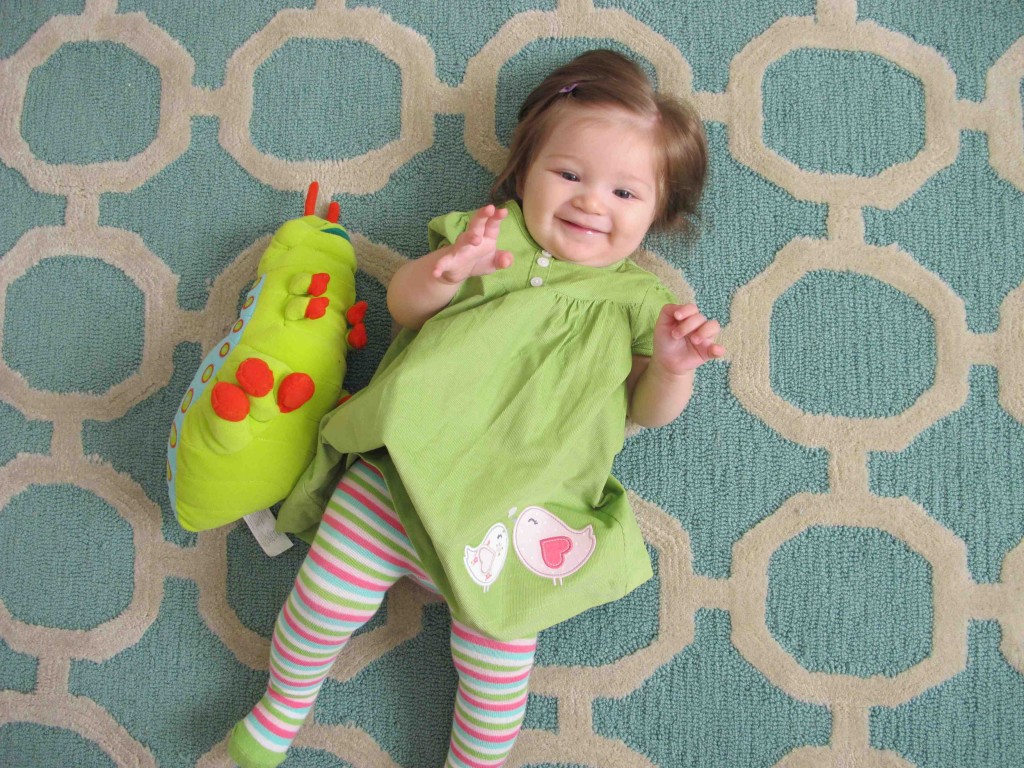 This is such a fun period of rapid growth and frequent milestones; it seems like she has a new "trick" daily!  Mobility is the number one update in our world: Olive can hardly sit still anymore and I am constantly chasing her around the house.  Sometimes I look at her and see a little girl, but as I'm holding her before bedtime, I still see a tiny baby.  I play with her fingers and toes and gently caress her cheek and see the tiny face that looked up at mine for the first time seven months ago.  I think I will always see her as a baby in a way.  All those mama clichés make sense now — imagine that.  😉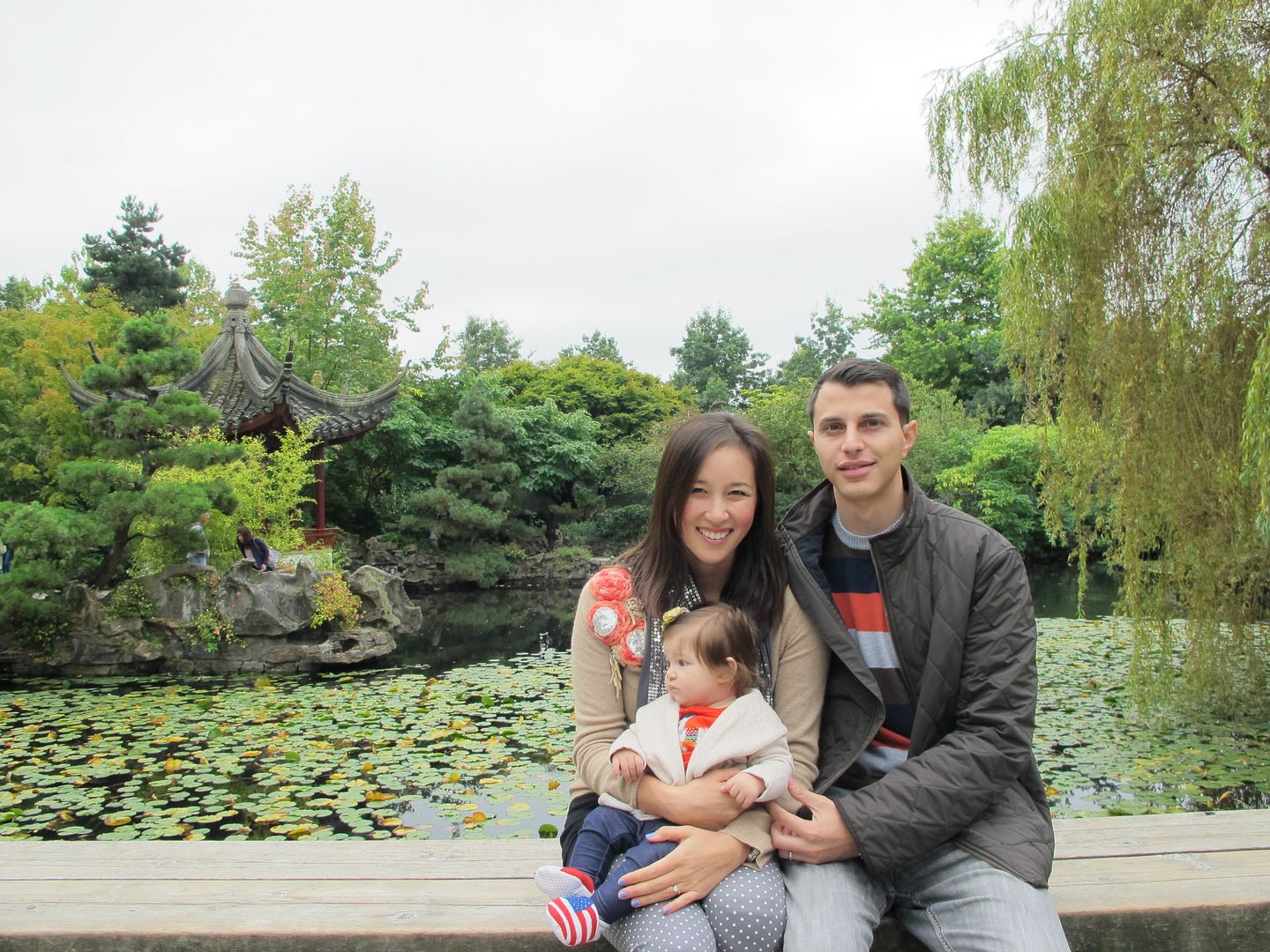 our family in vancouver
Here are our highlights from Olive's seventh month:
She is somewhere around 17 lbs now, and 26.5-27″ long.  🙂  It's hard to say exactly since she was weighed/measured 10 days before her 7 month-day.
No teeth have popped through yet, but it won't be long before they do… (as of the 7 month mark, anyway!)
She sat in a shopping cart (at the Beverly Hills Whole Foods on 9/15) for the first time and loved it!
She started going to the nursery at church and does great!  She typically sleeps half of the time, so that helps.  😉
Olive took her first flight (from LAX to Vancouver!) and was a total traveling pro.  She slept for part of the flight but was content to sit in our laps for the rest of the time.  We took the opportunity to snap a pic of her with the pilot in the cockpit once we had landed.
We went on our first 'real' family vacation, visiting Vancouver for a few days and then taking a cruise from Vancouver to Los Angeles!  We had a wonderful time in Vancouver and I hope to return again in the future during ski season!  I can already imagine Olive in her snowbunny gear!  The cruise had stops in Astoria, Oregon, as well as San Francisco.  We took advantage of being in the Bay Area and took Olive on the BART to Berkeley.  It was so much fun to traipse around our old stomping grounds with baby in tow, revisiting the place Erik and I met, the spot Erik asked me on our first date (Sproul Plaza), and a favorite date night restaurant (Berkeley Thai House).  What a difference 7 years makes!  Olive was a HUGE hit on the cruise… We joked that she was a mini-celebrity because we were stopped all over the ship by other guests and crew, fawning over her.  We made a bunch of video clips every time someone stopped us to play with her and plan to montage them for a funny vacation movie.  😉
Olive started to eat solid foods!  She has now tasted avocado, pineapple, grapes, zucchini, peaches, chicken, and blueberries.  I had been going back and forth about baby led weaning and while I still think it is a wonderful way to introduce a baby to food, we ultimately decided it wasn't for us 100%.  So, she is enjoying some foods whole (like halved blueberries, or a piece of pineapple to gnaw on, sliced avocado) and others puréed.  I have loved the process of buying her food from the farm, roasting it and preparing it for her.  She is a great eater and hasn't refused anything so far.  She is always eager to eat — That's my girl for sure!
She got into a pool for the first time (Grandma & Grandpa Swanson's house!).  She had been in jacuzzis 2x before, but this was her first time in an actual pool.  We put her in this hilarious "car-shaped" float and she loved it.  I could die over the cuteness!
Olive has begun to scream and screech, but it's all in good fun.  😉  She loves to make these high-pitched noises when she's particularly excited.  It cracks us up!
The big one: She pulled herself up to stand!!  The first time was on October 8th, and she has done it everyday since.  We could not believe our eyes the first time we saw her slowly and carefully pull herself up to a standing position on wobbly legs.  She had the biggest grin on her face!  Now she proudly pulls herself up any opportunity she gets.  It blows me away that soon she'll be walking…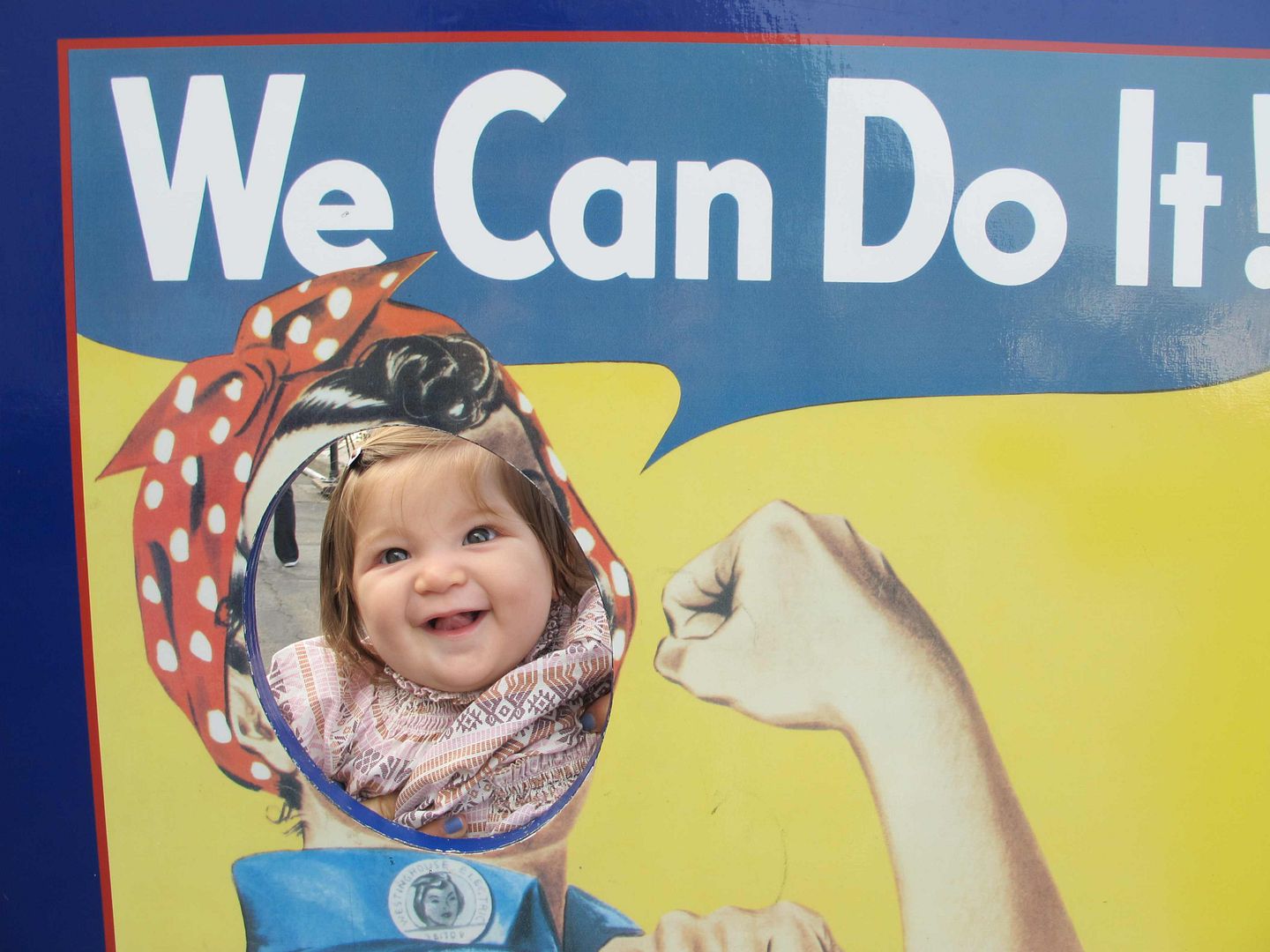 a silly pic we couldn't resist in SF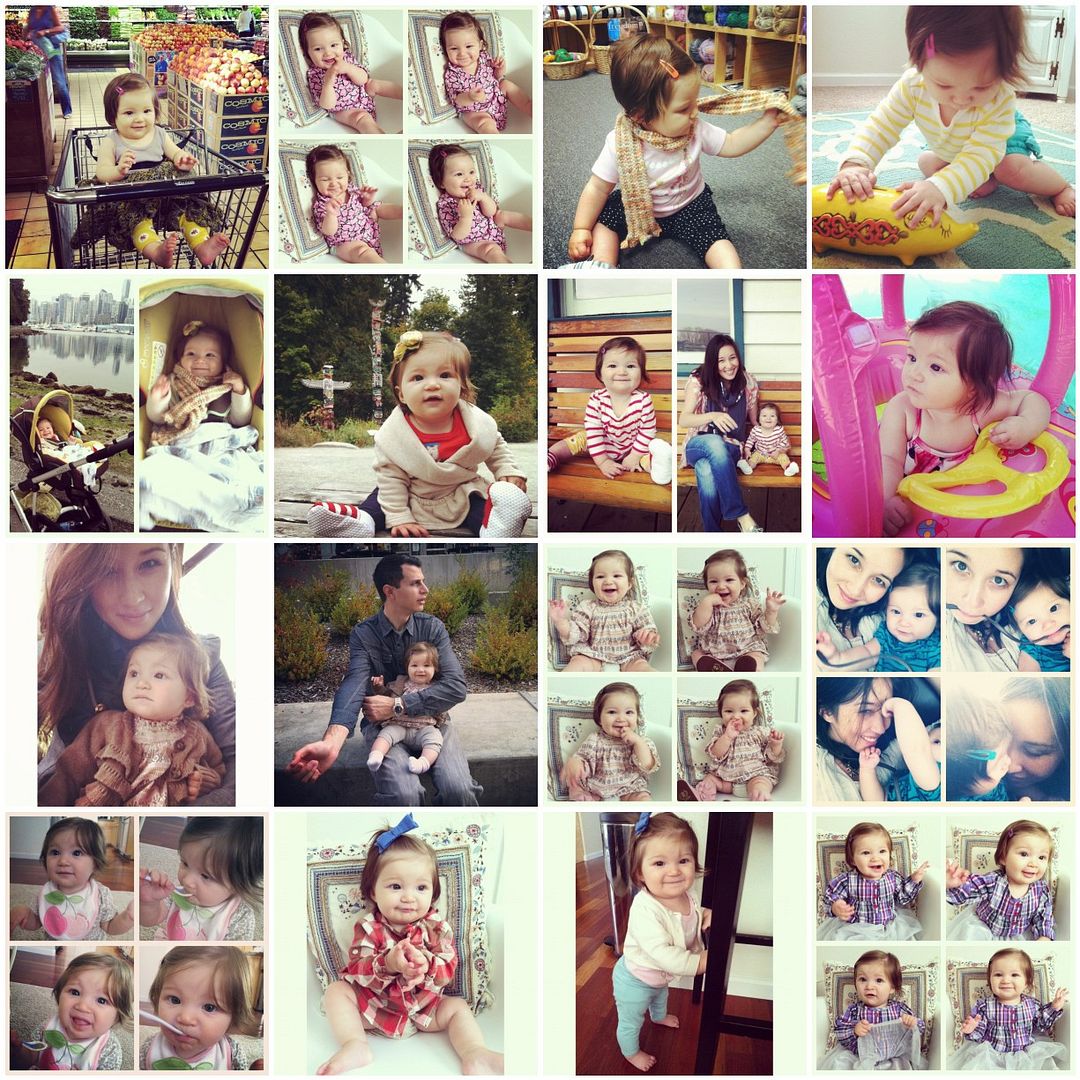 a glimpse of month 7 via Instagram
my little Olive — We had quite the adventurous month!  Daddy and I loved taking you on your first little vacation.  You were a perfect traveler, and now you have a stamp in your passport!  Forgive us in advance for the passport picture — Daddy says it's a rite of passage to have a horrible government issued ID.  😉  I look forward to toting you around all over this beautiful country and the world, Lord willing.  Some might think it's less fun to travel with a baby in tow, but I absolutely disagree.  Daddy and I loved experiencing the world through your eyes: watching you light up at sights and sounds, seeing you make friends in every restaurant and elevator, making sure to stop for a snack and nap when needed… 😉  We could learn a lot from you.  I am so grateful to have you as my little partner, my tiny friend.  Soon our excursions will no longer involve me carrying you around (hopefully!), but us holding hands, walking through parks and museums and oohing and aahing together.  And then the time will come that you won't want to hold my hand, preferring to run off on your own, but still snuggling up in my lap at the end of a long day.  Then you'll be a teenager wanting to run off and do your own thing, asking Daddy what time you have to meet us back at the hotel as you giggle and run off with your friends.  And then one day you'll be taking your own family vacations.  I might even be so blessed to grow old enough to join you, and maybe then you'll hold my hand again.  I wonder how it will feel to be the frail one, needing the hand to hold.  🙂  Can you tell your mama is sentimental?  I am so thankful for you and the sweet relationship we get to share, even if it is bittersweet to ponder how it will change in the years ahead.  Take your time growing up, little one.  We love you so very much.  xoxo, Mommy
I hope you all are having a fantastic weekend!  Over here I am already thinking about Christmas (eek!) and I know it will be here before I know it.  With Christmas comes photos + cards (a tradition I love) so I was excited to enter the current minted.com inspiration board contest.  They are giving away $200 weekly and a grand prize of $1k in product credit!  Woohoo!  Feel free to check out my board here and click the little heart icon to help me out.  😉  If you enter, feel free to link yours in the comments below so I can return the favor!
cozy Christmas board by angel. See more Minted.com
See you all again soon~  In the meanwhile, you can always peek into my daily inspiration & life via Instagram (@loveandsplendor).  xoxo, Angel