We've now spent half a year with our little Olive.  It's been half a year of amazing growth, both physically and emotionally.  Olive is getting bigger and I'm getting smaller (whew!).  Our hearts are all getting a lot bigger, too.  I feel like I have a greater and deeper capacity to love and serve and give now that I'm a mother.  That word still blows me away: mother.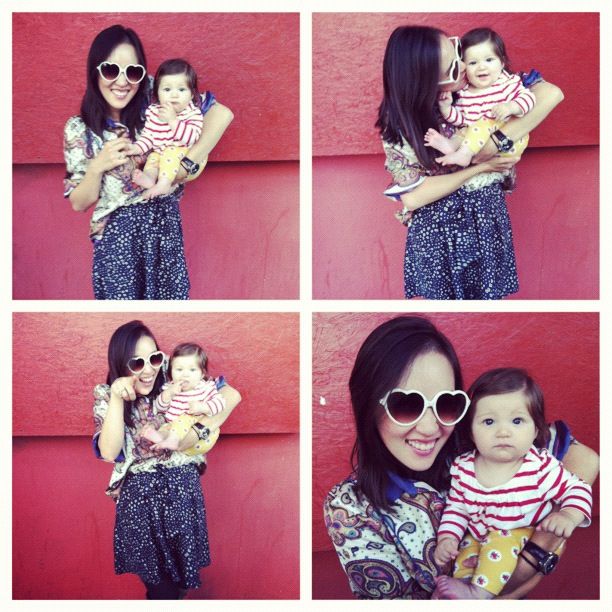 some of my favorite pics yet of me and my baby girl.  Thanks to my sis, Anna, for snapping them!
This last month was a fun one!  Olive is army crawling EVERYWHERE, and also regularly getting up on all fours as if to "properly" crawl… But then she realizes, Why exert all the effort when I can get around much faster on my belly just pulling with my arms??  She is constantly giggling and laughing at our antics.  So of course, this means we turn up the silliness in order to solicit as much of her infectious laughter as we can.  She is sleeping better and that means we are, too.  Sometimes I wake up half-scared that she went 10+ hours without needing us.  😉  But then I remember she is in God's hands.  The unfailing hands.  When I falter and fail, as I know I am bound to do, I can rest in that truth.  I have a feeling this parenting journey is going to be a constant project of me learning to hold loosely this precious gift entrusted to me…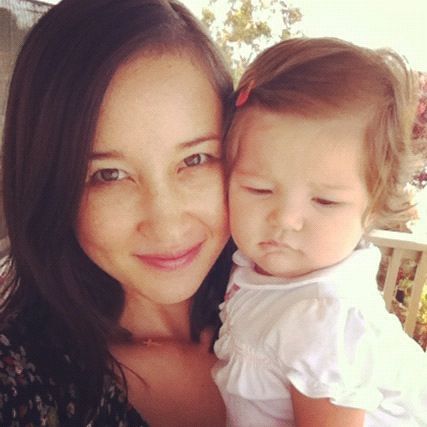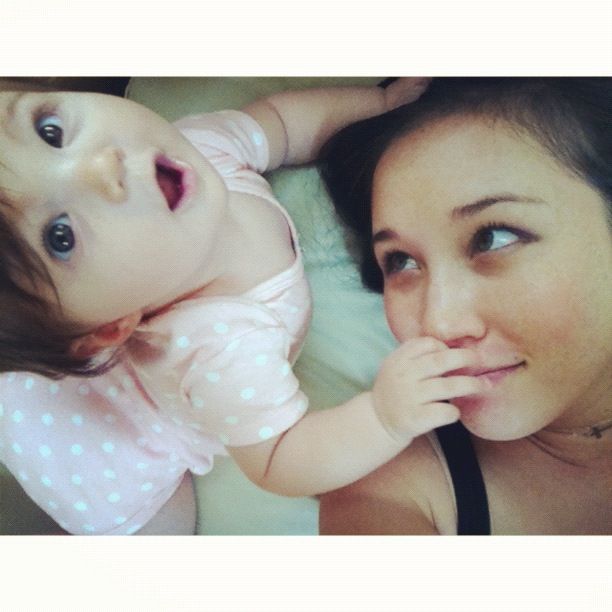 Here are the highlights from Olive's sixth month of life!
I took Olive for a weigh-in on her actual 6th month-day (since her appointment isn't for a few more weeks), and she now weighs 15 lb and 4 oz. and measures 25.5″ long!
Still no teeth, although she continues to chomp on anything she can reach.
She attended another wedding (her 2nd!) on 8/18 for Leah (her first cousin once removed! LOL) and Dave.  She slept during the ceremony and for most of the reception.  😉
She is saying, "Dadadada" these days!  But, since she hasn't connected the sound/word with Erik, we aren't considering it her real first word.  It is still terribly adorable, though!
Her grandpa (my dad) got her a jumperoo and she loves it (for 15 minutes at a time, anyway)!  I sit with her while she's banging on it so I think she thinks I'm the one with the high-pitched voice singing the ABC's.  haha
I put her in pigtails for the first (and so far, only) time!  It was hard to get her to hold still long enough for me to tie up her hair securely, so it ended up crazy lopsided…. but still ridiculously cute!
Erik made her a pineapple hat, following in the "tradition" of fruit-as-clothing he started with the infamous watermelon baby pics.
We gave her the tiniest piece of avocado!  She seemed to like it (good girl!), but we are holding off on officially starting solids for another few weeks.  We are going on vacation so we didn't want to deal with real food (and the messes that come with it) while away.
She is 'crawling' constantly.  If you put her down, she is immediately on the move.  Her favorite things to crawl to are: the stainless steel trash can in the kitchen, the modem and router with their flashing lights, and our cell phones.  If she isn't supposed to touch it, she wants to race to it.
She got to see her cousins (Adrian & Alejandro) a couple times this month, and they both adore her (especially Adrian).  It is cute to see them want to hold her, touch her, and entertain her.  I look forward to watching them grow up together!!
Olive was in a commercial!!  Yes, it's true…  My old friend from college (who I actually have known since we went on a family vacay together in middle school) directed a German baby monitor commercial and Olive was the baby!  I can't wait to see the result, but Olive did great.  I think it will be fun for her to see one day!
Here's a look at month six via Instagram (@loveandsplendor):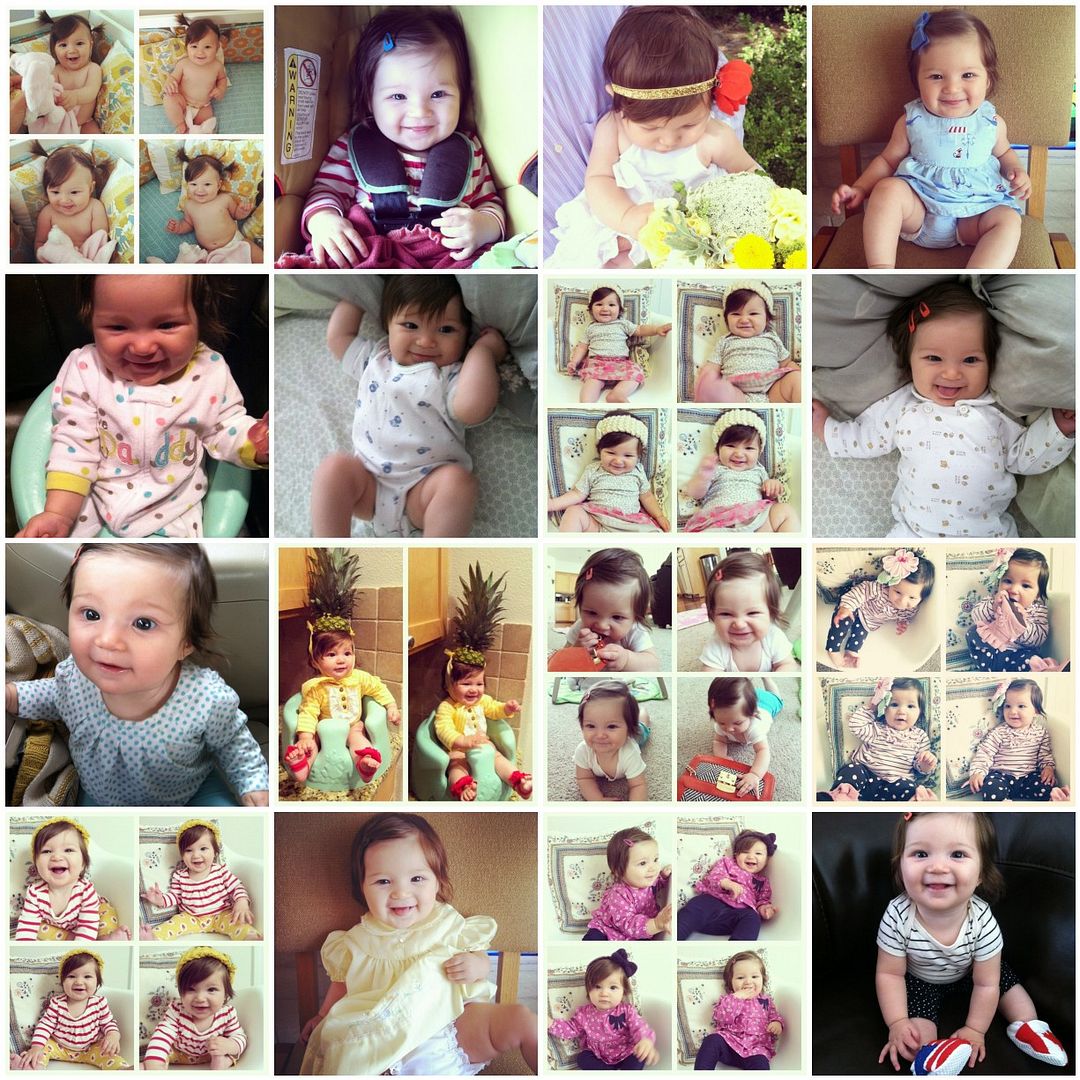 My darling Olive…  I am enjoying every second of this season in our lives.  Your sparkling personality continues to blossom and I can't wait to truly get to know you.  I've had a busier month with weddings & work, but I want you to know that you will always come first.  I will not plan and style weddings forever, but I will be your mother forever.  You and Daddy are my priorities here on this earth.  I'm sure one day we will tell you all about how we prayed so earnestly for you.  I will tell you how I wept on my knees for months and years, desiring so much to be a Mommy.  And then I'll show you the video I recorded right after I found out I was pregnant, blubbering to you through tears of unfettered joy.  And now here you are.  And here I am: a mother.  I will not take this answered prayer for granted.  I work hard at what I do and now I will work hard for you.  I will always strive to give you the best of my energy, my passion, my creativity, my effort.  I will pour into you with everything I have.  Raising you thoughtfully, passionately, and wholeheartedly is a blessed pursuit and I intend to do it well.  Give me grace though, okay?  I promise to work hard and you promise to forgive me when I stumble along the way and then we hug and kiss and giggle and go for ice cream.  Yes, there is a lot of ice cream in our future.  😉  I love you more than I could ever tell.   Love, Mommy
Thanks again for checking in for this Olivia update!  We had a fabulous month with 3 unique weddings in September, and I can't wait to share them with you!  Coming up next for my family is a long-awaited vacation!  I'll be back soon with a recap of our first "official" family getaway.  In the meanwhile, keep up with us on Instagram!  xoxo